Grilled Corn on the Cob with Herb Butter is a great addition to any summer dinner and is sure to be a hit with your guests. The combination of grilled corn and herb butter creates a delicious flavor that everyone will love.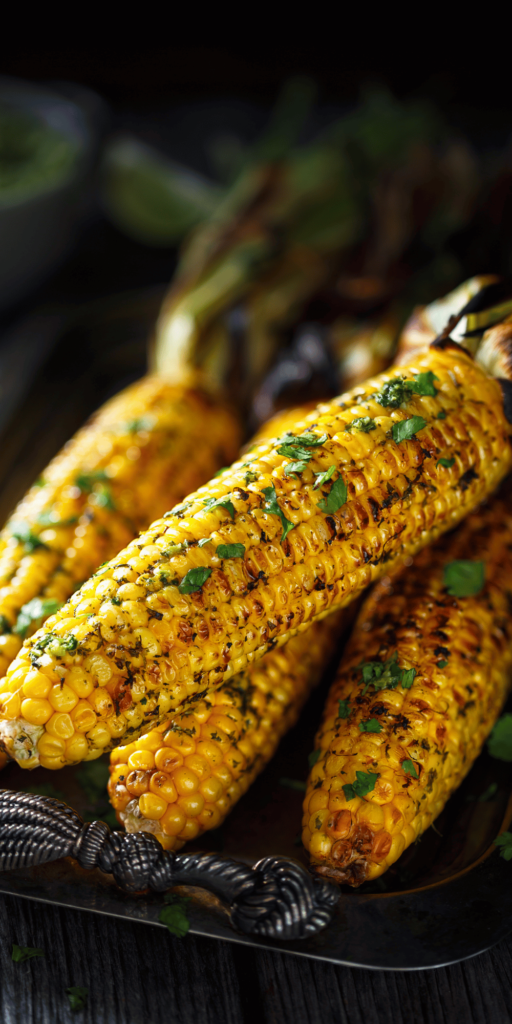 In this article, we will provide you with a detailed guide on how to make this dish, including ingredients, instructions, tips, variations, and serving suggestions.
Grilled corn on the cob with herb butter is a great option if you're looking for a delicious summer side dish or a unique twist on your typical BBQ meals.
Fresh corn on the cob is a summertime classic, and grilling it enhances its sweetness and adds a smokey flavor that goes great with herb butter.
The herb butter is a straightforward mixture of melted butter with fresh herbs including chives, parsley, and thyme.
For busy hosts or grill masters, it is an attractive option as it is easy to make and can be made ahead.
When the corn is fresh off the grill, the butter may be applied to it, enabling it to melt and flavor the corn.
The versatile dish of grilled corn on the cob with herb butter can be served as a vegetarian main course or as a side with grilled meats.
Given that it can be made ahead of time and served at room temperature, it's also a great choice for outdoor picnics or potlucks.
The simplicity of grilled corn on the cob with herb butter is one of its main benefits.
Everyone at your table will enjoy the classic flavor profile of fresh corn, butter, and herbs.
In addition, corn on the cob is cheap and easily available making it an excellent option for those wishing to serve a large crowd.
Overall, herb butter on grilled corn on the cob is a tasty and simple summer recipe that will surprise guests.
This recipe is a must-try for any corn fan, whether you're hosting an outdoor party or looking for a quick and easy weeknight dinner.
Ingredients:
6 ears of corn, husks removed
1/2 cup of softened unsalted butter
2 tablespoons of chopped fresh chives
2 tablespoons of chopped fresh parsley
2 tablespoons of chopped fresh cilantro
1 minced garlic clove
1/2 teaspoon of salt
1/4 teaspoon of black pepper
Instructions:
1. Preheat your grill to medium-high heat (around 375°F to 400°F).
2. In a mixing bowl, combine the softened butter, chopped chives, parsley, cilantro, minced garlic, salt, and black pepper. Mix well to create the herb butter.
3. Brush each ear of corn with the herb butter, making sure to coat all sides evenly.
4. Place the corn on the grill and cook for approximately 10 to 12 minutes, turning occasionally, until the kernels are tender and slightly charred.
5. Remove the corn from the grill and allow it to cool for a few minutes before serving.
6. Serve the grilled corn on the cob with extra herb butter on top and garnish with fresh herbs if desired.
Tips:
1. For a more intense flavor, try using smoked salt instead of regular salt.
2. If you prefer a spicier version, add some red pepper flakes or diced jalapeño pepper to the herb butter.
3. Be sure to remove the silks from the corn before grilling.
4. To prevent the corn from burning, turn the cobs frequently while cooking.
5. If you don't have a grill, you can also cook the corn on a stovetop using a grill pan or skillet.
Variations:
1. For a cheesy version of this dish, add some grated Parmesan cheese to the herb butter.
2. To create a different flavor, substitute cilantro with basil or oregano.
3. Add some cooked quinoa or couscous to the herb butter before brushing it onto the corn to make the dish more filling.
4. For a sweeter version, try adding some honey or maple syrup to the herb butter.
What to Serve with:
Grilled corn on the cob with herb butter is an excellent side dish for any summer meal.
1. It pairs well with grilled meats, fish, or even burgers. You can also serve it as a light snack or appetizer.
2. For a more complete meal, pair it with a fresh salad or roasted vegetables.
Conclusion:
Grilled corn on the cob with herb butter is a simple yet flavorful dish that is perfect for summer.
This dish is easy to make and can be adjusted to suit your preferences. Give our recipe a try and let us know how it turns out!