This Slow Cooker Chicken Taco is a slow-cooked delight that brings together tender chicken and vibrant toppings in every bite. Make this in a magical slow cooker and enjoy it with your family.
Why I Loved This Recipe
I've always been a fan of tacos, and this recipe holds a special place in my heart.
The convenience of the slow cooker lets me set it and forget it, and the result is juicy, fall-apart chicken that's ready to be stuffed into soft tortillas.
Plus, the aroma that fills the house while this cooks is absolutely irresistible.
Why You'll Love This Recipe
▪️ Effortless Magic: Imagine tossing a few ingredients into your slow cooker and returning later to find perfectly tender, flavorful chicken. That's the kind of magic this recipe delivers.
▪️ Taco Party Delight: Whether it's a family dinner or a casual hangout with friends, these soft shredded chicken tacos will steal the show.
▪️ Flavor Explosion: Each bite combines the juicy shredded chicken with the crunch of fresh lettuce, the burst of tomato, the zing of onion, and the comforting embrace of melted cheese.
▪️ Minimal Cleanup: With the slow cooker doing the heavy lifting, cleanup is a breeze. Fewer dishes mean more time to savor your delicious creations.
▪️ Versatile and Fun: You can customize these tacos with your favorite toppings – sour cream, hot sauce, guacamole – the possibilities are endless.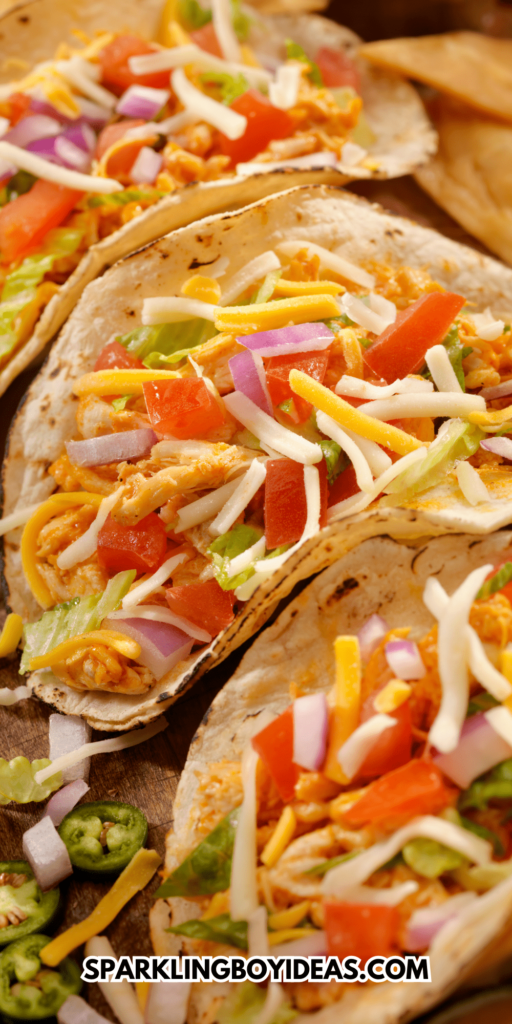 Helpful Kitchen Tools
Ingredients
▪️ 1 pound boneless, skinless chicken breasts: The star of our show – tender chicken that'll melt in your mouth after slow cooking.
▪️ 1 packet taco seasoning (or make your own blend): This mix adds a burst of Mexican flavors, combining spices like chili, cumin, and garlic.
▪️ 1 cup chicken broth: A savory liquid that keeps the chicken moist and infused with a delicious taste.
▪️ 1 onion, sliced: Sliced onions bring a hint of sweetness and crunch to balance the flavors.
▪️ 2 cloves garlic, minced: Little pieces of garlic that pack a punch of savory goodness.
▪️ Salt and pepper to taste: Just a pinch of these staples to enhance all the flavors.
▪️ Soft flour tortillas: These soft, flexible blankets wrap up the goodness, holding everything together.
▪️ Shredded lettuce: Fresh, crisp lettuce adds a satisfying crunch to your tacos.
▪️ Diced tomatoes: Juicy tomatoes that burst with tangy goodness in each bite.
▪️ Chopped onion: More oniony goodness for that extra zing and texture.
▪️ Shredded cheese (cheddar, Monterey Jack, or your favorite): Creamy cheese that adds richness and a hint of indulgence to your tacos.
Making Of Slow Cooker Chicken Tacos
Step 1: Alright, amigos, let's kick things off! Take your trusty slow cooker and place those boneless, skinless chicken breasts right in there.
Step 2: Now, grab that packet of taco seasoning. Sprinkle it all over the chicken like you're giving it a cozy spice blanket. Next, toss in those sliced onions and the minced garlic.
Step 3: Pour in that chicken broth, my friends. It's like giving our chicken a relaxing bath of flavor. This broth keeps things juicy and ensures every bite is flavorful.
Step 4: Put a lid on the slow cooker, and now it's time to let the magic simmer. Set that heat to low, and let the chicken hang out for about 6 to 8 hours.
Step 5: Alright, the moment of truth has arrived. You'll notice that the chicken has turned into a tender wonderland. Take your tongs, grab a piece, and watch it shred like it's been waiting its whole life for this moment.
Step 6: Time to get those tortillas into action. Warm them up – a quick skillet sizzle or a gentle microwave hug works wonders. Now, grab a tortilla, and scoop in that luscious shredded chicken you just brought to life. Then, here comes the fun part – load it up with shredded lettuce, diced tomatoes, a sprinkle of chopped onion, and a good ol' handful of shredded cheese. Fold it, hold it.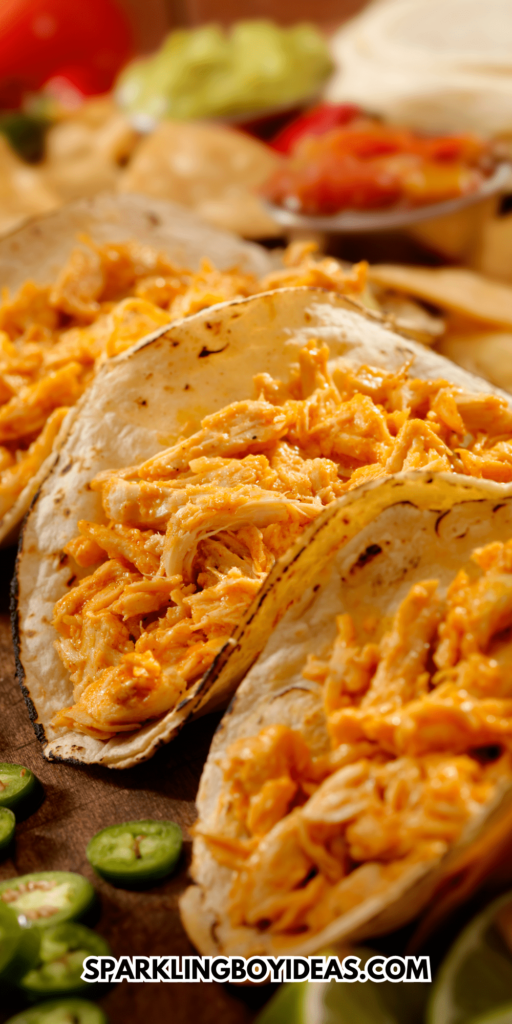 Tips And Techniques
▪️ Make your taco seasoning from scratch using chili powder, cumin, paprika, garlic powder, onion powder, and a pinch of cayenne if you like it spicy.
▪️ Don't be shy with the toppings – the more, the merrier!
▪️ If you're short on time, you can cook the chicken on high heat for 3-4 hours.
Serving Size
This recipe will fill your plate with about 6 to 8 tasty tacos, depending on how hungry you are and how much yummy stuff you pack inside each one.
Substitutions
▪️ Chicken Thighs: If chicken thighs aren't available, you can use chicken breasts. However, thighs tend to stay juicier through the slow cooking process.
▪️ Chicken Broth: In a pinch, you can substitute chicken broth with vegetable broth or water.
Serving Suggestions
▪️ Mexican Rice: Fluffy and flavorful, this rice is the perfect companion to your tacos.
▪️ Fresh Guacamole: Creamy, zesty, and oh-so-delicious, guacamole adds that extra oomph to your taco experience.
Variations
▪️ Swap out the chicken for pork or beef if you're feeling adventurous.
▪️ Add a dollop of sour cream or a drizzle of hot sauce for an extra kick.
Storage Tips
Store leftover shredded chicken and toppings separately in airtight containers in the fridge for up to 3 days. Reheat the chicken gently to keep it juicy.
FAQs
Q. Can I use chicken breasts instead of thighs?
Absolutely! While thighs tend to stay juicier during slow cooking, chicken breasts can be used as a substitute. Just keep an eye on the cooking time to prevent overcooking.
Q. How do I adjust the spice level?
Feel free to tailor the spice blend to your taste. Increase the cayenne pepper for a spicier kick, or omit it altogether for a milder flavor profile.
Q. Can I freeze the cooked chicken?
Yes, you can freeze the cooked and shredded chicken for up to 2 months. Thaw it in the refrigerator before reheating.
Q. What toppings work best with these tacos?
The options are endless! Consider diced tomatoes, shredded lettuce, chopped cilantro, diced onions, sour cream, and a squeeze of fresh lime.
Q. Can I use this chicken for other dishes?
Absolutely! The versatile shredded chicken can be used in quesadillas, salads, nachos, and more.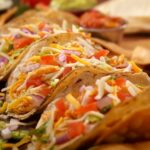 Print Recipe
Slow Cooker Chicken Tacos
This Slow Cooker Chicken Tacos recipe is a combination of succulent chicken, aromatic spices, and the convenience of a slow cooker that will redefine your taco experience. 
Ingredients
1

pound

boneless

skinless chicken breasts

1

packet taco seasoning

or homemade blend

1

cup

chicken broth

1

onion

sliced

2

cloves

garlic

minced

Salt and pepper to taste

Soft flour tortillas

Shredded lettuce

Diced tomatoes

Chopped onion

Shredded cheese

cheddar, Monterey Jack, or your favorite
Instructions
Place chicken in the slow cooker.

Sprinkle taco seasoning over chicken.

Add sliced onions and minced garlic.

Pour in chicken broth for juiciness.

Cover and cook on low for 6-8 hours.

Shred chicken in the slow cooker.

Warm tortillas and load with chicken, lettuce, tomatoes, onions, and cheese.
Notes
DIY taco seasoning with chili, cumin, etc.
Pile on the toppings for extra deliciousness.
Short on time? Cook chicken on high for 3-4 hours.