Grilled Honey Garlic Shrimp combines the succulent sweetness of honey with the rich depth of garlic, creating a flavor explosion that'll have your taste buds dancing. Fire up those grills and let's dive into this delectable seafood delight!
Why I Love This Recipe
This recipe for Grilled Honey Garlic Shrimp holds a special place in my heart for its harmonious blend of garlic's richness and honey's delicate sweetness.
It showcases the magic of simple ingredients coming together to create a sophisticated yet comforting flavor.
What's more, this dish is incredibly versatile, making it perfect for summer barbecues or quick weeknight dinners.
The complex marinade and the smoky grill impart a delightful depth to the shrimp.
And let's not forget the joy of grilling, which adds an extra layer of sensory pleasure to the cooking experience.
If you're seeking a crowd-pleasing, flavorful dish that celebrates the art of simplicity, this Grilled Honey Garlic Shrimp is your go-to choice.
Why You'll Love This Recipe
▪️ Taste Explosion: Imagine juicy shrimp with a sweet and garlicky dance of flavors in every bite. It's like a tasty party in your mouth!
▪️ Easy-Breezy: Don't worry if you're not a pro chef. This recipe keeps things simple, so you can impress without stress.
▪️ Grill Magic: Ever heard that sizzle when food hits the grill? It's like a cooking concert, and these shrimp are the rock stars.
▪️ Anytime, Anywhere: Whether it's a chill dinner or a big backyard bash, these shrimp know how to fit in and make folks smile.
Helpful Kitchen Tools
Ingredients
For the Marinade:
▪️ 1/4 cup olive oil: This makes the shrimp juicy and prevents them from sticking to the grill.
▪️ 3 tablespoons honey: It adds a sweet and sticky coating that caramelizes when grilled.
▪️ 4 cloves garlic, minced: These little guys bring a delicious garlicky flavor that we all love.
▪️ 2 tablespoons soy sauce: This gives a rich and savory taste to our shrimp.
▪️ 1 tablespoon lemon juice: A squeeze of lemon adds a tangy and fresh kick.
▪️ 1 teaspoon smoked paprika: This adds a touch of smoky flavor that'll remind you of outdoor barbecues.
▪️ 1/2 teaspoon red pepper flakes: A pinch of these brings gentle heat to the marinade.
For the Shrimp:
▪️ 1 pound large shrimp, peeled and deveined: About 20-25 pieces, these are the stars of the dish.
▪️ Salt and pepper to taste: Just a bit of these enhances the flavors.
▪️ Chopped fresh parsley for garnish: This adds a burst of green freshness at the end.
Making Of Grilled Honey Garlic Shrimp
STEP 1: Whisk together these amazing flavors in a bowl: olive oil for that lovely glaze, honey for a touch of sweetness, minced garlic for the aroma, soy sauce to deepen the taste, lemon juice for a zesty twist, smoked paprika for a hint of smokiness, and red pepper flakes for just a touch of heat.
STEP 2: Now, make sure each shrimp gets coated generously with this fantastic mix. Pop it in the fridge and let the flavors mingle for about 30 minutes – it's like a flavor party happening right in there!
STEP 3: Time to get creative! Thread those marinated shrimp onto skewers. Aim for about 4 or 5 shrimp on each skewer – it looks impressive and ensures they cook evenly. After all, no one likes half-cooked shrimp, right?
STEP 4: Fire up your grill to a medium-high heat. Sprinkle a pinch of salt and pepper on your shrimp for that extra punch. Now, place those skewers on the grill and let the magic unfold! Grill each side for about 2-3 minutes. Keep a close eye on them; we're aiming for that beautiful pink color and those grill marks that make you look like a pro chef.
STEP 5: Now for the exciting part! In the last minute of grilling, grab your basting brush and generously coat your shrimp with more of that marinade. Trust me, this step is like giving your shrimp a shiny, flavorful coat.
STEP 6: And here's the secret sauce – once they're off the grill, sprinkle some freshly chopped parsley on top. It's like a burst of freshness that elevates your dish to a whole new level. Enjoy your perfectly grilled, glaze-coated shrimp!
Tips and Techniques
▪️ Let those shrimp marinate for about 30 minutes to soak up the flavorful goodness; it's like a pre-grill flavor party.
▪️ Skewer the shrimp for even cooking and easy flipping; no need for shrimp acrobatics.
▪️ Just before grilling, give them a wake-up call with a sprinkle of salt and pepper.
▪️ Shrimp cook quickly, around 2-3 minutes per side, so keep a close eye to avoid overcooking.
▪️ Finish with a sweet glaze of leftover marinade for that final touch of deliciousness.
▪️ Don't forget the parsley garnish; it adds a burst of color and freshness, like a stylish hat for your dish.
Serving Size
This Grilled Honey Garlic Shrimp recipe is perfect for about 4 servings. Imagine a delightful gathering with your loved ones around the table, savoring these delicious shrimp together. You can easily adjust the quantities for a larger group or for some tasty leftovers. These shrimp remain delicious even the next day, so dish out those flavorful skewers and let the good times begin!
Serving Suggestions
▪️ Serve these shrimp as the star on a bed of rice or grains for a flavor-packed meal.
▪️ Lighten up with a summer salad featuring crisp greens, cherry tomatoes, and grilled shrimp.
▪️ Wrap them in tortillas or lettuce leaves for delicious tacos or wraps with slaw and sauce.
▪️ Elevate your sides with these shrimp alongside roasted veggies or creamy mashed potatoes.
Variations
▪️ Try lime or orange juice instead of lemon in your marinade for a tangy, refreshing twist on your shrimp, perfect for summer.
▪️ Add fresh herbs like thyme, rosemary, or cilantro to infuse your shrimp with aromatic flavors and a colorful visual appeal.
▪️ Increase the red pepper flakes for a spicier shrimp experience that will keep your taste buds tingling.
▪️ Swap soy sauce for teriyaki sauce in your marinade to enjoy a Japanese-inspired umami flavor with honey and garlic.
▪️ Replace honey with maple syrup for a warm, earthy sweetness that creates a luxurious glaze, perfect for autumn gatherings and comfort food cravings.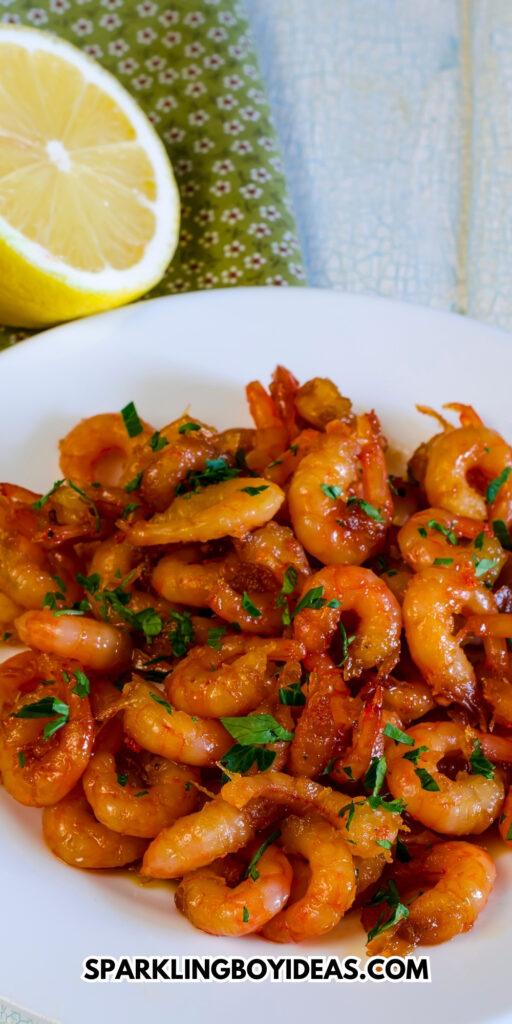 FAQs
Q. Can I use frozen shrimp for this recipe?
Absolutely! Thaw and pat them dry before marinating.
Q. Can I cook these indoors?
Of course! Use a grill pan or skillet over medium-high heat.
Q. Can I use the marinade for other proteins?
Definitely! This marinade works well with chicken, tofu, or even grilled vegetables.
Q. What's the best way to prevent shrimp from sticking to the grill?
Make sure your grill grates are clean and well-oiled before grilling.
Q. How do I know when the shrimp are cooked?
Shrimp turn pink and opaque when cooked. Avoid overcooking, as they can become rubbery.
Print Recipe
Grilled Honey Garlic Shrimp
Grilled Honey Garlic Shrimp combines the succulent sweetness of honey with the rich depth of garlic, creating a flavor explosion that'll have your taste buds dancing.
Ingredients
¼

cup

olive oil

3

tablespoons

honey

4

cloves

garlic

minced

2

tablespoons

soy sauce

1

tablespoon

lemon juice

1

teaspoon

smoked paprika

½

teaspoon

red pepper flakes

1

pound

large shrimp

peeled and deveined

Salt and pepper to taste

Chopped fresh parsley for garnish
Instructions
Mix olive oil, honey, minced garlic, soy sauce, lemon juice, smoked paprika, and red pepper flakes in a bowl.

Toss shrimp in the marinade to coat well.

Cover and refrigerate for 30 minutes.

Preheat grill to medium-high heat.

Thread marinated shrimp onto skewers, about 4-5 shrimp per skewer.

Sprinkle shrimp with salt and pepper.

Grill for 2-3 minutes on each side until pink with grill marks.

In the last minute, brush shrimp with leftover marinade.

Remove from grill and sprinkle chopped parsley.
Notes
Tips and Techniques
Stick to 30 minutes for marination.
Ensure the grill is hot for a nice sear.
Glaze shrimp after grilling for extra flavor.
Serving
Serve over cooked quinoa, rice, or a fresh salad.
Drizzle with the remaining marinade for more flavor.
Variations
Swap lemon juice for lime or orange juice.
Add chopped herbs like thyme or rosemary.
Increase red pepper flakes for more heat.
Use teriyaki sauce instead of soy sauce.
Replace honey with maple syrup for cozy sweetness.