Indulge in a harmonious blend of flavors with our Crockpot Chicken Alfredo With Broccoli recipe. Effortlessly savory, tender chicken meets creamy Alfredo, perfectly complemented by crisp broccoli.
Why I Loved This Recipe
The delightful smell of this dish filled my kitchen, making me feel cozy even before I tasted it.
Scooping the creamy pasta onto my plate, I could hardly wait to try it.
With the first bite, I was taken to a place of absolute food joy.
The way the flavors blend and the comforting creaminess reminded me of times spent with family, enjoying meals together.
More than just a dish, this is a memory, an experience that I can't wait to tell you about.
Why You'll Love This Recipe
▪️ Easy-Breezy Magic: Toss everything in the crockpot and let it do the work while you carry on with your day.
▪️ Creamy Delight: Treat yourself to a smooth and velvety Alfredo sauce, hugging every twist of pasta and bite of chicken with its cozy creaminess.
▪️ Flavors in Harmony: Slow cooking lets the ingredients join hands and create a harmony of tastes that will turn you into a kitchen superstar.
▪️ Effortless Goodness: Be it a hearty dinner or a potluck get-together, this recipe brings gourmet flavors to your table without the gourmet fuss.
Helpful Kitchen Tools
Ingredients
▪️ 1 pound boneless, skinless chicken breasts, diced: Tender chicken that soaks up amazing flavors as it slow-cooks.
▪️ 12 oz rigatoni pasta, slightly undercooked: Pasta tubes that catch creamy sauce, perfectly matching the chicken.
▪️ 2 cups broccoli florets: Fresh broccoli for color and crunch, a healthy surprise in every bite.
▪️ 2 cups heavy cream: Magic for Alfredo sauce, making it velvety and dreamy, giving the pasta a luxurious taste.
▪️ 1 cup grated Parmesan cheese: Flavor bomb, adding a nutty, savory kick to the sauce.
▪️ 4 cloves garlic, minced: Aromatic hero for delicious smell and taste.
▪️ 1 teaspoon salt, or to taste: Seasoning superhero that brings out all flavors, making them pop.
▪️ ½ teaspoon black pepper: Spicy zing to balance the creamy goodness.
▪️ ½ teaspoon dried oregano: Cozy hug of warmth and earthy flavor.
▪️ ½ teaspoon dried thyme: Herby charm that takes us to rustic kitchens with its time-traveling magic.
Making Of Crockpot Chicken Alfredo With Broccoli
STEP 1: To start things off, show your crockpot a little kindness by giving it a light spray of cooking oil. This makes sure nothing sticks too much.
STEP 2: Now, let's invite all our ingredients to the crockpot gathering! Add in the diced chicken, rigatoni pasta (make sure it's almost cooked), minced garlic (that amazing smell!), and a pinch of salt, pepper, dried oregano, and dried thyme.
STEP 3: Pour the heavy cream like a cozy blanket over everything in there. Let it all snuggle up and make friends.
STEP 4: Here comes the fun part – sprinkle grated Parmesan cheese generously. Watch it vanish into the mix as you give everything a gentle stir. It's like adding a touch of cheesy magic!
STEP 5: Cover it up, switch your crockpot to low, and let the flavors mix and mingle for about 3 hours. Your kitchen will be filled with amazing smells!
STEP 6: After about 2 hours of mingling, bring in the cheerful broccoli florets. Gently mix them in, cover it all up, and let the crockpot party keep going for another hour.
Tips and Techniques
▪️ If you're into garlic, sauté the minced cloves before adding to the crockpot for an extra burst of flavor.
▪️ Give your mixture a gentle stir while it cooks – keeps everything smooth and prevents sticking.
▪️ Got frozen chicken? Thaw before crockpot time. Cold water bath works wonders for defrosting.
▪️ Boil rigatoni a bit less than perfect before crockpot action. They'll soak in flavors without turning mushy.
▪️ Get creative! Add mushrooms, and sun-dried tomatoes – make it your flavor masterpiece. This recipe is your playground.
Serving Size
This delicious Crockpot Chicken Alfredo With Broccoli recipe makes enough to fill the plates of about 4 to 6 hungry folks. And guess what? There might even be some leftovers for a cozy lunch the next day. So, it's like having a warm meal today and a tasty treat tomorrow!
Serving Suggestions
▪️ Add a side salad with mixed greens, cherry tomatoes, and light vinaigrette for a burst of freshness that complements the creamy soup.
▪️ Serve warm garlic bread for a delightful contrast – the smell of toasty bread and garlic adds a touch of heaven to your meal.
▪️ Get creative! Add grated Parmesan cheese, a drizzle of olive oil, or a pinch of red pepper flakes for a personalized twist to the dish.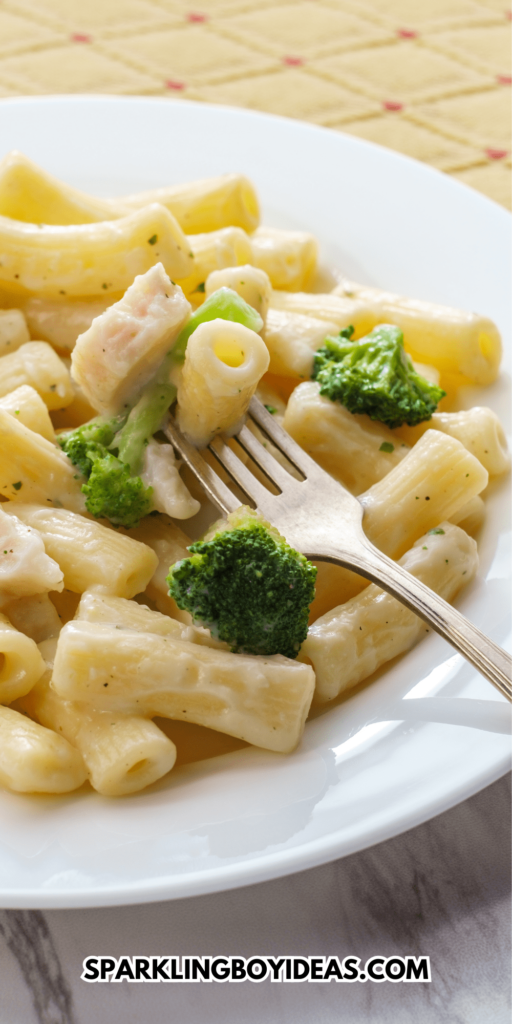 Variations
▪️ If you're a mushroom fan, sauté those mushrooms in butter until they're golden and add them in. They give a tasty earthy touch that goes perfectly with the creamy Alfredo sauce.
▪️ Try sun-dried tomatoes for a tangy punch! Chop them up and scatter these flavor-packed gems on top. Instantly, your pasta gets a tangy kick and a colorful boost.
▪️ Cheese lover? Go all out! Sprinkle your favorite cheese like mozzarella or sharp cheddar on the dish after it's cooked.
Storage Tips
For the best leftover pasta experience, let it cool, store it in a labeled airtight container, and gently reheat it with a splash of milk. Creamy sauces don't freeze well. Savor within 2-3 days for peak flavor. Happy eating!
FAQs
Q. Can I use frozen chicken?
It's best to use thawed chicken for even cooking. You can quickly defrost frozen chicken in a bowl of cold water.
Q. Can I cook the pasta in the crockpot?
It's recommended to slightly undercook the pasta on the stovetop before adding it to the crockpot. This prevents it from becoming mushy during the slow-cooking process.
Q. Can I use store-bought Alfredo sauce?
While you can use store-bought sauce, making the Alfredo sauce from scratch adds a richer and more authentic flavor.
Q. Can I freeze the leftovers?
Freezing may alter the texture of the cream-based sauce. It's best to consume the leftovers within a couple of days for the best experience.
Print Recipe
Crockpot Chicken Alfredo With Broccoli
This Crockpot Chicken Alfredo Pasta With Broccoli recipe is combination of perfectly cooked rigatoni, succulent chicken, and crisp broccoli, all enveloped in a velvety Alfredo sauce, that will have your taste buds singing.
Ingredients
1

pound

boneless

skinless chicken breasts, diced

12

oz

rigatoni pasta

slightly undercooked

2

cups

broccoli florets

2

cups

heavy cream

1

cup

grated Parmesan cheese

4

cloves

garlic

minced

1

teaspoon

salt

½

teaspoon

black pepper

½

teaspoon

dried oregano

½

teaspoon

dried thyme
Instructions
Grease your crockpot lightly to prevent sticking.

In the crockpot, add: diced chicken, slightly undercooked rigatoni, minced garlic, salt, black pepper, dried oregano, and dried thyme

Pour in the heavy cream over the ingredients.

Sprinkle grated Parmesan cheese and give it a gentle stir.

Cover the crockpot and let it cook on low for 3 hours.

After 2 hours, stir in the broccoli florets.

Cover the crockpot again and cook for 1 more hour.

Let the cooked dish cool for about 10 minutes before serving.