Are you looking for the ultimate meal prep recipes? Do you want to lose weight? Here is a list of meal prep recipes for weight loss. These easy ideas will save your time and make your life much easier when it comes to healthy eating. Use these simple and nutritious meal prep recipes to plan your week's meals.
These healthy Meal Prep Recipes can assist you in losing weight. There are healthy lunch and dinner recipes for chicken, beef, vegetarian, low carb, and many more options.
These recipes will also help you in saving money. Planning your meals ahead of time will help you save money at the grocery store and minimize impulse purchases. It will also make you less likely to eat out during the week if you know you have tasty and nutritious meals ready for you!!
Easy Meal Prep Recipes
" Affiliate links provided for your convenience, please read my disclosure for more information."
Buy these recommended products here:
1. BBQ Baked Salmon and Zucchini
These Honey BBQ Baked Salmon Bowls are the perfect meal prep recipe for a quick lunch or dinner. High in protein, gluten-free, and dairy-free. In 30 minutes, you can have a nutritious meal prep dinner ready!
2. Lemon Roasted Salmon with Sweet Potatoes and Broccolini
Read how to make this simple lemon roasted fish with sweet potatoes and broccolini. It's easy to make and perfect for quick lunches and meals! Simply heat and EAT.
3. Sheet Pan Tilapia and Veggies
In less than 20 minutes, tilapia, broccoli, asparagus, zucchini, and carrots were all roasted in one pan. This healthy sheet pan dinner is bursting with garlic and spice aromas.
4. Shrimp Teriyaki Zucchini Noodles
Teriyaki shrimp and broccoli on top of zucchini noodles. This tasty low-carb dish meal prep takes less than 30 minutes to cook and offers a healthy weekday lunch at just 215 calories per meal!
5. Shrimp Fried Rice
There's no need to order takeaway! For the full week, your favorite fried rice recipe is put straight into meal prep boxes!
6. One Pan Italian Sausage and Veggies
The ingredients in One–Pan Italian Sausage and Veggies are healthy and beneficial for you. Sausage smoked with zucchini, carrots, red peppers, potatoes, broccoli, and an Italian-inspired spice combination. For a full, easy, nutritious dinner, top with Parmesan cheese and herbs.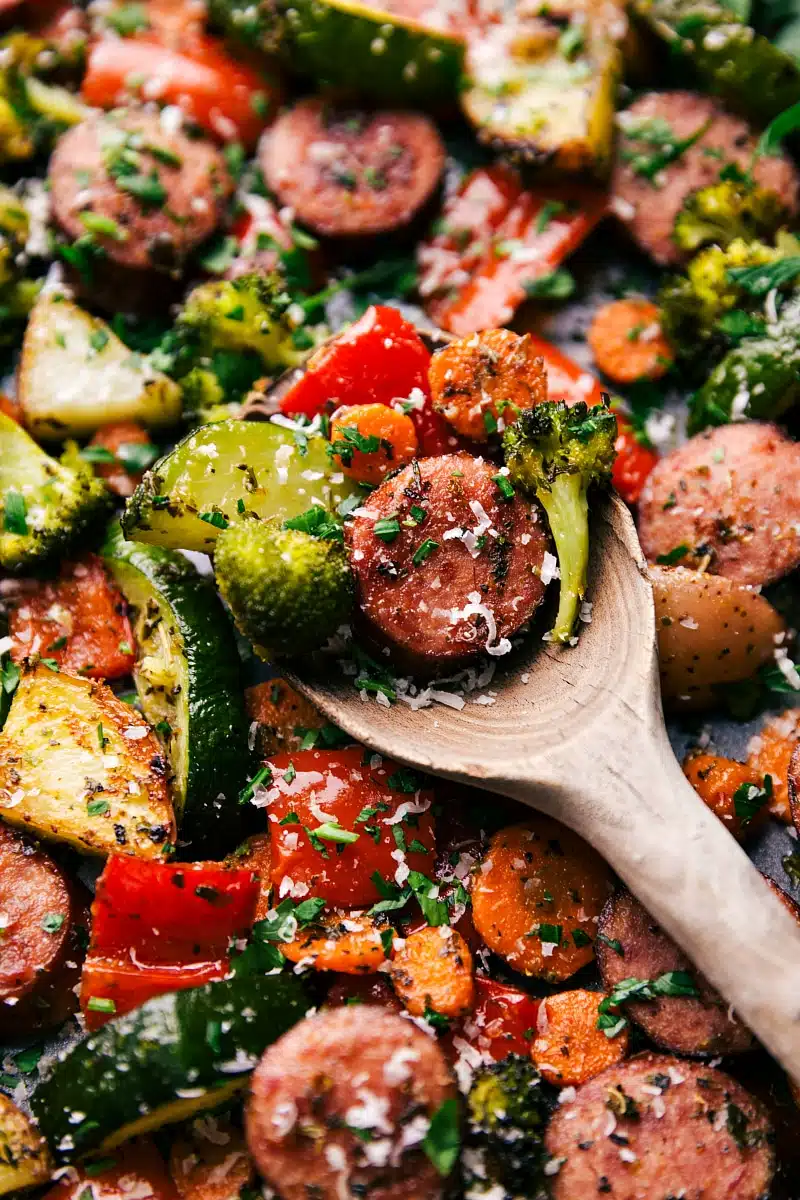 7. Slow Cooker Carnitas Burrito Bowls
Slow Cooker Carnitas Burrito Bowls are made with delicious pork carnitas, street corn salad, cilantro-lime rice, and all of your favorite toppings.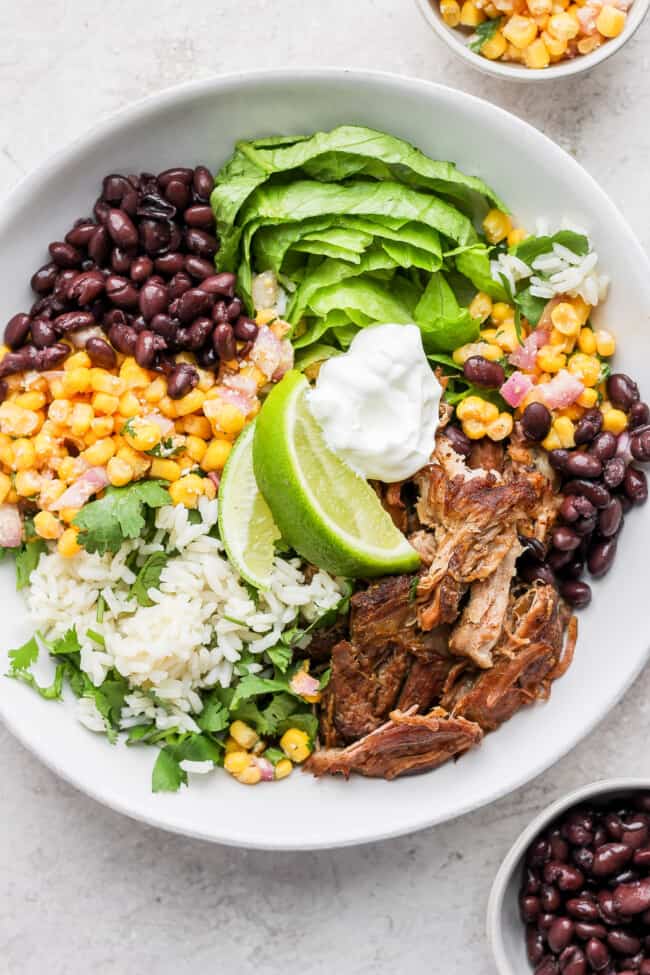 8. Spicy Chickpea Quinoa Bowls
These spicy chickpea quinoa bowls are gluten-free, dairy-free, vegan, and great for weekly meal prep! It's simple to put together and simple to make! This recipe is perfect for meal prep since while being a vegetarian dish, it is quite filling!
9. Curried Chickpea Bowls with Garlicky Spinach
These vegan curried chickpea bowls make weeknight meal prep a snap. Chickpeas are combined with garlicky spinach and brown rice to make a simple dinner that is both tasty and filling.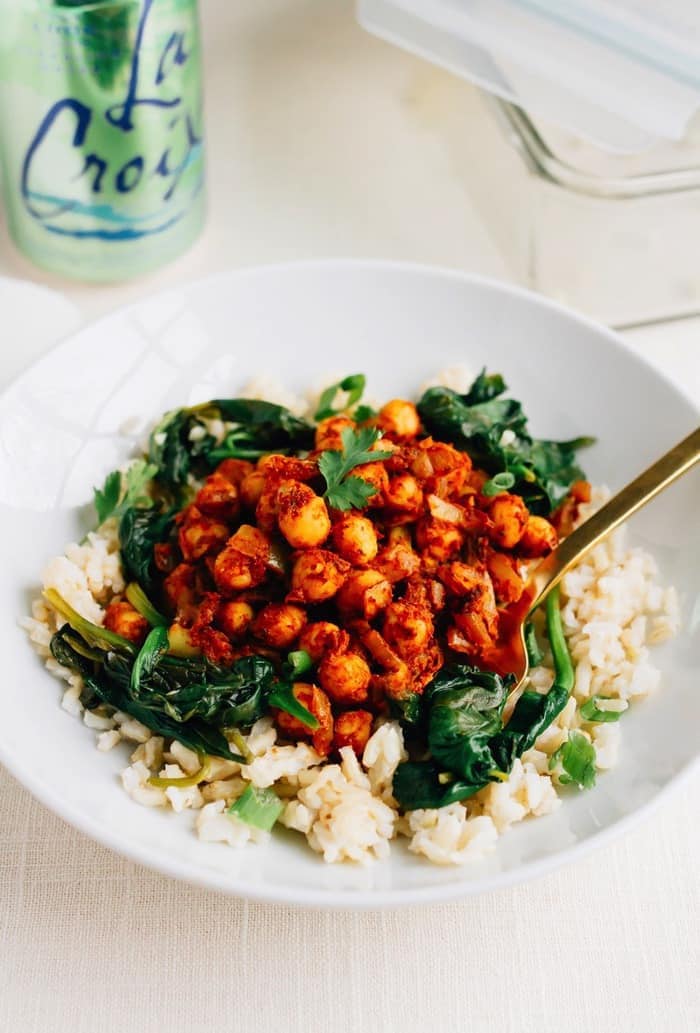 10. Copycat Starbucks PB&J Bistro Box
Making your own PB&J whole wheat snack boxes for the entire week can save you money and calories! Just 315 calories!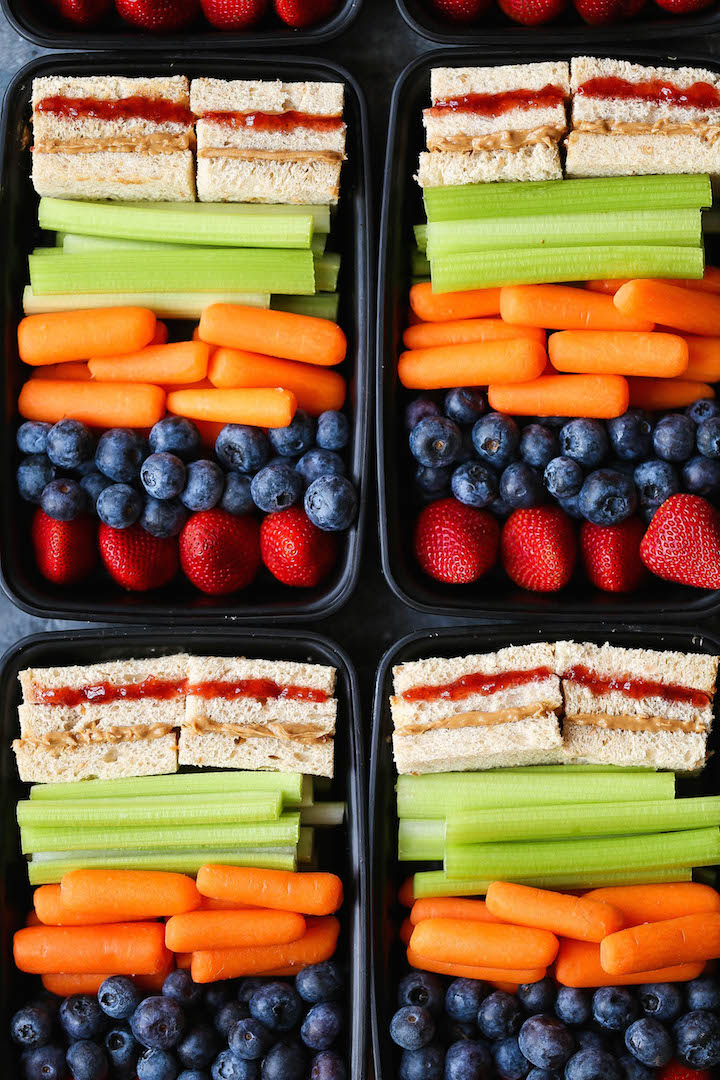 11. Salsa Verde Taco Meal Prep
Taco Meal Prep Bowls with delicious salsa verde ground beef, corn, tomatoes, black beans, brown rice, and cilantro for an easy taco meal prep. A filling, tasty, and delicious quick and simple meal prep option.
12. Meal Prep Taco Salad Lunch Bowls
Meal Prep Taco Salad Lunch Bowls that can be made ahead of time! Taco beef, lettuce, cheese, black beans, corn, and salsa top these quick taco salads!
13. Thai Turkey Lettuce Wraps
Thai turkey lettuce wraps with a sour and slightly spicy peanut sauce are simple and flavorful. For a quick and low-carb dinner, spoon the filling onto crisp romaine lettuce leaves.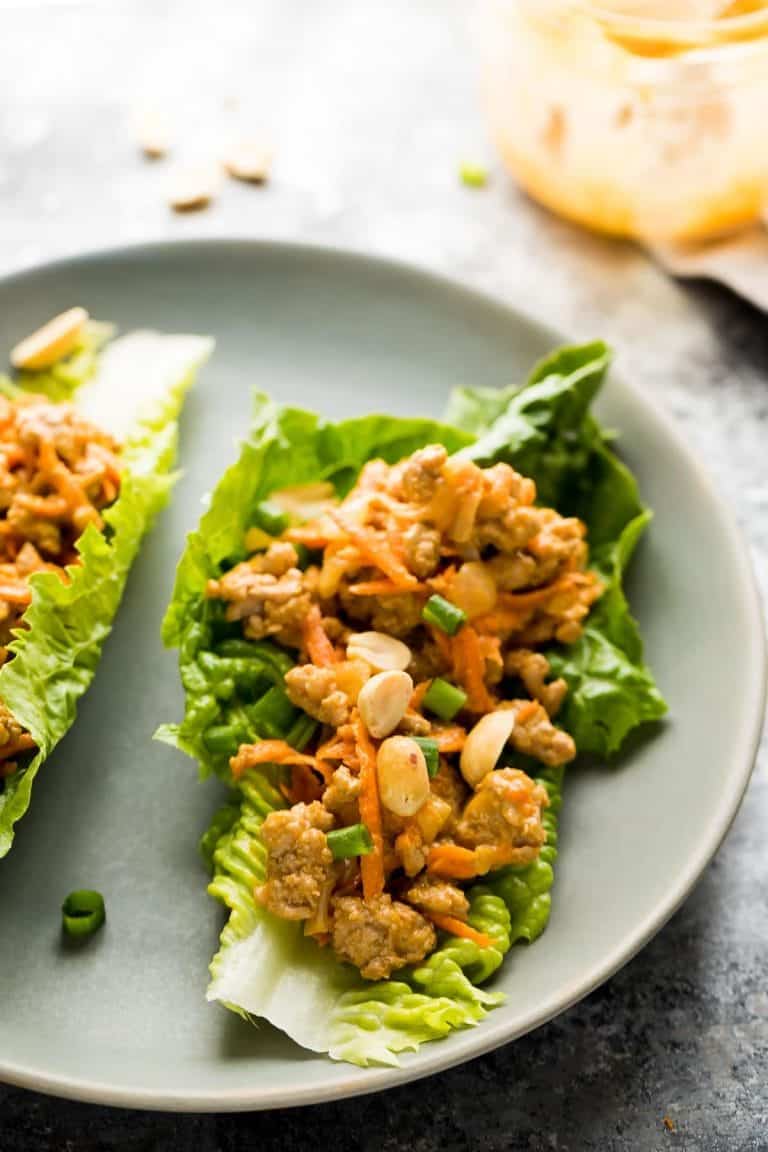 14. Honey Sriracha Glazed Meatballs
Honey Sriracha Glazed Meatballs are sweet, spicy, and bursting with flavor! They also take less than 30 minutes to prepare and are perfect for weekly meal prep!
15. Chicken and Brocolli Stir Fry Meal Prep
Chicken and Broccoli Stir Fry is a quick dish that can be cooked ahead of time in bulk for your weekly meal prep. It's quick and easy to make, and you'll never get tired of eating it.
You can serve it with brown rice, but you can also serve it with different grains like cauliflower rice.
16. Thai Chicken Wrap Bistro Boxes by Gimme Delicious
17. Thai Chicken Salad with Skinny Peanut Dressing by Little Spice Jar
18. Slow Cooker Orange Chicken by Life Made Sweeter
19. Honey Lime Chicken by Life Made Sweeter
20. Sesame Chicken Pasta Salad by Sweet Peas and Saffron
21. Cashew Chicken Meal Prep by Life Made Sweeter
22. Chicken Meal Prep Bowls: 5 Ways by Smile Sandwich
23. Chicken and Hummus Lunch Meal Prep by Project Meal Plan
24. Meal Prep Butter Chicken by Gimme Delicious
25. Meal Prep Greek Chicken Gyro Bowls by Creme de la Crumb
26. Pesto Chicken Pita Pockets by Sweet Peas and Saffron
27. Sheet Pan Parmesan Pesto Chicken, Broccoli, and Carrots by Carlsbad Craving
28. Greek Chicken Roasted Cauliflower Meal Prep Bowls by Food Faith Fitness
29. Chicken Shawarma and Sweet Potato Fry Bowls by Hall Baked Harvest
30. Greek Healthy Meal Prep by 40 Aprons
31. Italian Chicken Meal Prep Bowls by Eazy Peazy Mealz
32. Lemon & Thyme Chicken Meal Prep by Yummy Healthy Easy
33. Baked Chicken, Broccoli, and Sweet Potatoes by Recipe Diaries
34. Chicken Butternut Squash Pasta by Imma Eat That
35. Pineapple Chicken Meal Prep Bowls by The Culinary Compass
Now comes the important question… Which Meal Prep Recipes do you like the most? Please let me know in the comments.
Few more healthy recipes !!!
Want to save this for later? Post these Meal Prep Recipes to your favorite Pinterest Board!