When it's freezing outdoors, there's no better way to pass the time than by crafting. Check out these winter crafts to get some ideas and keep the whole family entertained.
Winter brings a whole new avenue of really amazing winter crafts, home decor ideas, and a new palette of colors and textures to select from. It's winter, and it's here to stay, at least for some time.
DIY and craft projects can result in the most beautiful decorating pieces, so who knows, you could get more than just a fun craft session out of it. With that in mind, here are winter crafts for you to try.
Cool Winter Crafts To Do
" Affiliate links are provided for your convenience, please read my disclosure for more information."
40. Washcloth Snowman
This easy washcloth snowman craft is a great winter activity for kids. It's also a beautiful handmade gift idea for kids to make for someone special (or for you to make for kids!).
Tie a small treat to the finger knit scarf to make it fun and festive if you're making them as gifts.
39. Paper Plate Snowman
This paper plate snowman craft is a simple kid's craft idea that is perfect for the whole winter season! Snowmen are a great alternative both before and after Christmas, so this is a fun activity for a snow day.
These snowmen are excellent for the youngest crafters, and there are some ideas below for making them a bit more advanced for some of the older crafters.
38. 3D Paper Snowman
With this newest downloadable pattern, you may create a 3D paper snowman. This is a beautiful Winter craft for kids that will look great hung on the wall. The snowman sits on a hill surrounded by falling snow and has a wonderful 3D effect thanks to body parts glued on with a raised curve.
37. Footprint Snowman
This footprint snowman craft project is guaranteed to be a success with your kids if you're looking for an easy Winter or Christmas craft! Your kids will love stamping their feet into the paint and then making their own snowman footprint.
This would also make a lovely Christmas gift or Christmas card. The best part is that you can keep this craft for many years! Don't forget to write the date on the back so you know how old your kids were when they created them.
36. Pom Pom Penguin Decoration
Nothing shouts winter more than this adorable little pom-pom penguin ornament! It doesn't matter if you hang it on your mantle, a wreath, or hang it from your Christmas tree — it looks great wherever.
It's extremely simple to make and just costs pennies! It makes an excellent winter ornament and is suitable for making with kids of all ages.
35. Paper Bag Snowman Puppet
This simple paper bag craft is great for toddlers and kids to perform indoors during the winter. It's also a wonderful fit for a favorite children's snowman book.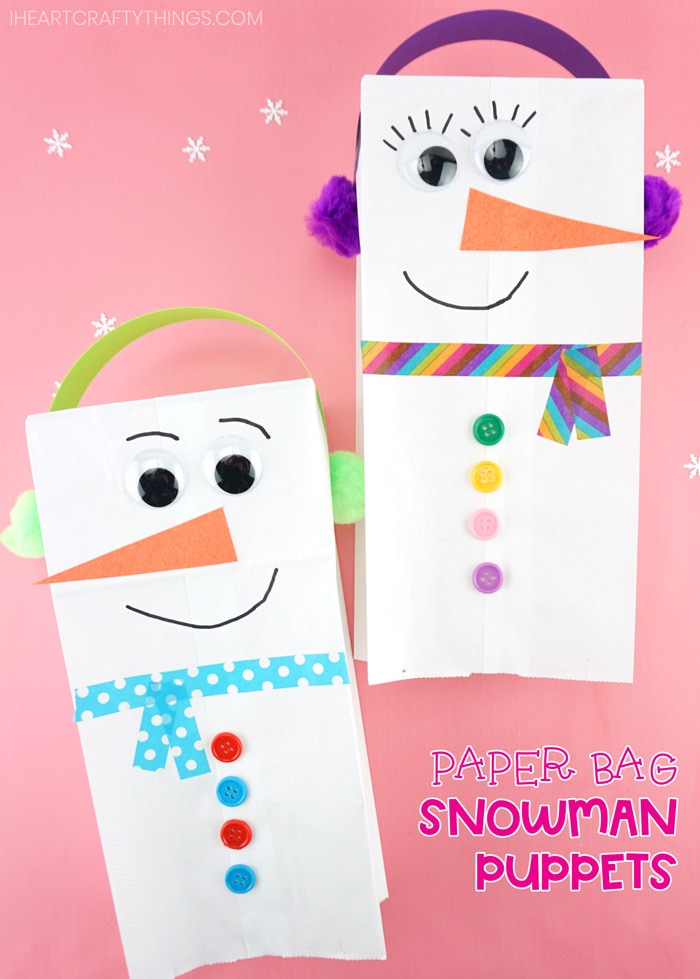 34. Snowflakes Crafts
These are simple snowflake crafts for kids that you can do with the free snowflake template, such as the mosaic snowflake craft. These are some of the most popular winter crafts for kids, and they're especially good for toddlers since they help with scissor skills and fine motor skills.
33. Paper Plate Snowman Wreath
This Paper Plate Snowman Wreath is absolutely wonderful! Nobody will be able to resist those button eyes and cheeky smiles! This easy paper plate snowman project is perfect for Christmas and the winter season.
For some Winter creative fun, hang them on the door, window, or wall! This is a fun and simple paper plate craft for toddlers and preschoolers.
32. Craft Stick Snowman
This Craft Stick Snowman with a beautiful spiral pipe cleaner hat is a very cute winter craft that looks great hanging from the Christmas tree.
31. Cotton Ball Penguin
This cute cotton ball penguin craft is simple enough for toddlers and kindergartners to do. With a variety of penguin patterns to pick from, your kids will love making this simple winter craft.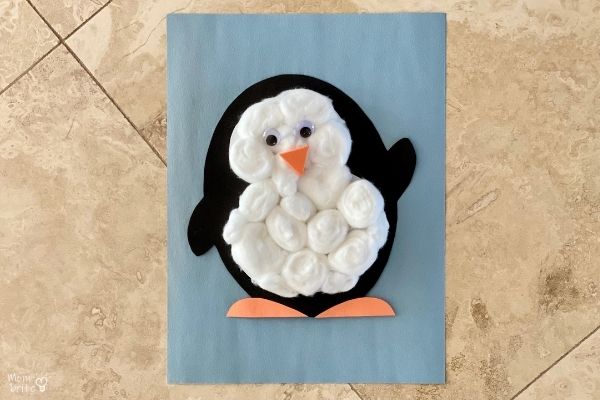 30. Pom Pom Penguins
Try these cute and jolly-looking pom-pom penguins made out of wool. These are some of the perfect winter craft ideas, that you can try with your kids during the freezing winter outside.
29. Recycled Toilet Paper Tube Snowmen
Do you have a lot of toilet paper tubes lying around your home? Yes, we all do! They're great for crafts and come in handy over the holidays.
These Recycled Toilet Paper Tube Snowmen are great for displaying during the holiday season and would make fantastic keepsake gifts.
28. Snowman In A Bag Kids Craft
This is a cute Snowman In A Bag Kids Craft to do on a freezing winter day! This is an excellent "snow day" activity for toddlers, preschoolers, and even young primary school students. What's even better is that you could already have most of the ingredients needed to make this snowman in a bag activity!
27. Paper Snowman Craft
Why not give your kids a fun and easy paper snowman activity to tickle their desire for Christmas? Try this paper snowman project in the winter, summer, or spring; the snowman will not melt. Of course, because it's made of paper, it'll last longer.
26. Handprint Penguin
We have the perfect indoor craft for you to try when the outdoors is cold or wet in the winter! This handprint penguin is a great winter craft! And you'll love that your handprint crafts can be given as gifts or kept for yourself!
25. Wooden Sled Decor by Birdz of a Feather
24. Reindeer Driftwood Craft by Sustain My Craft Habit
23. Salt Dough Ornaments by Good Life Eats
22. Reindeer Cocktail Stirrers by Lovely Indeed
21. Snowman Mason Jar by Fun Money Mom
20. Snowflake Ornaments by Lovely Indeed
19. Warm Mittens by Happiest Camper
18. Popsicle Stick Winter Craft by Sustain My Craft Habit
17. Snowflake Trinket Dish by Modpodger Rocks
16. Toilet paper Snowflakes by Colorful Craft Corner
15. Diy Glass Jar Snowman Lantern by Mixed Kreations
14. Flame Free DIY Snowman Luminaries by Lil Tigers
13. DIY Fake Snowballs by The Country Chic Cottage
12. Pom-Pom Snowball by Love My Simple Home
11. Tea Light Snowman Ornaments by One Little Project
10. Winter Wonderland Wreath by The Country Chic Cottage
9. Rustic Snowman Ornament by The Inspiration Edit
8. Repurposed Light Globes by Mission to Save
7. Frozen Ornaments by Simple Parenting
6. Snowman Bath Bombs by Family Budgeting
5. DIY Winter Checkers Game by Lovely Indeed
4. DIY Rustic Scrap Wood Snowman by Drug Store Divas
3. Snowman Handprint by The Best Ideas for Kids
2. Sock Gnomes by It's Always Autumn
1. Wine Glass Snowmen by Crafty Morning
Now comes the important question… Which winter crafts do you like the most? Please let me know in the comments.
Few more craft ideas!!!
Want to save this for later? Post these Winter Crafts to your favorite Pinterest Board!