With these unique Elf on the Shelf Ideas, you can start a fun Christmas tradition for your kids. There are plenty of other kid-friendly Elf on the Shelf Ideas to pick from, whether you're searching for funny or naughty elf ideas.
Many of these ideas are quick and simple, making them perfect for the last minute. There are many elf tricks like the elf on the shelf bathroom ideas, dental elf on the shelf, elf on the shelf phone number, and many more.
What is Elf on the Shelf?
For those who are unfamiliar with this famous Christmas tradition, it is based on a children's picture book in which a special scout for Santa is sent to your home from the North Pole to encourage your children to behave while reporting back to Santa each night who is being bad or good.
Because the elf cannot be handled by children because it would lose its charm, adults are responsible for moving the elf once a day until Christmas. When the kids are asleep, the elf only moves at night.
Kids love this fun Christmas tradition, but coming up with new ideas for a whole month may be difficult for parents.
So here are some quick and easy Elf on the Shelf Ideas for inspiration. You won't run out of ideas for years because there are over a hundred unique ones!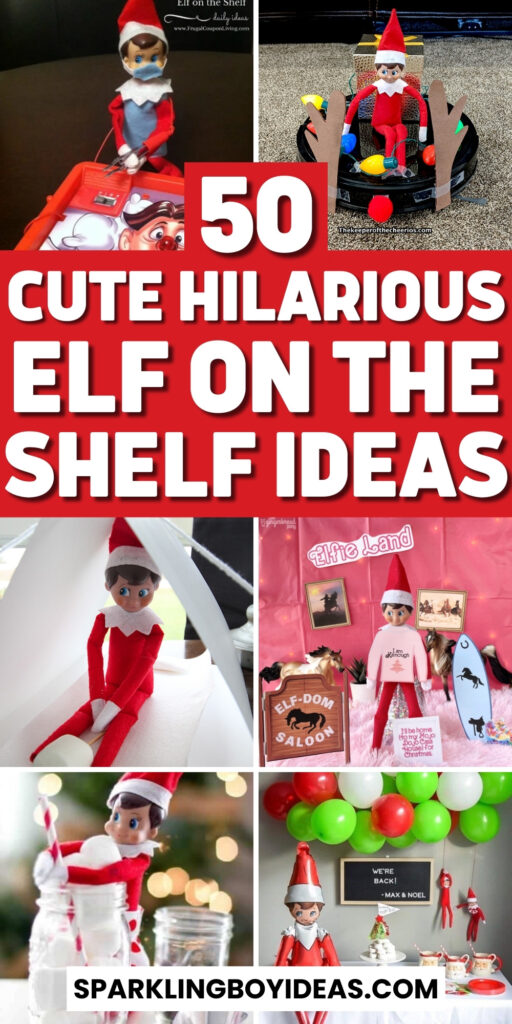 Adorable Elf on the Shelf Ideas
" Affiliate links provided for your convenience, please read my disclosure for more information."
Buy these recommended products here:'
55. Toy Elf Tricks
Play with your child's toys with your elf. Every other day, switch toys to keep things interesting.
52. Elf on the Shelf Im Back Letter
Try this fun and exciting "elf on the shelf I'm back letter", as it's the sign that the elf is back with new surprises and more fun.
51. Elf on the Shelf Welcome Letter
Are you excited to welcome your old mischievous guest who loves to do random things in your house, then try these free "elf on the shelf welcome letters" and give him a warm welcome.
50. Elf Cocoa Party
Set out some exciting cocoa party decorations, such as chocolate chips, marshmallows, straws, and cute cups, for your cocoa party. You can include jars of chocolate shavings or peppermint candies to add to your hot cocoa!
49. Elf Printable Arrival Letter
Try this elf printable arrival letter, to encourage your kids to donate some of their toys, and help others. The Christmas Elf has not only sent this Welcome Message but also a blank note with a drawing of himself for parents to write their own " style from their elf.
48. "See Ya" Elf on the Shelf
Try this fantastic and one-of-a-kind Elf Idea and write a message in the snow with your finger, then enjoy your kids' exciting reactions!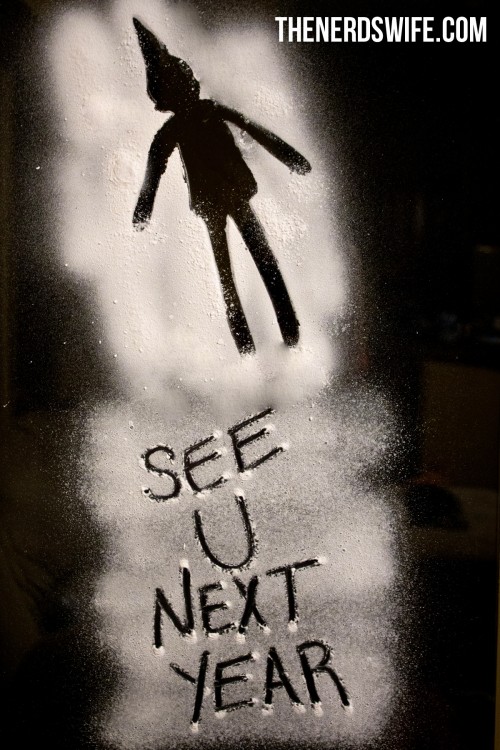 47. Moving on out Elf Idea
Fill a little car with essentials and tiny boxes and offer your elf a sweet goodbye. Try this one-of-a-kind BYE-BYE Elf Idea.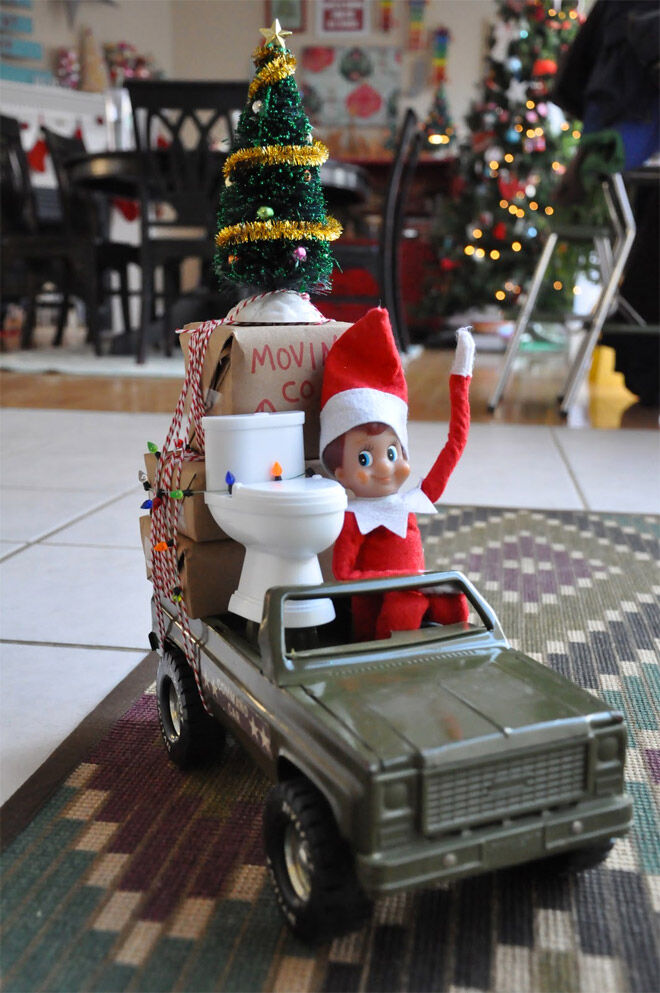 46. Elf on The Shelf Goodbye Gift
Nothing replaces a gift to make a tearful goodbye more pleasant! On Christmas Day, a disposable camera from the children's elf can be used to capture memories.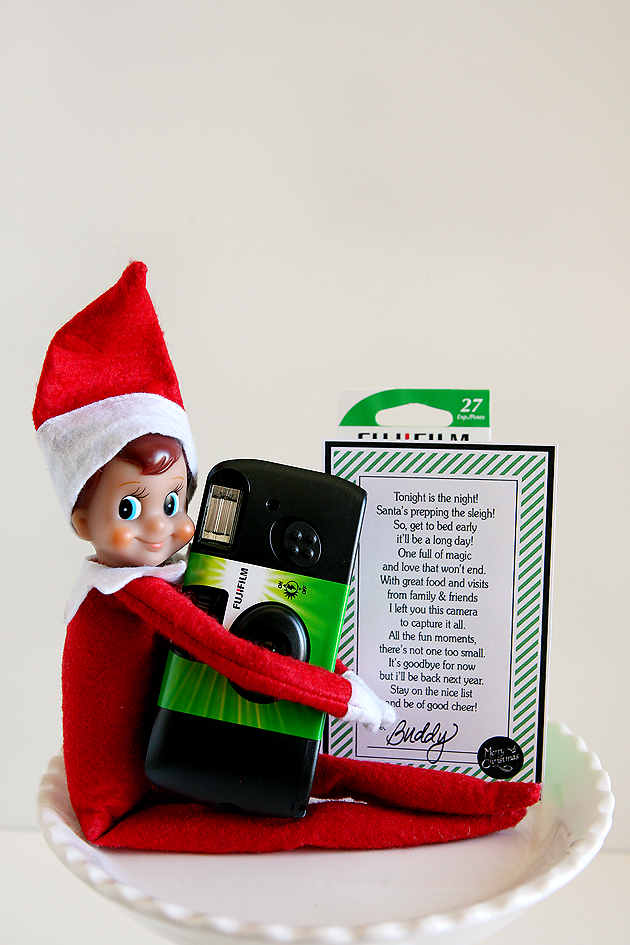 45. North Pole Breakfast with Magical Elf
Allow the children to eat Christmas breakfast with the elf before he goes to the North Pole. Try this idea for sure.
44. Christmas Eve Box
Let your elf leave a last gift before returning home: a Christmas Eve box including a holiday movie, popcorn, Christmas PJs, and hot cocoa packets. What could be a better goodbye than a cozy evening with the family in front of the fire, watching a Christmas movie?
43. Elf Kissing Booth
This adorable Printable Elf Kissing Booth for your Elf on the Shelf is the cutest elf arrival idea ever! A great elf arrival idea with sweet kisses, which kids love.
42. Elf Candy Cane Jail
Print the jail cell, cut where indicated, and put it together. Fill it with your favorite little Christmas elf and take pictures. Let elves be imprisoned and enjoy this fun idea.
41. Elf on the Shelf Massage Table
For your hardworking scout elf, here's a fun Massage Table — a printable Elf on the Shelf idea. Look, running back and forth to the North Pole to report to Santa…and all those hijinks? The poor little man (gal) could use a nice massage, complete with hot peppermint stones.
For all of our adoring Scout Elves, we created this charming and entertaining printable that is simple to cut out and assemble. Add a Barbie to provide the massage and a few props, and you've got an amazing Elf on the Shelf set up and ready to go in no time.
40. Elf on the Shelf Dunk Tank by This Mama Loves
39. Elf on the Shelf Photo Booth by This Mama Loves
38. Elf Flying in Underpants from Mama Cheaps
37. Stinky Time of Year from Advent Elf
36. Piggy Bank Burglar from Simple as That
35. Clownin' Around from Elf on the Shelf
34 TPing the Christmas Tree from Simply Organized
33. Peaking at Christmas Presents from Snapshots of My Life
32. Time Out Elf from Frugal Coupon Living
31. Elf Pea'd from Advent Elf
30. Minion Bananas from California Unpublished
29. Printable Elf Joke Cards from Over The Big Moon
28. Naughty Elf from Helen Kent
27. Grinch Tied Up from I Think We Could Be Friends
26. Elf Photoshoot from Living Locurto
25. Racing to the Finish Line from A Small Snippet
24. Elf Meets Darth Vader from Lisa Stout Photography
23. Super Elf from Busy Kids Happy Mom
22. Elf and Barbie on a Date from Elf on the Shelf Ideas
21. Sack Race from Stacy Molter Photography
20. Elf Doctor's Note Printables from Living Locurto
19. Quarantine Elf with Free Coloring Printables from Living Locurto
18. Elf Hides in the Silverware Drawer from Busy Kids Happy Mom
17. Elf Brushing Teeth from A Small Snippet
16. Advent Box Elf on the Shelf from Artsy Fartsy Mama
15. Shaving Elf from A Small Snippet
14. Magic Elf Dust Printable from Sweet C's Designs
13. Elf Taking a Bath from Pickle Head Soup
12. Spelling with Cheerios from Simple Parent
11. Drummer Elf from Frugal Coupon Living
10. Elf Repairing Car from Frugal Coupon Living
9. Tied up on the Train Tracks from California Unpublished
8. Elf Igloo from Domestic Femme
7. Car Wash for Elves from Keeper of the Cheerios
6. Elf Drinking Coffee from The Keeper of the Cheerios
5. Elf Hiding in the Fridge from I Heart Nap Time
4. Camping Elf from Creek Line House
3. Missing the North Pole from Advent Elf
2. Journaling Elf from Mama Cheaps
1. Playing Operation from Frugal Coupon Living
Now comes the important question… Which Elf on the Shelf Ideas do you like the most? Please let me know in the comments.
Few more Christmas Ideas!!!
Want to save this for later? Post these Elf on the Shelf Ideas to your favorite Pinterest Board!