Here I've gathered 25 Best DIY Christmas Table Decorations Ideas, to decorate this year so that, when you host a Christmas Dinner Party at your home the main attraction is that your table should look best.
As the holiday season approaches, it's time to start thinking about how to spruce up your dining room table for the Christmas feast.
Instead of buying expensive decorations from the store, why not try your hand at some DIY Christmas table decorations?
Not only will it save you money, but it'll also add a personal touch to your holiday decor.
One easy DIY decoration is to create a festive centerpiece using pine cones, candles, and ribbon.
Start by collecting pine cones from your backyard or local park, and spray painting them in holiday colors such as red, green, and gold.
Arrange the pine cones in a large glass jar or vase, and place pillar candles in between the pine cones.
Tie a ribbon around the jar or vase for added holiday cheer.
Another simple DIY table decoration is to use fresh greenery from your yard or a local florist.
Create a wreath using a wire wreath frame and various types of greenery such as holly, pine, and eucalyptus.
You can also add berries, pine cones, and ribbons for added color and texture.
Place the wreath in the center of your table, or use smaller wreaths as place settings for each guest.
For a more elegant touch, try creating DIY place cards using cardstock, markers, and holiday embellishments such as glitter and stickers.
Cut the cardstock into small rectangles, and write each guest's name on the card using a calligraphy pen or decorative marker.
You can also add a holiday message or design on the front of the card.
Place the cards on each dinner plate, or use them as seating cards on a separate table.
Another fun DIY idea is to create personalized napkin rings using ribbons, bells, and small ornaments.
Cut the ribbon into small strips, and tie a bell and ornament onto each strip.
Place the napkin ring around each napkin, and secure it with a knot or bow.
This simple touch adds a festive touch to each place setting.
In addition to these DIY decorations, here are some useful tips for creating a beautiful and festive Christmas table:
Use a tablecloth or runner in a holiday color or pattern to add a cohesive look to your table.
Mix and match different colors, textures, and patterns for added visual interest.
Use various heights and depths in your centerpiece and place settings to create depth and dimension.
Add small touches of greenery and candles throughout the table for a fresh and inviting ambiance.
Use twinkling string lights or candles to add a warm and cozy atmosphere.
By using these DIY ideas and tips, you can create a stunning and unique Christmas table that will impress your guests and add to the festive atmosphere of the holiday season.
Happy decorating!
DIY Christmas Table Decorations
" Affiliate links provided for your convenience, please read my disclosure for more information."
Buy these recommended products here:
1. Waterless Snow Globes
Welcome everyone, and especially invite this snowman who will liven up your table like no other. This decor is ideal for kids, which means that it will not spill or break easily with the touch of a hand.
Experiment with a few and you might just come up with a fresh decoration that is all yours to showcase. And if you're a procrastinator like us, consider this a great collection of inspirational ideas to get you started.
2. Floral Runners
This elegant Christmas table arrangement starts with a pomegranate table runner, everyday dishes, casual linens, and is finished with leftover cinnamon sticks and greenery snips.
It's casual and cozy, which is exactly how everyone wants their guests to feel while they're having dinner with them! There is beauty everywhere. Just look out your window and you'll see a variety of possibilities for decoration.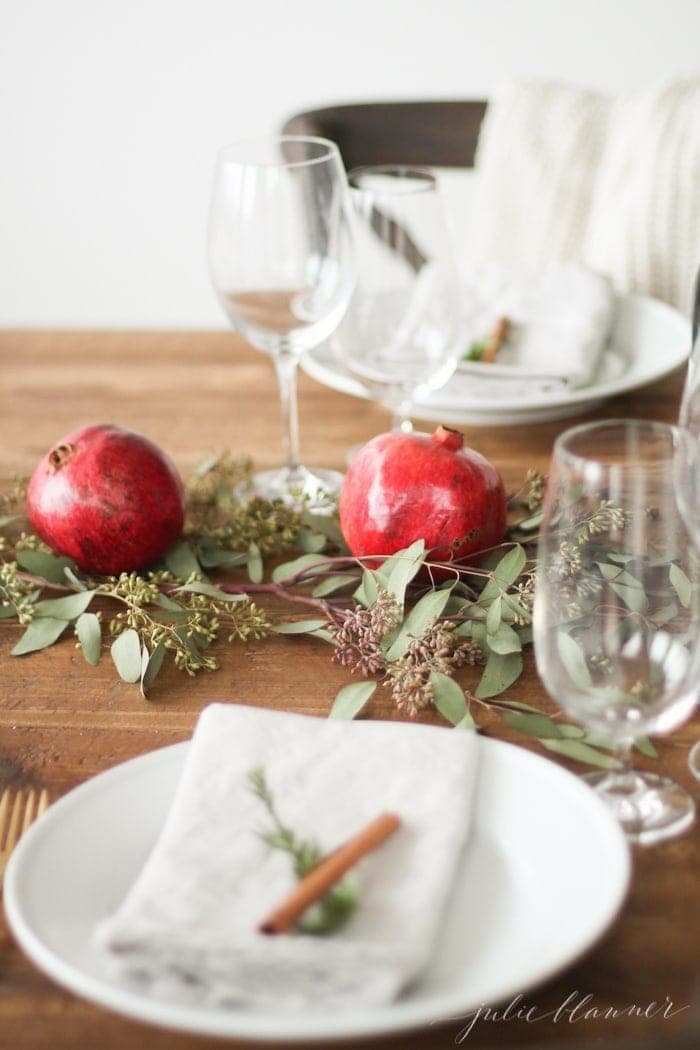 3. DIY Christmas Paper Trees
Recycle old paperwork to make trees that will bring you good luck from the guests and Mother Nature herself. These trees are simple to make and will not empty your bank account.
They are environmentally friendly and can be simply disposed of afterward, but you might not want to think about how cute they are.
4. Christmas Napkin Rings
Try these easy, DIY, fun, and simple Christmas napkin rings that are just WOW!! These napkin rings will hold all your crockery together. You can go one step ahead and print the names of your guests on the ribbon to show them how much you care for them.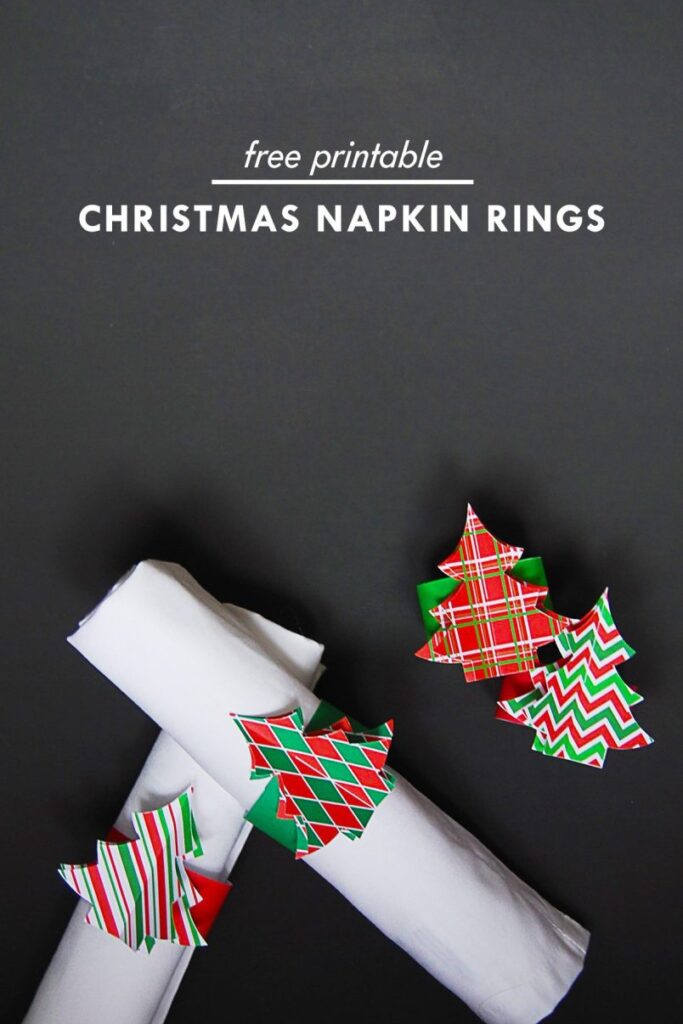 5. Hershey's Kisses Centerpiece
Decorating for the holidays is something we like enjoying! Create this lovely Hershey's Kisses Centerpiece! This centerpiece is not only beautiful and inviting, but it also draws attention and sparks conversation.
The best part is that it's edible!
6. Felt Tree-Topped Hurricanes
Cut-out felt trees glued onto candleholders packed with faux snow can transform your table into a winter wonderland. Place settings in white, green, and silver create a landscape as peaceful as the snowdrifts outdoors.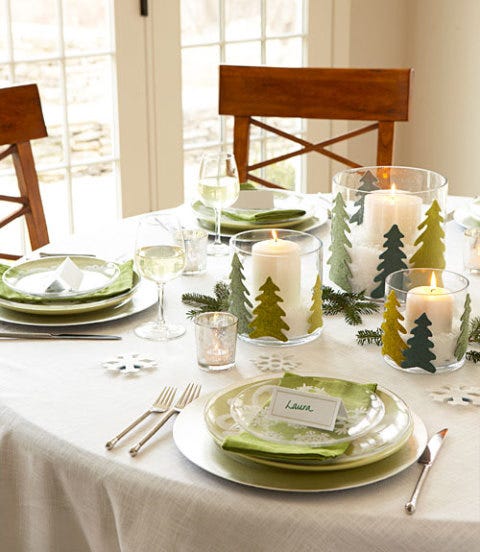 7. DIY Christmas Luminaries
When you need a quick, simple…. yet stunning holiday table centerpiece, these 5 Minute DIY Christmas Luminaries with fresh cedar clippings and fresh cranberries will save the day.
Easy supplies and simple assembling. These are really well.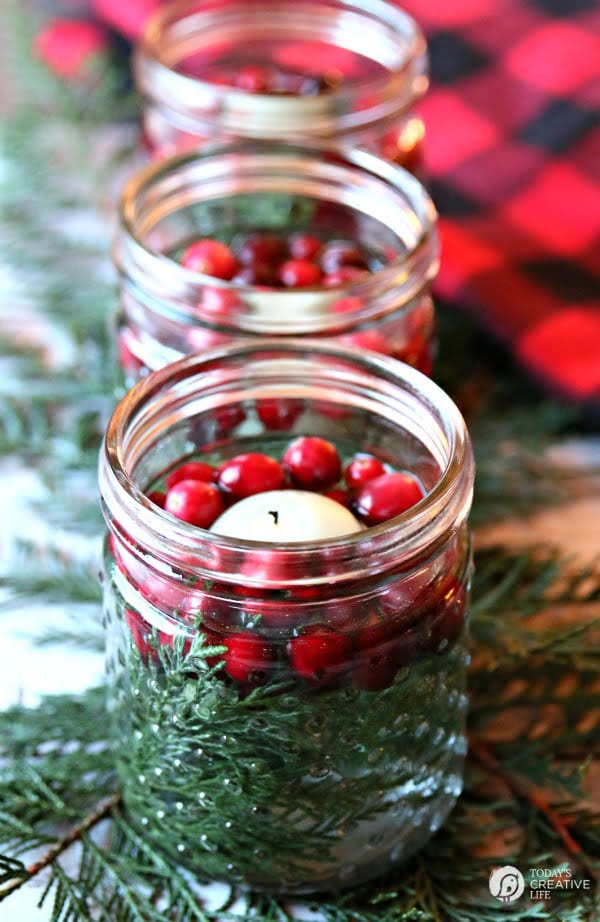 8. Framed Baubles Centerpiece
If you have any baubles that you want to show off, the tree will not chop them out. This is the best way to showcase baubles that are handcrafted or family traditions. This display piece may be put together in a matter of minutes using a wooden frame.
9. Metallic Christmas Table Decor
Extra sparkle is never a bad thing. Glitter, in fact, can take any dull decor and elevate it a notch or two. This design, on the other hand, goes a step further and covers their entire design with bling.
This may be the table you're searching for if you're feeling adventurous.
10. Shiny Red & Gold Centerpiece
This bright and cheerful simple DIY Holiday Centerpiece will look great on any holiday table! A quick and easy craft in a beautiful apothecary jar that can be completed in about 30 minutes!
11. Wooden Box Centerpiece by Fynes Designs
12. Classic Black and White Style by The Wood Grain Cottage
13. DIY Copper Pipe Centerpiece by Pretty Handy Girl
14. Outdoor Christmas Table by Zevy Joy
15. Truck Table Centerpiece by Rosemary Thyme
16. French Style Farmhouse Table by The DIY Mommy
17. Rustic Christmas Table by Liz Marie Blog
18. 15-Minute Pomegranate Centerpiece by A Beautiful Plate
19. Mercury Glass Tablescape by Blesser House
20. Garland and Berries Centerpiece by Julie Blanner
21. Garland Table Centerpiece by A Practical Wedding
22. DIY Santa Hat Topiaries by DIY Candy
23. Last Minute Votives by Finding Home Farms
24. White Christmas Table Decor by Sugar and Charm
25. Traditional Red & White by The Lily Pad Cottage
Now comes the important question… Which DIY Christmas Table Decorations do you like the most? Please let me know in the comments.
Few more Christmas Decor Ideas !!!
Want to save this for later? Post these DIY Christmas Table Decorations to your favorite Pinterest Board!