With these DIY Christmas Door Decorations, you can give your front door a festive makeover this holiday season. Door hangers, DIY garlands, entryway decor, and a variety of other front door Christmas decoration ideas are available. Indoor and outdoor Christmas door decorations ideas are included.
Make sure to go through the end so that you don't miss any of the ideas. Happy decorating. Merry Christmas…
Beautiful DIY Christmas Door Decorations
" Affiliate links provided for your convenience, please read my disclosure for more information."
Buy these recommended decoration pieces:
17. Joy Door Wreath
You'll really like using nature-inspired things to decorate your home, and these Moss JOY Letters are excellent!
16. Christmas Tartan Wreath
Try this low-cost Christmas wreath and have a beautiful-looking Christmas tartan wreath for your holiday door decorations.
15. Heart Christmas Wreath
Make this scrappy fabric heart wreath in about one hour! The ideal quick naptime craft for Valentine's Day or any other time of the year.
14. Rosemary Christmas Wreath
This is a beautiful way to enjoy the wonderful scents of your garden whilst celebrating this special Yuletide season…
13. Pottery Barn Christmas Wreath
Try this pottery barn Christmas wreath for your windows and doors and decorate your porch and entryways, with these bright and charming pottery barn Christmas wreaths.
12. DIY Holiday Door Banner
I really like the banner idea because it is clearly different from the other houses on the street and stands out from the crowd. The moss letters make it look like the word is still growing and that adds a fun greenery element too.
11. JOY Wreath
Try this JOY wreath and personalize it with berries, glitter feathers, snowflakes, and polka dots!
10. Christmas Wreath Trio
This Christmas Wreath Trio is just so pretty that you can't take it down. So don't forget to give them a try.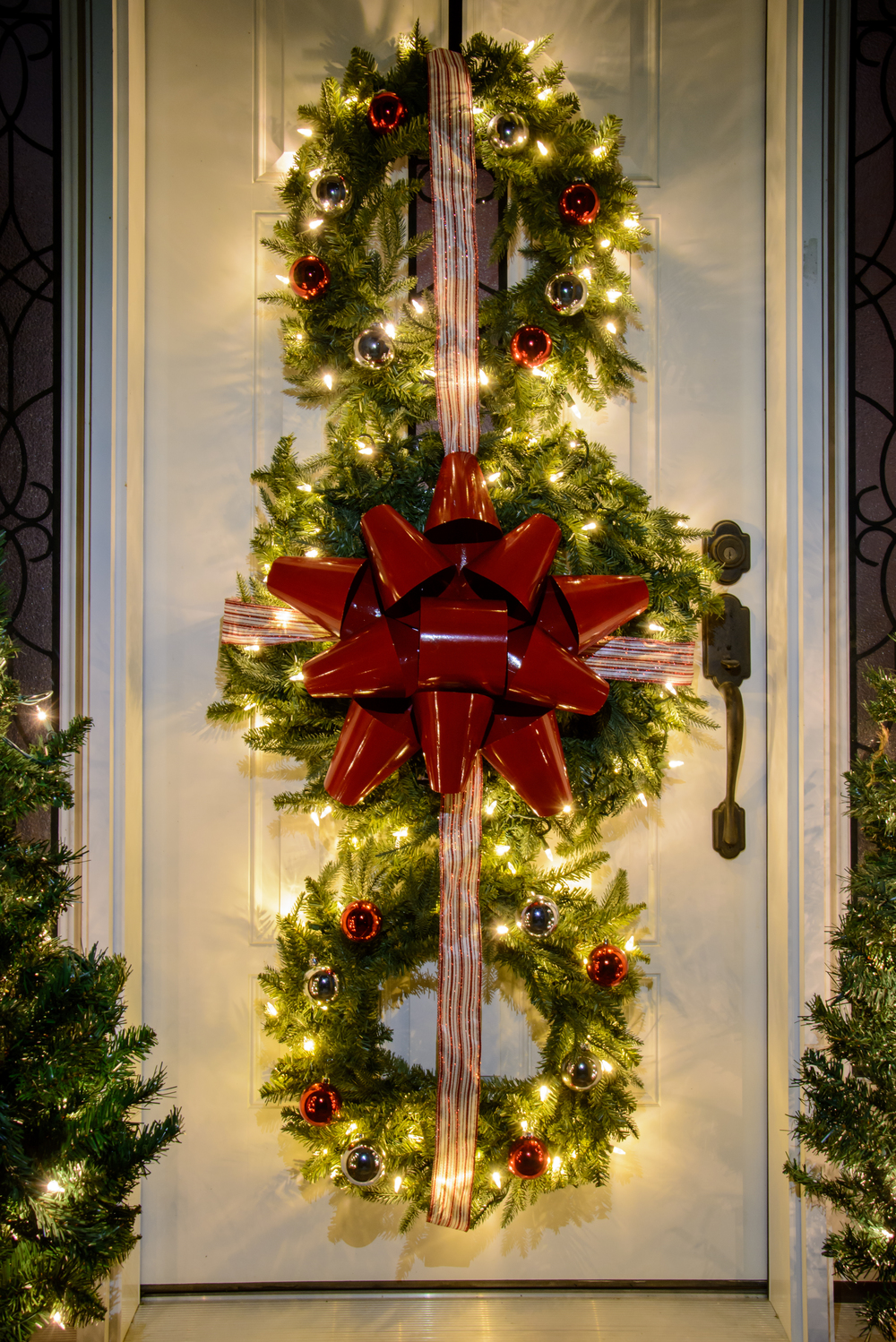 9. DIY Holiday Framed Ornament Wreath
Try this easy and thrifty DIY Holiday Framed Ornament Wreath and add some glitter and shimmer to your front door to welcome your guests.
8. DIY Burlap Christmas Tree Wall Hanging
This Burlap Christmas Tree Wall hanging is gorgeous, inspired by burlap ribbon and you can even make your own version of Christmas Tree or Christmas-inspired decoration.
7. DIY Snowman Wreath
Try this unique idea of Snowman Wreath and customize it with your own ideas and with a few minor changes you can try them on different festive seasons like Valentine's Day, New Year, and Halloween too.
6. Holiday Card Display on Door
Do you also wanna know a super quick, easy way to display holiday cards? All you need is some ribbon and a door. And I told you, it's easy! So just give it a try!!!
5. Christmas All Green Door Garland
This porch is created with a small budget, a very simple Idea, and some lucky finds! So no extra heavy expenses/budget, only a few bucks, and h-o-h-o… a very new Christmas door garland is ready.
4. Garage Door Christmas Tree
Just clean your garage door, add some hooks and lights and add your own ideas and designs, and all good to go for Christmas. IF you liked this then give it a try,
3. Gift Wrapped Front Door
This season, you'll appreciate your front entrance! It is simply decorated with a ribbon. Oh, and this beautiful super-sized gift tag to welcome our visitors!
2. The Snowman Door
It's very easy to make! What you need is a circle maker and a few extra circles to cut out the eyes.
1. Wrapped Holiday Front Door
Perfect door, all wrapped up like a present under the tree:) This is all you need for the Christmas season.
Now comes the important question… Which one is your favorite DIY Christmas Door Decorations? Please let me know in the comments.
Few more Christmas Decor Ideas!!!
Want to save this for later? Post this DIY Christmas Door Decorations to your favorite Pinterest Board!