The Elf on the Shelf is one of the world's most popular Christmas decorations. For decades, this little fellow has been in practically every home, smiling and winning hearts with his Holiday happiness.
He's clearly a sweetheart in search of a unique method to express himself. Oh, presenting him in the traditional manner is fine, but why not spice it up a bit and allow him, and you, to have some fun with your decorating?
I'm sure you never imagined how creatively you could use him. He doesn't have to sit on that shelf forever. You may decorate your house with your Elf on the Shelf in a million, or in this case, 15, various ways.
I'm guessing you've never explored many of these decorating ideas, and if you have, there are bound to be others you've missed. It's time to put that elf on show in a fun and unique way!
So, take a look at this amazing and fun collection, and tell me how you plan to place your little Elf this holiday season. I'd love to see some of your creative ways to include this little gentleman in your holiday decor.
Decorate With Elf on the Shelf
" Affiliate links provided for your convenience, please read my disclosure for more information."
Buy these recommended products here:
1. Decorated Hung Stockings
After all, the Elf on the Shelf was supposed to be a decoration, so why not let him help you with your Christmas decor by peeking out from a stocking? This is also an excellent gift idea.
Simply put him in any stocking you want to give, and he'll help decorate houses all across town next year!
2. Practicing Fine Motor Skills
Notice how our smart little Elf picked out all the red and green ones and made them into a pattern! Just let him sit in the corner and show his skills this holiday season.
3. Enjoying Bubble Bath
Catch him relaxing in a bubble bath while catching up on his reading. Let him relax in his bathtub because he is tired of traveling the whole world.
4. It's Movie Time
Your Elf is enjoying his favorite movie with a popcorn tub next to him. Will you mind joining him? If not then what are you waiting for? Grab your popcorn tub and sit next to him.
5. Elf Photographer
Give him the most recent toy catalog and let him make his Christmas wish list. Sit him down and he'll discover something he enjoys. Plus, he appears to be thrilled while looking at all those toys!
6. Elf drinking an Elf Smoothie
Do you have a smoothie? This Little star needs it. He is a big smoothie fan and loves to drink smoothies and chill on holiday.
7. Rudolph Noses
Your tiny elf really wants to be a part of the family, and it's obvious when everyone in the family wears a Rudolph nose for the family Christmas photo. Give one to your small elf as well, so he doesn't feel left out.
8. Elf Has Left the Building
He's had enough, and your sweet little elf is on his way back to the North Pole. Put him and all his "things" in a little car, and he'll be home in time to help Santa pack up his sleigh.
9. Trouble Maker Elf
Why this elf is just a trouble maker? This Elf is here to trouble you and he is a very mischievous and fun-loving guy. He loves to create troubles in the life of people around him. BE CAREFUL.
10. Playing Angry Birds
What if you wake up to discover Buddy playing with all of your kids' Angry Birds toys? They felt it was funny that they were playing together and enjoying the game.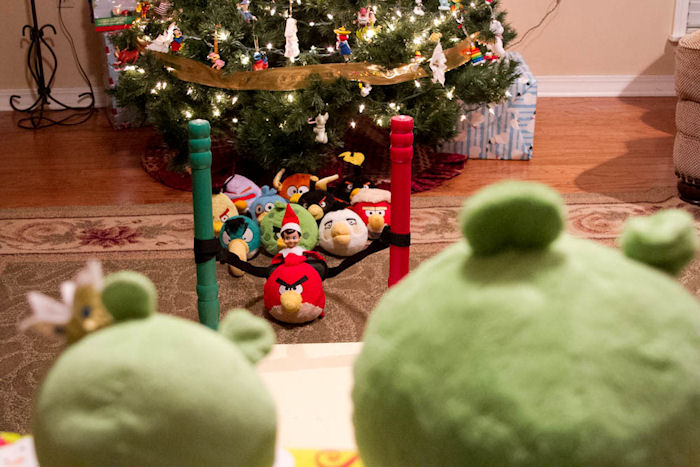 13. Zip-lining Elves
14. Magic Elf Seeds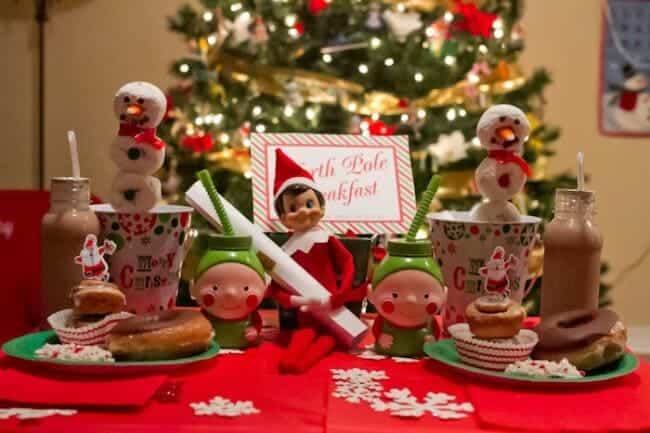 16. Parachuting Elf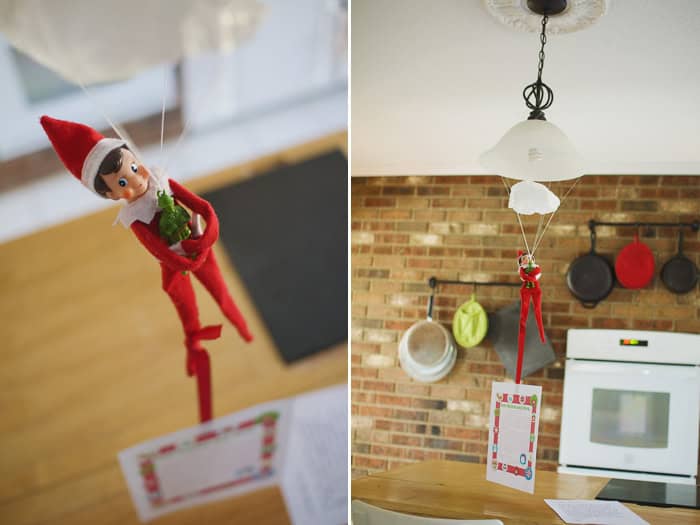 17. Elf Cocoa Party
19. Making Smores
20. Sunbathing
Now comes the important question… Which Elf on the Shelf Decorations do you like the most? Please let me know in the comments.
Few more Christmas ideas for kids!!!
Want to save this for later? Post these Elf on the Shelf Decorations to your favorite Pinterest Board!