This Butternut Squash Soup is a velvety blend of rich, nutty flavors and a silky-smooth texture that's simply irresistible. It's more than just a soup; it's a comforting memory of my grandmother's cozy autumn evenings, and it fills the kitchen with a nostalgic aroma that's bound to make you smile.
Why I Loved This Recipe
The nostalgic aroma of roasted butternut squash transports me back to cherished childhood days in my grandma's cozy kitchen.
I vividly recall brisk autumn afternoons, rosy-cheeked from play.
Stepping inside, that comforting scent enveloped me like a cozy embrace. It emanated from her legendary butternut squash soup, a remedy for daily worries.
The perfect blend of sweet and savory, the creamy texture – it wasn't just soup; it was love and comfort.
As I recreate it now, I'm reminded of the warmth and love food can bring to our lives.
Why You'll Love This Recipe
Why You'll Love This Recipe:
▪️ Easy-Breezy Cooking: It's a cinch to make – basic ingredients and simple steps, ensuring a tasty bowl in a snap.
▪️ Soul-Warming Comfort: Picture yourself wrapped in a warm blanket of creamy butternut squash goodness, the ultimate comfort food.
▪️ Fit for Any Occasion: Be it a solo lunch or a dinner party with friends, this soup plays well as an appetizer or a trusty sidekick to your main course.
▪️ Flavorful Enchantment: Cinnamon and nutmeg work their magic, infusing your soup with cozy, inviting flavors that'll have your taste buds dancing.
▪️ A Homemade Embrace: Ditch the canned stuff and embrace homemade love. You're in charge of the ingredients and the taste, adding that extra special touch to every spoonful.
Helpful Kitchen Tools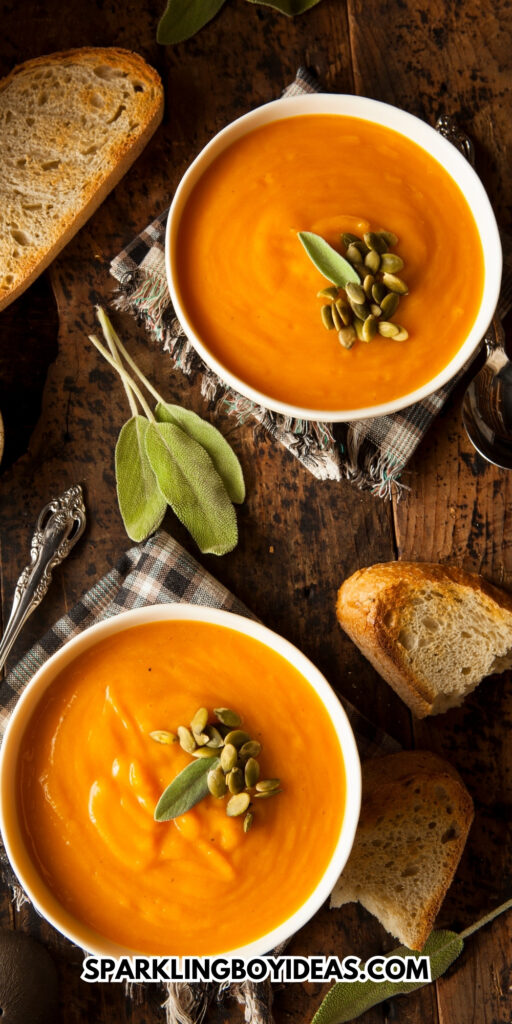 Ingredients
▪️ Butternut Squash (1 medium): This golden gem, when roasted, brings natural sweetness and creamy comfort to the heart of the soup.
▪️ Onion (1 medium) and Garlic (2 cloves): These flavor-packed buddies create the savory foundation, making each spoonful scrumptiously rich.
▪️ Carrots (2 medium): Sweetness meets earthiness as carrots harmonize with squash for a delightful flavor duo.
▪️ Vegetable Broth (4 cups): It's the liquid hug that wraps everything together, infusing warmth and depth into the soup.
▪️ Cinnamon (1/2 teaspoon) and Nutmeg (1/4 teaspoon): These spices, like secret ingredients, add a gentle warmth and sprinkle of magic.
▪️ Fresh Thyme Sprigs (a few): Fragrant thyme sprigs join the party, infusing the soup with herbal goodness, like aromatic confetti!
Making Of Butternut Squash Soup
STEP 1: Let's start by preheating your oven to 400°F (200°C) for that perfect roast.
STEP 2: Take that butternut squash, cut it in half lengthwise, and scoop out those seeds. Don't toss them; they'll make a great snack later! Lay those squash halves on a baking sheet, and show them some love with a drizzle of olive oil. A dash of salt and pepper for flavor, and into the oven they go.
STEP 3: Roast the squash for about 45-50 minutes until it's tender, caramelized, and downright tempting. You'll know it's done when it's golden and irresistible. Yum!
STEP 4: While the squash is getting all cozy in the oven, let's work on the flavor base. Grab a spacious pot and heat up some olive oil over medium heat.
STEP 5: Dice up an onion and mince some garlic. Toss them into the pot, and let that inviting aroma fill your kitchen. Slice up the carrots and join them in the flavor party. Keep stirring for about 5 minutes until the carrots decide to join the fun.
STEP 6: By now, your roasted butternut squash should be all set to join the party. Scoop out that delightful, caramelized flesh and add it to the pot. Sprinkle in a pinch of cinnamon and nutmeg for that cozy, heartwarming touch we all adore.
STEP 7:Pour in the vegetable broth and toss in a few sprigs of fresh thyme. This is where the magic starts brewing! Let everything simmer together for about 15-20 minutes. It's like a flavor mingle party in that pot.
STEP 8: Time to give that soup its velvety smoothness. Bid farewell to the thyme sprigs – they've done their duty. Now, whether you're using an immersion blender or a regular one, carefully blend everything until you have a smooth, dreamy soup. If you go for the regular blender, pour the soup back into the pot afterward.
STEP 9: Have a taste. Does the soup crave a bit more salt or pepper? Tweak it to your liking. Ladle this marvelous creation into bowls, and if you're in the mood for a fancy touch, sprinkle some toasted pumpkin seeds on top for that satisfying crunch. A drizzle of olive oil is the final flourish of deliciousness.
Tips and Techniques
▪️ Make peeling butternut squash a breeze by microwaving it for 2 minutes – the skin softens, and you'll glide through it effortlessly.
▪️ Don't waste those squash seeds – sauté them with oil, salt, and spices for a crispy, golden topping.
▪️ Add a pinch of red pepper flakes or cayenne for a cozy, spicier vibe.
▪️ Craving extra creaminess? Blend in coconut milk or heavy cream for that velvety goodness.
▪️ Elevate your soup with toasted pumpkin seeds, a drizzle of olive oil, or a sprinkle of herbs for that extra layer of flavor.
▪️ Not a fan of thyme? Swap it for rosemary or sage to give your soup a fresh twist.
Serving Size
This recipe makes enough delicious butternut squash soup for about 4 good-sized bowls. It's perfect for a cozy meal with family or friends, or you can savor it for a few days if you're cooking for yourself. So grab your favorite soup bowls and get ready to enjoy!
Serving Suggestions
▪️ Pair it with a fresh green salad and crusty bread for a well-rounded and comforting meal.
▪️ Elevate your grilled cheese sandwich by enjoying it alongside this soup for a match made in comfort food heaven.
▪️ Add elegance with a balsamic reduction drizzle before serving for a delightful touch of tanginess that complements the soup's sweetness.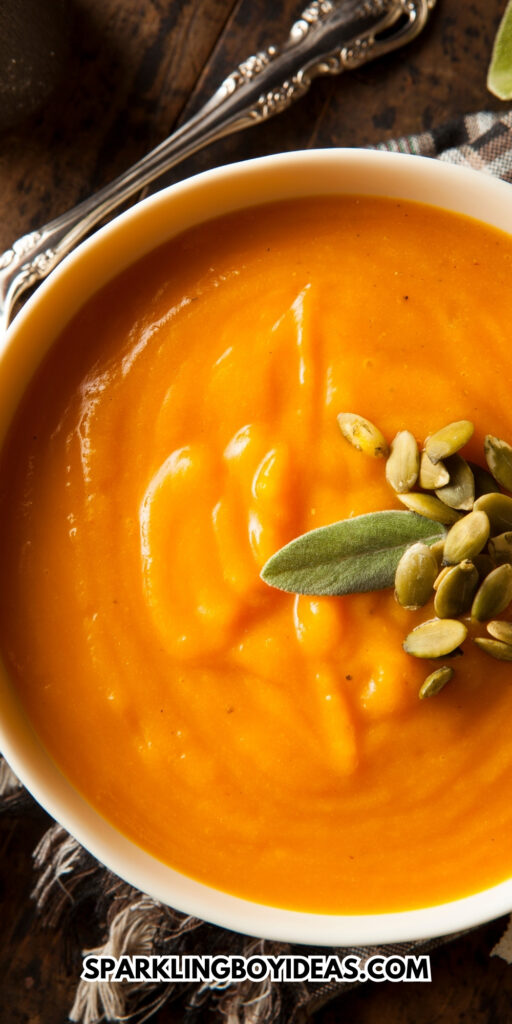 Variations
▪️ Elevate the flavor with diced apples, their natural sweetness complements the squash.
▪️ Add a delightful crunch with homemade olive oil-drizzled croutons.
▪️ Amp up the creamy goodness with Parmesan or cheddar sprinkles.
▪️ Enjoy a satisfying crunch by sprinkling toasted almonds or walnuts.
▪️ Make it uniquely yours with a pinch of rosemary or sage for elevated flavors.
Storage Tips
To keep your soup at its best, cool it before storing it, use airtight containers, refrigerate for short-term, and freeze for long-term storage. Label and date containers, thaw frozen soup in the fridge, and gently reheat while stirring. For creamy soups, whisk or blend after thawing. Enjoy promptly for the tastiest experience!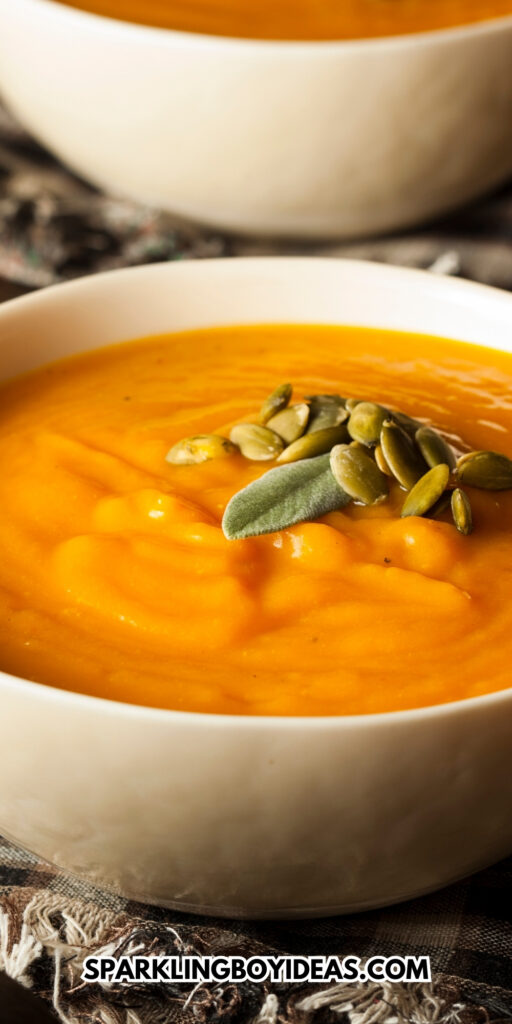 FAQs
Q. Can I use frozen butternut squash for this recipe?
Absolutely! Using frozen butternut squash can save you time on prep. Just be sure to adjust the roasting time accordingly.
Q. Can I freeze this soup?
Yes, you can freeze this soup for up to 2-3 months. Thaw it in the refrigerator overnight and reheat it on the stovetop.
Q. What can I use instead of thyme?
If you're not a fan of thyme, you can use rosemary or sage for a different herbal note.
Q. How can I make this soup spicier?
Add a pinch of red pepper flakes or a dash of cayenne pepper for a gentle kick of heat.
Q. Can I use chicken broth instead of vegetable broth?
Of course! Chicken broth works well if you prefer a non-vegetarian option.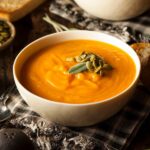 Print Recipe
Butternut Squash Soup
This velvety Butternut Squash Soup is a combination of rich, nutty flavors and a silky-smooth texture that creates a comforting experience that's hard to resist. 
Equipment
Baking Sheet

for roasting the butternut squash until it's tender and caramelized

Immersion Blender

for achieving that silky-smooth consistency we all love in a good soup

 Large Pot

for simmering the soup and bringing all the flavors together
Ingredients
1

medium-sized Butternut Squash

about 2-3 pounds

1

medium Onion

diced

2-3

Garlic cloves

minced

2

Carrots

peeled and sliced

4

cups

Vegetable Broth

½

teaspoon

Ground Cinnamon

¼

teaspoon

Ground Nutmeg

A few sprigs of Fresh Thyme

2

tablespoons

Olive Oil

Salt and Pepper

to taste
Instructions
Roasting the Squash
Preheat your oven to 400°F (200°C).

Cut the butternut squash in half lengthwise and scoop out the seeds.

Place the halves on a baking sheet, drizzle with olive oil, and season with salt and pepper.

Roast for about 45-50 minutes, or until the flesh is fork-tender and caramelized.
Sautéing Aromatics
In a large pot, heat olive oil over medium heat.

Add diced onion and minced garlic, sautéing until translucent and fragrant.

Toss in the sliced carrots and continue to cook for another 5 minutes.
Bringing It All Together
Add the roasted butternut squash to the pot, along with a pinch of cinnamon and nutmeg.

Pour in the vegetable broth and add a few sprigs of fresh thyme.

Allow the mixture to simmer gently for 15-20 minutes, letting the flavors meld together.
Blending to Perfection
Remove the thyme sprigs from the pot.

Using an immersion blender or a stand blender, carefully blend the soup until smooth and velvety.

If using a stand blender, return the soup to the pot.
Seasoning and Serving
Taste the soup and adjust the seasoning with salt and pepper as needed.

Serve the soup hot, garnished with a sprinkle of toasted pumpkin seeds and a drizzle of olive oil.
Notes
Substitutions
Use coconut milk or heavy cream for added creaminess.
Swap thyme for rosemary or sage.
Try ginger for extra warmth.
Variations / Options / Add-Ins
Apple and Butternut Squash Soup: Add diced apples for a hint of sweetness.
Spiced Croutons: Top with homemade spiced croutons for crunch.
Parmesan Crisps: Bake Parmesan slices for a savory garnish.
Serving Suggestions
Pair with a green salad and crusty baguette for a light lunch.
Serve as an appetizer with roasted chicken or grilled cheese sandwiches.
Pro Tips
Soften butternut squash skin in the microwave for easier peeling.
Sauté butternut squash seeds for a tasty garnish.
Storage Tips
Let the soup cool before storing it in airtight containers.
Refrigerate for up to 3-4 days or freeze for longer storage.
Label containers with the date and defrost them in the fridge before reheating them gently.