Indulge your mom with these delicious Mothers Day cupcakes! These delectable Mothers Day treats will surely make her day extra special. Whether you're looking for classic flavors or unique twists, we have a variety of options to choose from. Don't wait any longer, order now and make her day unforgettable!
Mother's Day is the perfect occasion to bake some delicious cupcakes that will put a smile on your mom's face.
Cupcakes are easy to make, come in many different flavors, and can be decorated to match your mom's favorite colors or hobbies.
From classic vanilla and chocolate cupcakes to unique flavors like Pina Colada and Churro, there are many options to choose from.
You can also experiment with frostings and topping choices, such as cream cheese frosting, fresh fruit, or sprinkles.
Whether you choose to make a dozen cupcakes or a variety of flavors for a cupcake tower, these sweet treats are sure to be a hit on Mother's Day.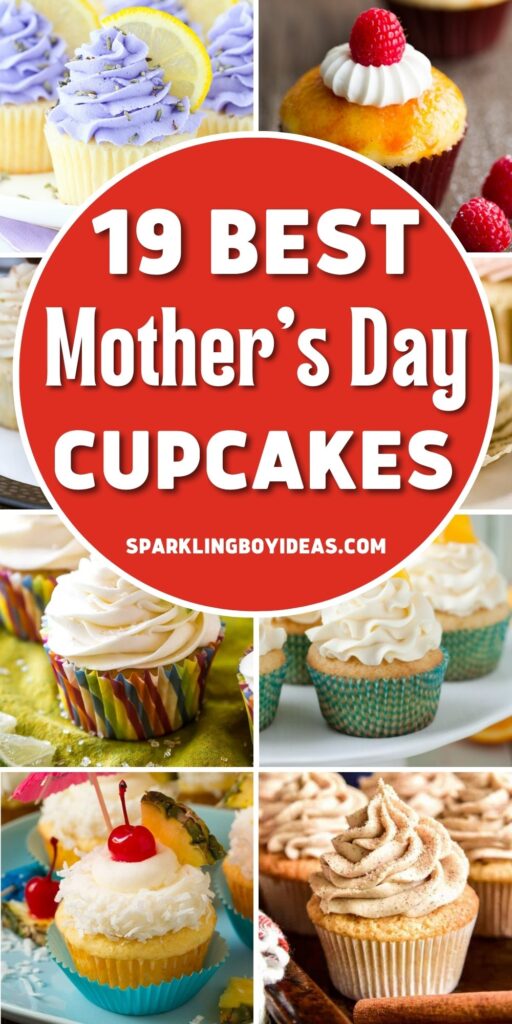 Creative Mother's Day Cupcake Ideas
Mother's Day is the perfect time to indulge in delicious cupcakes while also showcasing your creativity.
By taking a little extra time to present the cupcakes in an artistic and appealing manner, you can make the celebration even more memorable.
Let's dive into some creative ideas that will elevate your Mother's Day cupcakes to the next level.
1. Cupcake Toppers
One way to make your Mother's Day cupcakes stand out is by using creative and eye-catching toppers.
Edible toppers are a fantastic option, allowing you to add a personal touch with edible flowers, butterflies, or even mini photographs.
Fondant toppers shaped like hearts, flowers, or cute messages are also a great choice.
Alternatively, you can print out beautiful designs on edible paper to create printable toppers that match your mom's taste and style.
2. Flower Cupcakes
Nothing says Mother's Day like flowers, and incorporating them into your cupcake decorations is a wonderful idea.
You can create buttercream roses on top of each cupcake, adding a touch of elegance and beauty.
Another option is to use edible flower decorations made from ingredients such as sugar paste or gum paste.
Additionally, you can wrap the cupcakes with delicate floral cupcake wrappers for a charming and sophisticated look.
3. Cupcake Bouquets
Presenting cupcakes in the form of a bouquet is a delightful way to surprise your mom on Mother's Day.
Arrange the cupcakes in a flower arrangement, using different flavors and colors to create a stunning visual effect.
You can also explore various cupcake bouquet wrapping ideas, such as using decorative tissue paper or cellophane to mimic the look of flower petals.
For a themed touch, consider creating cupcake bouquets inspired by your mom's favorite hobby, such as gardening or painting.
4. Cupcake Frosting
The frosting on your cupcakes plays a significant role in their overall presentation.
Experiment with different piping techniques to create beautiful designs, such as rosettes or swirls.
You can also try textured frosting by using a special piping tip or adding edible glitter for a touch of sparkle.
For a more artistic effect, consider ombre frosting, where you blend multiple shades of the same color for a stunning gradient look.
5. Cupcake Wrappers
Enhance the visual appeal of your Mother's Day cupcakes with decorative wrappers.
Look for pre-made wrappers with intricate designs and patterns, or get creative and make your own DIY cupcake wrappers using scrapbooking paper or lace doilies.
Personalize the wrappers with your mom's favorite colors or add special messages to make her feel extra loved.
6. Cupcake Displays
Choosing the right display for your cupcakes can make a significant difference in how they are perceived.
Consider using a tiered stand to create a beautiful centerpiece for your Mother's Day celebration.
A cupcake tower with multiple tiers allows you to showcase different flavors and designs in an organized and visually appealing manner.
If you prefer a more vintage look, opt for a charming tray with delicate details to display the cupcakes elegantly.
7. Themed Cupcakes
Adding a themed touch to your Mother's Day cupcakes can make them even more special.
Create character cupcakes featuring your mom's favorite movie or cartoon characters.
For a holiday-themed celebration, decorate the cupcakes with vibrant colors and festive designs.
Animal cupcakes with adorable fondant animal toppers are perfect for animal-loving moms.
Let your imagination run wild and tailor the cupcakes to match your mom's unique interests and passions.
8. Cupcake Gift Box
If you want to present your cupcakes as a gift for Mother's Day, consider packaging them in a beautiful and personalized gift box.
Use decorative packaging materials like ribbons, bows, and personalized labels to add a special touch.
Explore different box designs, such as window boxes that showcase cupcakes or sturdy boxes that can be reused for storage.
Another option is to create a cupcake gift basket, combining cupcakes with other small gifts or goodies.
Tasty Mothers Day Cupcakes
" Affiliate links are provided for your convenience, please read my disclosure for more information."
19. Fresh-Squeezed Mimosa Cupcakes
18. Cinnamon Sugar Swirl Cupcakes
16. Orange Creamsicle Cupcakes
14. Cannoli Cupcakes
13. Churro Cupcakes
FAQs
Q. Can I make these cupcake presentation ideas in advance?
Yes, many of these ideas can be prepared in advance to save time on the day of the celebration. For example, you can create the cupcake toppers a day or two ahead and store them properly. Cupcakes can also be baked in advance and stored in an airtight container until you're ready to decorate and present them.
Q. Can I use store-bought cupcakes for these presentation ideas?
Absolutely! You can use store-bought cupcakes as a base and still apply these presentation ideas to make them look stunning. Just make sure to choose cupcakes with a plain or simple frosting so they can be easily customized and decorated according to your chosen presentation ideas.
Q. What if I'm not skilled at frosting or decorating cupcakes?
No worries! The cupcake presentation is all about creativity and personal touch. Even if you're not an expert in frosting or decorating, you can still achieve impressive results. Start with simple techniques like piping basic swirls or using edible toppers. You can also explore online tutorials or take a decorating class to improve your skills and gain confidence.
Q. Can I combine multiple presentation ideas for a more elaborate display?
Absolutely! Feel free to mix and match the presentation ideas to create a truly unique and elaborate display. You can combine cupcake toppers with flower decorations, use themed cupcakes in a cupcake bouquet arrangement, and incorporate different frosting techniques along with decorative wrappers. Let your creativity shine and customize the presentation to suit your mom's taste and preferences.
Q. How long do decorated cupcakes stay fresh?
The freshness of decorated cupcakes can vary depending on factors such as the type of frosting used and storage conditions. In general, cupcakes with buttercream or cream cheese frosting should be stored in the refrigerator and consumed within 2-3 days. Fondant decorations can last longer, but it's always best to consume the cupcakes as soon as possible for the best taste and texture.
Now comes the important question… Which mothers day cupcakes do you like the most? Please let me know in the comments.
Few more mothers day ideas!!!
Want to save this for later? Post these Mothers Day Cupcakes to the "Mothers Day Food Ideas" OR "Mothers Day Recipes" Board!