Warm-up with these delicious and Healthy Soup Recipes. There are a variety of delectable and healthy soup recipes to pick from, including chicken soups, vegetable soups, and lentil soups.
So make sure to try these amazing Healthy Soup Recipes. Pick one from these 40 Healthy Soup Recipes For Weight Loss and enjoy your weight loss journey.
Healthy Soup Recipes For Weight Loss
" Affiliate links provided for your convenience, please read my disclosure for more information."
Buy these recommended products here:
66. Instant Pot Potato Soup
With healthful ingredients, this Instant Pot Potato Soup Recipe is quick and easy to make. This rich, creamy pressure cooker potato soup is filled with all of your favorite baked potato toppings!
65. Pressure Cooker Chicken Soup
Make a hearty Instant Pot Chicken Soup with just a few healthy ingredients to soothe your spirit! This delicious pressure cooker chicken soup is more than simply a chilly-night comfort dish, thanks to our little flavor-boosting twists!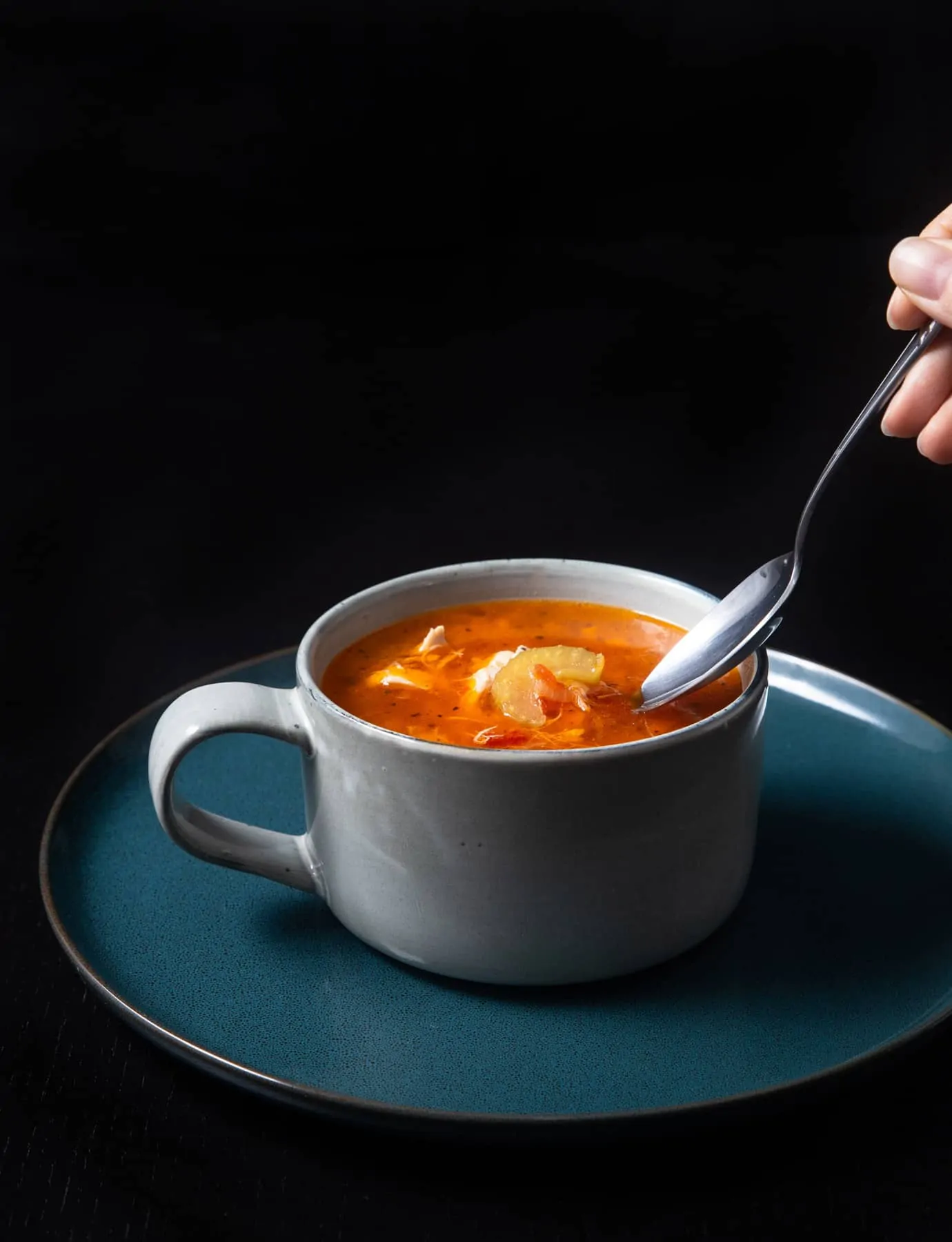 64. Lamb Stew Instant Pot
This Instant Pot Irish Lamb Stew is a hearty, cozy, and oh-so-delicious one-pot supper! It's also perfect for a weeknight dinner or a St. Patrick's Day party because it's so easy to cook!
63. Instant Pot Pumpkin Soup
Using the addition of turmeric, this is a fantastic Instant Pot Pumpkin Soup recipe to make with real sweet pumpkin! It also works with Paleo and Whole30.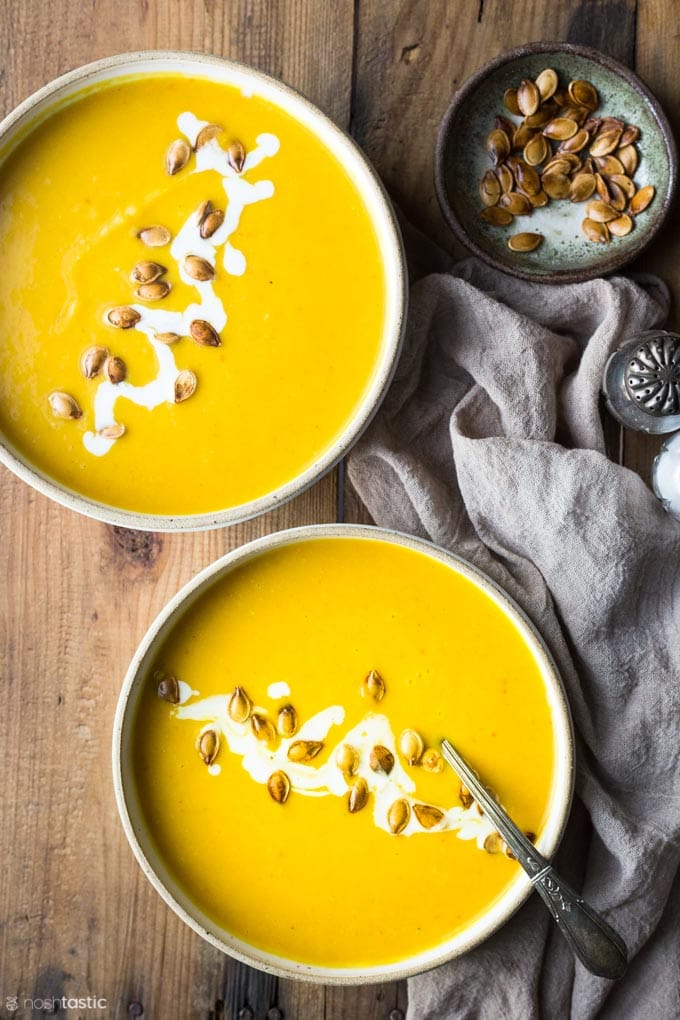 62. Slow Cooker Cheeseburger Soup
Potatoes, ground beef, cheese, and, of course, bacon are plenty in this slow cooker Bacon Cheeseburger Soup. This delicious soup is bursting with flavor and is a soup lover's dream!
61. Slow Cooker Hamburger Soup
A lunch with a low cost per serving of less than $2! This Whole30 and Paleo-friendly meal may be made in the slow cooker, instant pot, or Dutch oven!
60. Keto Egg Drop Soup
Only a few ingredients are needed to make this Quick and Easy Keto Egg Drop Soup Recipe. With a simple method, you can turn an average bone broth into a tasty, healthful, and indulgent homemade soup. This warm gluten-free and low-carb soup may be tweaked every day to suit your tastes.
59. Slow Cooker Tortellini Soup
With carrots, Italian sausage, and cheese tortellini, this slow cooker creamy tortellini soup is wonderful comfort food! There is no flour and no heavy cream in this recipe!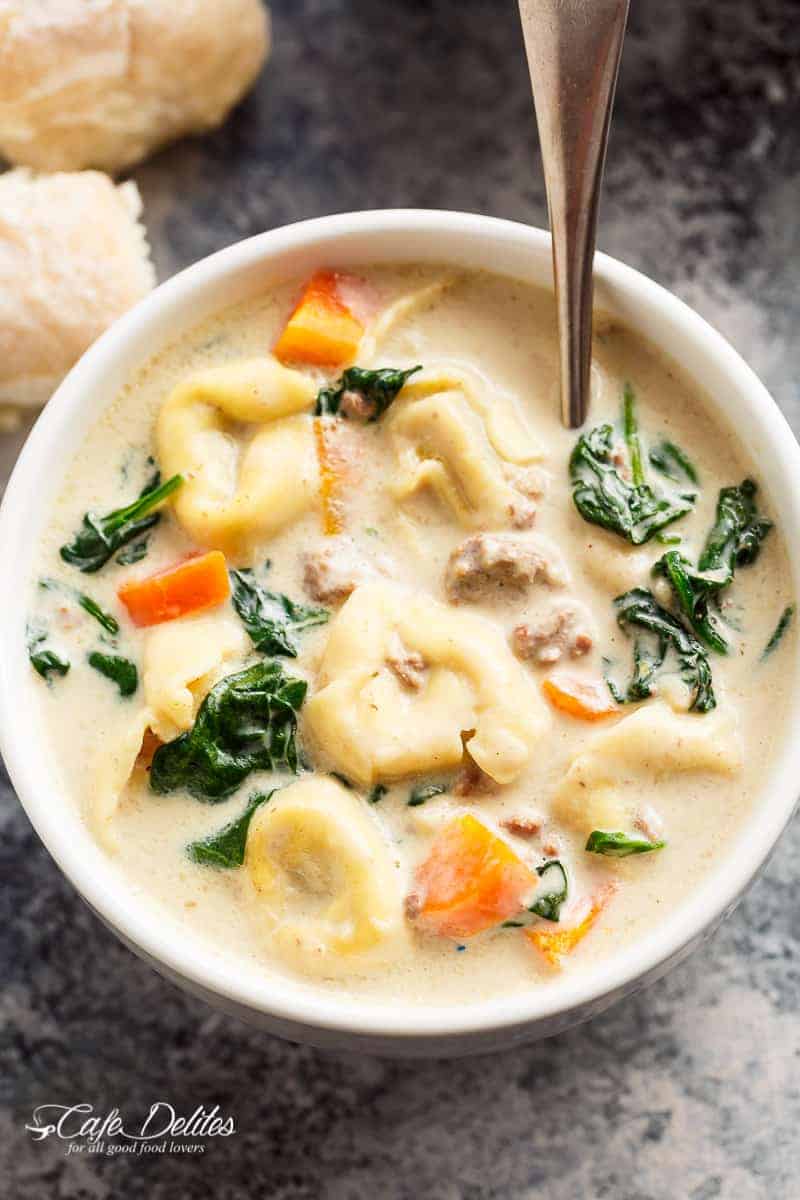 58. Slow Cooker Pumpkin Soup
Pumpkin puree, stock, and seasonings are used to make a simple and tasty slow cooker pumpkin soup. Enjoy a taste of fall at any time of the year!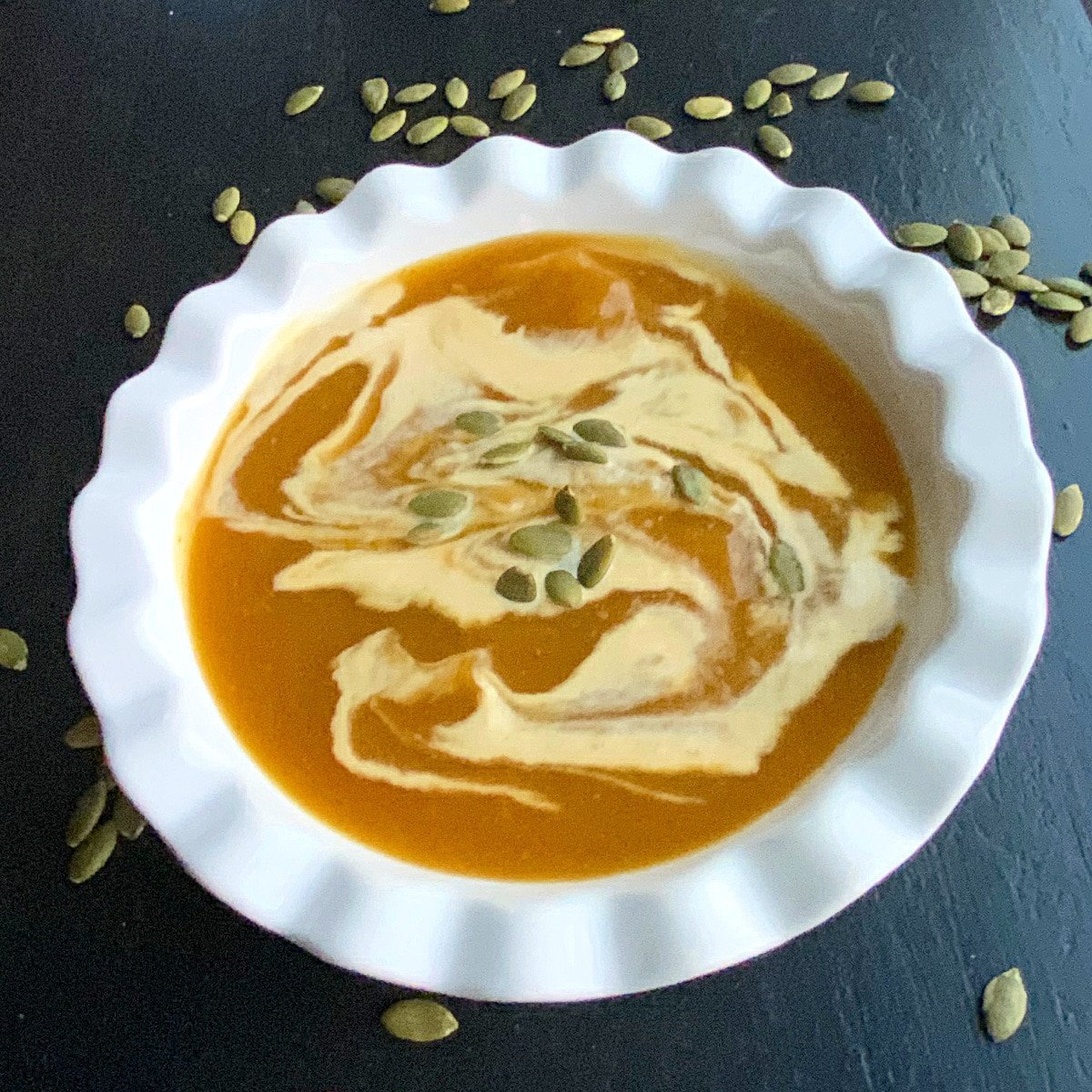 57. Pressure Cooker Chicken Noodle Soup
This Chicken Noodle Soup in the Instant Pot / Pressure Cooker is a classic comfort dish. This pressure cooker chicken noodle soup has the same excellent flavor as a classic homemade chicken noodle soup, but it'll be done in under 30 minutes!
56. Slow Cooker Loaded Baked Potato Soup
This potato soup in the slow cooker is wonderfully tasty and soothing, making it the ideal winter meal recipe. It just takes 15 mins to make and 4 hours to cook in the slow cooker. All of your baked potato faves are included in this slow cooker potato soup: bacon, cheddar cheese, sour cream, and onions + garlic!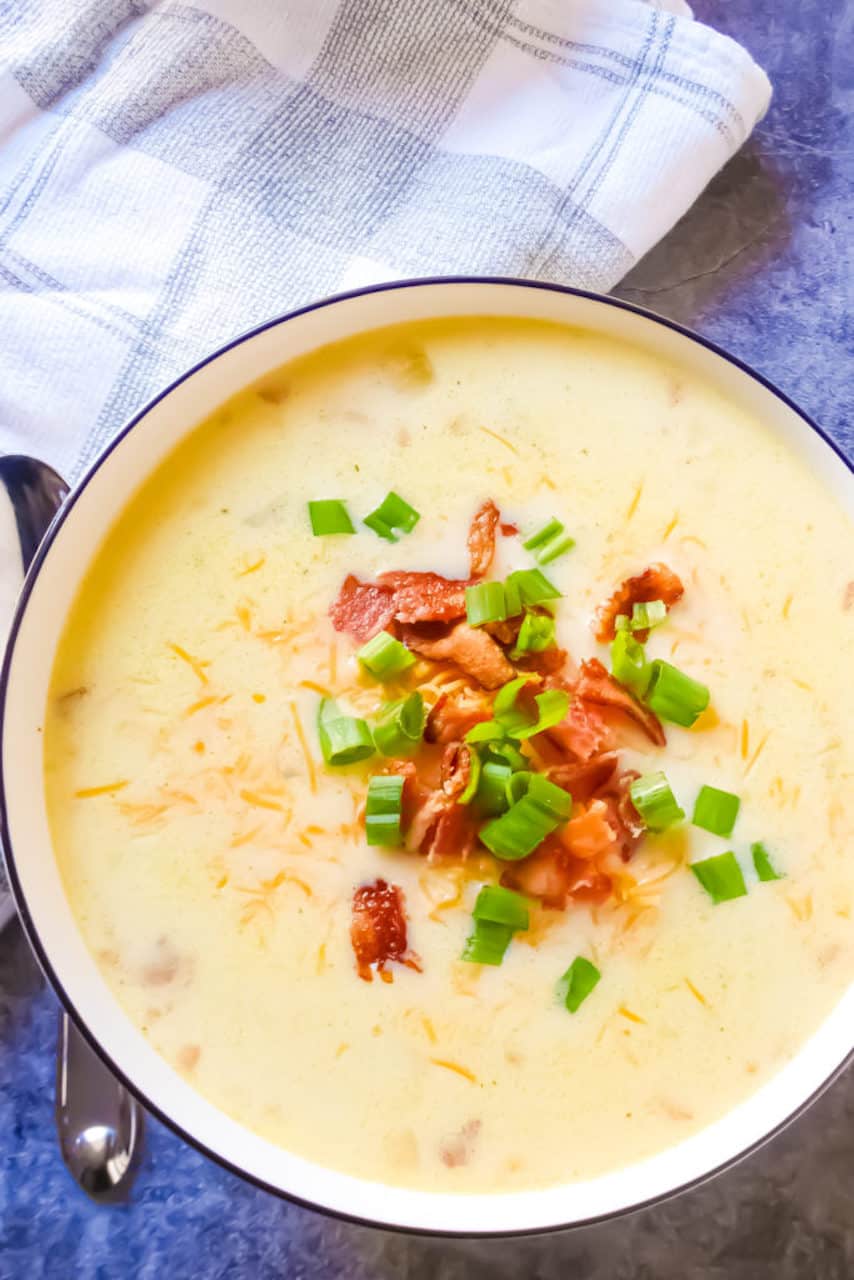 55. Instant Pot Clam Chowder
Instant Pot New England Clam Chowder will become your new favorite clam chowder soup recipe. In a fraction of the time, you can have that thick, creamy chowder.
54. Instant Pot French Onion Soup
Seasonal onions are used in this easy Instant Pot Vegetarian French Onion Soup recipe.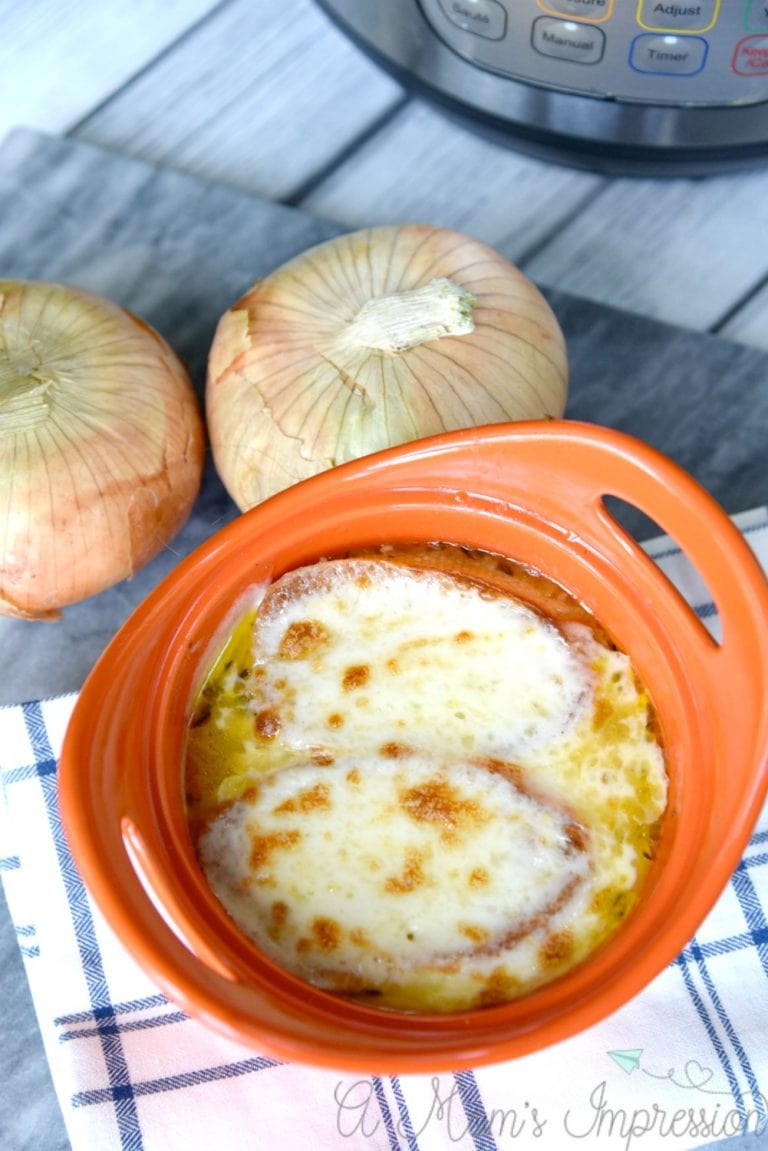 53. Instant Pot Corn Chowder
In an Instant Pot, make Creamy Corn Chowder in 20 minutes. It's made with sweet corn, potatoes, carrots, and a warm creamy broth.
52. Instant Pot Lentils
This is the BEST Instant Pot Lentil Soup, with soft lentils and vegetables that hold up well under pressure and provide a tonne of flavor! This is the easiest nutritious soup to make, with only 5 minutes of prep time, no sautéing, and no pre-soaking!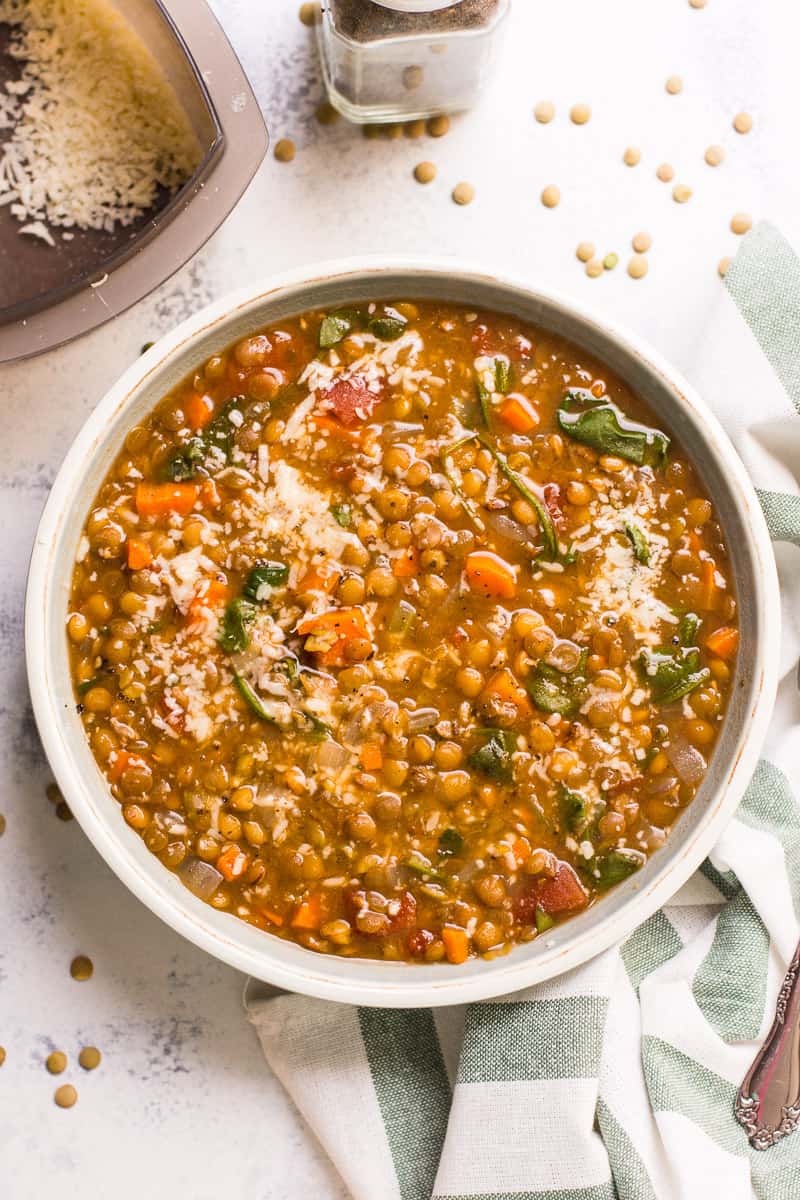 51. Instant Pot Pho
There's something about a good chicken soup with lots of broth. It gives you a warm and welcoming feeling. Not to mention, if you're feeling under the weather, it'll make you feel much better. Instant Pot Chicken Pho is a quick and easy chicken and rice noodle soup dish.
50. Keto Cabbage Soup
Keto Cabbage Soup Recipe Is a nutritious and tasty soup made with cabbage, ground beef, and tomatoes that is quick and easy to make. A family favorite, this hearty, one-pot meal is perfect for the chilly weather.
49. Instant Pot Lasagna Soup
Easy Lasagna Soup in the Instant Pot tastes just like classic Lasagna and is ready in just 30 minutes. This is a fantastic quick and simple dinner recipe that is full of excellent flavors and very soothing.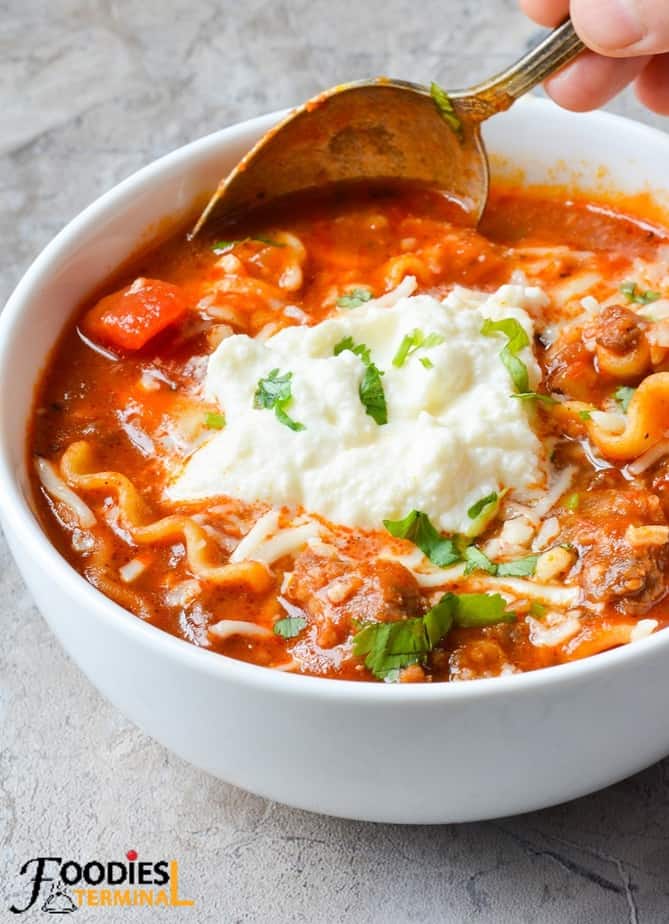 48. Instant Pot Pea Soup
On a freezing winter's day, nothing beats a warm cup of Instant Pot Vegan Split Pea Soup Recipe with carrots, celery, potatoes, and a smokey Southern flavor.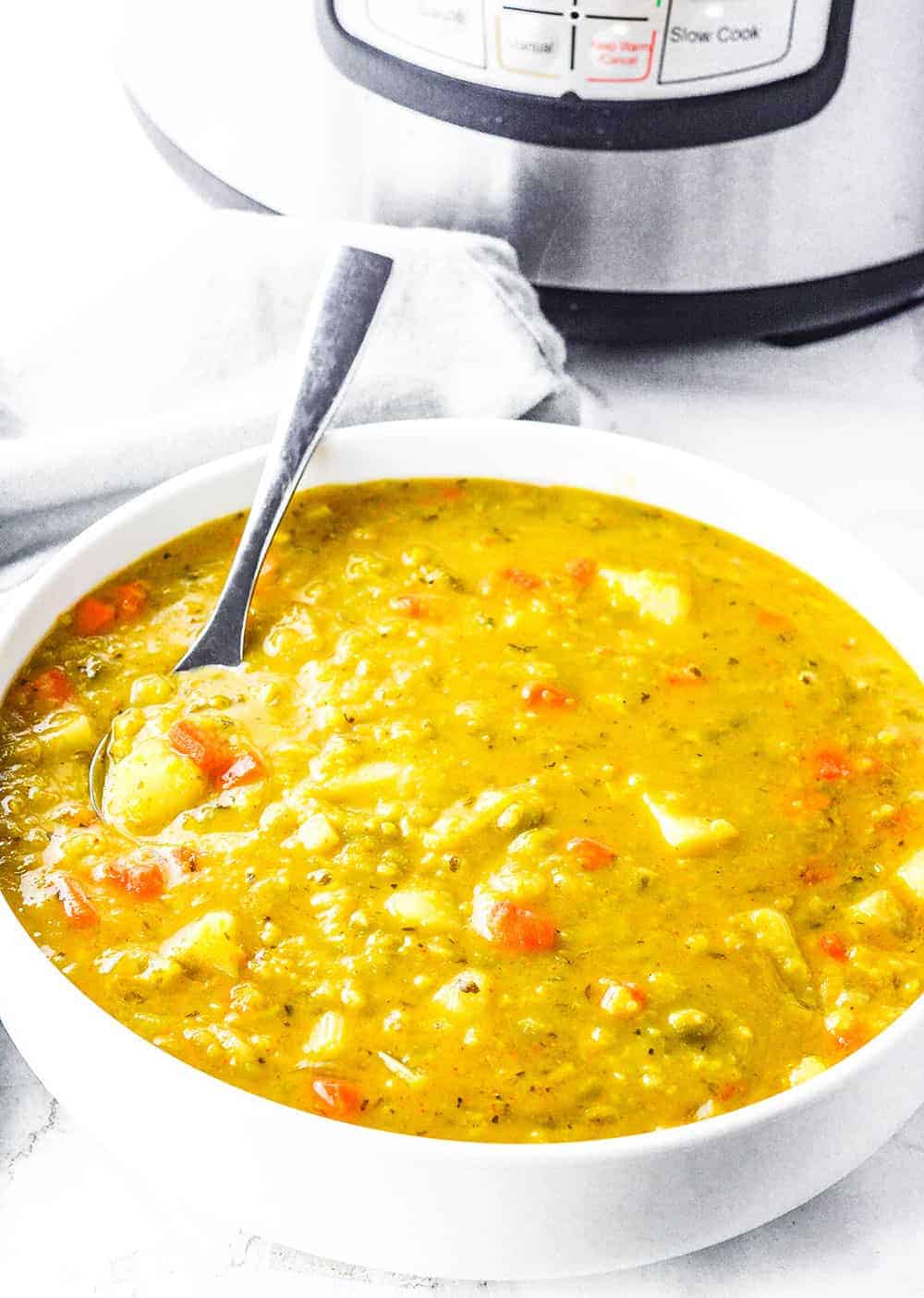 47. Pasta Fagioli Instant Pot
An Instant Pot Olive Garden Pasta Fagioli recipe that tastes just like the traditional Italian pasta Fagioli recipe we all know and love, but takes only minutes to prepare. It's a simple pressure cooker meal filled with delicious ground turkey, sausage, onions, garlic, beans, and pasta that you'll want to make again and again.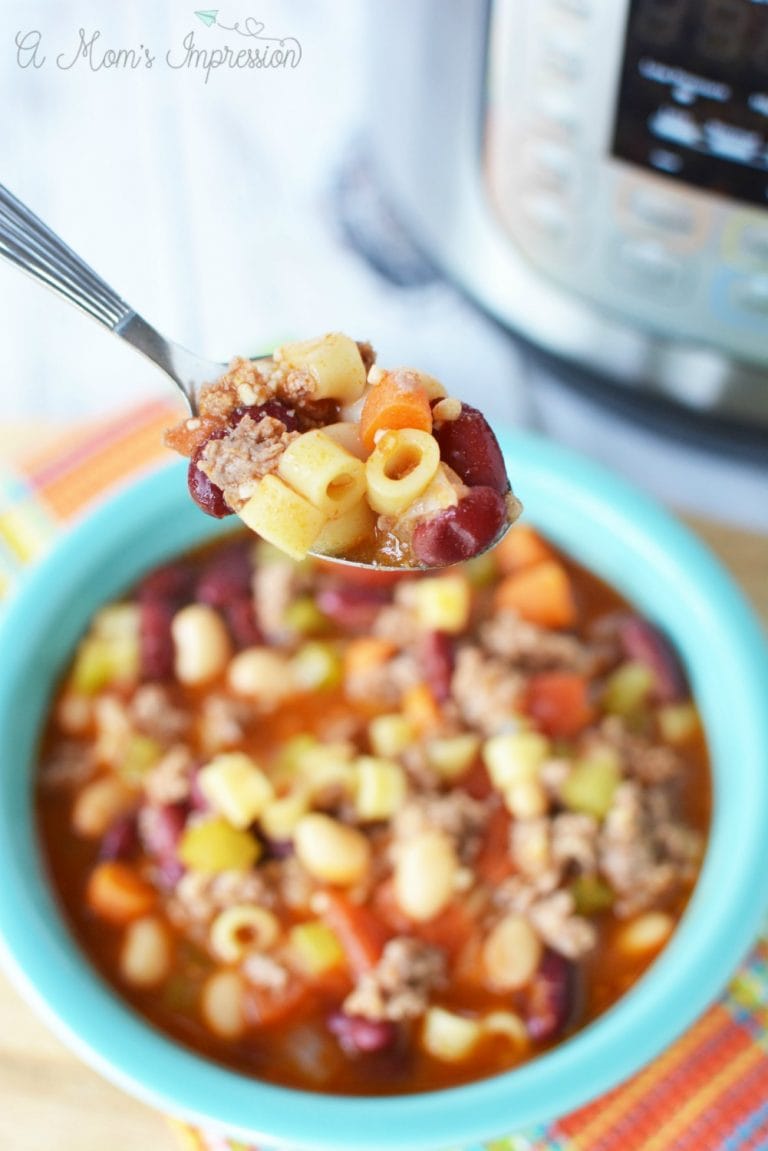 46. Slow Cooker Broccoli Cheddar Soup
This Broccoli Cheddar Soup in the Slow Cooker is beyond easy, but oh so wonderful! It should be on your dinner menu at least once a week!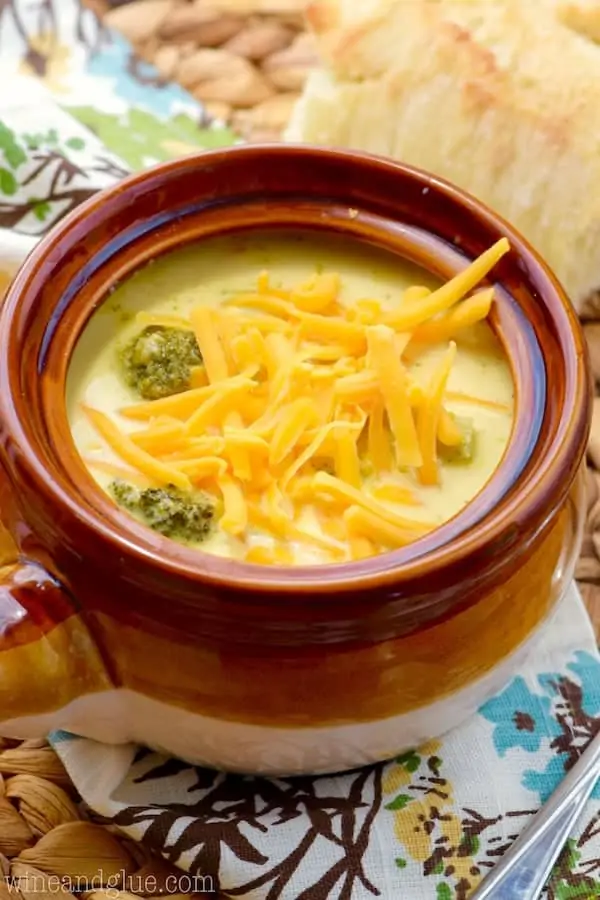 45. Keto Clam Chowder
This clam chowder recipe is also surprisingly versatile. It's simple to modify it to your personal taste and cooking preferences.
44. Keto Turkey Soup
With leftover shredded turkey, you can make a delicious low-carb soup in no time. This keto turkey soup is so delicious that you'll want to make it again! Low carb or not, this dish is a hit with the whole family. It's freezer-friendly!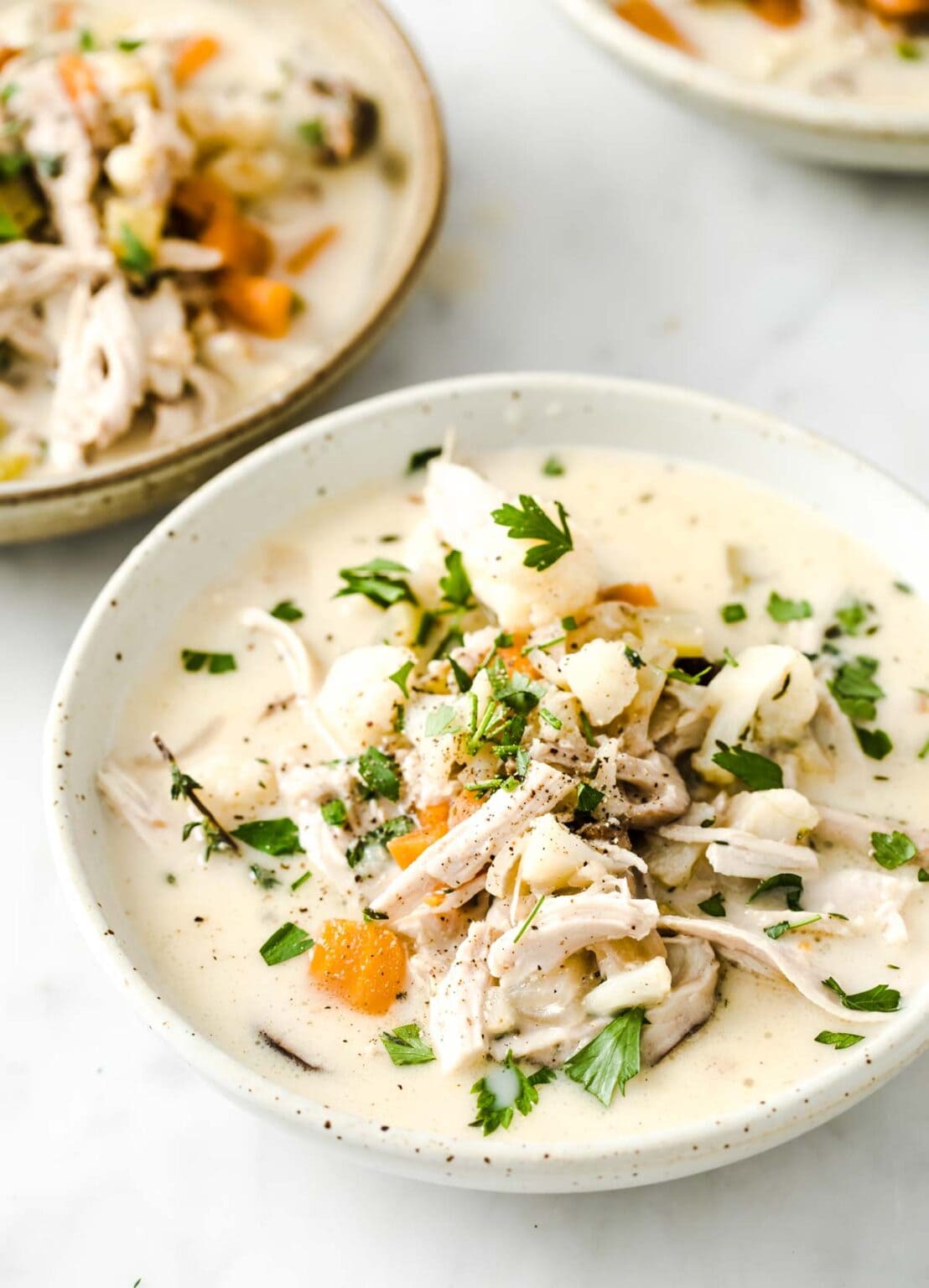 43. Vegan Tomato Soup
Crushed tomatoes, strong spices, and rich coconut milk combine to make the finest (creamiest!) vegan tomato soup – without the dairy!
42. Tom Yang Soup
The renowned Thai Soup, cooked at home and guaranteed to be authentic!! Using frozen peeled prawns/shrimp as a shortcut is described in the recipe notes. Also, choose between the clear Tom Yum (Tom Yum Goong Nam Sa) and the creamy Tom Yum (Tom Yum Goong Nam Khon) versions!
41. Keto Zuppa Toscana
This low-carb Keto Zuppa Toscana Soup is packed with Italian sausage, cauliflower, kale, and a creamy base; it's a winner!
40. Slow Cooker Creamy Vegetable Soup
This Slow Cooker Creamy Vegetable Soup is a filling, healthy meal that comes together quickly thanks to the crockpot. It has a low-calorie count but a lot of taste!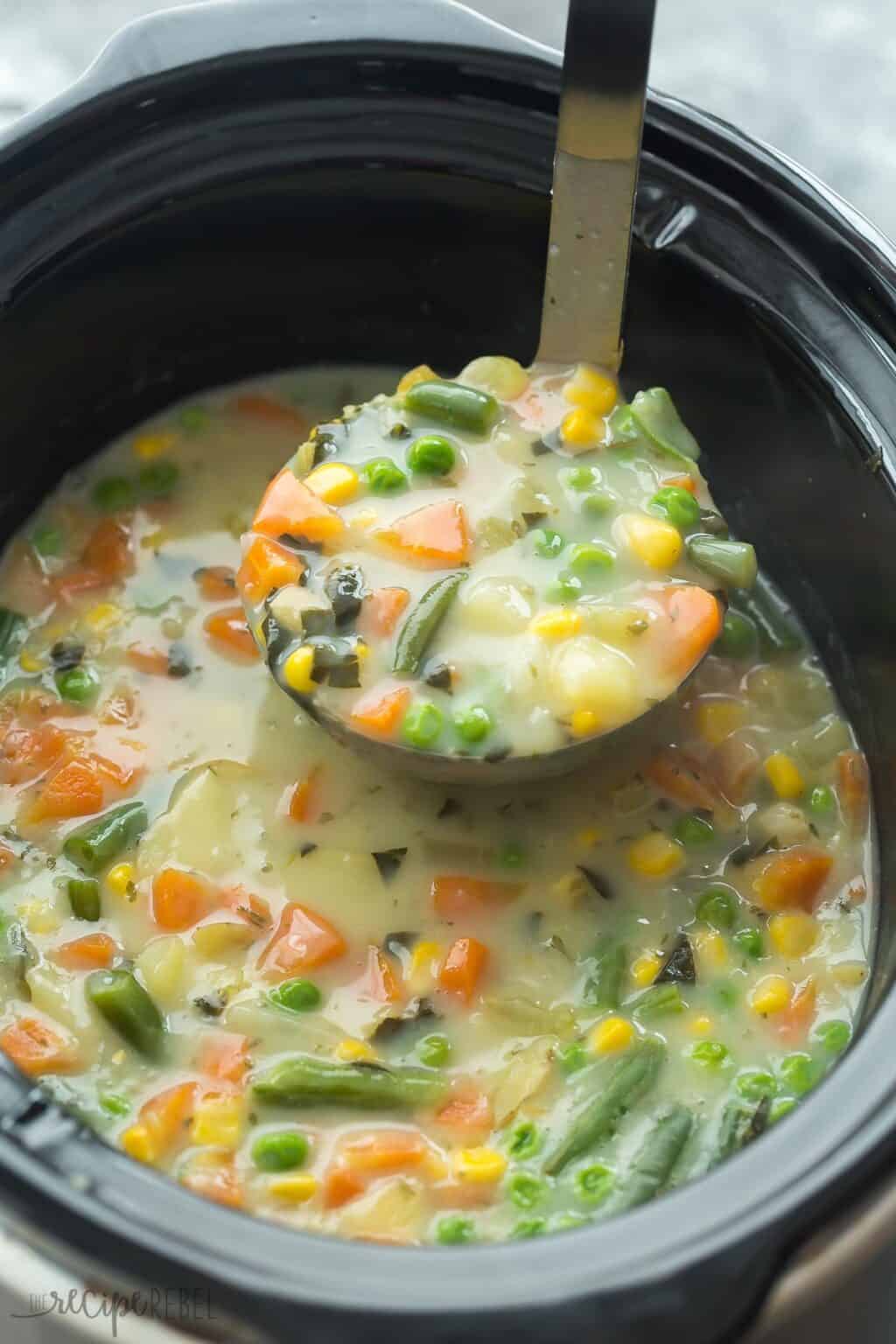 39. Hearty Vegetable Soup
This hearty vegetable soup in a one-pot is easy to cook, healthful, and tasty! It's Whole30-approved, gluten-free, and paleo, plus it's loaded with vegetables.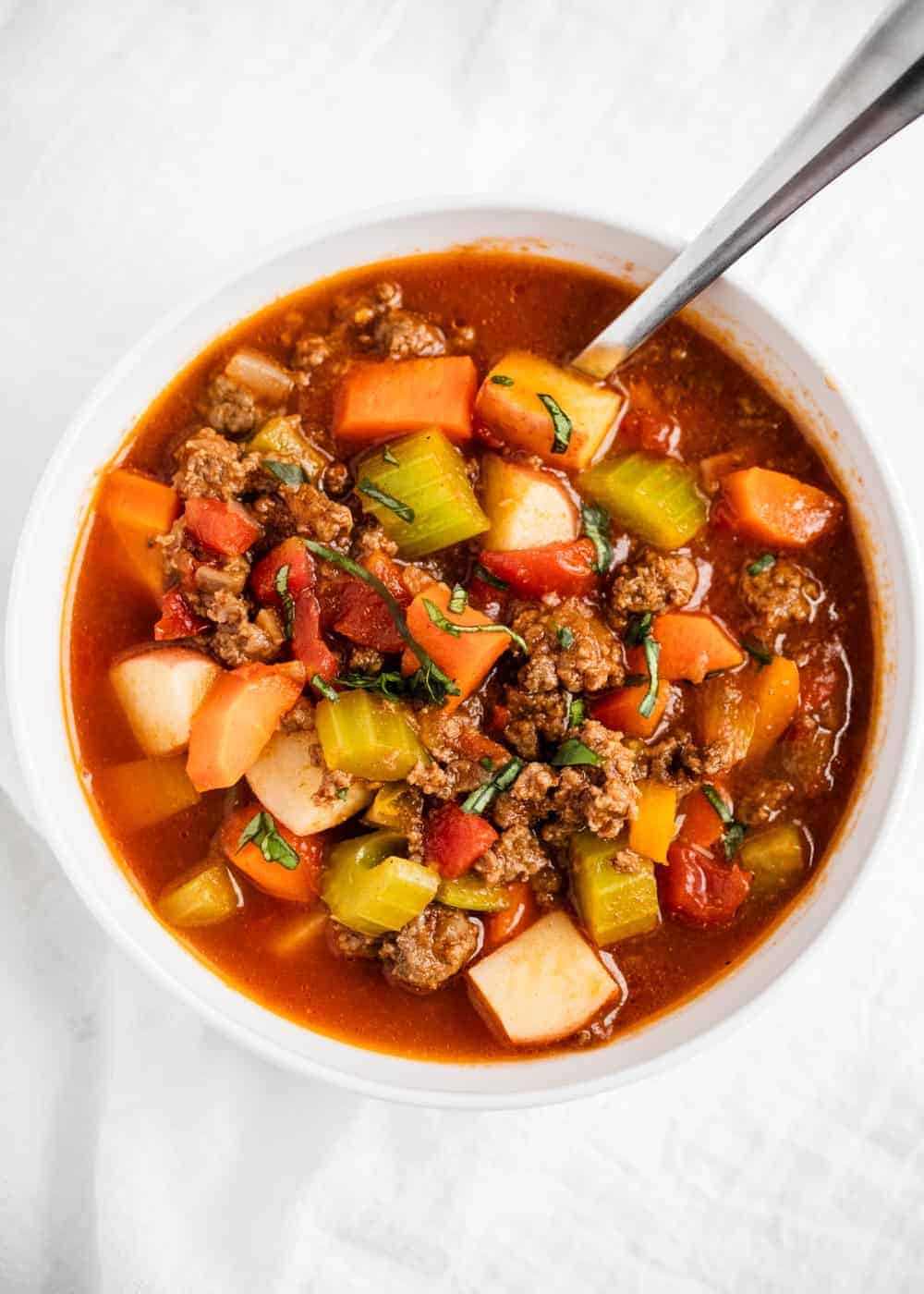 38. Quinoa Vegetable Soup with Kale
This vegetable soup recipe is packed with vegetables, kale, and quinoa. It's quick and easy to prepare, plus it's also healthy! This soup keeps well in the fridge. As long as you don't add the optional Parmesan cheese, it's gluten-free and vegan.
37. Vegetable Soup
For good reason, this Vegetable Soup has become one of my most popular soup recipes. It's healthy, refreshing, and 1,000 times better than anything you'll find in a can! You can't go wrong with a big steaming cup of vegetable soup since it's flavorful and simple to cook.
36. The Yummiest Vegetable Soup
A delightful cup of homemade vegetable soup that's excellent for lunch with crusty bread! Easy to make and delicious.
35. Immune-Boosting Vegetable Soup
Homemade Vegetable Soup – Packed with healthy ingredients, this homemade vegetable soup is a must-try. It's great for when you're feeling under the weather, trying to be healthy, or just want a nice bowl of soup!!
34. Flush The Fat Away Vegetable Soup
This hearty soup is full of nutrient-dense ingredients that will detoxify and nourish your body! If you're trying to lose weight, you must give it a go.
33. Skinny Slow Cooker Superfood Soup
This delicious soup not only helps you lose weight but also tastes great. So why not give it a shot and then include it into your diet if you like?
32. Easy Roasted Tomato Soup
This Easy Roasted Tomato Soup is far better than canned soup and couldn't be easier to make – excellent for fresh garden tomatoes and herbs! A healthy gluten-free and vegetarian dinner with vegan and dairy-free choices.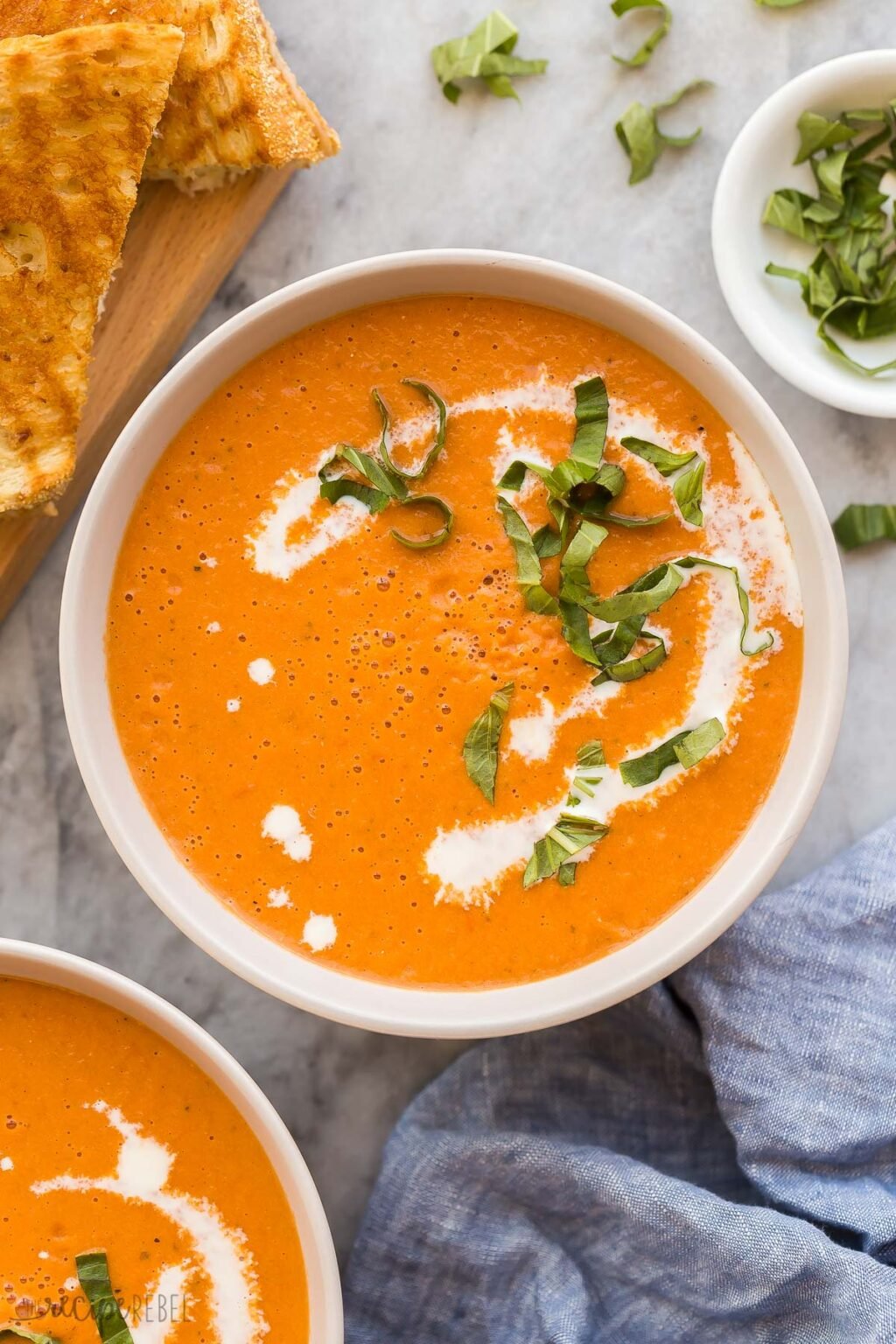 31. Mushroom Soup
This healthy mushroom soup recipe takes approximately 30 minutes to cook and will quickly become your favorite soup! This savory mushroom soup is low-fat, dairy-free, vegan, paleo, Whole30, and keto-friendly.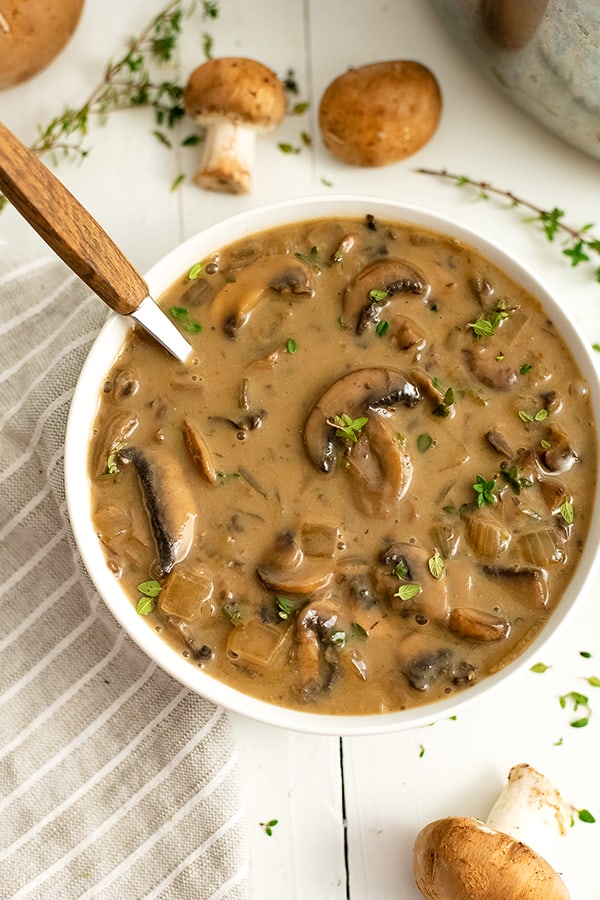 30. Carrot, Ginger & Turmeric Soup
An anti-inflammatory carrot, ginger, and turmeric soup that's packed with fresh, comforting flavors! The flavors of carrot and ginger are already a match made in heaven, but adding a pinch of fresh turmeric to the mix adds another layer of flavor.
29. Zucchini Basil Soup
Zucchini Basil Soup is a tasty, healthy soup with a silky smooth texture. Keep it vegan or finish with a dollop of yogurt. Simple and quick! Zucchini Basil Soup is a quick and tasty soup that can be cooked in under 20 minutes!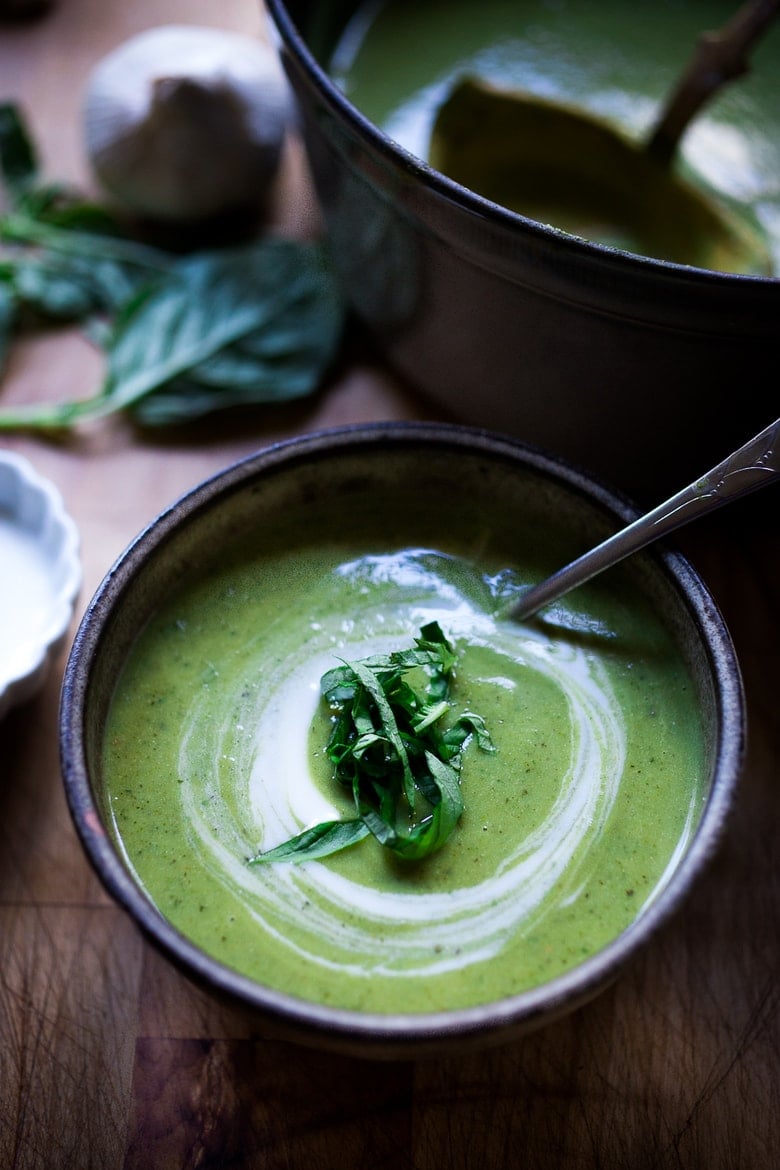 28. Cream of Zucchini Soup
It just takes FIVE ingredients (not including salt and pepper) to make this quick, simple, and delicious cream of zucchini soup that my family has loved for years!
27. Creamy Carrot & Ginger Soup
Creamy Carrot and Ginger Soup is a tasty Vegan soup that is filled with nutrients. This creamy, delicious soup is made with chopped fresh ginger, carrot chunks, and coconut milk. On a cold day, it delivers the best comfort! Cook time is 30 minutes on the stovetop or in the Instant Pot. Whole30, Paleo, and Vegan!
26. Roasted Carrot Soup
Carrot Soup with Tomatoes, Garlic, Cumin, and Greek Yogurt is a simple carrot soup dish that is creamy and hearty. This vegetarian soup with a tomato base is quick and easy to make, and the leftovers are great for lunches and dinners all week!
25. Creamy Tomato Basil Soup
This Creamy Tomato Basil Soup is a delicious addition to any dinner. There's no better soup for dipping bread or grilled cheese into than this one!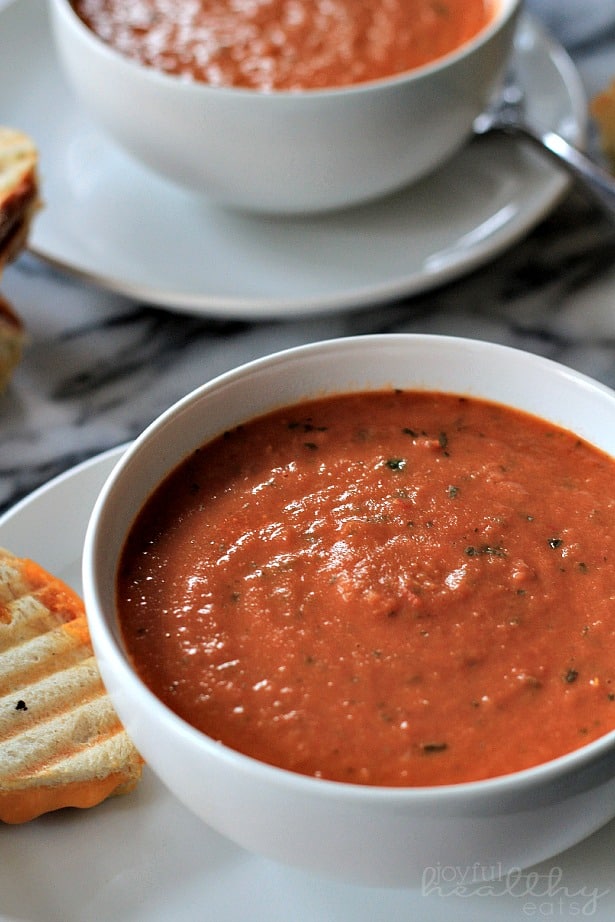 24. Cleansing Detox Soup
After a long, cold, snowy day, there's nothing better than cuddling up with a warm cup of soup. The new year is already underway. After the Christmas joy, everyone is back to work, and it's game time.
23. Autumn Wild Rice Soup
Fresh seasonal vegetables and greens, hearty wild rice, and a deliciously zesty, creamy broth combine to make this cozy Autumn Wild Rice Soup (made with either coconut milk or cream). There are options for Instant Pot, Crock-Pot, and stovetop cooking.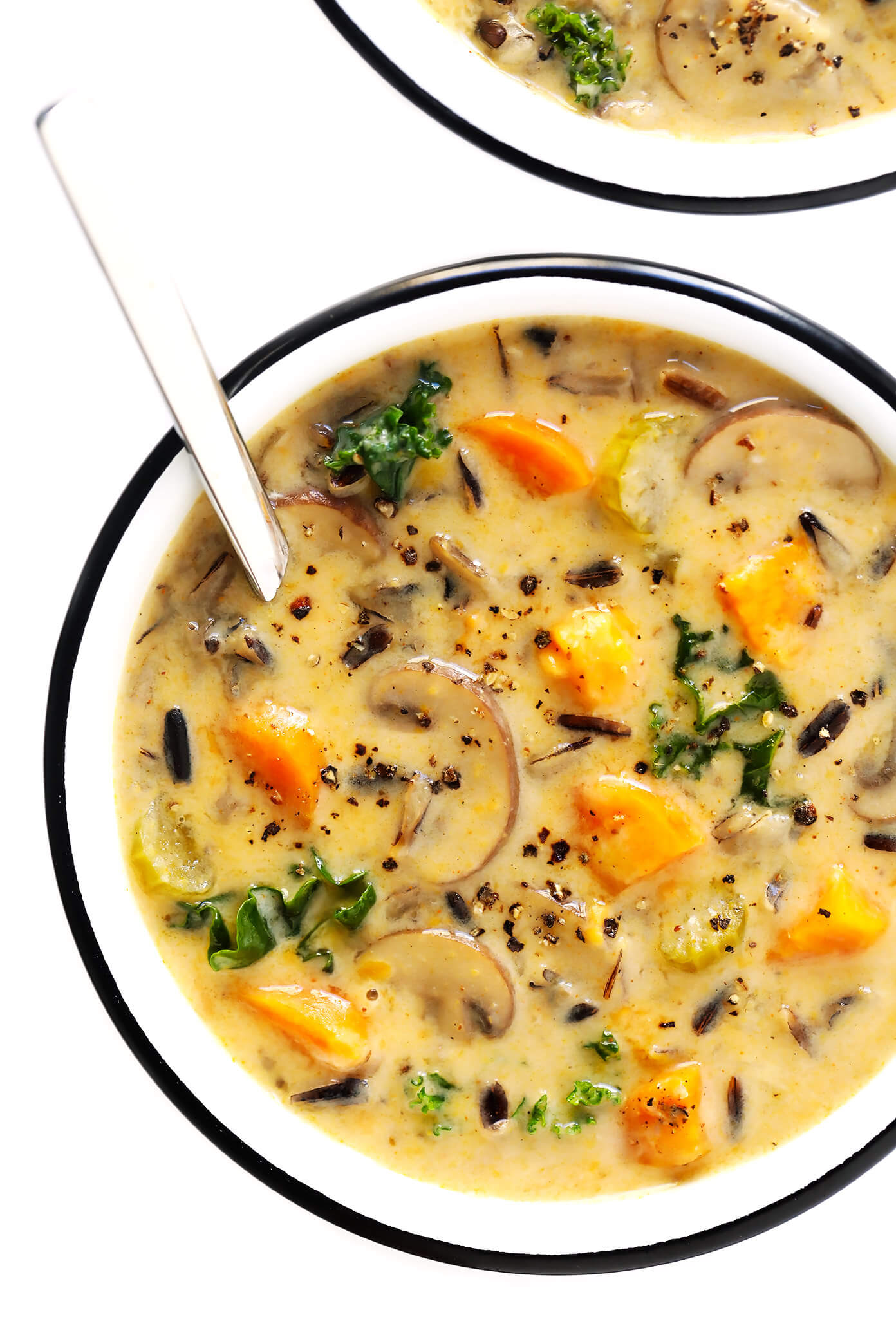 22. Roasted Red Pepper & Tomato Soup
This Roasted Red Pepper and Tomato Soup are especially rich and delicious thanks to a little butter and flour.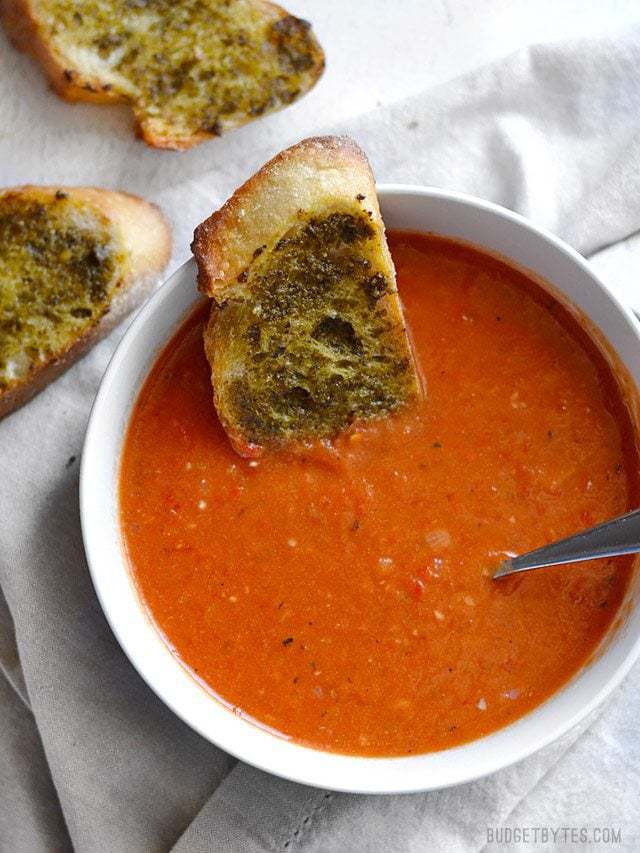 21. Spinach & White Bean Soup
In less than 30 minutes, you can have a nutritious and hearty soup packed with fresh spinach, white beans, and orzo noodles!
20. Vegetarian Lemon Rice Soup
19. Slow Cooker Split Pea Soup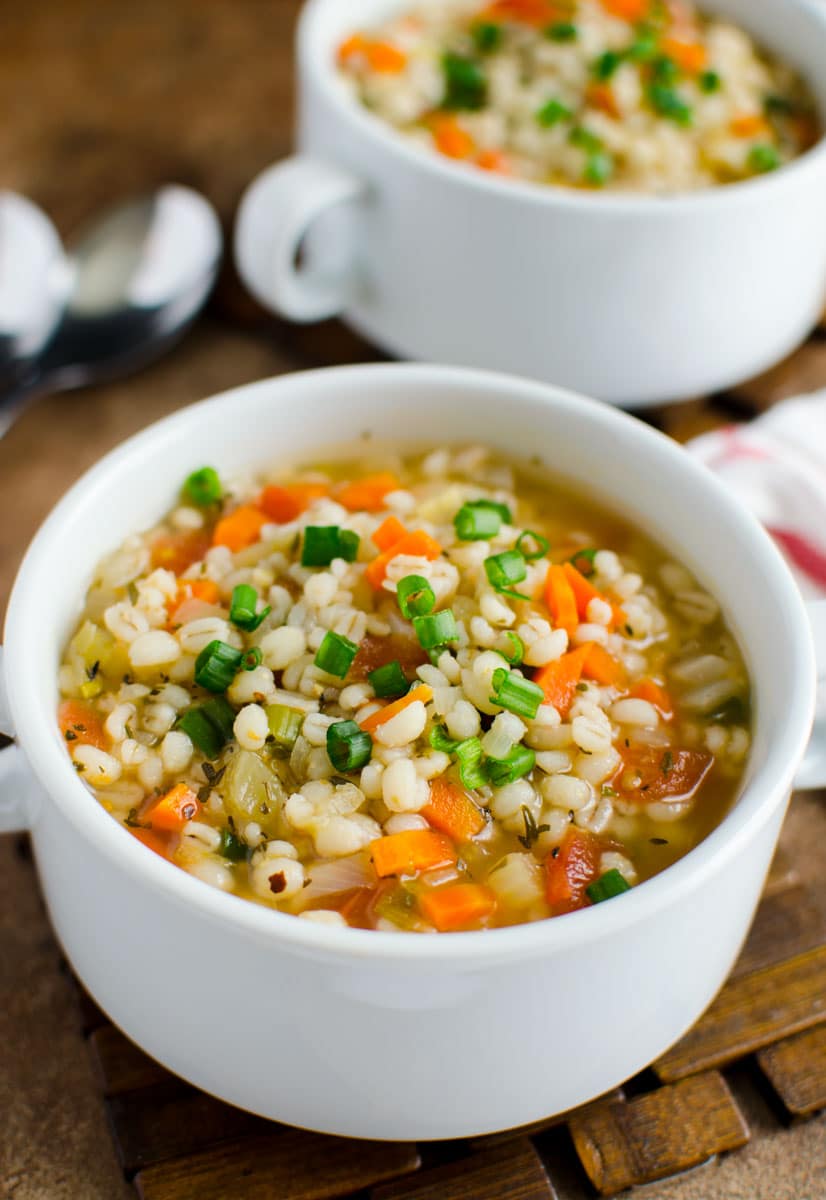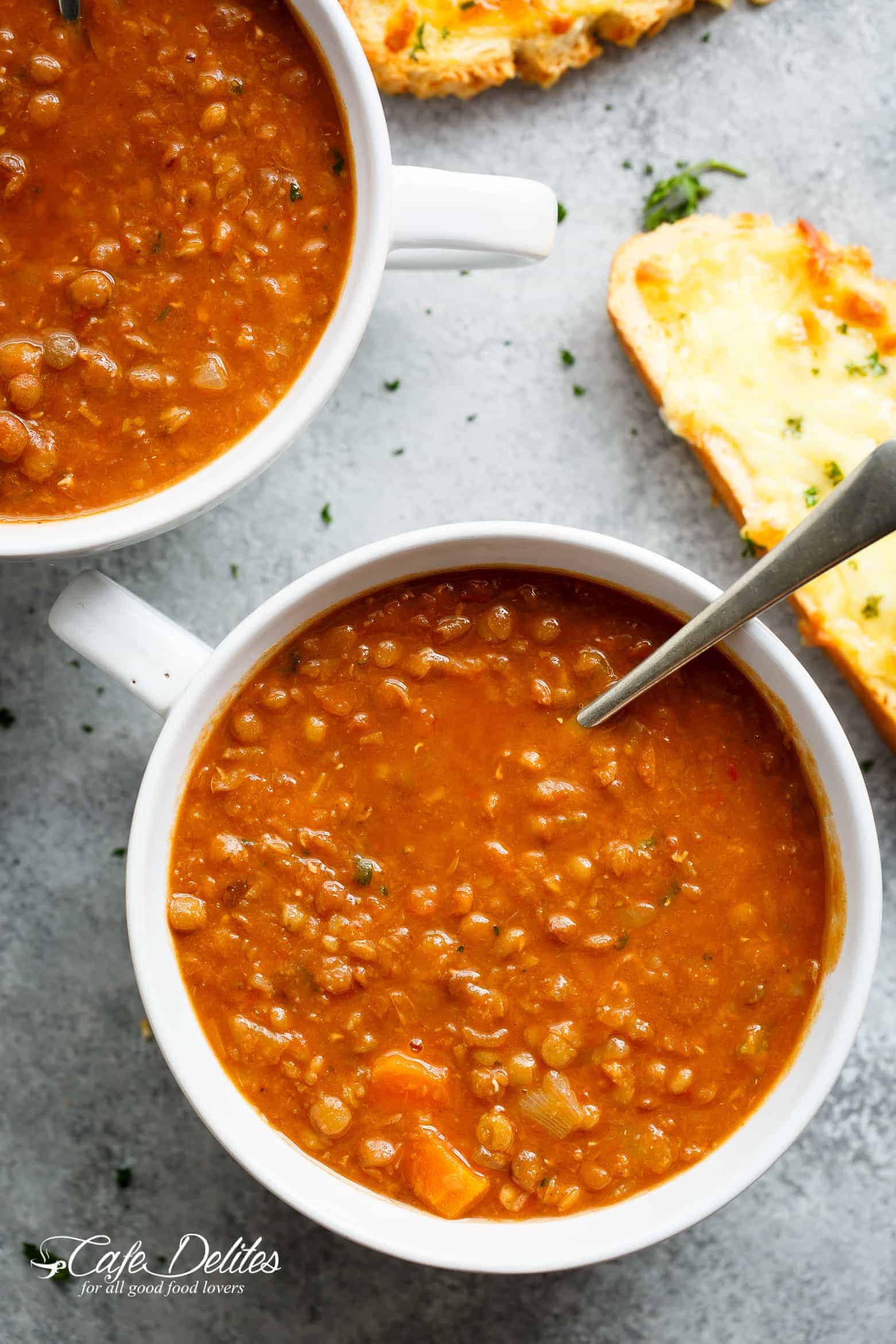 15. Spicy Tomato and Lentil Soup
14. Smoky Lentil and Potato Soup
13. Hearty Lentil Black Bean Soup
12. Fall Vegetable Quinoa Soup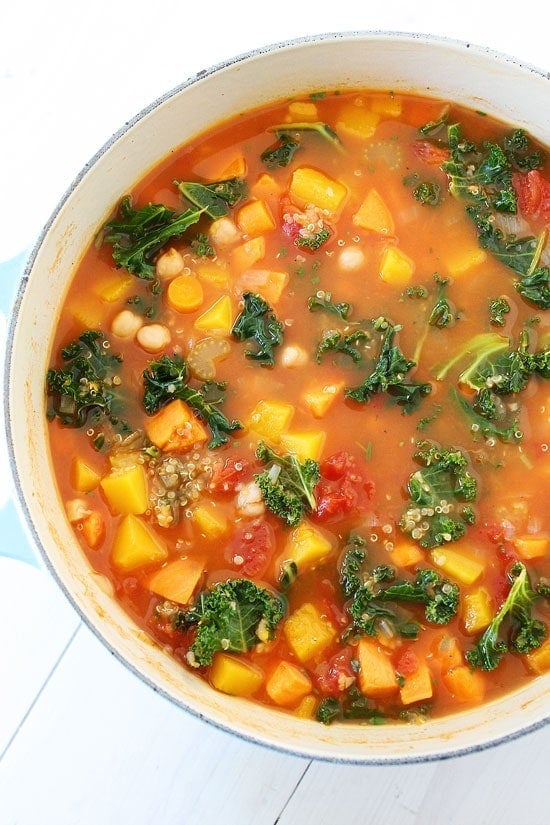 11. Slow Cooker Tomato, Kale & Quinoa Soup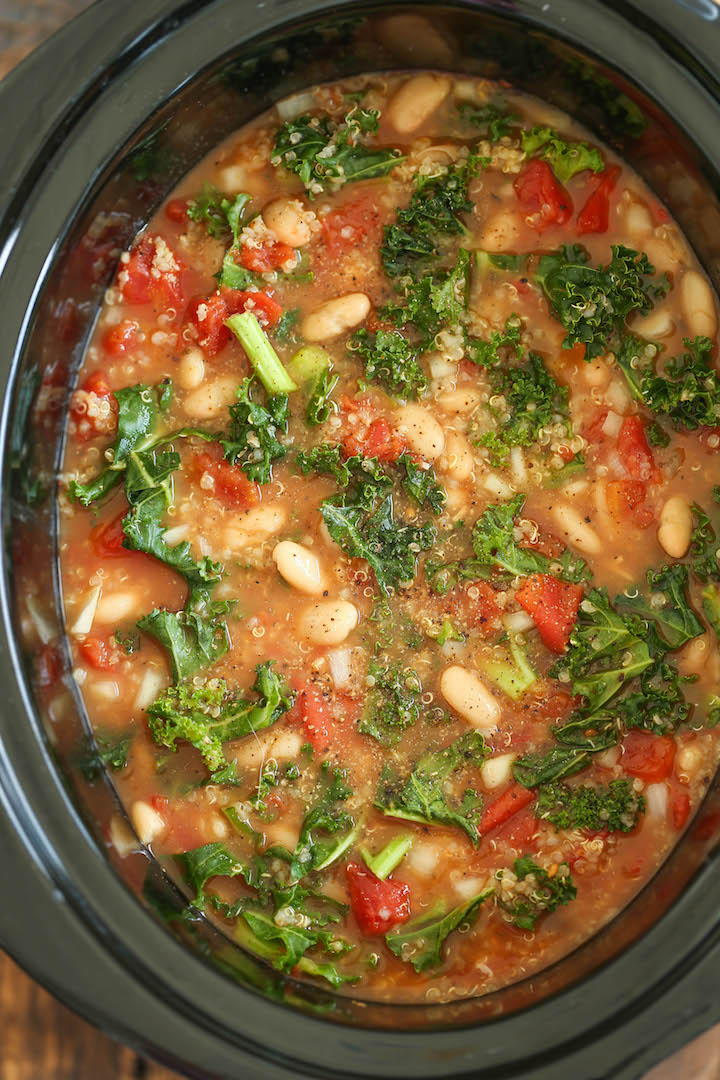 10. Detox Crockpot Lentil Soup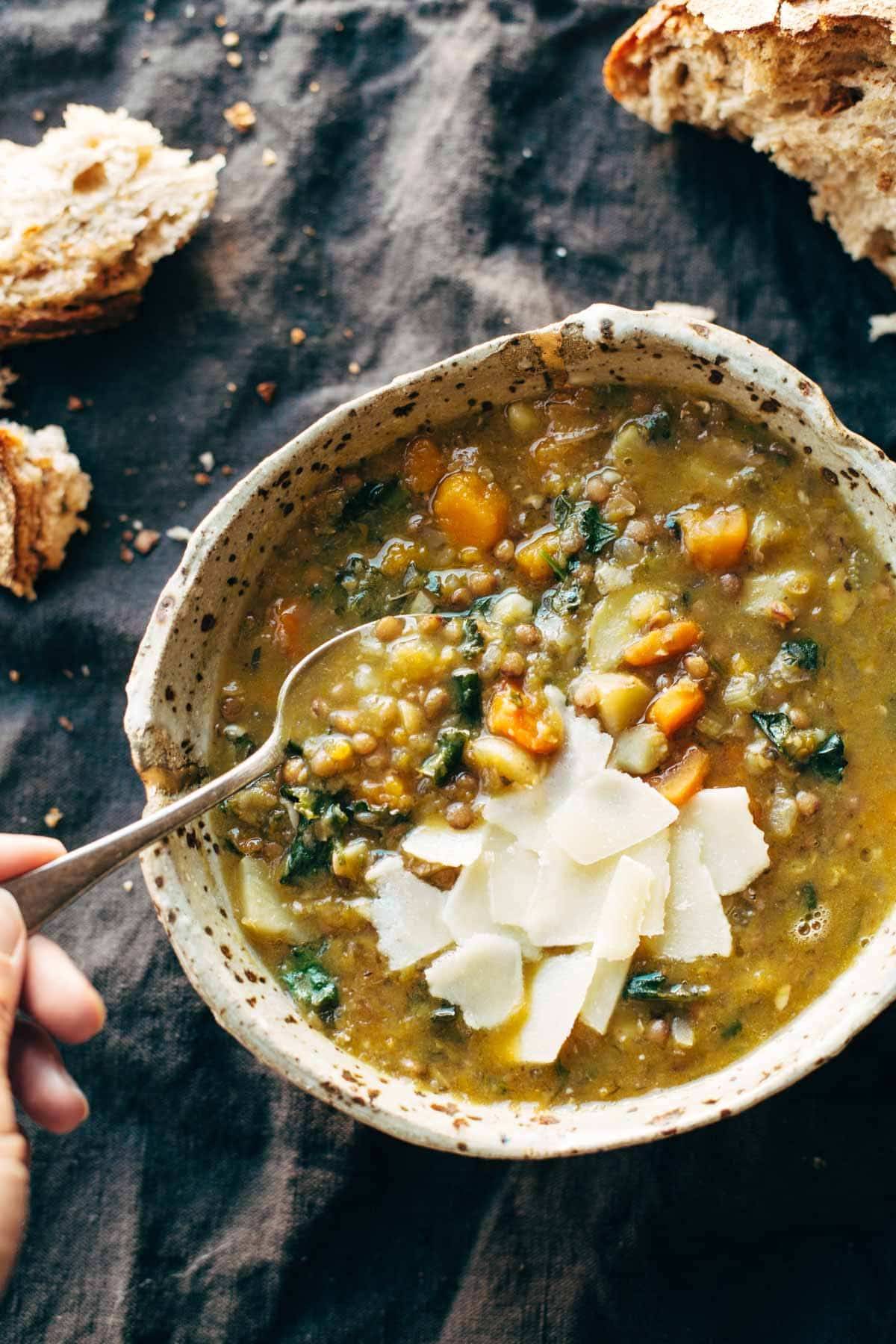 9. Roasted Sweet Potato & Quinoa Soup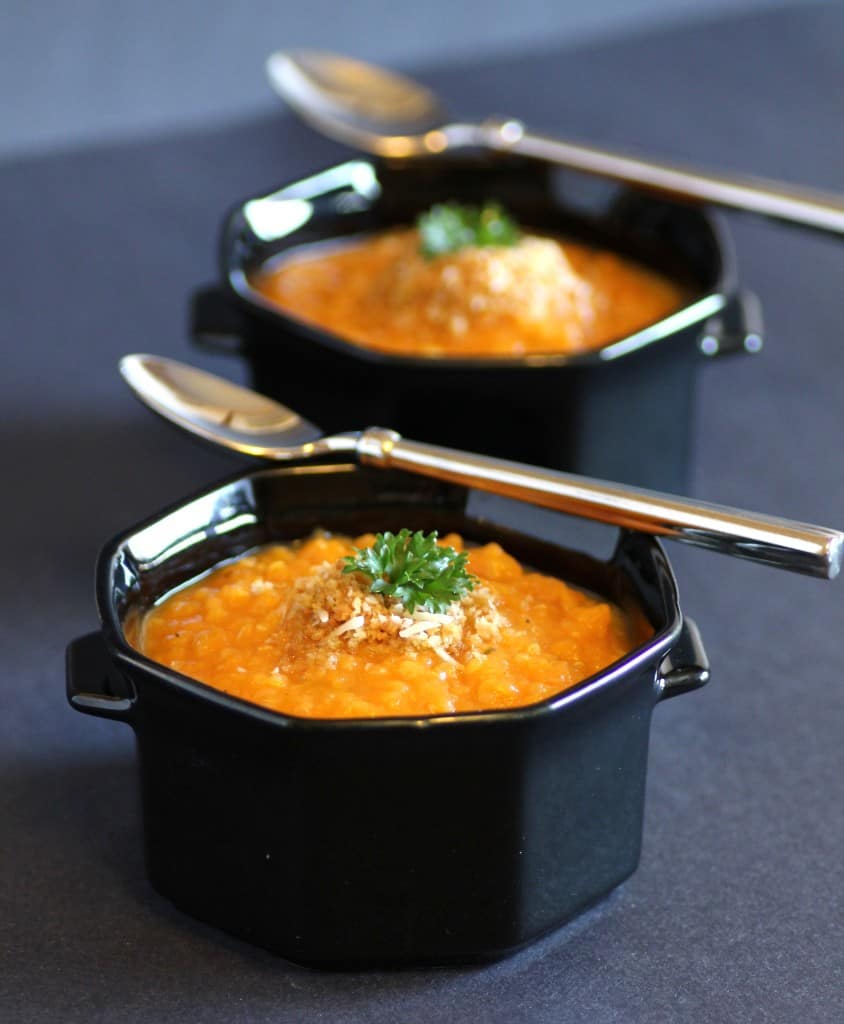 8. Roasted Butternut Squash Soup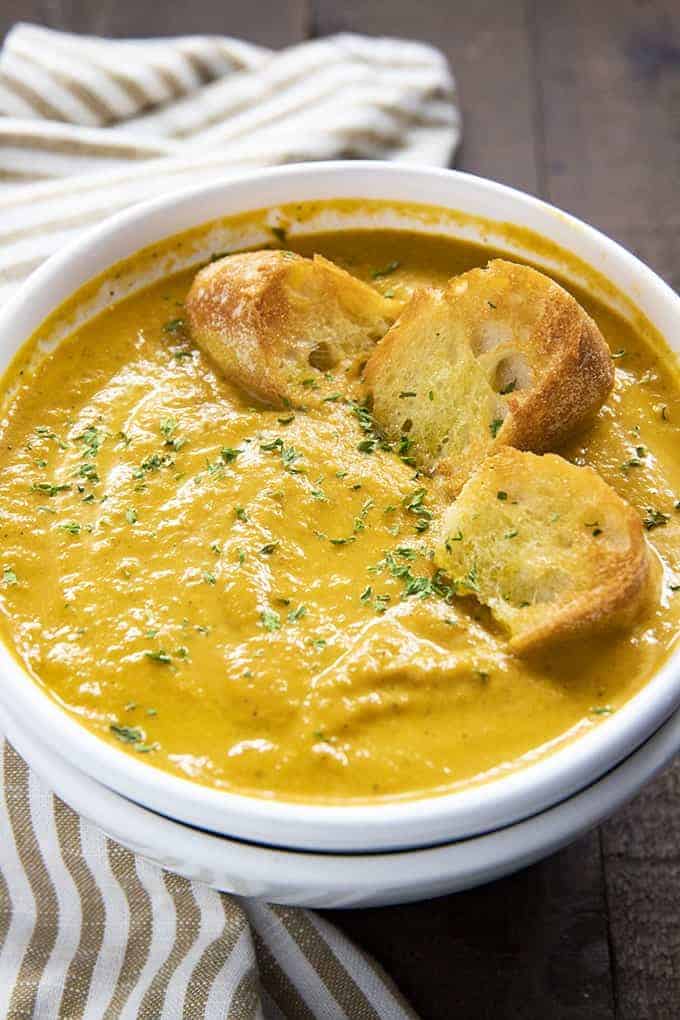 6. Spicy Roasted Butternut Squash Soup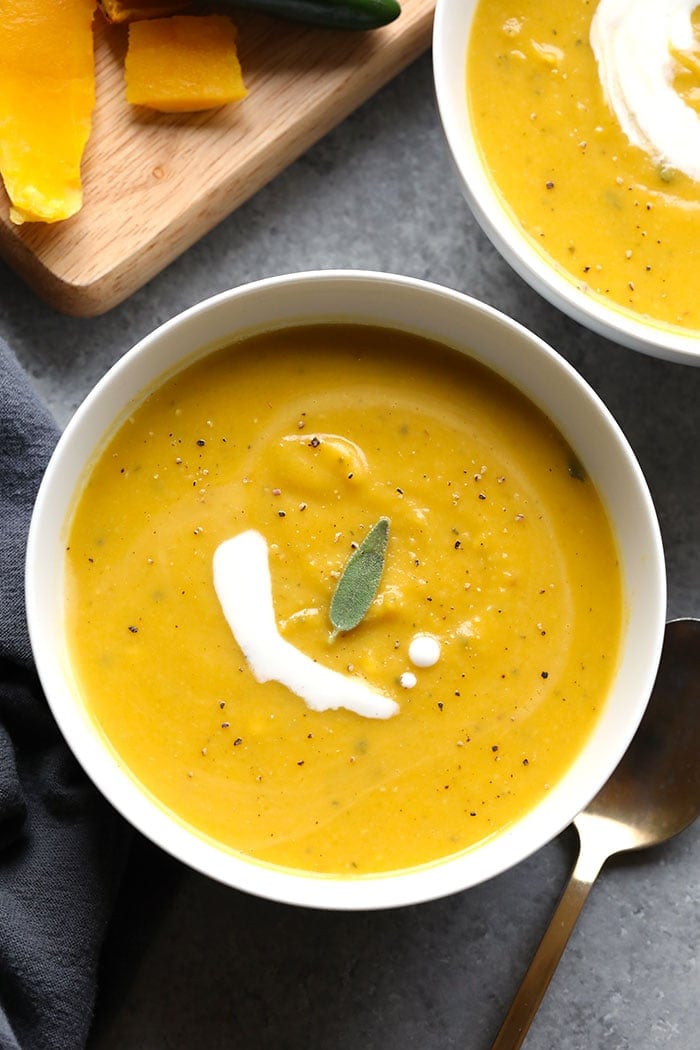 4. Butternut Squash and Apple Soup
3. Creamy Roasted Pumpkin Soup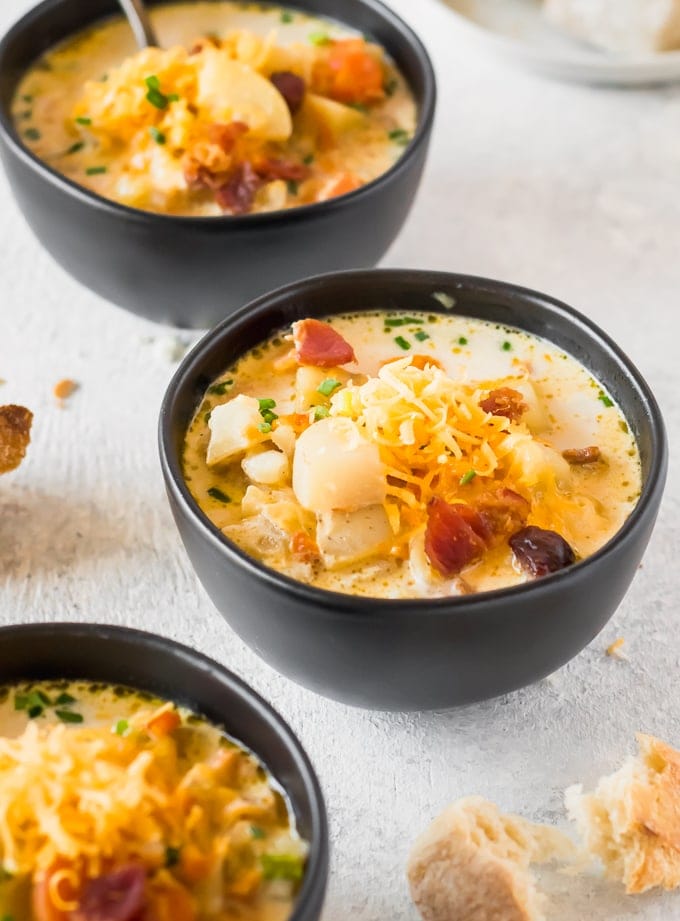 1. Slow Cooker Chickpea Sweet Potato Stew
Now comes the important question… Which Healthy Soup Recipes do you like the most? Please let me know in the comments.
Few more healthy recipes !!!
Want to save this for later? Post these Healthy Soup Recipes to your favorite Pinterest Board!