Morning magic begins with gluten-free breakfast ideas that are both healthy and delicious. Say hello to sunny mornings with a plate full of health, from fluffy pancakes without a trace of gluten to toast that lets you savor every bite guilt-free. Our easy breakfast ideas promise a tasty start to your day with that home-cooked warmth.
Kickstart your day with quick gluten-free breakfast ideas that don't skimp on taste.
Dive into our simple recipes like airy pancakes and hearty overnight oats that'll make you forget they're gluten-free.
Whether you're craving sweet or savory, our breakfast recipes, from keto-friendly bites to high-protein options, are here to satisfy without the gluten fuss.
Perfect for those on-the-go mornings or a leisurely brunch, these healthy breakfasts will keep you energized and ready to tackle the day!
Healthy Gluten Free Breakfast Ideas On The Go
" Affiliate links are provided for your convenience, please read my disclosure for more information."
25. Gluten Free French Toast
Are you searching for a delightful and speedy gluten-free breakfast option? Look no further!
This Gluten-Free French Toast recipe by Gluten Free Homestead is prepped and ready to savor in just 15 minutes.
Imagine the comforting aroma of cinnamon and the familiar taste of French toast without the gluten.
This healthy breakfast treat is perfect for everyone in the family to enjoy, allowing you to bid farewell to gluten while savoring every bite.
24. Sticky Cinnamon Roll Baked Oatmeal
Indulge in the flavors of a cinnamon roll without any guilt with this healthy Cinnamon Roll Baked Oatmeal by The Big Man's World.
This breakfast creation offers the best of both worlds – the decadence of a cinnamon roll and the wholesomeness of oatmeal.
Packed with both protein and fiber, it's a gratifying morning meal that will keep you fueled and content throughout your day.
Say hello to a delicious and nutritious start to your day, that's designed to keep you full and energized.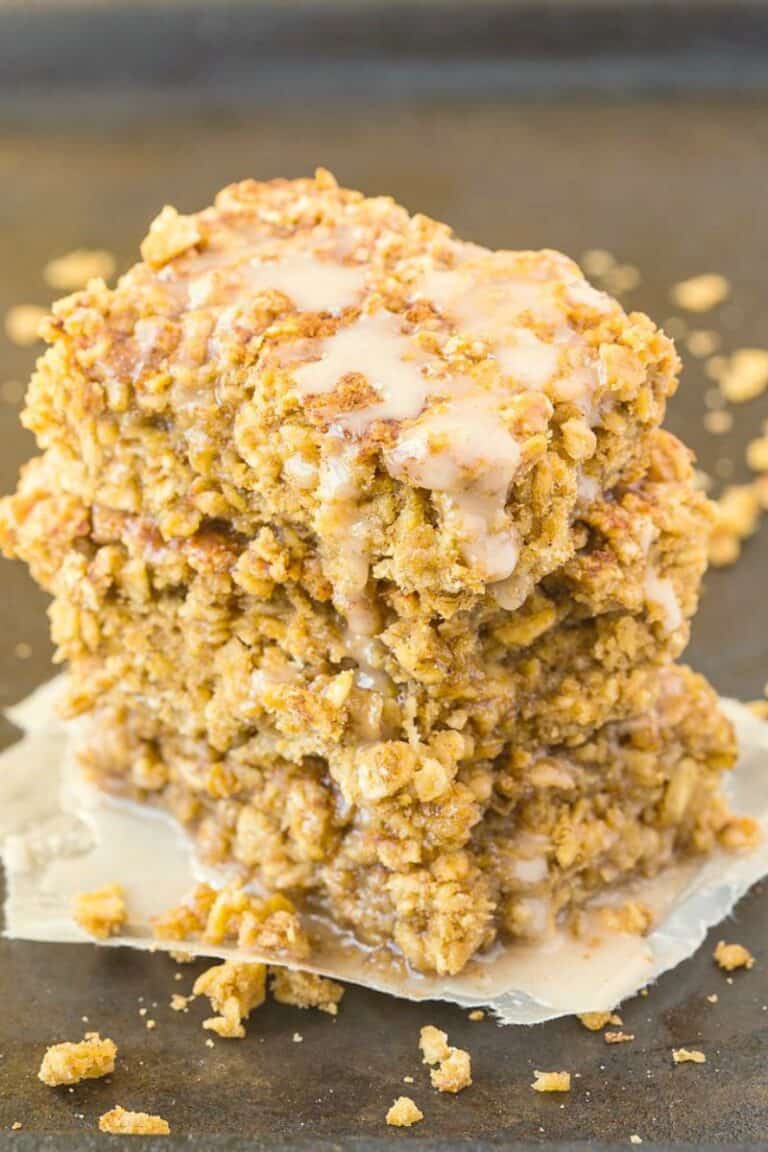 23. Cinnamon Apple Breakfast Quinoa
Kickstart your day with a nutritious and gluten-free twist by savoring this Cinnamon Apple Breakfast Quinoa by Simple Quinoa.
This healthy breakfast bowl is not only mouthwateringly delicious but also loaded with fiber and protein to ensure you remain satisfied all morning long.
Imagine the delightful combination of cinnamon, apples, and quinoa, creating a morning masterpiece that's both nutritious and satisfying.
Bid farewell to mid-morning hunger pangs with this wholesome breakfast option.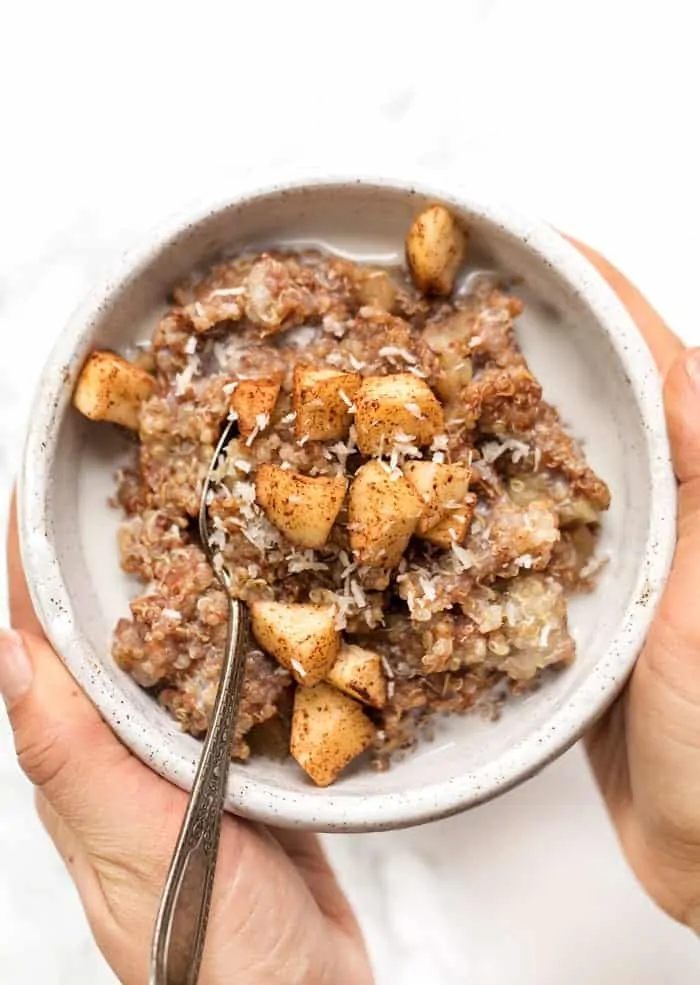 22. Chocolate Peanut Butter Overnight Oats
If you are looking for the ideal breakfast meal prep solution, this Chocolate Peanut Butter Overnight Oats recipe by Whole Kitchen Sink is here to revolutionize your mornings.
It's gluten-free, and dairy-free, and can effortlessly accommodate a vegan diet.
In less than 10 minutes and with just five simple, healthy ingredients, including rolled oats, peanut butter, and almond milk, you can prepare several days' worth of breakfasts for those hectic mornings.
It's the ultimate answer to a busy schedule and a delectable way to commence your day with a protein-rich delight.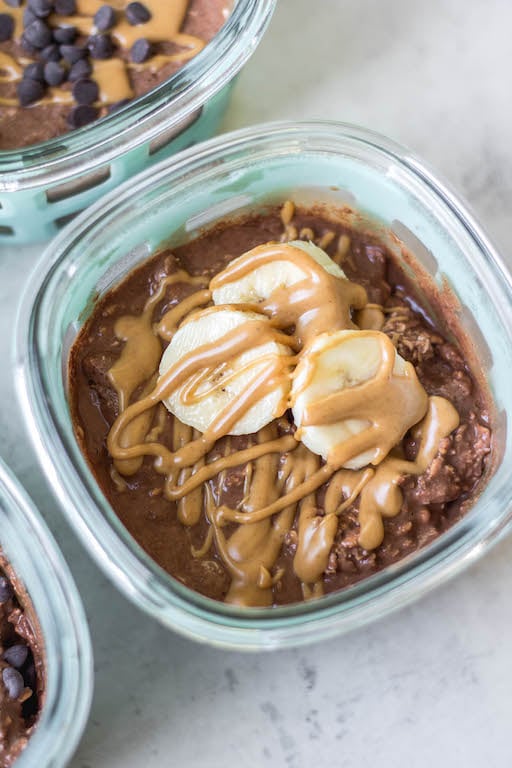 21. Hash Brown Crusted Quiche
Whether you're planning a morning meal, brunch, or even family dinner, this Hash Brown Crusted Quiche with sausage by Belly Full is a gluten-free masterpiece that's both savory and gratifying.
The grated potatoes form a crispy crust that adds heartiness to this recipe.
Picture yourself relishing this savory gem, which is ideal for sharing with loved ones.
Embrace a gluten-free recipe that's destined to become a family favorite.
20. Peanut Butter Oatmeal Cookies
When it comes to morning treats, these Peanut Butter Oatmeal Cookies by Amy's Healthy Baking steal the show every time!
These healthy oatmeal cookies boast supreme softness and chewiness, with an abundance of delicious peanut butter flavor that will make your taste buds dance.
What's more, they are a lifesaver for busy mornings. Ideal for meal prepping or quick grab-and-go breakfasts and snacks, these peanut butter cookies are a delightful way to start your day.
Worried about leftovers? Don't be!
They'll stay fresh for at least one week in an airtight container in the refrigerator.
And if, by some miracle, you have any left, they freeze beautifully too!
19. Overnight French Toast Casserole
Indulge in the classic flavor of French Toast without the effort with this Overnight French Toast Casserole by A Mindfull Mom.
This breakfast casserole recipe lets you prep the night before, so all you need to do in the morning is bake it to perfection.
The result is a rich, sweet, and hands-off breakfast that will have everyone at the table raving.
With this gluten-free recipe, you can savor the flavors of French Toast without spending hours in the kitchen.
18. German Oven Pancakes
Experience the elegance of this Oven Pancake by The Girl Inspired, which emerges from the oven with big, puffy golden brown edges and buttery crispness across the top.
With just six ingredients and a mere five minutes of prep time, this breakfast idea is as easy to make as it is delightful to eat.
Elevate your breakfast game effortlessly with this show-stopping oven pancake.
It's a healthy breakfast idea that's sure to impress.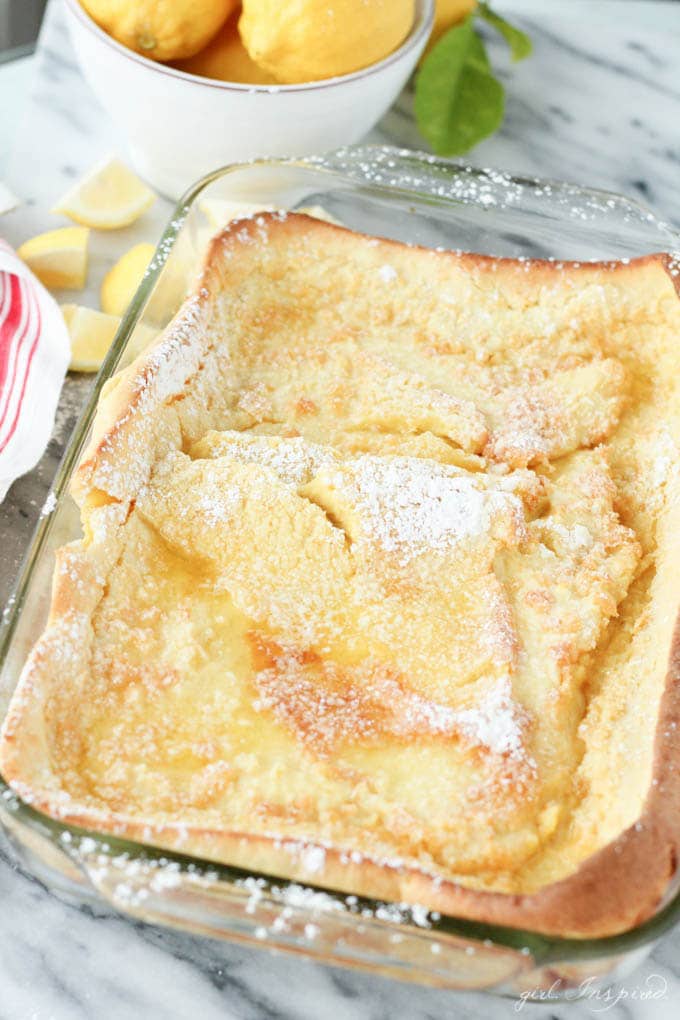 17. Air Fryer Gluten-Free Donuts
Treat yourself to the best homemade glazed donuts with this Air Fryer Gluten-Free Donuts recipe by Cupcakes And Kale Chips.
These air fryer donuts are a golden, light, and fluffy delight that will satisfy your sweet tooth.
What's even better? They're fried to perfection without any oil, making them a healthier choice for indulging your donut cravings.
Whether it's breakfast or a delightful snack, these gluten-free donuts are a must-try.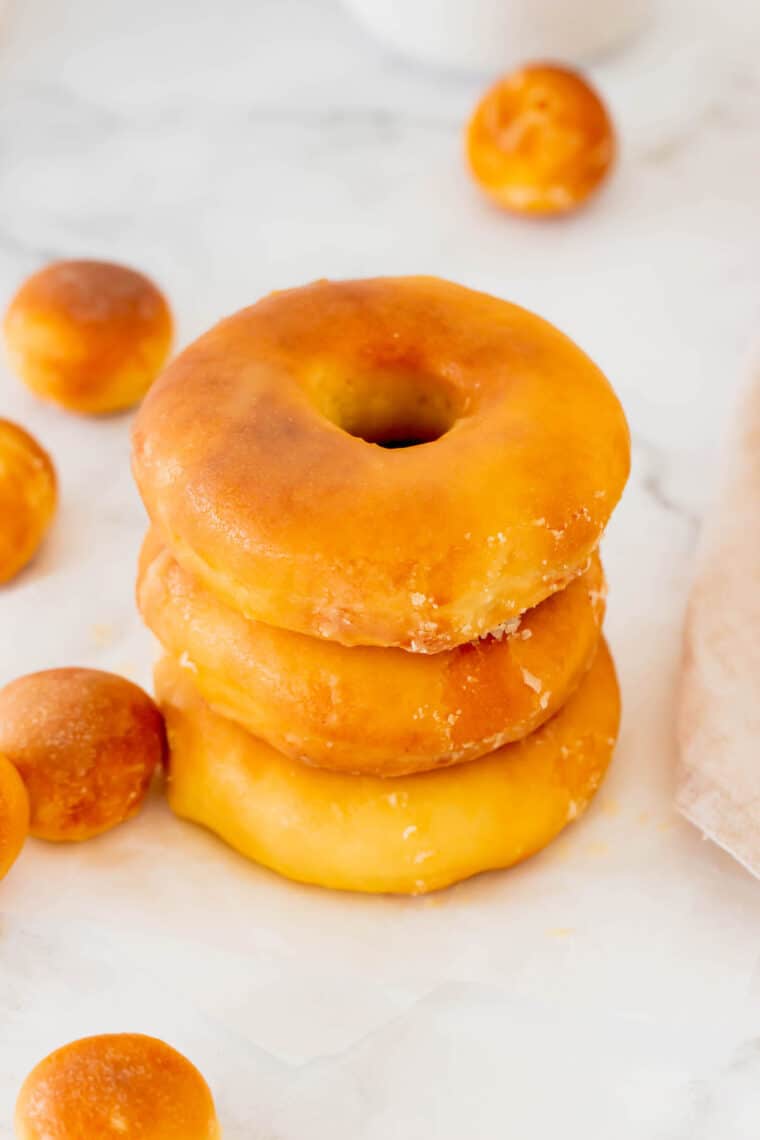 16. Strawberry Muffins
Indulge in the best of both worlds with this Gluten-Free Strawberry Muffins by Mama Gourmand– they're not only versatile and irresistible but also dairy-free.
This easy and adaptable breakfast muffin recipe delivers light and fluffy muffins, generously speckled with juicy strawberries and crowned with a satisfyingly crunchy sweet topping.
These gluten-free muffins are a delightful addition to your breakfast or snack lineup, offering options for those seeking a dairy-free alternative or craving various fruit flavors.
Whether you're hosting a brunch or simply treating yourself, these gluten-free strawberry muffins are a tasty choice.
15. Zesty Gluten-Free Lemon Poppyseed Muffins
Indulge in the delightful combination of brightness from lemons and the nutty crunch of poppyseeds in these irresistible Gluten-Free Lemon Poppyseed Muffins by Gluten Free On A Shoestring.
Every bite of these tender sour cream gluten-free muffins bursts with the refreshing taste of lemon, providing a citrusy zing that wakes up your taste buds.
Crafted with care, these breakfast muffins are a testament to gluten-free baking at its finest.
The addition of sour cream ensures a moist and tender texture, making them a perfect choice for a quick breakfast or a delightful snack.
Whether you're following a gluten-free diet or simply seeking a zesty breakfast treat, these muffins are sure to brighten your day.
14. Gluten-Free Strawberry Oatmeal Bars
Fresh strawberries take the spotlight in these delectable Gluten-Free Strawberry Oatmeal Bars by Fearless Dining, making them a delicious choice for a wholesome breakfast or a satisfying snack.
These gluten-free bars are filled with the natural sweetness of fresh fruit, creating a burst of flavor in every bite.
Imagine sinking your teeth into a bar that's both gluten-free and bursting with the goodness of ripe strawberries.
Your entire family will adore this recipe, which not only delivers flavor but also offers a hearty and nutritious start to your day.
Say BYE to boring breakfast ideas and embrace the vibrant taste of these strawberry-filled bars.
13. Gluten-Free French Toast Sticks
Experience the warmth and comfort of Gluten-Free French Toast Sticks by Wheat By The Wayside.
This healthy breakfast recipe features custardy french toast made with multigrain bread, offering a wholesome twist to a beloved classic.
Rolled in cinnamon sugar, each bite is a comforting journey of flavor.
Whether you're a kid or an adult, these French toast sticks provide a nostalgic taste of comfort.
What's more, they are not only easy to make but also freezable, making them a convenient choice for busy mornings or leisurely brunches.
These sticks embody the essence of a comforting breakfast that leaves you satisfied and ready to tackle the day.
12. Blueberry Bliss in Gluten-Free Breakfast Bars
Experience pure bliss with every bite of these Gluten-Free Blueberry Breakfast Bars by Gluten Free On A Shoestring.
Featuring a crumbly shortbread crust, a simple fruit filling, and a crispy crumble topping, these bars are a harmonious fusion of textures and flavors.
The blueberries add a burst of fruity goodness to each bar.
Not only are these bars gluten-free, but they also offer a taste sensation that brightens your mornings.
Whether enjoyed with your morning coffee or as an on-the-go healthy snack, these breakfast bars are a delightful way to start your day with a touch of sweetness.
11. Gluten-Free Baked Chocolate Donut Holes
Prepare to be enchanted by the irresistible allure of Gluten-Free Baked Chocolate Donut Holes by Mile High Mitts.
These easy healthy treats are not only light and fluffy but also lightly flavored with chocolate.
Each donut hole is carefully coated in a sweet glaze, adding an extra layer of sweetness that tantalizes your taste buds.
The best part? You can easily make these donut holes in a mini muffin pan, eliminating the need for a special donut maker.
These gluten-free delights offer a guilt-free indulgence that satisfies your cravings for something sweet and delightful.
10. Egg & Potato Breakfast Muffins
When you need an easy, grab-and-go breakfast that's both nutritious and delicious, look no further than this Gluten-Free Egg and potato Breakfast Muffins by Raia's Recipes.
These healthy egg muffins are not only convenient but also grain-free and Whole30 compliant.
Imagine savoring a muffin that's packed with flavor and healthy ingredients, making it an ideal choice for those seeking healthy breakfast options.
Whether you're following a gluten-free diet or simply want a wholesome breakfast option, these muffins have you covered.
And the best part? They're easy to make, making them a morning game-changer.
9. Gluten-Free Lemon Drizzle Cake
Indulge in the irresistible goodness of this Gluten-Free Lemon Drizzle Cake by Eat With Clarity.
This moist and tender breakfast cake comes complete with a simple lemon glaze.
The best part? It's a breeze to make, requiring just one bowl for preparation.
Plus, it's dairy-free and optional, catering to various dietary preferences.
With bursts of lemony freshness, it's a delightful treat for any time of day.
Explore this gluten-free recipe for a taste of gluten-free dessert perfection.
8. Whole30 Chorizo Egg Bake
Prepare to elevate your breakfast routine with our Whole30 Chorizo Egg Bake by Whole Kitchen Sink.
This healthy breakfast casserole recipe is a simple yet mouthwatering creation that's paleo, gluten-free, and dairy-free.
It can even be adapted to be low-carb, making it a versatile choice for various diets.
Packed with wholesome ingredients like peppers and hash browns, this dish is both filling and nutritious, ideal for those seeking healthy breakfast options.
Whether you're spicing up your morning or planning a meal prep session, this flavorful bake is a must-try.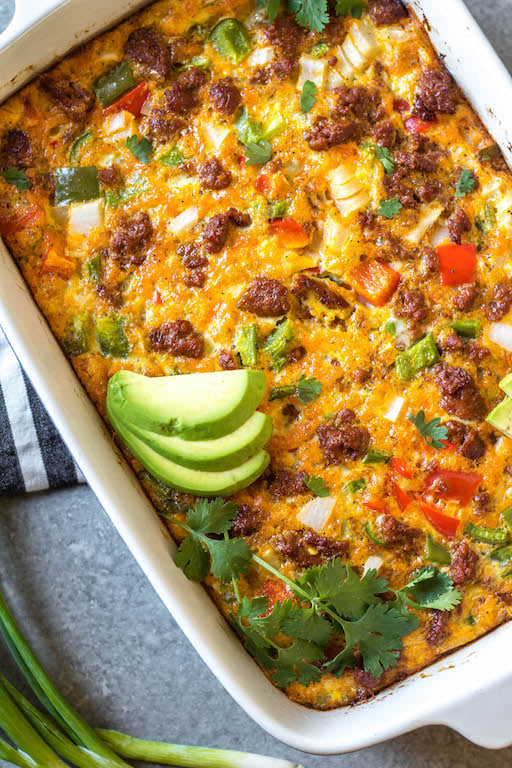 7. Sweet Roasted Strawberry Scones
Let your taste buds dance with joy as you bite into our tender and sweet Roasted Strawberry Scones by Peanut Butter Plus Chocolate.
Loaded with chopped dark chocolate and topped with a sweet glaze, these breakfast scones are a gluten-free, dairy-free, and refined sugar-free delight.
Imagine enjoying these scones as a sweet and simple breakfast, paired with your favorite hot beverage.
Whether you have dietary restrictions or simply crave a delectable morning treat, these scones won't disappoint.
They're a delicious addition to your gluten-free breakfast repertoire.
6. Gluten-Free Blueberry Coffee Cake
Start your day on a delicious note with our Gluten-Free Blueberry Coffee Cake by Mama Shire.
Bursting with blueberries and crowned with a cinnamon streusel, this coffee cake is a delightful treat for breakfast, brunch, or your daily coffee time.
Imagine the aroma of freshly baked cake wafting through your kitchen as you prepare to enjoy this gluten-free breakfast.
Whether you're hosting a brunch, sipping coffee, or simply indulging in a sweet morning moment, this coffee cake is the perfect companion.
It's a must-try for those seeking gluten-free breakfast options.
5. Gluten-Free Breakfast Burritos
Are you in search of a quick and satisfying breakfast option? Look no further than this mouthwatering Gluten-Free Breakfast Burrito by Mommy Hates Cooking.
These breakfast burritos can be whipped up in a matter of minutes, making them the perfect choice for busy mornings.
Whether you're sticking to a gluten-free diet or prefer the traditional version, this recipe caters to all tastes.
Packed with a balanced mix of ingredients, these easy-to-make burritos are sure to kickstart your day with a burst of flavor and energy.
4. Gluten-Free French Toast Casserole
Why settle for an ordinary breakfast when you can elevate it to something extraordinary?
This Gluten-Free French Toast Casserole recipe by Good For You Gluten Free is here to redefine your morning routine.
You have the creative freedom to choose your favorite gluten-free bread, ensuring that every bite of this dish is soft, spongy, and delightful.
Whether you're planning a leisurely Sunday brunch or a special Easter celebration, this casserole is the ideal choice.
Get ready to indulge in a taste sensation that's bound to become a cherished morning tradition.
3. Breakfast Burrito Bowl
Are you looking for a breakfast option that effortlessly caters to both your weekday routine and weekend extravagance?
Meet this versatile Breakfast Burrito Bowl by Bowls Are The New Plates.
With the ability to prepare it in just 25 minutes and the convenience of meal prepping ahead of time, this dish offers the best of both worlds.
Even during those hectic weekday mornings, you'll only need 10 minutes to toss together a satisfying and nutritious breakfast.
It's a quick and delicious solution for your breakfast needs.
2. Gluten-Free Cinnamon Rolls
Indulge in the heavenly taste of these Gluten-Free Cinnamon Rolls by Butternut Bakery that rivals their traditional counterparts in every way.
These healthy cinnamon rolls are renowned for their soft and pillowy texture, complemented by a gooey cinnamon sugar filling.
To take them to the next level, they're generously topped with a sweet vanilla bean cream cheese icing.
What truly sets this cinnamon roll recipe apart is that it uses only one flour mix, resulting in cinnamon rolls that are free from grittiness or mushiness.
Prepare to savor the absolute deliciousness of these homemade cinnamon rolls.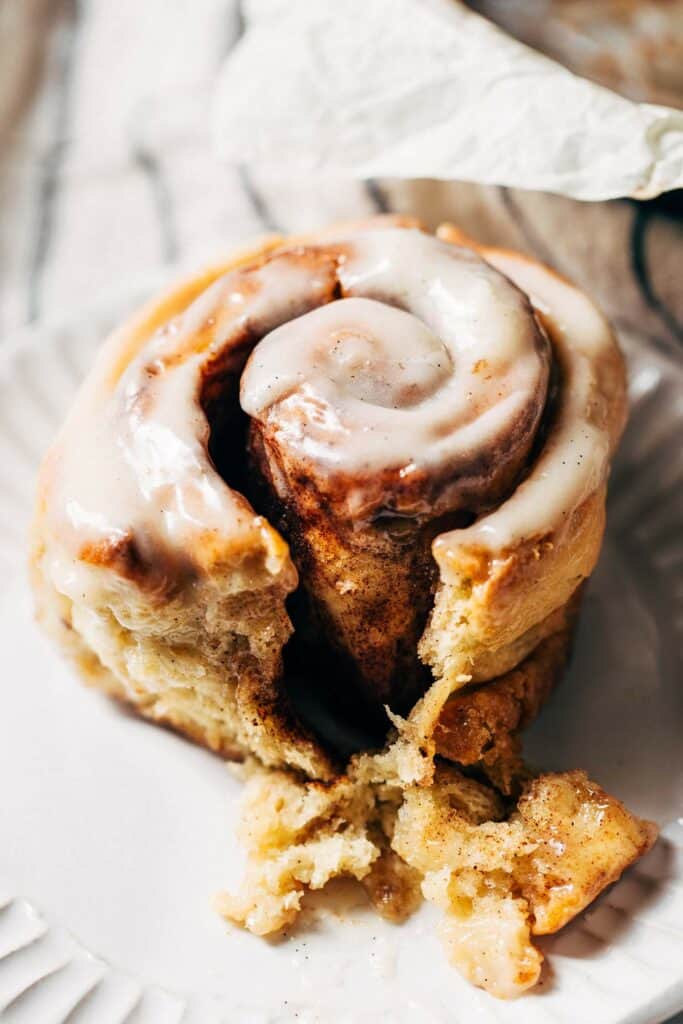 1. Wholesome Strawberry Oatmeal Bars
These Wholesome Strawberry Oatmeal Bars by Banana's About Life are the epitome of wholesome indulgence.
These oatmeal bars strike the perfect balance between crumbly and sweet, making them an ideal choice for breakfast, a quick snack, or a guilt-free dessert.
Crafted to meet various dietary preferences, they are vegan, gluten-free, dairy-free, and refined sugar-free.
Each bite is a symphony of flavors, thanks to the simple strawberry filling.
Whether you're seeking a nutritious start to your day or a delightful treat to satisfy your sweet tooth, these breakfast oatmeal bars are the answer.
FAQs
Q. How can I make my gluten-free breakfast visually appealing?
Presentation is key! Use vibrant colors, textures, and beautiful plating techniques to make your breakfast visually appealing. Incorporate fresh fruits, edible flowers, and garnishes to enhance the overall look of your dish.
Q. What are some gluten-free alternatives for traditional breakfast staples?
There are plenty of gluten-free alternatives available. Swap regular wheat-based bread with gluten-free bread or opt for gluten-free oats instead of regular ones. Explore gluten-free flours like almond flour, coconut flour, or buckwheat flour for pancakes or waffles.
Q. How can I add variety to my gluten-free breakfast options?
Experiment with different grains like quinoa, amaranth, or millet to diversify your breakfast menu. Create grain bowls with a mix of colorful fruits, nuts, and seeds. Incorporate unique flavors by using spices like cinnamon, nutmeg, or cardamom.
Q. What are some creative gluten-free breakfast ideas?
Get creative with smoothie bowls by adding various toppings like chia seeds, granola, coconut flakes, or sliced almonds. Create a visually appealing acai bowl by arranging a variety of colorful fruits on top. Experiment with gluten-free pancake art using different batters and food coloring.
Q. How can I make my gluten-free breakfast nutritious and balanced?
Focus on incorporating a balance of macronutrients. Include a good source of protein such as Greek yogurt, eggs, or plant-based protein powder. Add healthy fats through avocados, nuts, or nut butter. Include fiber-rich foods like chia seeds, flaxseeds, or gluten-free whole grains to keep you satiated.
Now comes the important question… Which gluten free breakfast do you like the most? Please let me know in the comments.
Few more gluten free recipes!!!
Want to save this for later? Post these Gluten Free Breakfasts to the "Gluten Free Recipes" OR "Breakfast Ideas" Board!