Are you looking for some great cold appetizers for party or get-together with friends? I've got different delicious and healthy cold appetizer recipes that are sure to please even the pickiest taste buds around.
Cold appetizers are a great option for parties on a budget as they can be made ahead of time and do not require heating or cooking.
Here are some tips for creating delicious and affordable cold appetizers:
1. Use seasonal ingredients:
In-season fruits and vegetables are usually more affordable and taste better than those that are out of season.
Look for items like cherry tomatoes, cucumbers, and berries that are in season and can be used in a variety of cold appetizers.
2. Plan for leftovers:
Many cold appetizers can be made in large batches and can be used for multiple parties or meals.
For example, a batch of hummus or a fruit salad can be used as an appetizer and then repurposed as a topping for salads or sandwiches later in the week.
3. Take advantage of bulk discounts:
Buying in bulk can save money on ingredients like nuts, cheeses, and deli meats.
Look for bulk sections at your local grocery store or warehouse club and stock up on items that can be used in cold appetizers.
4. Use less expensive protein options:
Cold appetizers do not have to be made with expensive proteins like shrimp or crab.
Look for alternative protein options like canned tuna, hard-boiled eggs, or bean dips that are budget-friendly and still provide flavor and nutrition.
5. Create a DIY crudité platter:
A crudité platter is a classic cold appetizer that can be customized to fit any budget.
Use a variety of raw vegetables like carrots, celery, bell peppers, and cherry tomatoes, and serve with a simple dip like hummus or ranch dressing.
6. Make your dips and spreads:
Store-bought dips and spreads can be expensive and often contain additives and preservatives.
Instead, make your dips and spreads using simple ingredients like yogurt, cream cheese, and herbs.
7. Use a mix of fresh and pre-made items:
Cold appetizers do not have to be entirely made from scratch.
Mix and match pre-made items like crackers, cheese, and deli meats with fresh items like fruit and vegetables to create a variety of affordable appetizers.
8. Utilize your pantry:
Look in your pantry for items that can be used in cold appetizers.
For example, canned beans can be mashed into a dip or spread, while olives and pickles can add flavor and texture to a crudité platter.
9. Offer a mix of sweet and savory options:
Cold appetizers do not have to be all savory or all sweet. Offer a mix of both to appeal to a wider audience and provide a variety of flavors and textures.
10. Plan ahead:
Cold appetizers can be made ahead of time, which can save time and stress on the day of the party.
Plan out your menu and make as many items as possible in advance to save money and make the party-planning process smoother.
By following these tips, you can create delicious and affordable cold appetizers for your next party on a budget.
Whether you make your dips and spreads or mix and match pre-made items, there are endless options for tasty and budget-friendly cold appetizers.
Make Ahead Cold Appetizers
" Affiliate links are provided for your convenience, please read my disclosure for more information."
20. Watermelon Feta Appetizer Bites
19. Cuban Sandwich Appetizer Skewers
17. Easy BLT Dip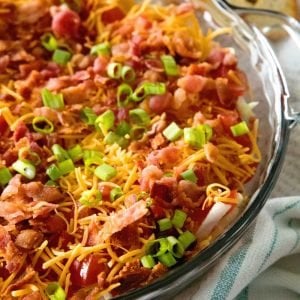 16. Individual Charcuterie Skewers
15. Salami & Cream Cheese Bites
14. Reuben Pinwheels
13. Veggie Pinwheels
11. Kiwi Mango Strawberry Salsa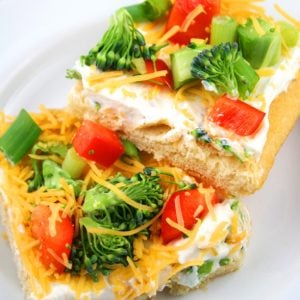 8. Bagel Seasoning Kielbasa Bites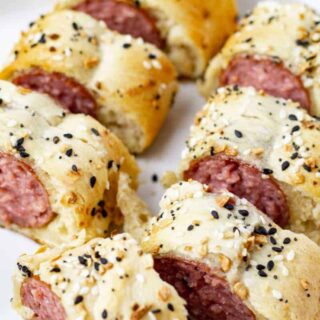 1. Deviled Eggs
Now comes the important question… Which cold appetizers do you like the most? Please let me know in the comments.
Few more appetizer ideas!!!
Want to save this for later? Post these Cold Appetizers to the "Cold Appetizer Ideas" OR "Cold Appetizer Recipes" Board!