These traditional DIY Christmas Mason Jar Gifts are a simple weekend project, and with Christmas quickly approaching, you probably have a lengthy list of things to purchase or make.
DIY Christmas Mason Jar Gifts are a great way to show your loved ones how much you care without breaking the bank.
With a few simple materials and a little bit of creativity, you can create beautiful and meaningful gifts that will be cherished for years to come.
Here are some useful tips for making DIY Christmas Mason Jar Gifts on a budget:
1. Choose your mason jars carefully.
You can find mason jars at most home goods stores and online retailers, but make sure you choose the right size and shape for your gift.
Smaller jars are perfect for gifts like cookie mixes or hot cocoa, while larger jars can be used for bigger gifts like soup mixes or cookies.
2. Use items you already have on hand.
Before you go shopping for materials, take a look around your home and see what you already have that you can use in your gift.
This can include items like ribbon, twine, buttons, or even small toys or trinkets.
3. Shop for supplies during sales and clearance events.
Many stores offer discounts on crafting supplies and decorations during the holiday season, so keep an eye out for deals and stock up on what you need.
You can also check out dollar stores and discount stores for great deals on materials.
4. Use natural and organic materials whenever possible.
If you want to create a more eco-friendly gift, try using natural materials like pinecones, dried flowers, or even edible items like herbs or spices.
These materials add a nice touch to your gift and help to reduce your carbon footprint.
5. Get creative with your gift ideas.
Mason jar gifts don't have to be boring or predictable.
Think outside the box and come up with unique and fun gift ideas that will surprise and delight your loved ones.
For example, you could fill a jar with ingredients for a DIY face mask or create a DIY snow globe using a jar and a few simple materials.
6. Personalize your gifts.
To make your mason jar gifts even more special, try personalizing them with your own touch.
You can add a handwritten note, a picture, or even a small trinket that has a special meaning to the recipient.
This will make your gift even more thoughtful and heartfelt.
7. Make sure to seal your jars properly.
When filling your mason jars with gifts, make sure to seal them properly to keep the contents fresh and prevent any spills or leaks.
You can use a lid and screw on the top, or use a piece of cellophane or plastic wrap to secure the contents.
8. Consider giving multiple mason jar gifts.
If you want to give multiple gifts, consider giving a set of mason jars filled with different items.
For example, you could give a set of three jars filled with hot cocoa mix, cookies, and candies.
This will give your loved ones a variety of treats to enjoy and will make your gift even more special.
9. Get the whole family involved.
Making DIY Christmas Mason Jar Gifts can be a fun and bonding experience for the whole family.
Involve your kids or other family members in the process and let everyone contribute their own ideas and creativity.
This will make the gifts even more meaningful and will create lasting memories for everyone involved.
10. Have fun and enjoy the process.
Above all, remember to have fun and enjoy the process of creating DIY Christmas Mason Jar Gifts.
The gifts don't have to be perfect, and the most important thing is that you put your heart and soul into creating something special for your loved ones.
So relax, have fun, and let your creativity shine.
Amazing Christmas Mason Jar Gifts
" Affiliate links provided for your convenience, please read my disclosure for more information."
Buy these recommended products here:
25. M&M Cookie Mix in a Jar
Cookie Mix in a Jar — Pre-measured dry ingredients for M&M cookies in a Mason jar. Give the jar as a present, and the recipient only needs to fill it with the wet ingredients and bake it.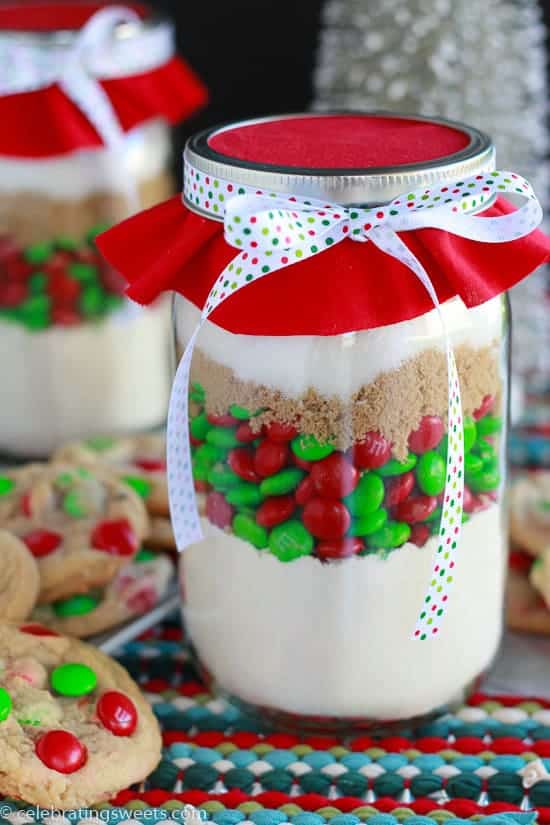 24. Pint Jar Cookie Mix
Homemade gifts are always the best! Give your friends and family a handmade cookie mix that they can use to bake a warm batch of cookies quickly and simply. You'll also find two free printable tags: one for the holidays and one for the non-holiday season.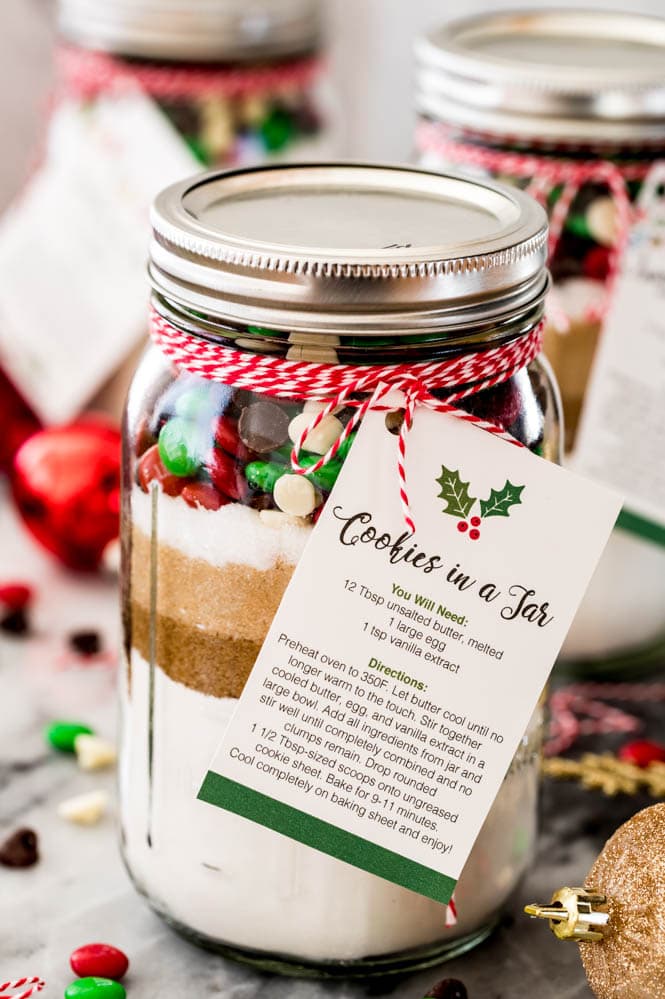 23. Christmas Cookie Jar Mix
The dry ingredients will be portioned out properly in the jar. Simply combine the wet ingredients (butter, eggs, and vanilla essence) and bake! The recipe for chocolate chip cookie mix can be found below.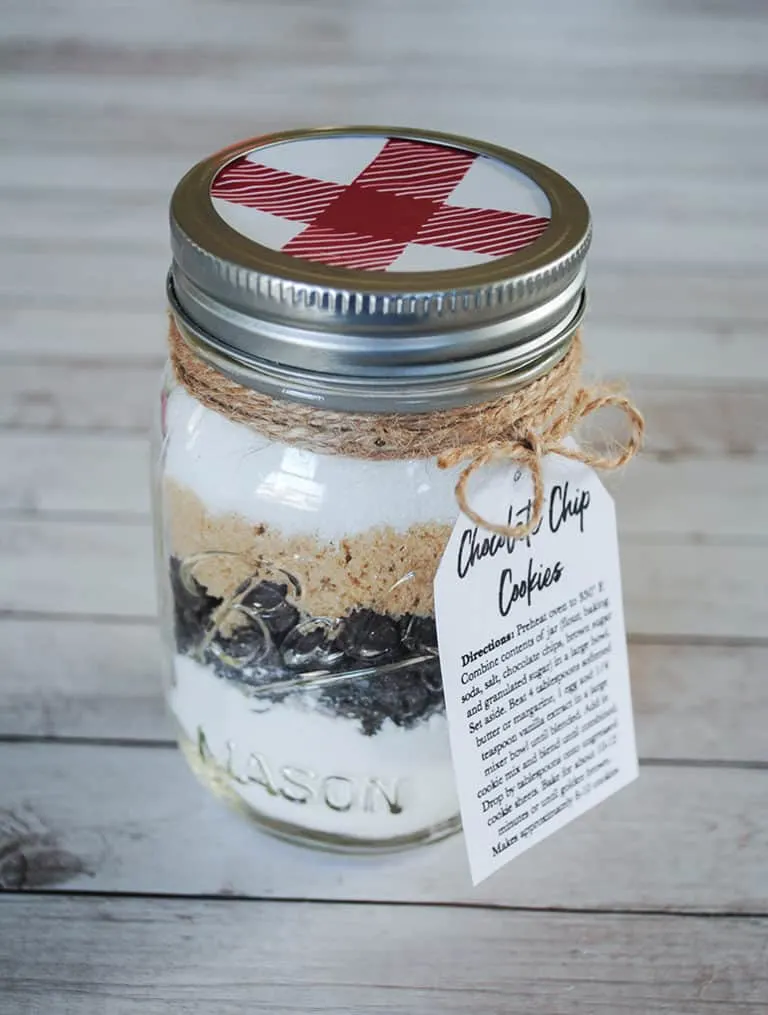 22. Jar of Christmas Candy
With these DIY Christmas Mason Jar Gifts, you can spread some sweet happiness to friends and family. Put Christmas chocolates or a favorite snack in these treat jars. Mason jar gifts are simple to make and lovely to receive.
21. Curried Lentil Soup in a Jar
Recipes for Dry Soup Mix In A Jar: mason jar gift idea – dry curried lentil soup mix – includes free printable recipe card! This recipe yields enough jam to fill 8-pint jars.
20. Map Mason Jar Bank
This DIY mason jar Christmas gift is great for the travel enthusiast. Who doesn't enjoy traveling, after all? This is a really inexpensive craft that would make an excellent gift for anyone who has wanderlust. The Mason jar bank is also extremely simple to make and takes about an hour to complete, excluding drying time.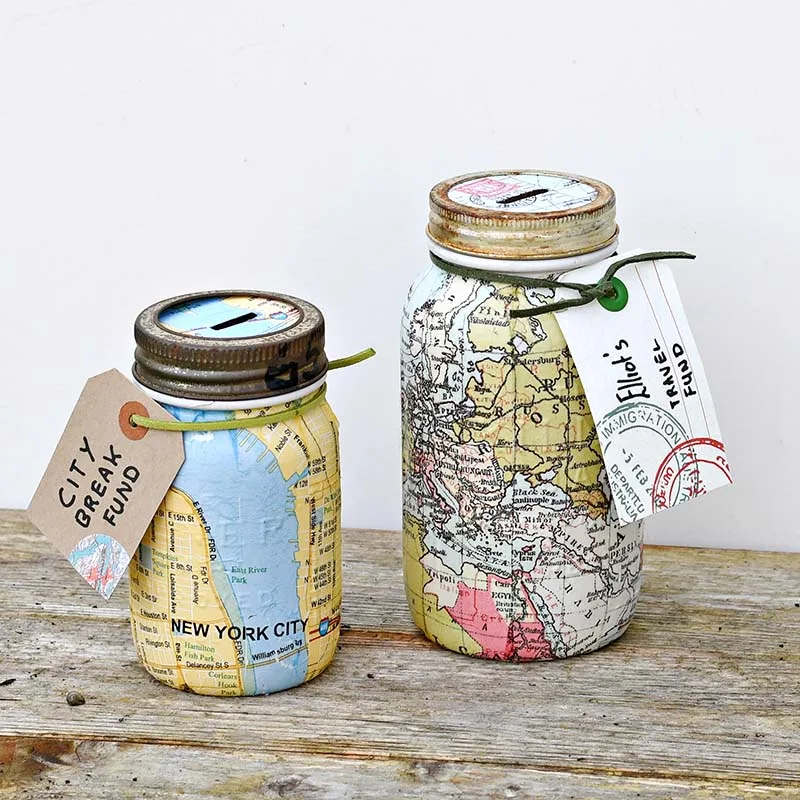 19. Mason Jar Holiday Survival Kit
Anyone can get the gift of survival packaged in a mason jar. The options for this Christmas mason jar gift are limitless! This is an excellent gift for family, friends, teachers, coworkers, and even your neighbors.
18. Dr. Seuss Gift in a Jar
This Dr. Seuss Gift is great for a teacher or someone who has recently graduated. It will also make an excellent gift for a Dr. Seuss enthusiast! Fill the jar with chocolates, sweets, snacks, money, gift cards, or almost anything else the receiver loves.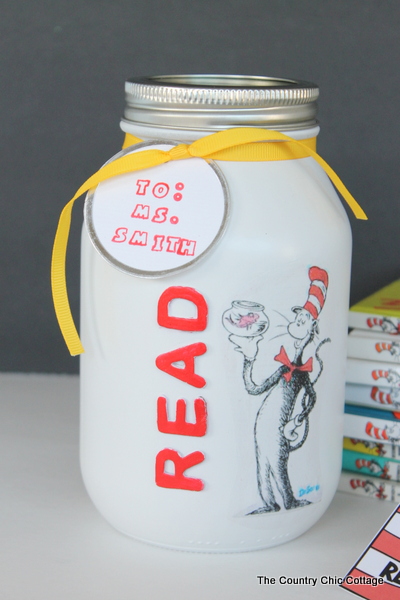 17. Mason Jar Tissue Holders
If you're searching for a quick and easy gift idea, try this mason jar tissue holder craft. They're really simple to make, and you'll find a variety of styles to pick from here.
16. DIY Mason Jar Succulent Pots
Succulent pots are not only excellent for Mother's Day or Teacher Appreciation Week, but they also make a fantastic Christmas gift! Just be sure you paint and decorate the jar with a Christmas theme to add some holiday spirit!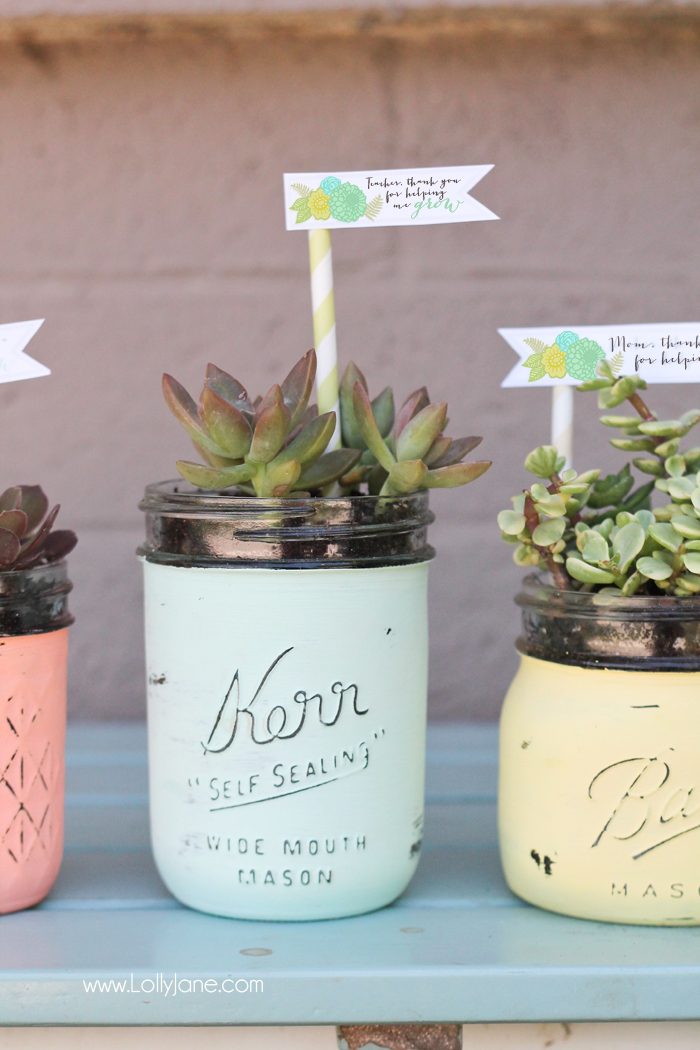 15. Dog Treat Mason Jar
This Doggy Treat Mason Jar would make the perfect Christmas gift for dog owners. It's adorable and adorable, and the receiver will appreciate the care you put into decorating this mason jar for them.
The best thing is that it is really easy to make!
14. Mason Jar Soap Dispenser
With a DIY Mason Jar Soap Dispenser like this, you can not only add some elegance to your kitchen, but you can also give it as a Christmas gift!
These Mason Jar Soap Dispensers are simple to make and would make a fantastic Christmas gift for your neighbors and coworkers. Decorate the jar with a holiday ribbon to wow the person who receives this gift!
13. 5 Gifts in a Mason Jar Ideas
Gifts in a Jar are a fun way to give gifts. These handmade gift ideas are perfect for the festive season. You'll love these amazing mason jar gift ideas.
12. Peppermint Sugar Scrub
A Peppermint Sugar Scrub with some natural organic Coconut Oil is another DIY handmade Christmas mason jar gift idea you can add to your gift list. It also just has three ingredients (sugar, coconut oil, and peppermint essential oils) and takes only a few mins to make!
You can bet that this stuff is now far better to store-bought!
11. DIY Gingerbread Sugar Scrub
DIY Gingerbread Sugar Scrub – Made with only three ingredients, this quick gingerbread sugar scrub smells great and is a lovely handmade gift idea! Along with that, quickly tie a beautiful Christmas ribbon over the top of the glass.
10. DIY Simmering Potpourri Christmas Gift by House of Hawthornes
9. Tea Kit Gift in a Jar by The Gunny Sack
8. DIY Mason Jar Cocktail Christmas Gift by The Cottage Market
7. Homemade Soup Mixes in a Jar by Wholefully
6. Hot Cocoa in a Jar Gift by The Farm Girl Gabs
5. Mason Jar Shake and Pour Pancakes by Skip To My Lou
4. Christmas Morning Pancakes in a Jar by The Crafted Sparrow
3. Cookies in a Jar by Sally's Baking Addiction
2. Reindeer Noses Treats by Life Anchored
1. Christmas Muddy Buddies by Crazy Little Projects
Now comes the important question… Which Christmas Mason Jar Gifts do you like the most? Please let me know in the comments.
Few more Christmas ideas !!!
Want to save this for later? Post these Christmas Mason Jar Gifts to your favorite Pinterest Board!