This year, add a personal touch to your Christmas gifts with these one-of-a-kind DIY Christmas Gift Baskets. There are over a hundred DIY Christmas Gift Baskets for everyone on your Christmas list, including women, men, toddlers, teens, friends, and more. There are also other themed gift baskets available, so you are sure to find the perfect DIY Christmas Gift basket idea for that special someone!
DIY Christmas gift baskets are a thoughtful and personalized way to show your loved ones how much you care.
Not only are they a unique and creative alternative to store-bought gifts, but they also allow you to tailor the contents to the recipient's interests and tastes.
Plus, they're fun to put together and can be as simple or elaborate as you'd like.
Here are some ideas for DIY Christmas gift baskets:
For the foodie: Put together a basket of gourmet ingredients, such as high-quality olive oil, exotic spices, and artisanal chocolate.
Include recipes for dishes that feature these ingredients, along with a few cooking tools, like a silicone spatula or a whisk.
For the homebody: Create a cozy gift basket filled with items that promote relaxation and comfort.
Include a plush throw blanket, a scented candle, a mug for hot cocoa, and a good book.
You could also add some herbal tea or a bag of artisanal coffee beans.
For the green thumb: Assemble a gardening gift basket for the plant lover in your life.
Fill it with pots, soil, seeds, and other gardening tools.
You could also include a few small plants that are easy to care for, like succulents or herbs.
For the beauty enthusiast: Put together a pampering gift basket for the beauty lover on your list.
Include skincare products, such as a face mask, a facial toner, and a moisturizer.
You could also add some bath bombs, a body scrub, and a plush bath towel.
For the fitness fanatic: Create a fitness-themed gift basket for the active person in your life.
Include items like a water bottle, a yoga mat, and a pair of resistance bands.
You could also add a healthy snack, like a protein bar or a bag of trail mix.
No matter what theme you choose for your DIY Christmas gift basket, the most important thing is that it comes from the heart.
Take the time to carefully select each item and consider the recipient's interests and preferences.
And don't forget to include a thoughtful card or note to personalize the gift even further.
With a little creativity and effort, your DIY Christmas gift basket is sure to be a hit.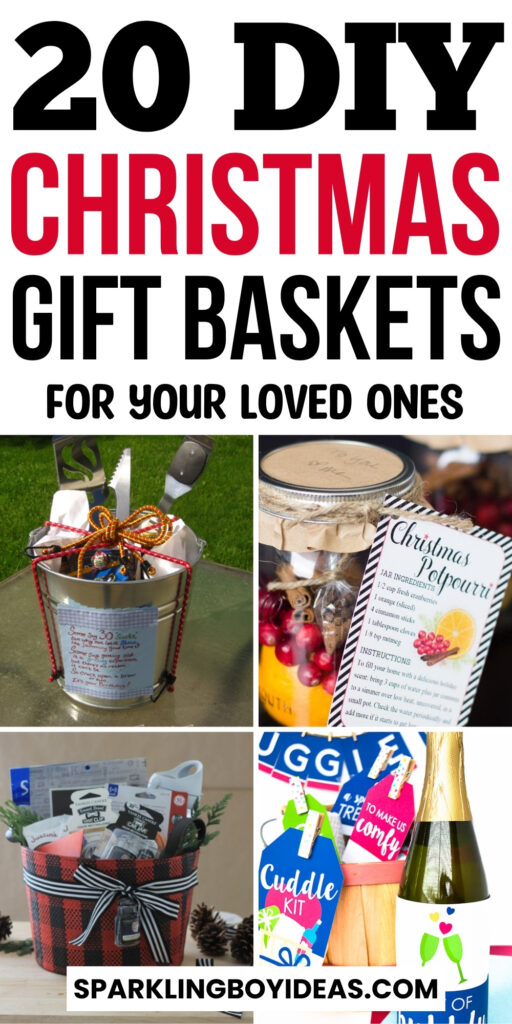 DIY Christmas Gift Baskets
" Affiliate links provided for your convenience, please read my disclosure for more information."
Buy these recommended products here:
1. Christmas Morning Coffee Gift Basket
What about a cute Christmas Morning Coffee Gift Basket for those friends and family who can't live without coffee? And it all starts with DUNKIN' DONUTS COFFEE, of course!
2. Christmas Breakfast Easy Hostess Gift
This is a quick and easy hostess or neighbor gift. Simply put a couple of your favorite breakfast items in a little box. If you like, you can include a little instruction or recipe card.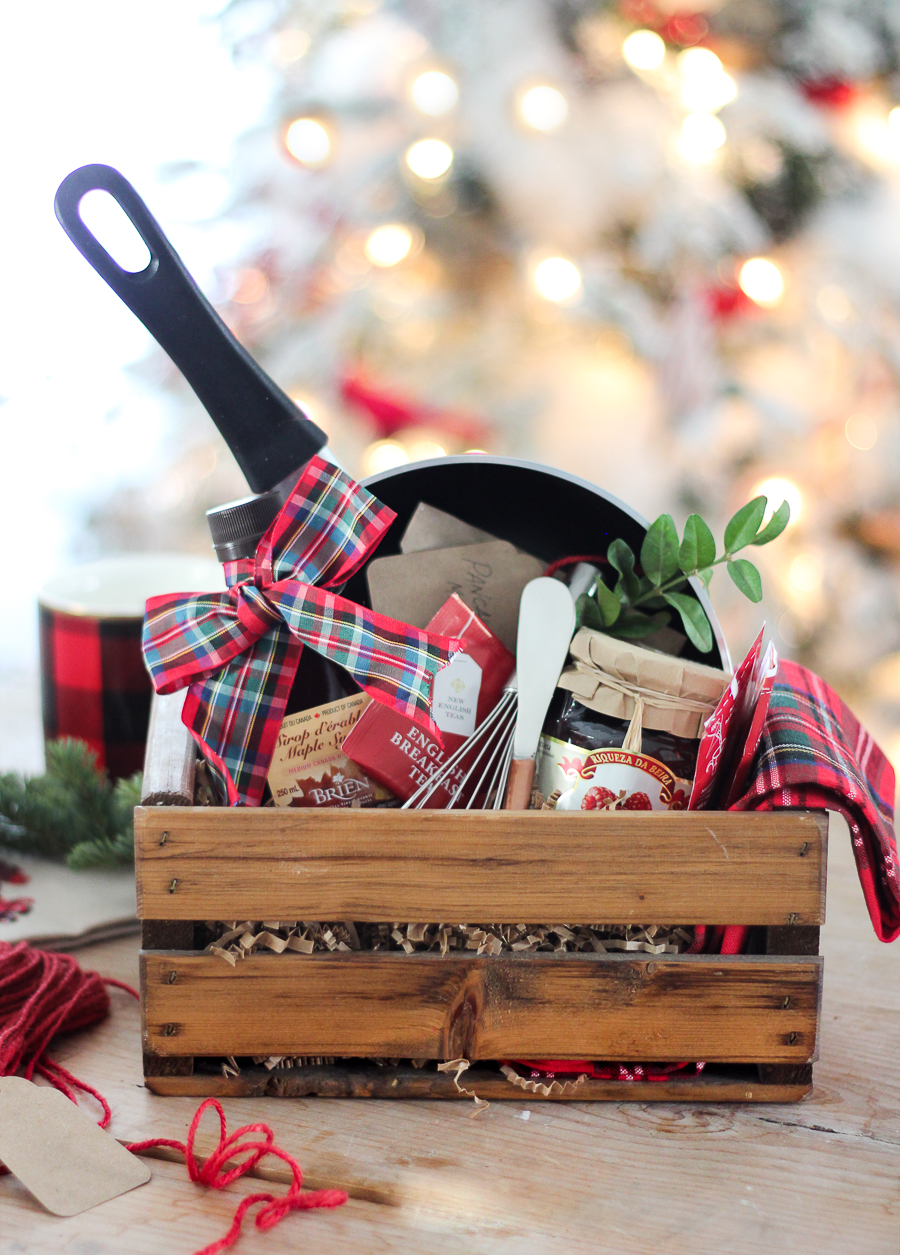 3. Winter Survival Kit in a Jar
Even in the gloomy weather, put together a tiny "survival pack" for a loved one who is constantly on the road! Things that will make it through the day should go in the jar. I decided to bring tissues, instant coffee packets, hand warmers, hand sanitizer, lip balm, pain medicines, a small notepad and pen, and more!
4. Banana Bread and Honey Butter
Make a breakfast basket full of homemade (or home-packaged!) treats like rich and thick banana bread, creamy whipped honey butter, and a unique mix of your favorite premium coffee beans.
5. Easy DIY Gift Basket
A customized DIY basket full of scrumptious sweets is ideal for friends and family who have welcomed you to their homes to celebrate the season.
6. DIY Sangria Gift Idea
It's not just a wonderful gift idea for friends… but also a gift that may be made into a large batch to share with friends!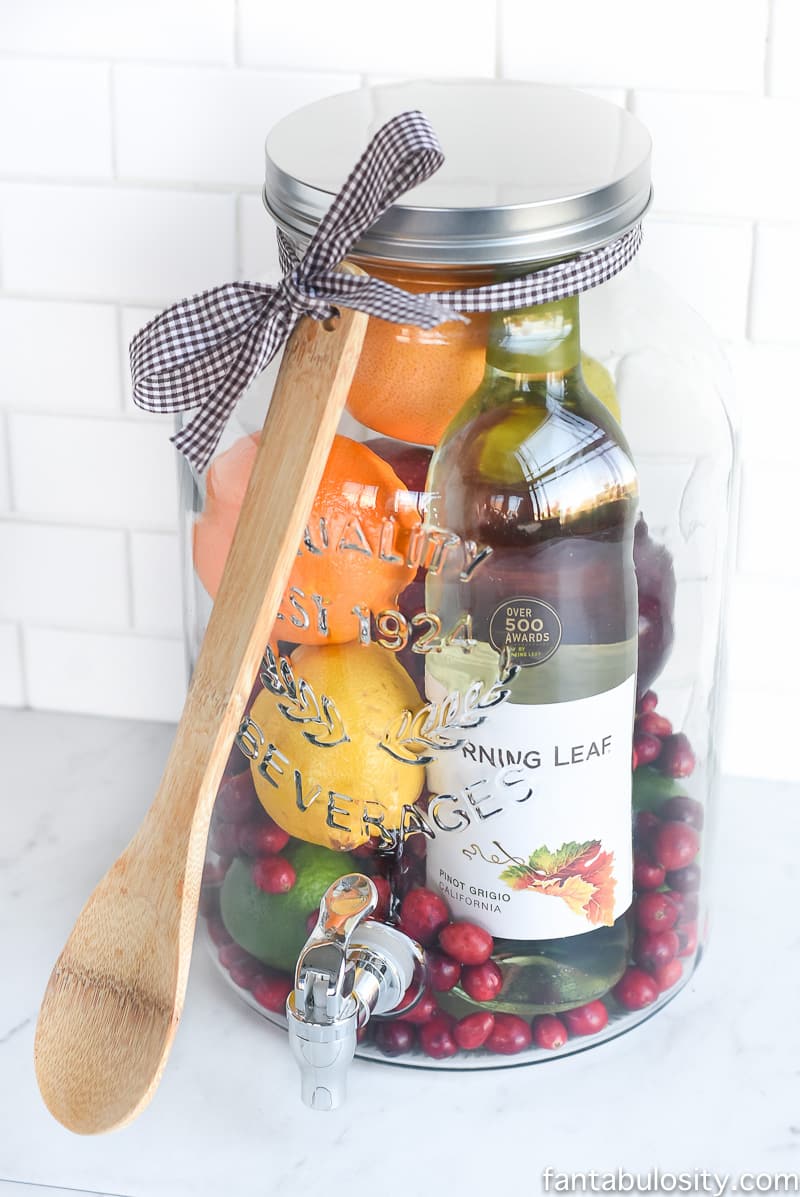 7. Wine Gift Basket
Wine is a great way to celebrate the season and the generosity of gift-giving since it shows that you're thinking about the recipient while also giving them with something they can immediately enjoy and toast to the holiday season."
8. DIY Food Gift Basket
Food Gift Baskets Freshly Made!!! Make your own food gift basket to gift as a gift this year! Make it special based on the interests of your friends and family! It's really simple, and you can be as creative as you want!
9. Mini Bar In a Jar
This minibar in a jar idea definitely fits the criteria – in just a few minutes, you can make a gift for people who love a drink now and then. If you wanted to match your wedding or event, you could even make a themed minibar in a jar.
10. Pancake Breakfast Gift Basket
This adorable little basket is ideal for your favorite neighbors. It's a little handmade with a lot of ready-mades. It's all about the details, with baker's twine, blackboard cutouts, and hand-lettered instructional tags.
11. Tea Lover's Gift Basket
It's a lot of fun to make personalized gifts for friends and family based on their interests. So if you know someone your favorite who loves tea, then this gift basket is just perfect for him/her.
He's sure to smile when you give him this gift basket idea for men! It is simple to assemble and ideal for any situation!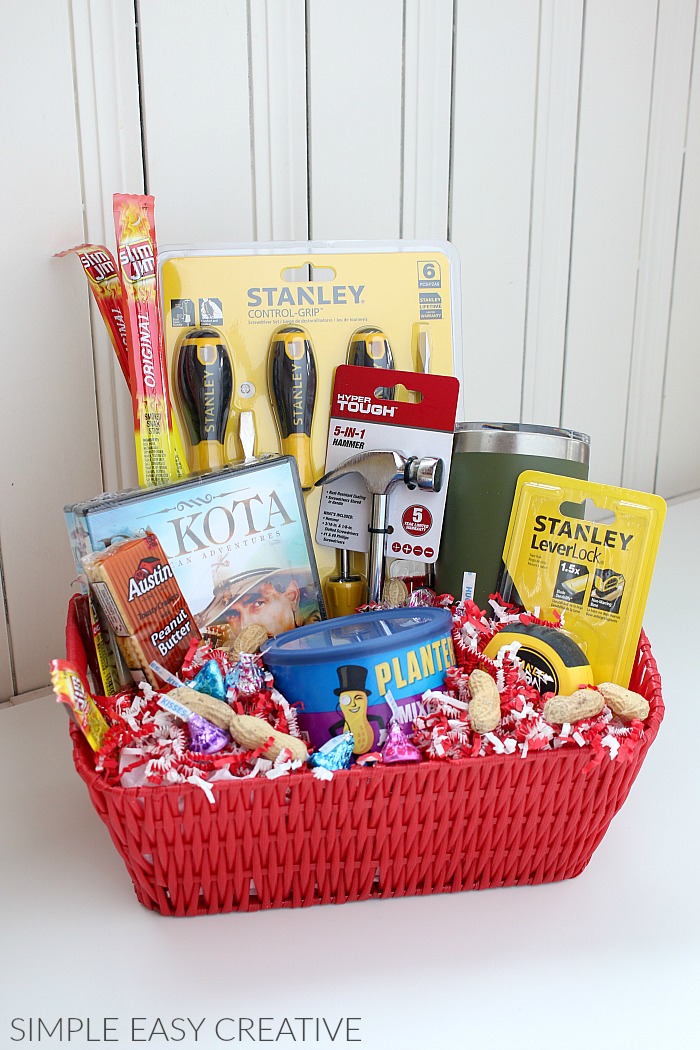 13. DIY Cookout Kit
The ideal Father's Day gift is instead gifting them a bottle of cologne or something similar.
The baseball fan in your life will love this sports-themed gift basket, no doubt about it! This Baseball Gift Bucket combines the Love Bucket and the Baseball Bucket Gift Card Holder, two of our most well-liked creations.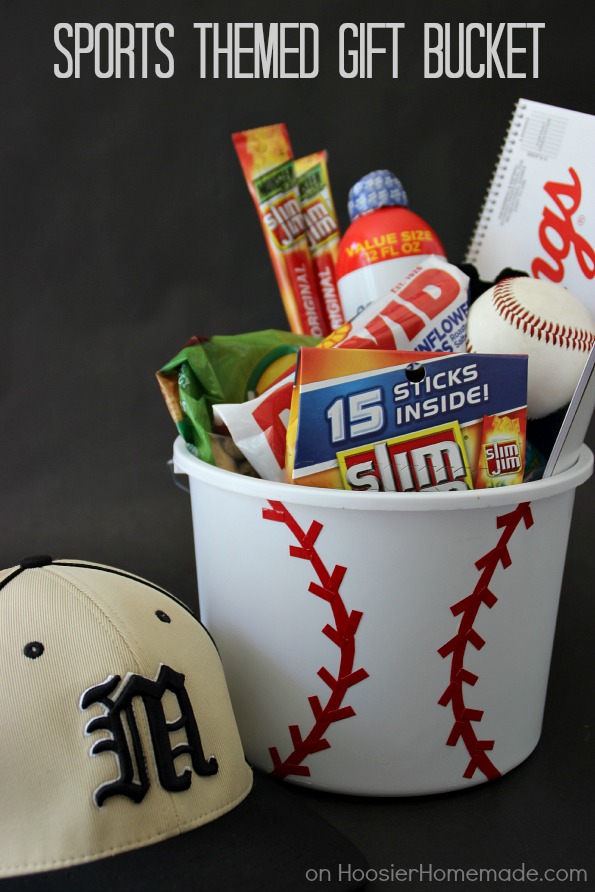 If you load slippers with goodies and gift cards, they make an even greater gift! The ideal Father's Day, Christmas, or any occasion gift for men.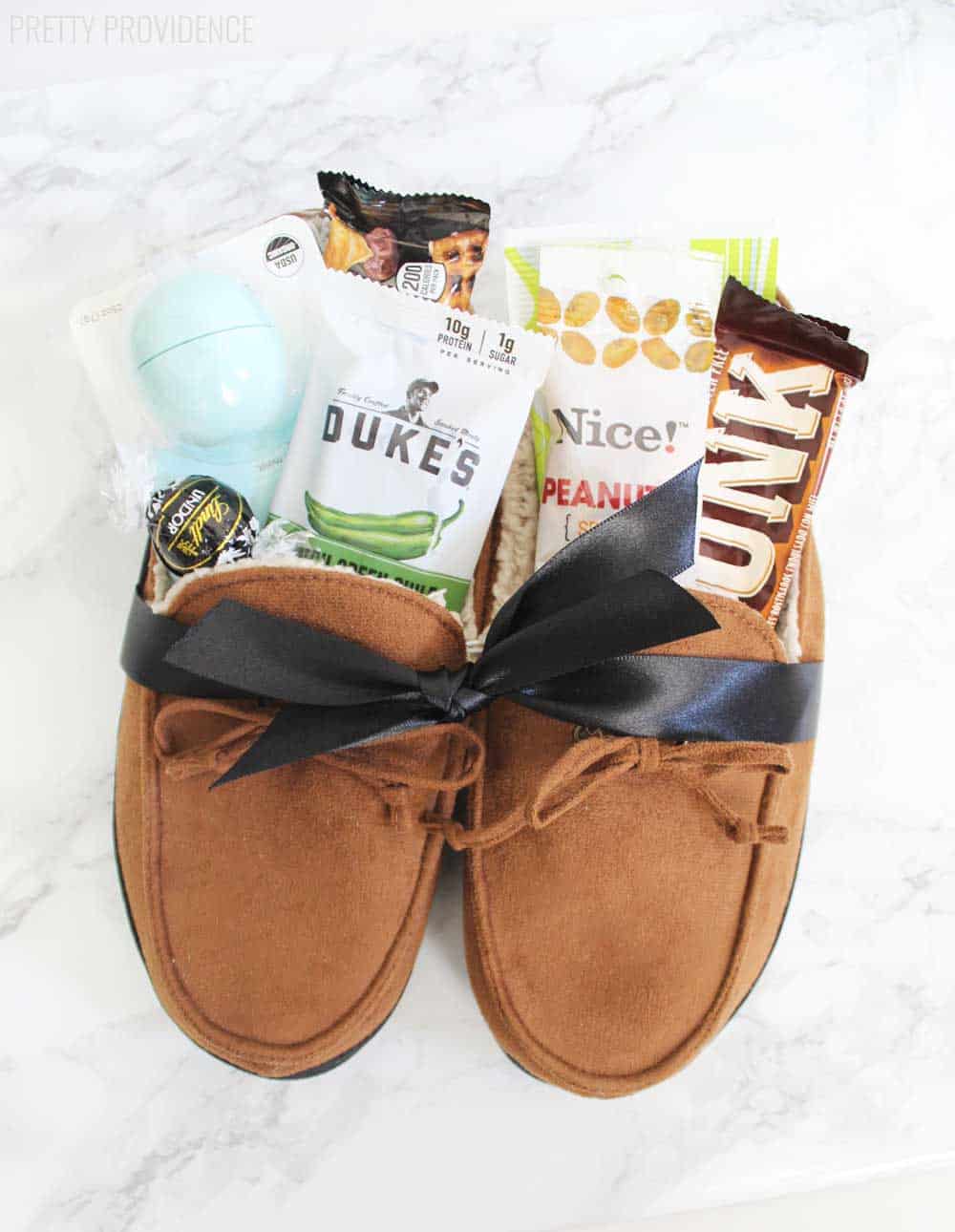 A practical and useful present for the traveler in your life. How do you feel? Any more inventive suggestions for items to tuck inside?
I'd like to recommend the Gift Bucket if you're looking for a gift basket suggestion for a father in your life, possibly for Father's Day.
Introducing a couple's cuddle kit! It is speedy, simple, and charming. Along with a list of things you should have on hand for cuddling, it also includes adorable free printable gift tags. For more information about the advantages of cuddling, keep reading!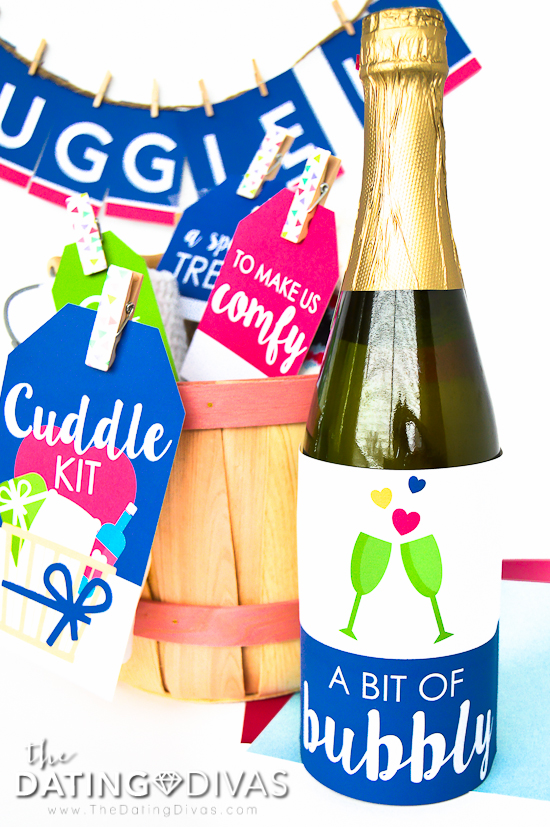 20. Christmas Potpourri in a Jar
Christmas potpourri in a jar is similar to preserving the festive season's aroma. These easy DIY Christmas gifts are a stovetop potpourri with fresh cranberries, oranges, cinnamon, cloves, allspice, and nutmeg that everyone will like.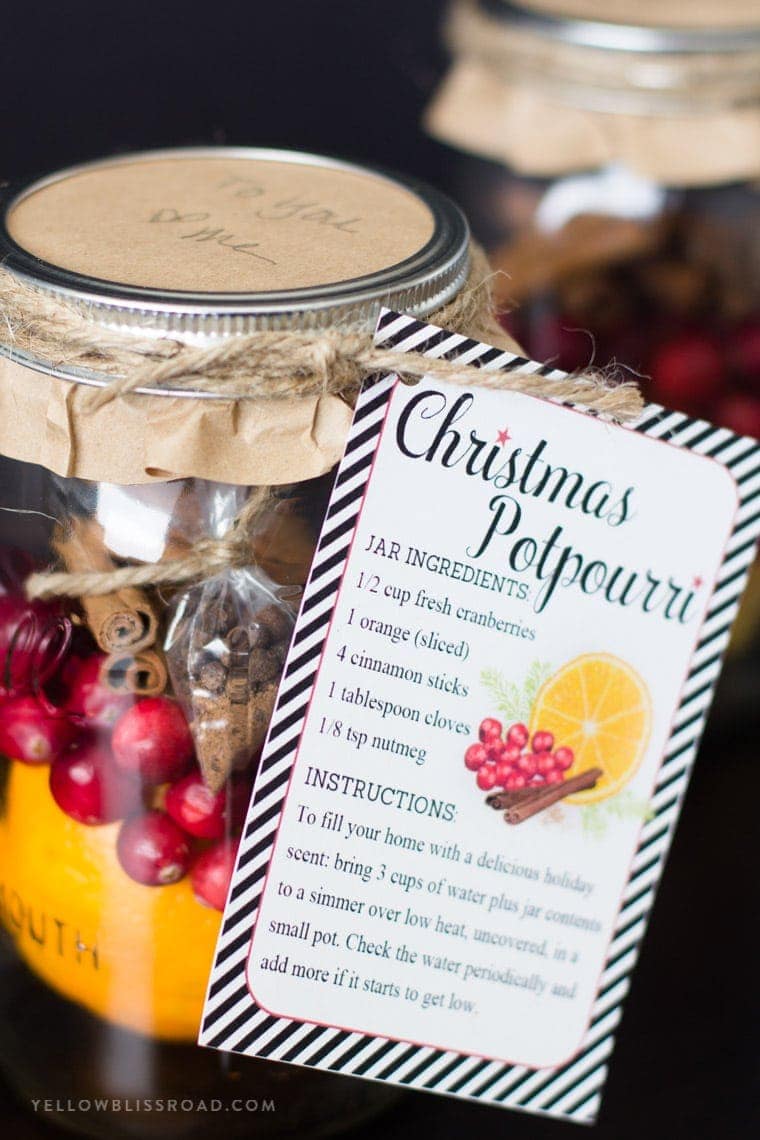 Now comes the important question… Which DIY Christmas Gift Baskets do you like the most? Please let me know in the comments.
Few more Christmas ideas!!!
Want to save this for later? Post these DIY Christmas Gift Baskets to your favorite Pinterest Board!