There are plenty of the best Thanksgiving side dishes to choose from, ranging from green bean casseroles to simple veggie sides. These scrumptious Thanksgiving side dishes will be the highlight of your holiday meal! There are side dish ideas for everyone, whether you choose quick, make-ahead side dishes or healthy Thanksgiving meals.
These Thanksgiving dishes are ideal for bringing to a potluck or family meal. This is a huge collection of the most popular Thanksgiving side dishes from around the internet, so you'll discover lots of tried and true favorites that won't let you down!
" Affiliate links provided for your convenience, please read my disclosure for more information."
Thanksgiving Side Dishes to try
1. Roasted Garlic Mashed Potatoes
Learn how to cook slow cooker roasted garlic mashed potatoes. This recipe is quick and simple, and it makes the creamiest mashed potatoes flavored with fresh herbs right in the crockpot!
2. Twice Baked Potatoes
You'll Never Want Regular Baked Potatoes Again After Trying These Twice Baked Potatoes! Sour cream, cheese, bacon, and seasonings abound in these super-easy potatoes! They're really easy to make for such a delicious side dish!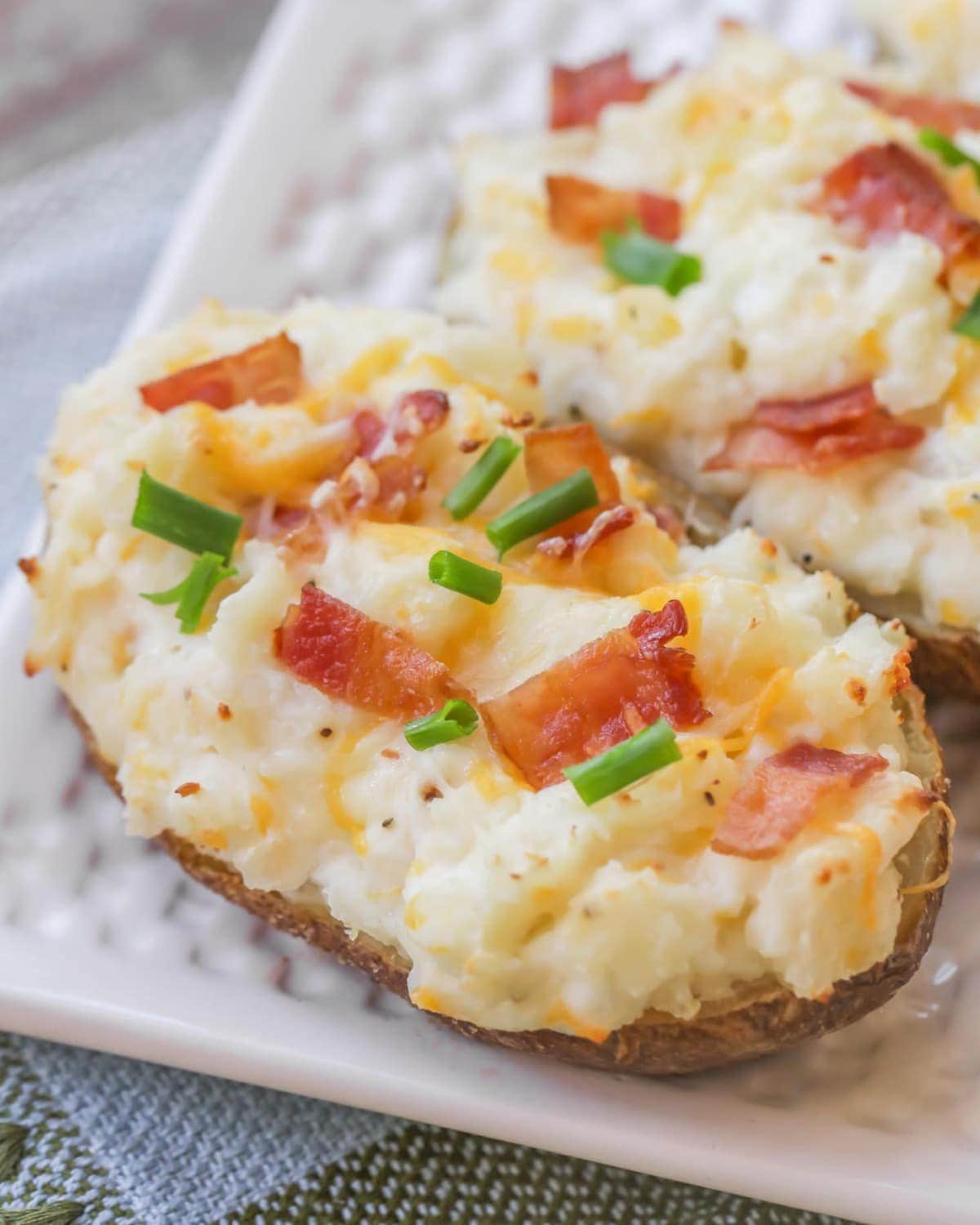 3. Melting Potatoes
Thick potato slices that are crispy and golden on the outside yet creamy and soft on the inside. You'll want to cook these Melting Potatoes at least twice a week because they're so delicious. It's a foolproof recipe that will always turn out perfectly and will satisfy even the pickiest of eaters.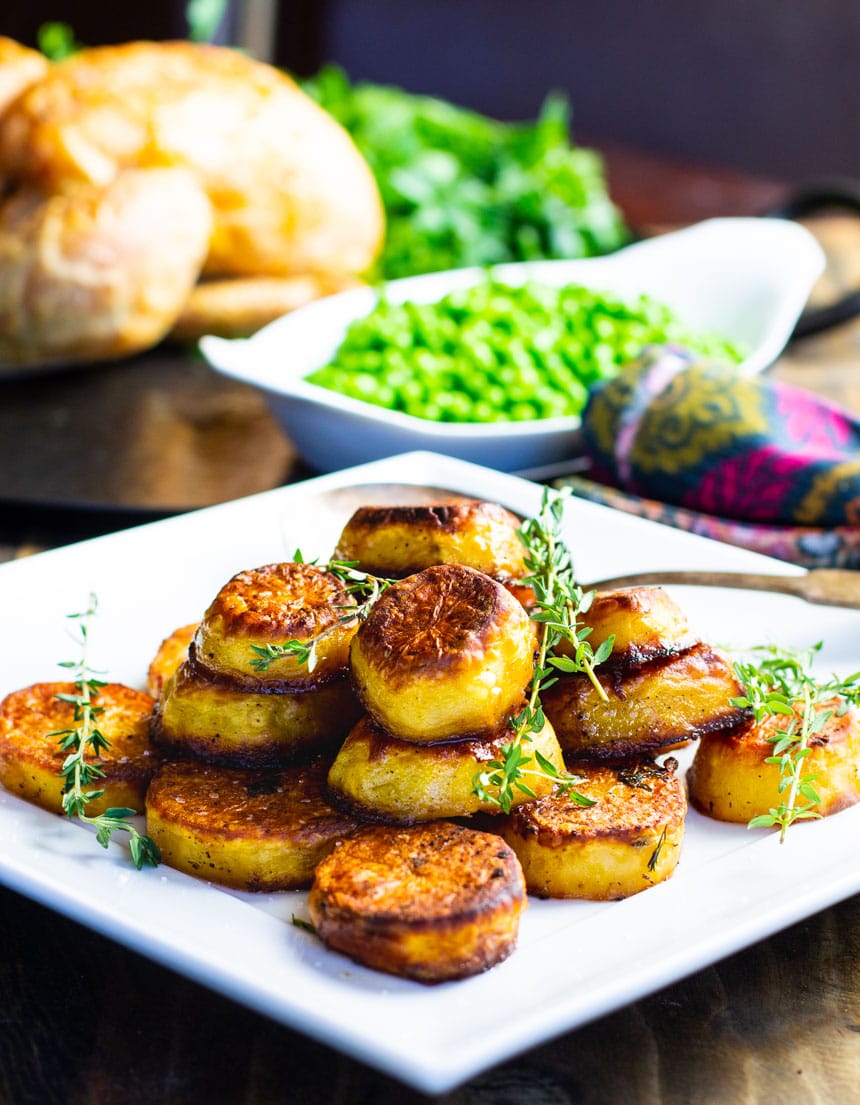 4. Mashed Potato Casserole
The creamiest, cheesiest mashed potatoes you've ever tasted! This simple side dish is served with additional melty cheese, crispy bacon, and chives. What's the best part? You can prepare this recipe ahead of time and then reheat it in the oven! This recipe will become the highlight of any party!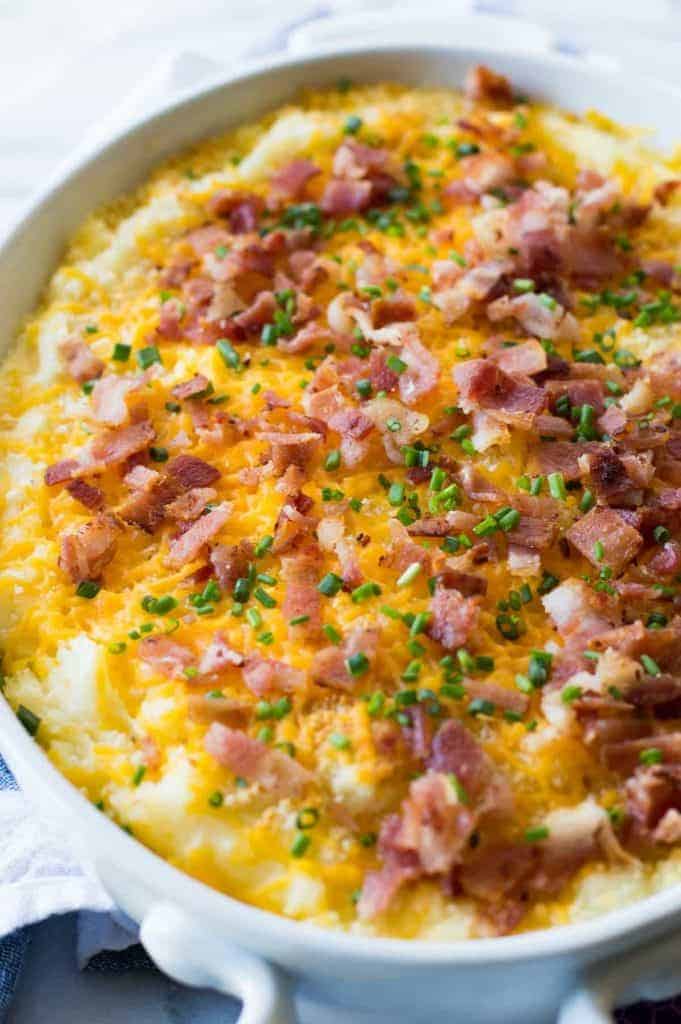 5. Buttery Parsley Potatoes
This three-ingredient side dish is made by mixing boiled potatoes with butter and herbs. The basic cook's dream side dish is baby red potatoes. They have a creamy texture. They cook fast.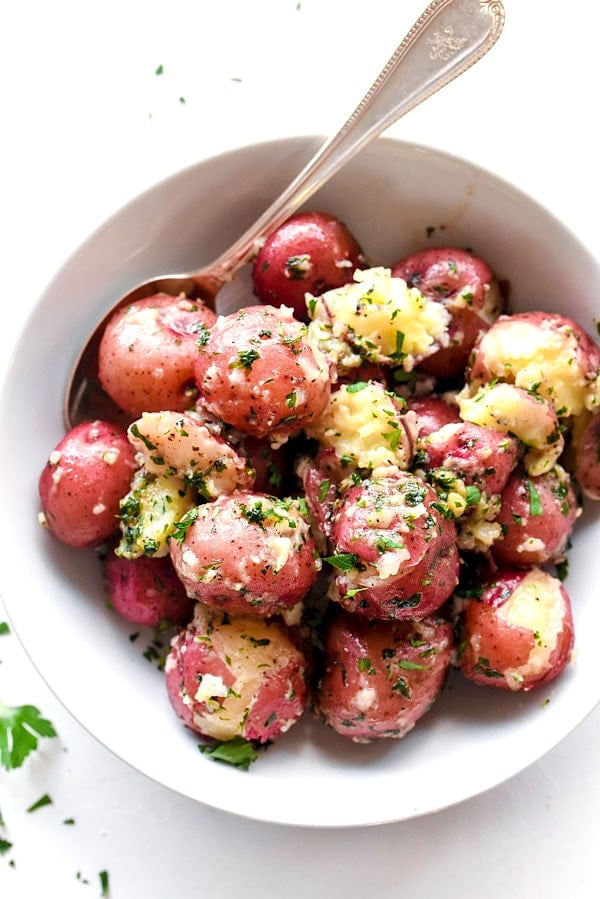 6. Cheesy Scalloped Potatoes
If you've ever tasted iconic home-cooked cheesy scalloped potatoes, you know they're hard to match. There is garlic Parmesan taste in this classic meal, as well as three types of cheese. These scalloped potatoes have been rigorously tested and may be cooked ahead of time or frozen!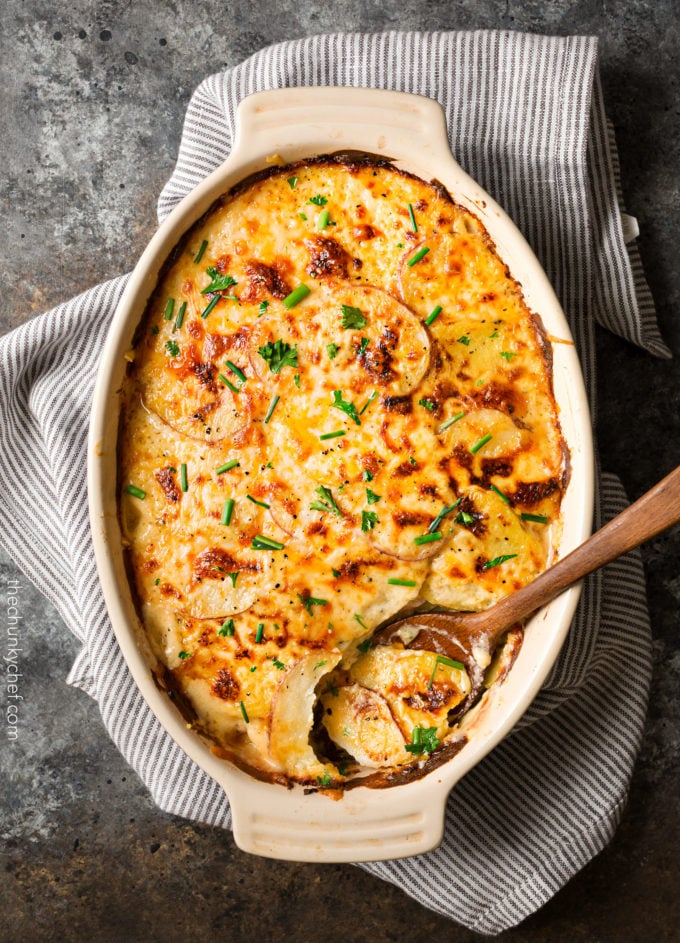 7. Crispy Cheese and Bacon Potatoes
Crispy roasted potatoes with melted cheese and lots of crisp bacon make an excellent side dish (or main dish!) for any dinner. These are the greatest Cheesy Potatoes. For breakfast, pair them with eggs, and for dinner, pair them with herb-roasted chicken.
8. Cheddar Mashed Potatoes
These cheddar mashed potatoes are out of this world! Garlic, tangy sour cream, fresh chopped chives, and mountains of shredded cheddar cheese. The perfect side dish for Thanksgiving or any other night of the week!
9. Funeral Potatoes
Funeral Potatoes that really are Cheesy And Delicious (Aka Cheesy Potatoes, Party Potatoes). This Easy Potato Casserole Is A Potato Lovers Dream. These Potatoes Are Perfect For Any Meal Or Holiday, With Cheesy, Sour Cream, Butter, Cream Of Chicken, And Hash Browns.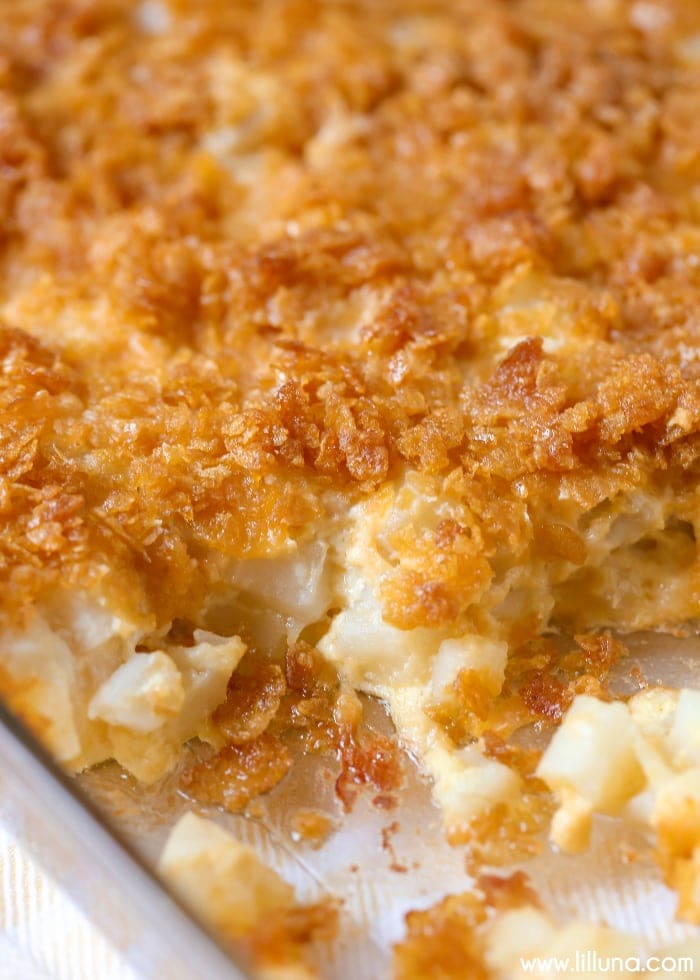 10. Italian Roasted Garlic Parmesan Potatoes
Roasted potatoes covered in olive oil, garlic, Italian herbs, and Parmesan cheese, with the addition of optional red pepper flakes for those who want a chili kick. Instead of being spread out on a baking sheet, the potatoes are cooked on top of each other in a casserole dish.
11. Loaded Baked Potato Casserole from Mom Always Finds Out
12. Sour Cream & Cheddar Baked Mashed Potatoes from Cozy Country Living
13. Scalloped Potato Gratin from Food Network
14. Smashed Herb Lemon Baked Potatoes from Gal on a Mission
15. Balsamic Roasted New Potatoes with Asparagus from Wallflower Kitchen
16. Twice Baked Potatoes from Lil Luna
17. Melting Sweet Potatoes from Dessert for Two
18. Hasselback Maple Pecan Sweet Potatoes from Tip Hero
19. Crispy Roasted Rosemary Sweet Potatoes from The Comfort of Cooking
20. Baked Candied Yams – Soul Food Style from I Heart Recipes
21. Fully Loaded Sweet Potatoes from The Novice Chef
22. Honey-Roasted Sweet Potatoes with Honey-Cinnamon Dip from Averie Cooks
23. Garlic Butter Smashed Sweet Potatoes With Parmesan Cheese from Cafe Delites
24. Maple Brown Butter Mashed Sweet Potatoes from Budget Bytes
25. Glazed Sweet Potatoes with Whiskey Pecans from Well Plated
26. Cinnamon Roasted Sweet Potatoes & Cranberries from Little Bits Of
27. Garlic-Herb Roasted Sweet Potatoes with Parmesan from Cooking Classy
28. Stuffed Sweet Potatoes with Pecan and Marshmallow Streusel from Food Network
29. Maple Cinnamon Sweet Potatoes and Apples from Delicious Little Bites
30. Apple Cranberry Rosemary Stuffing from Cooking Classy
31. Homemade Southern Cornbread Dressing from Divas Can Cook
32. Grandma's Thanksgiving Turkey Stuffing from Tastes of Lizzy T
33. Old-Fashioned Bread Stuffing with Sausage from The Hungry Bluebird
Now comes the important question… Which Thanksgiving Side Dishes did you like the most? Please let me know in the comments.
Few more Thanksgiving recipes!!!
Want to save this for later? Post these Thanksgiving Side Dishes to your favorite Pinterest Board!