Today I'll be sharing some space saving furniture ideas for small apartments because you know how important space is if you live in a small apartment or condo. When there isn't enough room, every square foot matters, whether it's in a cramped college dorm or a city studio apartment.
When you just have a few hundred square feet to deal with, it's unlikely that you'll be able to fit all of your furniture, belongings, and home décor while still having enough functional space to walk between them.
Fortunately, there is a solution, and it all comes down to making wise choices with little furniture items that can be utilized for multiple purposes and don't take up a lot of space.
In today's post, I cover 24 space-saving furniture and accessory pieces that can help you maximize your small apartment's space while still creating a comfortable living area – all without losing utility!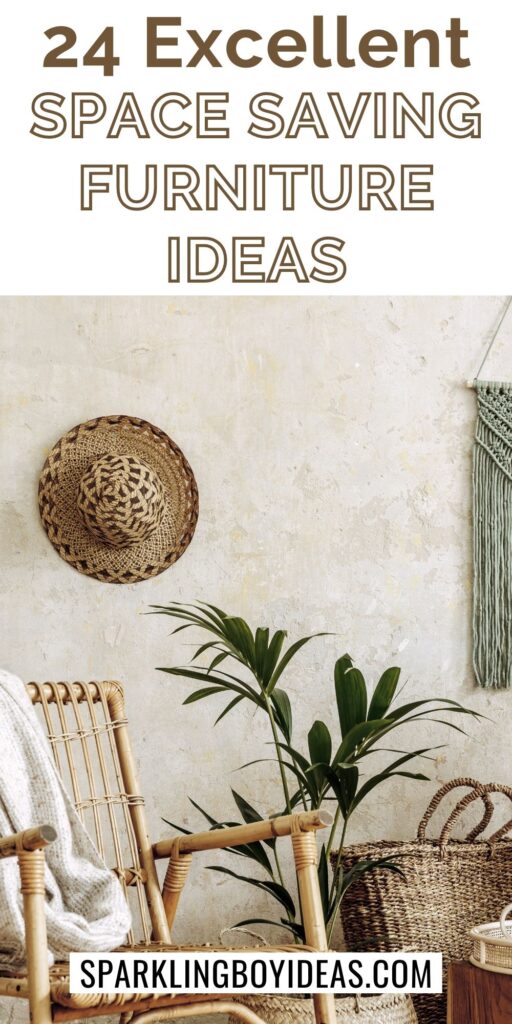 Space Saving Furniture Ideas
" Affiliate links provided for your convenience, please read my disclosure for more information."
1. Foldable Chairs
Foldable Chairs are a fantastic invention that is great for compact living spaces. When not in use, these foldable wooden chairs can be easily stored.
When you're not using them, fold them up and keep them away; just use them when you need them. Because they're tiny and don't need to be stacked, they're incredibly easy to transport. They're also padded with vinyl, making them pretty comfy to sit on.
2. Bean Bag Chair
A bean bag chair is a great way to add some fun to your living room or bedroom. It can be quickly adjusted to your liking and is quite comfy – so much so that you could fall asleep on it by accident.
The best part is that it takes up a portion of the area that a couch does, so if you have limited space and can't fit a couch, a bean bag chair is a perfect alternative.
3. Saucer Chair
If you have limited living space, a saucer chair, similar to a bean bag chair, is an excellent replacement for a couch.
This faux-fur saucer chair is simple to fold and pack on the go, as well as quite comfy to sit on. Make it the main focus in your living room or bedroom.
4. Dining Room Table
Buying a compact multi-functional dining table is a terrific way to save space if you have a small kitchen with limited storage. For added storage, look for a table with a built-in cabinet.
5. Ottoman
An ottoman is a multipurpose piece of furniture that may be used as a seat as well as a storage space for items that need to be hidden.
Place it in the living room or at the front entrance for people who wish to sit down while putting on their shoes.
6. Small Side Coffee Table
It's not always enough to have a coffee table in the center of the room. To save space, add this easy-to-move small side coffee table to your living room setup.
7. Floating Wall-Mounted TV Console
A tv stand might take up a lot of space in your living room that could be utilized for something else. Why not choose a floating wall-mounted TV console instead of a huge TV stand?
This space-saving TV console will store everything you need for your TV, as well as additional room for home decor pieces.
8. Lift-Top Coffee Table
This isn't your regular coffee table. This lift-top coffee table is an excellent piece to save money and space if you have limited space and don't have a place for both a dining room and a coffee table in your house.
This cool two-in-one coffee table is meant to rise when you need a higher surface, such as while dining in front of the TV or studying.
It's also quite easy to convert back to a coffee table. When you have guests over, simply push it down again.
Don't overlook the huge storage space inside, which can store your books, magazines, and everything else you may want in the living space.
9. Daybed
A daybed is an essential piece of furniture if you live in a small studio apartment or loft. It may save you a lot of space. Because room in a studio apartment is limited, a daybed may serve as both a bed and a couch.
Not only will you have more space, but you'll save money since you'll only have to buy one piece of furniture rather than two.
This daybed also features a trundle, which comes in useful if you have any overnight guests or may just be used as extra storage.
10. Bed Frame With Drawers
A bed frame with drawers underneath is a great space saver if a daybed isn't your taste and you need a bigger bed.
Because storage space is often an issue when living in a small apartment, this bed frame allows you to make the most of the open space underneath your bed. It will help keep your belongings dust-free, which is a major benefit.
11. BedShelfie
If you have a small bedroom and don't have enough space to put a nightstand next to your bed, a BedShelfie is a must-have.
This little shelf is meant to be bolted to the ledge of any bed frame and is sturdy enough to hold all of your bedtime items without turning over and falling.
Before you go to sleep, make sure you have your water, phone, alarm clock, hand cream, and anything else you might need.
12. Hanging Closet Organizer
A lot of the time, closet space isn't utilized to its full potential. Use a smart hanging closet organizer to make use of your unused vertical closet space, giving you an additional area to store your clothing and accessories.
It's divided into compartments so you can simply sort and arrange your items, and it's also foldable and light so it's simple to transport.
13. Hanging Shoe Organizer
An over-the-door hanging shoe organizer is another fantastic space saver. Shoes take up a lot of area on the floor or the shoe rack, so use a hanging shoe organizer to store tiny sandals, slippers, flats, and heels.
The best feature is that it can be hidden behind the door, so no one except you know it's there.
14. Corner Bookshelf
Room corners are usually ignored. Put some extra home decor or books on a corner bookshelf to make the most of the area.
15. Corner Desk
A corner desk is great if you need the extra space to work at and prefer the concept of really utilizing the corner space rather than just putting a shelf there.
16. Wall Shelf
When you live in a small apartment, wall shelves are your best friend. They're a great place to put some wall art, books, or other home décor items to give your house some flair without taking up too much space.
Put them in your bedroom, bathroom, living room, kitchen, and wherever else you can think of!
17. Wall-Mounted Desk
Don't have enough space for a large desk on which to study or work with your laptop and books? This wall-mounted desk is practical and perfect for small spaces because it takes up very little space.
18. Fold-Out Table
When you need a little dining room table while you eat or a smaller desk while you're studying, this compact foldable floating desk has shown above is great to extend and drawdown. When you're finished, just fold it back up to save space.
If you need something even more compact, here is a cute mini compact folding desk that takes up almost no space.
19. Book Shelf Desk
This writing desk, which has a wide shelf space and also a keyboard tray, is a perfect choice if you're searching for a desk that doesn't need to be folded down but is still a multi-functional item.
Although the desk cannot be folded when not in use, having a bookshelf and a desk in one unit saves room.
20. Ladder Desk
If you're looking for something a bit more compact but still attractive that can hold a lot above the desk without having to fold down the desk space, this ladder desk is another great option.
21. Mobile Desk
If you don't have enough space in your apartment for a workstation, a mobile desk can be the answer.
This desk is fantastic because the height can be adjusted and it can be moved to anywhere you need it – bedroom, living room, anything! It's the perfect item for a little room.
22. Bathroom Shelf Organizer
This three-shelf bathroom shelf organizer will come in handy if your bathroom is so small that you can't put anything in there due to a lack of closet space or just a lack of space in general.
It fits perfectly over your toilet, allowing you to keep all of your toiletries in the extra space.
23. Shower Caddy
When you're short on space, a shower caddy may be really useful. Keep it organized by putting all of your shower supplies in it.
24. Bathroom Corner Shelf
Finally, a corner shelf is a great way to make use of any spare space in your bathroom by storing toilet paper rolls, soap, and other bathroom essentials.
If you live in a small apartment, it is entirely possible to create a nice and useful living area.
All you need to do is outfit your house with clever space-saving furniture that can be utilized for various purposes while taking up less space.
If you live in a small apartment, I hope you found this post useful and that these 24 Space Saving Furniture Ideas will help you maximize your living space.
Now comes the important question… Which Space Saving Furniture Ideas did you like the most? Please let me know in the comments.
Few more space saving furniture ideas !!!
Want to save this for later? Post these Space Saving Furniture Ideas to your favorite Pinterest Board!