Are you looking for healthy quick and easy lunch ideas for work, for kids, or for toddlers at home? Healthy, quick and easy lunch ideas are essential for busy moms, kids, and anyone else who might be purchasing lunch on a regular basis. In fact, you don't need to be a mom to benefit from these tasty and healthy lunch recipes. You're going to love these easy lunch ideas everyone can enjoy!
Here you'll find lots of recipes ranging from mason jar salads to wraps and noodle recipes to Low Carb Cold Lunches. Even better, you can cook a batch of them as part of your weekly meal prep and have them ready for the week!
These Easy Lunch Ideas are great for farmers and agricultural workers who do not have an office where they can microwave their lunch.
However, these Easy Lunch Ideas are great for employees on the go, whether they are in construction, driving a truck, or students looking for a fast bite between classes.
Easy Lunch Ideas for Work
" Affiliate links provided for your convenience, please read my disclosure for more information."
Buy these recommended products here:
1. Creamy Whipped Feta Dip
If you're searching for the perfect summer party recipe, this creamy, whipped feta dip is the way to go. It's Mediterranean-themed and oh-so-delicious!
The Whipped Feta Dip is everything a feta dip should be…salty, tangy, and drizzled with creamy extra virgin olive oil. Serve this refreshing snack with fresh vegetables or pita chips for dipping!
2. Parmesan Bacon Rotisserie Chicken Salad
This Parmesan Bacon Rotisserie Chicken Salad recipe was inspired by one of our favorite Indianapolis restaurants! Using a rotisserie chicken makes this dish extremely easy to prepare in under 30 minutes.
3. Mediterranean Bean, Tomato, and Tuna Salad
This quick Mediterranean mix of beans, tomatoes, tuna, red onion, and olives requires very little effort and is ready in minutes, full of color and flavor. So simple, so easy, and so tasty!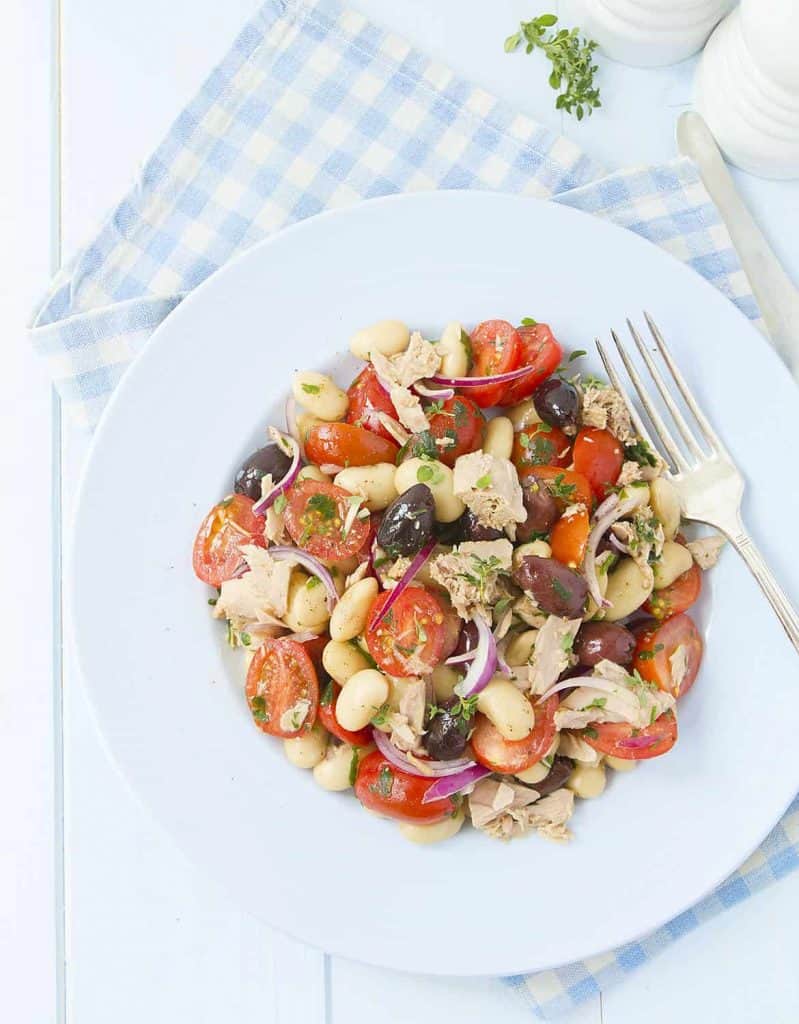 4. Chickpea Thai Quinoa Salad With Peanut Dressing
This Chickpea Thai Quinoa Salad is gluten-free, quick to prepare, and very nutritious. For a fast meal, mix quinoa, chickpeas, carrots, cabbage, and cilantro in a salad and top with a creamy peanut sauce.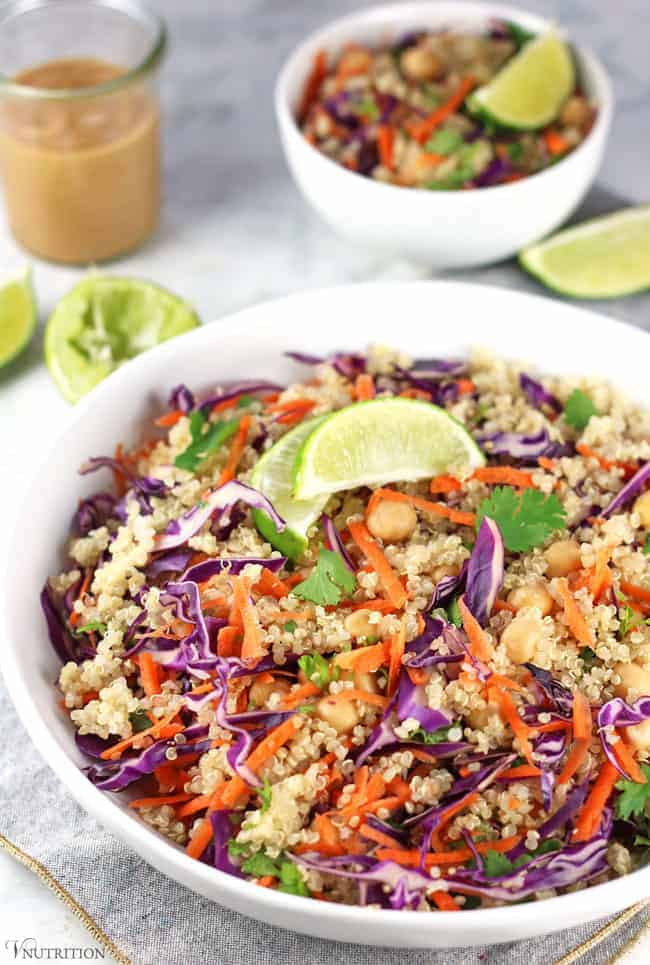 5. Italian Tuna Salad
Salad of Italian tuna with fresh vegetables, garlic, parsley, and olives. The no mayo tuna salad is perfect for those who avoid mayonnaise in their tuna salad. This Keto-friendly low carb tuna recipe is not only tasty and nutritious, but it is also low carb.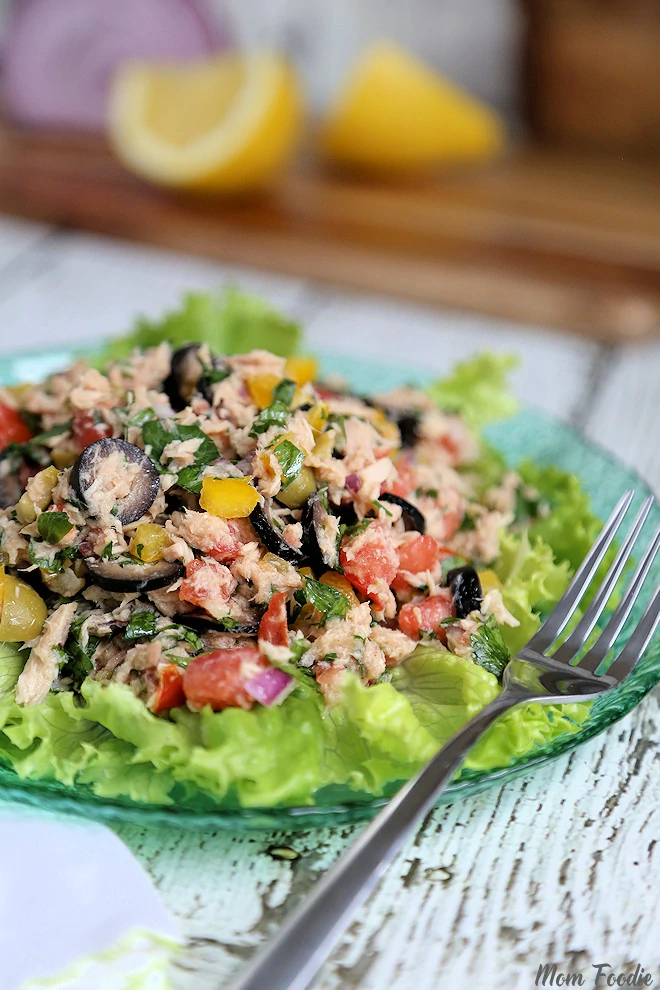 6. Chicken Pepperoni Pasta Salad
This quick chicken pepperoni pasta salad is exactly what you need on a hot summer day! Moreover, if you don't have access to a microwave, this pasta salad is great for meal prep.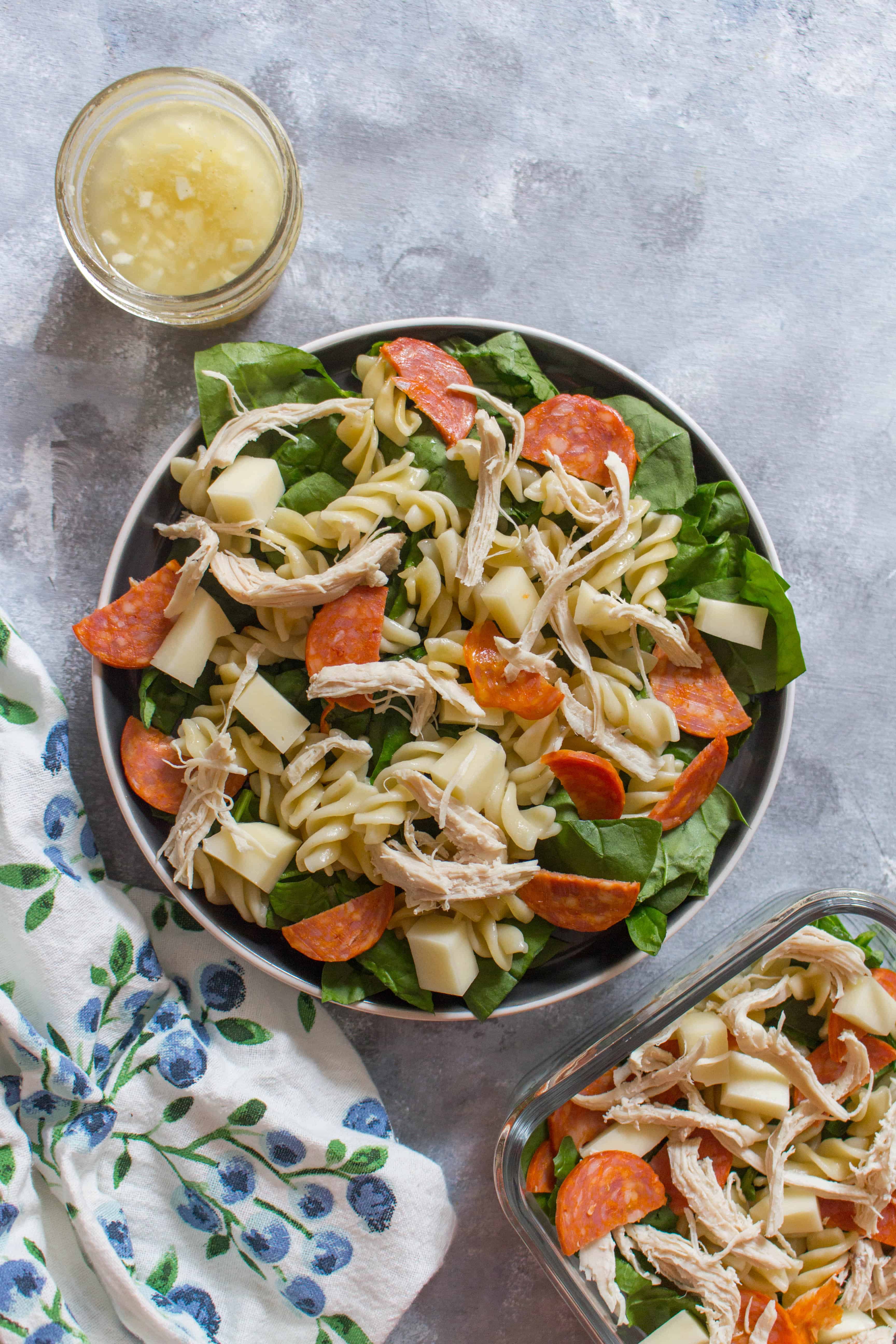 7. Chicken Greek Salad Wrap Sandwich
Easy Chicken Greek Salad Wrap Sandwich is a quick and healthy lunch recipe that is also gluten-free. These Chicken Greek Salad Wraps are an excellent method to reuse leftover chicken.
If you don't even have any leftover chicken, you could use rotisserie chicken, canned chicken, or even precooked shrimp.
8. Granola Crunch Apple-Peanut Butter Sandwich Wraps
These crispy Peanut Butter Sandwich Wraps come together in minutes and are entirely adaptable – no measurement required! They're full of nutrient-rich fruits, whole grains, and protein makes them perfect for on-the-go meals and make-ahead lunches.
Change up your PB&J routine with this delicious mix of sweet, crispy, chewy, and creamy ingredients that the whole family will enjoy!
9. Turkey Pinwheels Meal Prep
Pinwheels are a quick and easy deli lunch that you can cook at home and turn into meal prep! A roll-up, a pinwheel, or a sandwich roll… whatever you call them, pinwheels are a simple yet tasty alternative to the traditional sandwiches. And MUCH more beautiful.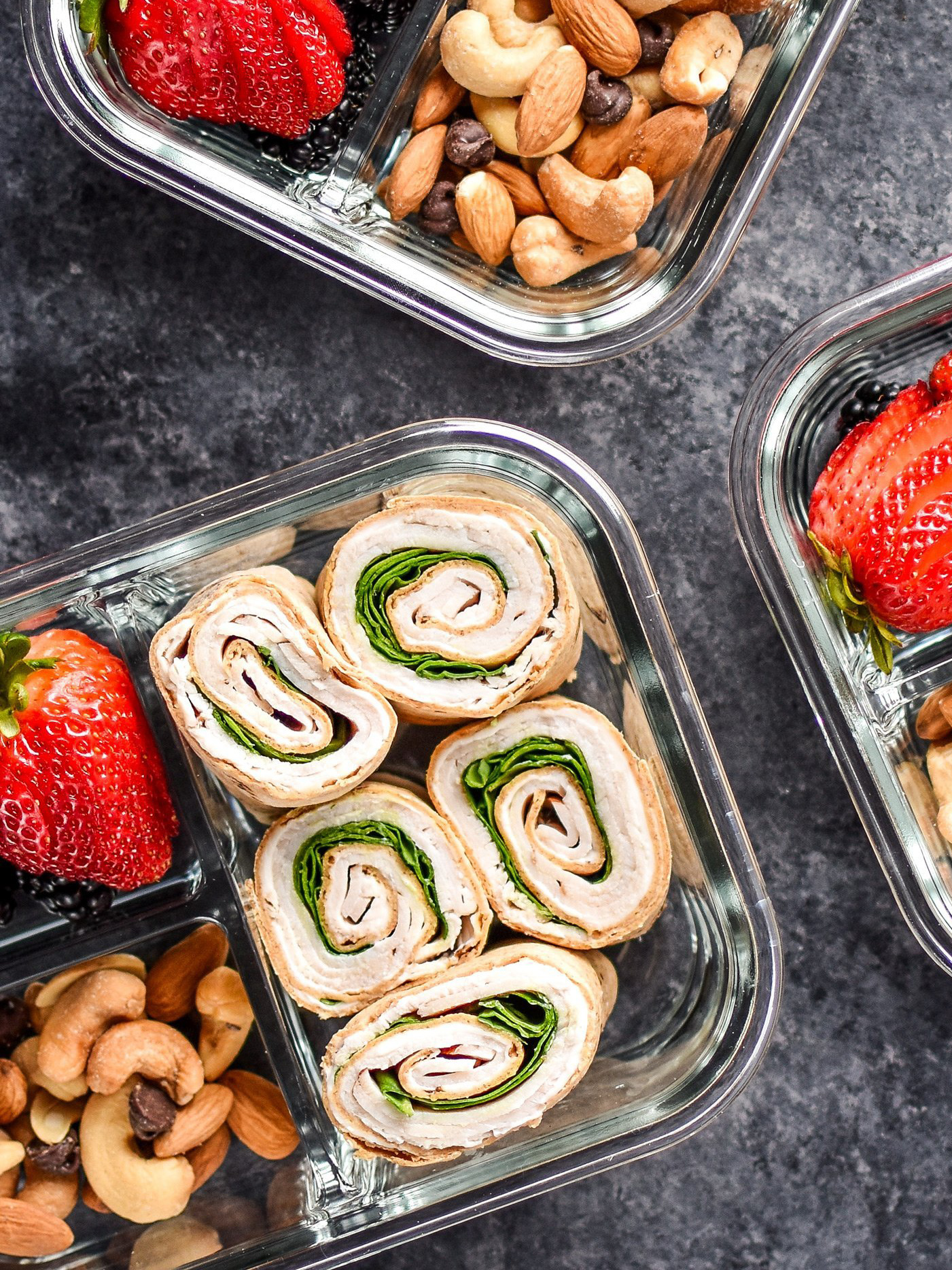 10. Southwest Turkey Wrap
This Southwest Turkey Wrap is a great sandwich alternative for school or work! This recipe requires a delicious homemade southwest sauce.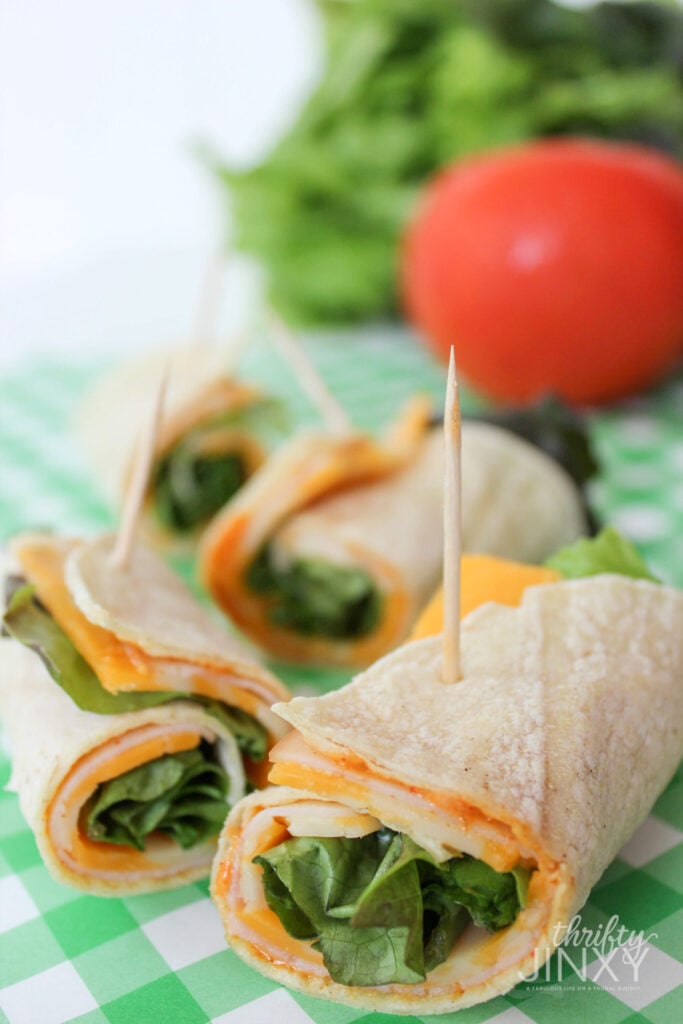 11. Super Easy Ham Roll-Ups
These simple ham roll-ups are perfect for a quick lunch or a tasty appetizer that is guaranteed to please everyone! Both children and adults approve! These wraps are simple to make and great for both children and adults. And you have all of the ingredients on hand!
12. Cucumber and Cream Cheese Sandwich Rolls
Cucumber pinwheels or cucumber and cream cheese sandwich rolls are always a hit no matter where or when they are served. Picnics, barbecues, school or work-packed lunches, afternoon tea, or even a light dinner!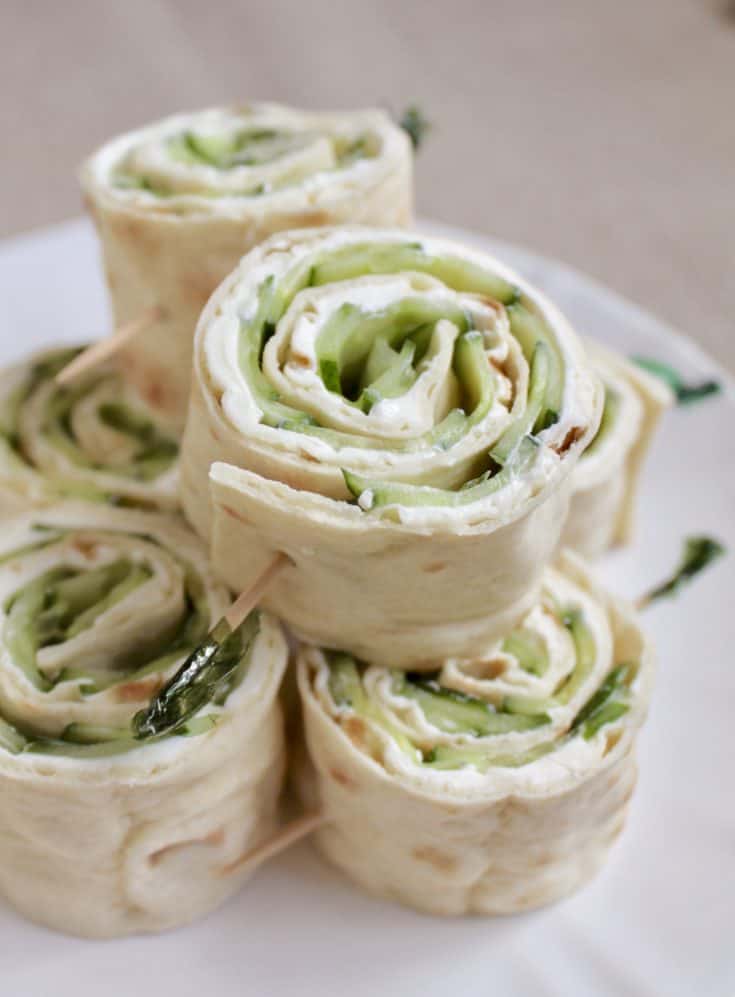 13. Healthy zucchini Slice
This nutritious zucchini slice is perfect for meal prep because it is quick and easy to prepare and absolutely delicious! Enjoy as-is, or add some more vegetables for a twist! A great vegetarian meal at any time of day.
14. Pizza Dippers
Try this amazing and easy kid's favorite recipe. And I bet your kids will love it as they are very easy to make. So let your kids prepare their own meal.
15. Mediterranean Bean Salad
This colorful and crunchy Mediterranean Bean Salad is the perfect mixed bean salad; it'll see you through picnic and barbeque season with ease, and you'll want to make a big batch to store in the fridge for quick and healthy lunches, as it's high in protein!
16. Strawberry Chicken Pinwheel Sandwiches by Simple Seasonal
17. Mason Jar Chicken Taco Salad by Neighbor Food Blog
18. Bell Pepper Nachos by Momables
19. Pizza Stuffed Crescent Rolls by Adventures of B2
20. Lemony Pasta Salad with Artichokes and Chickpeas by I Am A Honeybee
21. Zucchini Muffins with Goat Cheese by The Foodie Journey
22. Cobb Salad Wraps by Living Well Kitchen
23. Mediterranean Chickpea Salad with Lemon-Herb Vinaigrette by Big Flavors Tiny Kitchen
24. Lemon & Pea Pasta Salad by Luci's Morsels
25. Cranberry Pecan Chickpea Salad Sandwich by Peas & Crayons
26. Strawberry Salad with Cherries & Blueberries by Tasty Galaxy
27. Cold Noodles In Peanut Sauce by The Cozy Cook
28. Creamy Vegetarian Black Bean Taquitos by Backyard Bohemian
29. Meal Prep Taco Salad Lunch Bowls by Kristine's Kitchen Blog
30. Rainbow Couscous And Tzatziki Chicken by Zested Lemon
31. Lean Chicken Meatloaf Muffins – Haute and Healthy Living
32. Broccoli Cheddar Quinoa Bars by Served From Scratch
33. Cucumber Subs by Wholesome Yum
34. Chicken Taco Mason Jar Salads by The Seasoned Mom
35. Turkey Ranch Wraps by Garnish and Glaze
36. Greek Pasta Salad by Hungry Healthy Happy
37. Spinach Salad with Root Vegetables by This Farm Girl Cooks
38. Chick-Fil-a Chicken Salad Recipe by Mom Foodie
39. Chickpea Salad Sandwich by Sweet Peas and Saffron
40. 5-Minute Buffalo Chicken Wrap by Everyday Family Cooking
Now comes the important question… Which Easy Lunch Ideas do you like the most? Please let me know in the comments.
Few more healthy ideas !!!
Want to save this for later? Post these  Easy Lunch Ideas for Work to your favorite Pinterest Board!