I've compiled a list of my 8 favorite cozy living room ideas to make your living room extra cozy, so you can enjoy lying up with your favorite book or TV show. We've got everything you need for a cozy season, from rich fibers to warm wall colors.
It might be difficult to turn a large living room into a cozy area, but with a little work, it can be done. Here are some of the simplest cozy living room ideas that I've found to make your living area seem more welcoming… Enjoy!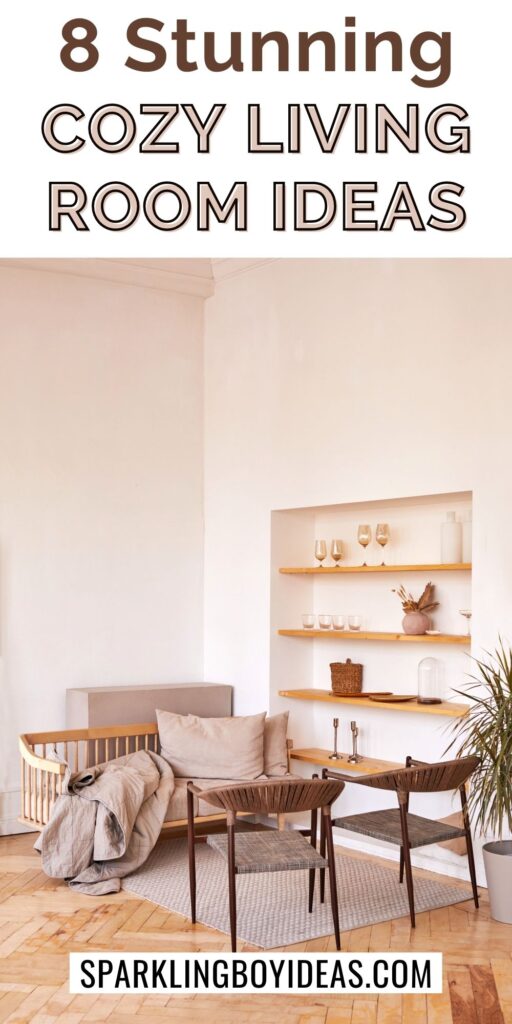 Cozy Living Room Ideas To Try
" Affiliate links provided for your convenience, please read my disclosure for more information."
1. Wrap up in a nice knit
Isn't it true that when the blankets come out, they bring with them the ultimate warm feelings?! Try a cup of tea and an early evening nap… or a spicy G&T!
We always reach for woven blankets in muted tones as the temperature drops. Do you have any idea what kind of material I'm talking about? Natural fibers, I assure you, are well worth the cost. Try these three of my favorite ones.
2. Bring in warm wall tones
If you're working with white walls, a feature wall with woods feelings in a warm color will help tie the space together. This look will last well into the wintertime, making your room pleasant all year. Moreover, it is a little project with a large impact. These colors and wallpapers are perfect for bringing a comfortable atmosphere to any living area.
3. Create detail with flowers
I love plants, they fill our living space with such life. Autumn and winter, on the other hand, provide a fantastic chance to decorate with something that will last all winter and beyond, as well as bring the sensation of crisp leaves inside in a stunning way. Dried flowers can be found in the garden, from local florists, and on the internet. Dried hydrangea and billy button stems are popular right now. The colors are fantastic!
4. Light a lantern
In the wintertime, warm, low lighting is the way to go. Lanterns are a smart way to offer light to your living area without the harsh glare of a ceiling light while we're cuddling up in the dark evenings. These are the ones I personally recommend.
5. Use textured wall hangings
She taught me that art can turn blank walls into welcoming spaces, but textured wall hangings go even farther to give a sense of warmth and texture in a space. Felt garlands are a more cost-effective way to add color and visual interest to shelves.
6. All the knitted cushions
You can't have a cozy environment without scattering cushions. They're the kings and queens of a couch evening. However, for a deep sense of relaxation, use a knitted version and expand the blanket weaving to the smaller accessories.
7. Use a sumptuous faux fur rug
With a traditional faux fur or sheepskin rug, embrace texture and fiber in all its beauty. You'll fall in love with them since they're soft, cozy, and so comfortable on your feet. You'll love the rugs I've recommended below.
8. Bring in a basket
Isn't it true that you need a place to store all of these pillows and blankets? A basket made of natural fibers is another fantastic method to add a cozy touch to your living space. Organic weaving offers another element of home and handmade, whether you put a plant in there or keep soft blankets. Some of my current favorites are these…
Now comes the important question… Which cozy living room ideas did you like the most? Please let me know in the comments.
Few more cozy living room ideas !!!
Want to save this for later? Post these cozy living room ideas to your favorite Pinterest Board!