Get ready to elevate your table with stunning Thanksgiving centerpieces that capture the essence of the season. From rustic arrangements to elegant displays, discover creative ideas to make your holiday gathering truly memorable.
Thanksgiving is a time to celebrate with friends and family.
It's also a time to focus on gratitude for all that you have in your life.
Thanksgiving table decorations can take center stage in the dining room or kitchen this holiday season.
The best part? These ideas can be made with items you already have on hand!
Here are some of our favorite Thanksgiving table decor ideas that would make the perfect addition to your Thanksgiving spread.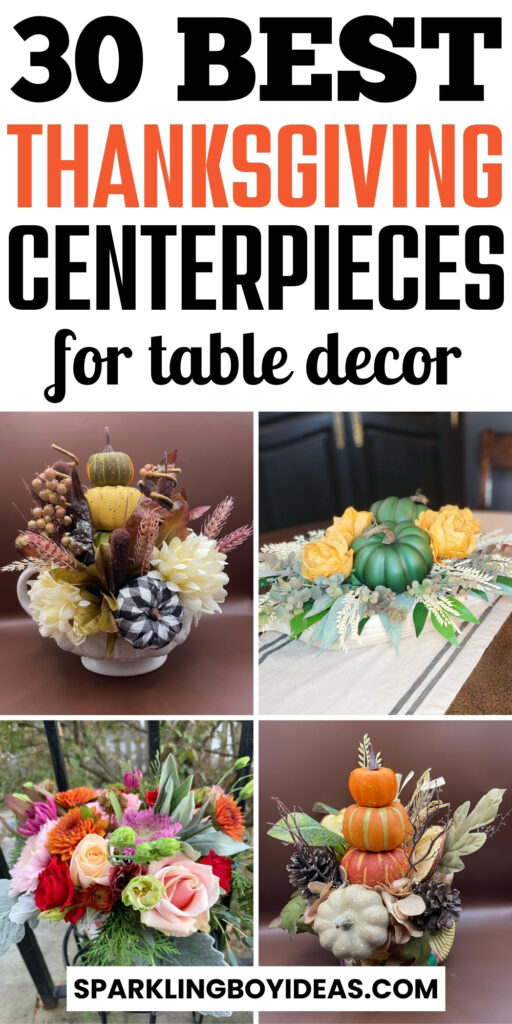 Festive Thanksgiving Centerpieces
" Affiliate links are provided for your convenience, please read my disclosure for more information."
30. Pumplin Flower Vase Arrangement – breezybloom_wa
29. Thanksgiving Wooden Floral Candle Holder – floraldesignsbyheatherann
28. Thanksgiving Floral Arrangement – wild.things.flowers
27. Sweet, Petite Centerpiece – goldsborough_glynn
26. Fall Dough Bowl Centerpiece – juniper_farmhouse
25. Thanksgiving Gravy Boat Centerpiece Arrangement – homebrewsmugs
24. Bountiful Cornucopia Thanksgiving Mug Arrangement – homebrewsmugs
23. Fall Blooms Centerpiece – beebs.blooms
22. Rooster Chickens & Floral Centerpiece – theblondetulip
21.  Edible Bouquet Centerpiece – food_of_ct and sweetbouquetsct
20. Paper Flower & Fresh Greenery Centerpiece  – liagriffith
19. Autumn Botanicals Print Pumpkin – knotperfectdesignsco
18. Fall Flowers Centerpiece – rosaspinafloral
17. Thanksgiving Floral Arrangement – classicsflowersandconfections
16. Pop-Cornucopia Centerpiece – giggleliving
15. Tabletop Scarecrow Centerpieces – Amazon
14. Mini Fake Pumpkins – Amazon
13. Glass Candle Holders with Artificial Pumpkins – Amazon
12. Artificial Foam Golden Pumpkins – Amazon
11. Metal Thankful Sign – Amazon
10. Gold Pumpkin Centerpiece with LED Lights – Amazon
9. Rustic Fabric Pumpkins  – Amazon
8. Resin Thanks Set – Amazon
7. Turkey Tea Light Candle Holder – Amazon
6. Harvest Thanksgiving Table Centerpiece – Amazon
5.  Pumpkin& Maple Leaves Candelabrum – Amazon
4. Maple Leaves Candle Holder – Amazon
3. Fall Turkey Pumpkin Table Topper – Amazon
2. Color-Changing Cornucopia Centerpiece – Amazon
1. Thanksgiving Harvest Table Decorations – Amazon
Now comes the important question… Which of these DIY Thanksgiving centerpieces did you like the most? Please let me know in the comments.
Few more Thanksgiving decor!!!
Want to save this for later? Post these DIY Thanksgiving Centerpieces to the "Thanksgiving Table Decor" OR "Fall Table Decor" Board!