Sweet Potato Casserole with Marshmallows is a comforting and delightful dish that's perfect for family gatherings and holiday feasts. It combines the earthy sweetness of sweet potatoes with the gooey goodness of marshmallows, creating a mouthwatering treat that's sure to please both young and old alike.
Why I Love This Recipe
I love this sweet potato casserole with toasted marshmallows because it's like a warm, sweet hug for your taste buds.
The creamy, mashed sweet potatoes combined with the gooey marshmallows on top create a magical blend of flavors and textures that make every bite feel like a cozy family gathering.
It's easy to make, doesn't break the bank, and brings back cherished memories of good times.
Plus, the aroma when it's baking in the oven is like a comforting hug from your kitchen.
This dish is all about simple joy, and that's why I love it!
Why You'll Love This Recipe
▪️ Ease of Preparation: This recipe is super easy to make, even for beginners in the kitchen.
▪️ Budget-Friendly: The ingredients are affordable, making it perfect for those watching their expenses.
▪️ Crowd-Pleaser: The combination of sweet and savory flavors appeals to a wide range of palates.
▪️ Make-Ahead: You can prepare it in advance and pop it in the oven when needed, reducing last-minute stress.
Helpful Kitchen Tools
Ingredients
▪️ 4 large sweet potatoes (about 2 pounds) – They provide a natural sweetness and creamy texture to the casserole.
▪️ 1/2 cup unsalted butter, melted – Adds richness and a buttery flavor to the dish.
▪️ 1/4 cup milk – Makes the sweet potatoes creamy without being too thin.
▪️ 1/4 cup brown sugar – Adds a lovely caramel-like sweetness.
▪️ 1/4 cup maple syrup – Offers a delightful maple flavor.
▪️ 1 teaspoon vanilla extract – Enhances the overall aroma and taste.
▪️ 1/2 teaspoon ground cinnamon – Adds warmth and a hint of spice.
▪️ 1/4 teaspoon ground nutmeg – Provides a subtle nutty flavor.
▪️ 1/4 teaspoon salt – Balances and enhances the other flavors.
▪️ 2 cups mini marshmallows – Creates a gooey and toasted topping that's pure joy.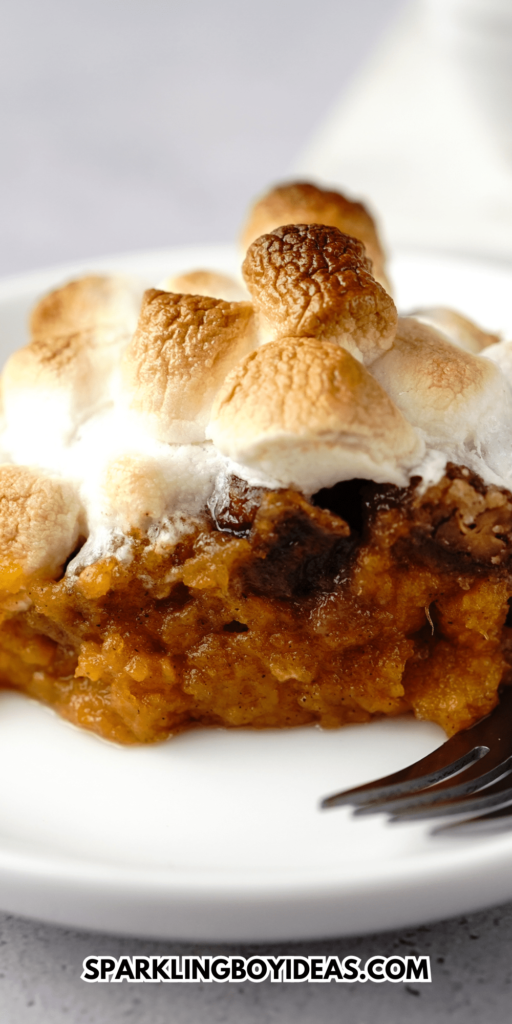 Making Of Sweet Potato Casserole with Marshmallows
STEP 1: We'll start by boiling our sweet potatoes. Just chop them into chunks, put them in a big pot, and add water until they're covered. Then, bring it to a boil, and let it simmer until they're soft. You can check by poking them with a fork – they should be nice and tender.
STEP 2: While those sweet potatoes are cooking away, let's get our oven ready. Preheat it to 350°F (175°C). This step gets the oven all warmed up for our casserole.
STEP 3: Once our sweet potatoes are soft and ready, drain them and put them in a bowl. Now comes the fun part – mash them up until they're smooth and creamy. You can use a potato masher or even a fork if that's what you've got.
STEP 4: Time to add some flavor. Mix in the melted butter, milk, brown sugar, maple syrup, vanilla extract, ground cinnamon, ground nutmeg, and a pinch of salt. Stir it all up until everything is mixed well in that bowl.
STEP 5: Grease a baking dish – any size you've got will work. Now, gently transfer your sweet potato mixture into the dish, spreading it out evenly. It's looking good already!
STEP 6: Sprinkle those mini marshmallows all over the top. Be generous – the marshmallows are the best part. They're going to get all toasty and golden in the oven.
STEP 7: Slide your dish into that preheated oven, and let it bake for about 25-30 minutes. Keep an eye on those marshmallows; they'll turn a lovely golden brown. You want them perfectly toasted, not burnt.
STEP 8: When it's done baking, take it out, and let it cool for a bit. Then, serve it up, and watch those marshmallows stretch and melt as you scoop out your delicious sweet potato casserole.
Tips and Techniques
▪️ To achieve creamy sweet potatoes, make sure they are fully mashed, and there are no lumps left.
▪️ Keep a close eye on the marshmallows while toasting to avoid over-browning; it happens quickly!
▪️ Adjust the sugar and maple syrup quantities to match your sweetness preference.
▪️ Use a hand mixer for extra smoothness or blend in your favorite spices for unique flavors.
▪️ Go vegan by using plant-based milk and marshmallows for an animal-friendly version.
Serving Size
This sweet potato casserole recipe serves around 6 to 8 people. So, it's perfect for a small family dinner or gathering with friends. If you have more guests or big appetites, you might want to consider making a bit extra to ensure everyone gets a delicious serving!
Serving Suggestions
▪️ Serve it as a yummy side dish for Thanksgiving or any family dinner.
▪️ Pair it up with some roasted turkey or ham for a complete holiday feast.
▪️ For an extra crunch, sprinkle some chopped pecans or walnuts on top.
▪️ Drizzle a bit of extra maple syrup for an added touch of sweetness if you like.
▪️ Enjoy it just as it is, with those gooey marshmallows and creamy sweet potatoes. It's comfort food at its best!
Variations
▪️ Sprinkle candied pecans on top for a sweet and crunchy twist.
▪️ Add a pinch of cayenne pepper for a subtle, exciting kick.
▪️ Experiment with cardamom or cloves for unique, aromatic tastes.
▪️ Replace sweet potatoes with butternut squash for a delightful change.
Storage Tips
When it comes to storing your sweet potato casserole with toasted marshmallows, simplicity is key. Just pop any leftovers into an airtight container and keep it in the fridge for up to 3-4 days. When you're ready for seconds, warm it up in the oven to keep those marshmallows crispy and delightful. Easy-peasy!
FAQs
Q. Can I prepare this dish in advance?
Absolutely! You can assemble the casserole ahead of time and refrigerate it. Just remember to add the marshmallows and bake when you're ready to serve.
Q. Can I use regular-sized marshmallows instead of mini marshmallows?
Yes, you can. However, mini marshmallows tend to toast more evenly and quickly.
Q. How do I get the marshmallows perfectly golden?
Keep a close eye on them while baking. You want a nice golden color, not burnt. You can also use the broil setting briefly to achieve the desired toastiness.
Print Recipe
Homemade Sweet Potato Casserole with Marshmallows
Sweet Potato Casserole with Marshmallows: A comforting and delightful dish blending sweet potatoes' earthy sweetness with gooey marshmallows, ideal for family gatherings and holidays.
Ingredients
4

large sweet potatoes

peeled and cubed (about 2 pounds)

½

cup

unsalted butter

melted

¼

cup

milk

¼

cup

brown sugar

¼

cup

maple syrup

1

teaspoon

vanilla extract

½

teaspoon

ground cinnamon

¼

teaspoon

ground nutmeg

¼

teaspoon

salt

2

cups

mini marshmallows
Instructions
Boil the sweet potatoes in a large pot until they're fork-tender (15-20 minutes).

Preheat your oven to 350°F (175°C).

Drain the sweet potatoes and mash them until smooth.

Mix in melted butter, milk, brown sugar, maple syrup, vanilla extract, ground cinnamon, ground nutmeg, and salt.

Transfer the sweet potato mixture to a greased baking dish, spreading it evenly.

Generously top with mini marshmallows.

Bake for 25-30 minutes until marshmallows are golden brown.

Allow it to cool for a few minutes before serving.
Notes
Use a hand mixer for extra creaminess.
Keep an eye on marshmallows while toasting to prevent burning.
Adjust sweetness by adding more or less brown sugar and maple syrup to taste.