Create cherished holiday memories with this Homemade Cranberry Sauce. A perfect blend of tart and sweet, this recipe brings warmth to your family gatherings. With everyday ingredients and 15 minutes, craft a delightful sauce that elevates your holiday feast. Dive into cranberry magic!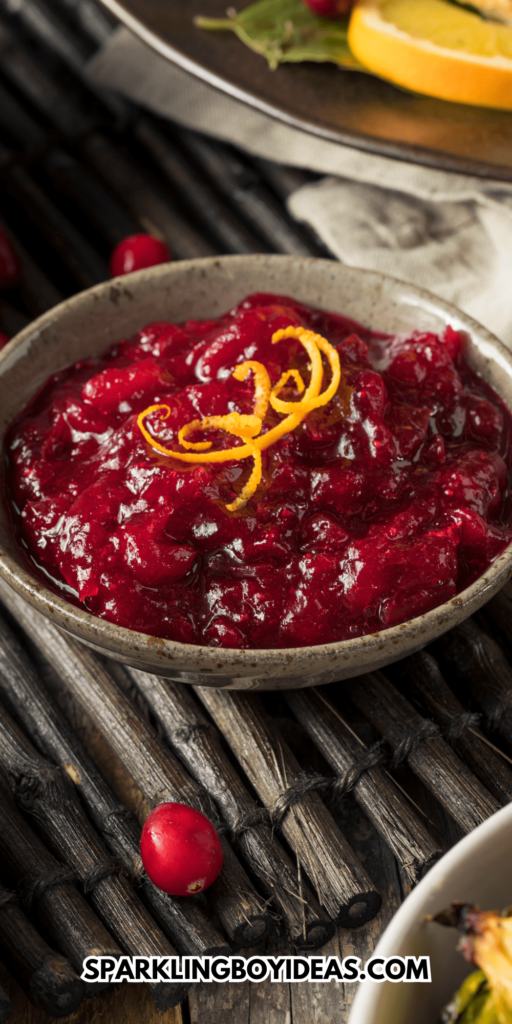 Why I Love This Recipe
I love this cranberry sauce recipe because it brings back cherished family memories.
The aroma of cranberries simmering on the stove reminds me of special gatherings.
Plus, it's super easy and quick to make, and you can adjust the sweetness just the way you like it.
It's not just for Thanksgiving; this sauce goes perfectly with various dishes, making it a versatile addition to any meal.
So, it's a little jar of nostalgia that's both convenient and delicious.
Why You'll Love This Recipe
▪️ Simple Ingredients: You'll love this recipe because it calls for only a handful of ingredients you likely already have in your pantry.
▪️ Quick Preparation: It's a breeze to make, taking just 15 minutes from start to finish.
▪️ Customizable: You can adjust the sweetness to your liking, making it perfect for everyone at the table.
▪️ Versatile: It's not just for Thanksgiving; this cranberry sauce pairs perfectly with poultry, and pork, and even as a topping for desserts like cheesecake or ice cream.
Helpful Kitchen Tools
Ingredients
▪️ 1 bag (12 ounces) of fresh cranberries: Cranberries are the star of the show, bringing their vibrant tartness to the sauce.
▪️ 1 cup granulated sugar (adjust to taste): Sugar sweetens the sauce, and you can tweak the amount to your preferred level of sweetness.
▪️ 1 cup water: Water helps to create the desired consistency and aids in cooking the cranberries.
▪️ Zest of one orange: Orange zest adds a citrusy, fragrant twist to the sauce.
▪️ Juice of one orange: Fresh orange juice complements the cranberries and enhances their natural flavor.
▪️ 1 cinnamon stick (optional): The cinnamon stick, if used, infuses a subtle warmth and spice into the sauce, but it's entirely optional based on your taste preferences.
Making Of Homemade Cranberry Sauce
STEP 1: Start by giving those fresh cranberries a gentle rinse under cold water. Say goodbye to any that look bruised or not quite perfect.
STEP 2: In your trusty saucepan, gather the cranberries, a cup of granulated sugar (you can adjust this to your taste later), a cup of water, the zest from one vibrant orange, the juice from that same orange, and if you're feeling fancy, add a cinnamon stick (it's optional, but it adds a cozy touch).
STEP 3: Crank up the heat to medium-high, and watch the magic happen. As the mixture begins to bubble and boil, lower the heat to a gentle simmer. Let it simmer for about 10-12 minutes. You'll hear those cranberries pop, and that's when you know it's all coming together.
STEP 4: Stir the pot every now and then. And here's the fun part: use the back of your wooden spoon to give those cranberries a little mash. This will give your sauce some character and texture.
STEP 5: Grab a spoon and have a taste. If it needs a bit more sweetness, sprinkle in more sugar. Remember, it's all about your palate.
STEP 6: Once you're satisfied with the taste, take the saucepan off the heat. Let it cool down, and you'll notice it thickening as it does.
STEP 7: Your homemade cranberry sauce is now ready to steal the spotlight. Scoop it into a lovely serving dish, and if you used that cinnamon stick, don't forget to remove it.
Tips and Techniques
▪️ Regularly taste your cranberry sauce while it simmers to adjust sweetness to your liking.
▪️ Be gentle when mashing the cranberries to control the texture of your sauce.
▪️ The orange zest adds a delightful citrusy aroma; don't skip it.
▪️ Prepare your cranberry sauce a day or two in advance to save time on busy cooking days.
Serving Size
This homemade cranberry sauce recipe serves about 8 people generously, making it perfect for a family gathering or to have some delightful leftovers for sandwiches and desserts.
Serving Suggestions
▪️ Serve your homemade cranberry sauce alongside roast turkey or chicken for that timeless Thanksgiving pairing.
▪️ Spread it generously on sandwiches or wraps for a tangy kick that elevates your lunch game.
▪️ Impress your guests by spooning it over a wheel of creamy brie cheese, perfect for a delightful appetizer.
▪️ Don't limit it to savory dishes; use it as a sweet topping for vanilla ice cream or as a fruity addition to desserts.
Variations
▪️ Add diced apples for a delightful texture contrast and a hint of sweetness.
▪️ Sprinkle in a pinch of nutmeg or cloves for a warm, cozy flavor.
▪️ Enhance the texture with a handful of chopped nuts like walnuts or pecans.
▪️ Swap orange zest for lemon to give your sauce a zesty twist.
Storage Tips
To store your homemade cranberry sauce with ease, simply transfer it to an airtight container, refrigerate it for up to 10 days, or freeze it for up to two months in a freezer-safe container. Thaw frozen sauce in the fridge overnight or warm it gently on the stove when you're ready to use it. These straightforward storage tips will keep your cranberry sauce fresh and delicious.
FAQs
Q. Can I use frozen cranberries instead of fresh ones?
Absolutely! Frozen cranberries work just as well.
Q. How do I make it less sweet if I've added too much sugar?
Balance the sweetness by adding a bit of lemon juice or more cranberries.
Q. Can I make it ahead of time for Thanksgiving?
Yes, you can make it a few days in advance, and it'll taste even better as the flavors meld.
Print Recipe
Homemade Cranberry Sauce
This Homemade Cranberry Sauce is a delightful blend of tart and sweet that adds warmth to family gatherings. With simple ingredients and just 15 minutes, create a flavorful sauce that elevates your holiday feast.
Ingredients
1

bag (12 ounces)

fresh cranberries

1

cup

granulated sugar

adjust to taste

1

cup

water

Zest of one orange

Juice of one orange

1

cinnamon stick

optional
Instructions
Rinse the cranberries in cold water, removing any bruised or damaged ones.

In a saucepan, combine cranberries, sugar, water, orange zest, orange juice, and the optional cinnamon stick.

Bring the mixture to a boil over medium-high heat. Reduce heat to low and let it simmer for 10-12 minutes. You'll hear cranberries pop – that's okay!

Stir occasionally and gently mash some cranberries with the back of a wooden spoon for texture.

Taste the sauce and adjust sweetness by adding more sugar if needed.

Remove from heat and allow the sauce to cool; it will thicken as it cools.

Transfer the homemade cranberry sauce to a serving dish, removing the cinnamon stick (if used), and serve.
Notes
For a chunkier sauce, mash fewer cranberries.
Adjust sugar to your preference for sweetness.
Make it in advance; it keeps well in the fridge.