Looking for inspiration to create the perfect summer tablescapes? Check out our collection of stunning summer tablescape ideas featuring unique centerpieces, colorful linens, and refreshing drink ideas. Get inspired today and start planning your dream summer table decorations!
Summer is the season of outdoor entertaining, and nothing sets the mood better than a beautifully styled tablescape.
Whether you're hosting a backyard barbecue or an elegant al fresco dinner party, your table can be the perfect canvas to showcase your creativity and set the tone for your event.
The key to a stunning summer tablescape is to incorporate seasonal elements that bring the outdoors in.
Think vibrant florals, bold pops of color, and natural textures like woven placemats or wooden chargers.
For a more relaxed vibe, consider using casual dishware and playful accents like patterned napkins or whimsical candleholders.
And don't forget to consider the lighting – soft string lights or flickering candles can create a magical ambiance that will keep your guests lingering long after the sun has set.
Here are some of the most popular trends and styles to consider:
1. Vibrant Colors:
Summer is known for bright and bold colors, so incorporating them into your tablescape is a great way to reflect the season.
Use colorful tablecloths, plates, napkins, and glassware to create a fun and lively atmosphere.
Adding colorful flowers, such as sunflowers or daisies, to your centerpiece can also enhance the color scheme.
Alternatively, you can use a white or neutral tablecloth and accent it with colorful decorations.
2. Natural Elements:
Summer is the perfect time to appreciate the beauty of nature and incorporating natural elements into your tablescape can give it a rustic and organic feel.
Consider using materials like wood, burlap, or twine to achieve this look.
Using wooden chargers or placemats, adding greenery, flowers, or fruit to your centerpiece, or using a burlap table runner or napkins can all contribute to the natural and earthy vibe.
3. Coastal Theme:
A beach or coastal-themed tablescape can be achieved by using elements such as seashells, starfish, or driftwood.
Consider using a blue or turquoise tablecloth to mimic the colors of the ocean and add in sand or coral for more beachy vibes.
Using a beach or nautical pattern for your tablecloth, napkins or plates can also add to the theme.
A clear vase filled with sand and seashells or a mini beach scene with a small bucket of sand and mini beach chairs or umbrellas can also make for a creative centerpiece.
4. Embracing the Tropics:
During summer, tropical-themed décor is always in style and can add a fun and exotic twist to your tablescape. Incorporate elements such as palm leaves, pineapples, or coconuts to create a tropical vibe. Choose a bright and colorful tablecloth and include tropical flowers like hibiscus or orchids in your centerpiece. Consider adding colorful glassware or plates to enhance the tropical feel. Utilize a wooden bowl filled with fresh fruits such as pineapple or mango as your centerpiece or create a tropical flower arrangement with bold and bright flowers.
5. Rustic Sophistication:
Rustic décor can also be elevated to feel elegant and polished.
Metallic accents, crystal glassware, and delicate floral arrangements can be used to create a more refined rustic tablescape.
Choose a neutral tablecloth, such as white or beige, and incorporate details like lace or linen napkins for a delicate touch.
Add a metallic charger or placemat and a few metallic accents, such as candlesticks or vases, to add sparkle and shine.
Consider using a bouquet of white roses or peonies as your centerpiece.
6. Garden Gathering:
For those who love all things garden-related and floral, a garden party theme can be perfect.
Use a floral tablecloth or napkins, and incorporate fresh or faux flowers into your centerpiece with a variety of flower types and colors to create a garden feel.
Add garden-related elements such as watering cans or garden tools into your décor.
Use a basket filled with fresh vegetables or herbs as your centerpiece or create a mini herb garden with small pots of herbs like basil, thyme, or rosemary.
7. Personalize with DIY:
Creating your own DIY decorations is an excellent way to add a personal and unique touch to your tablescape.
Consider making your own centerpieces, such as a flower arrangement in a mason jar or a candle holder crafted from a wine bottle.
You can also create your own place cards or napkin rings with materials like paper, ribbon, or twine.
Let your imagination run wild and get creative to create a one-of-a-kind summer tablescape.
These are just some of the many ways to create a beautiful and functional summer tablescape.
Let your personal style and creativity shine through, have fun, and don't hesitate to try something new.
Your tablescape is a reflection of your unique taste and personality, so embrace your creativity and enjoy the process.
Simple Summer Tablescapes
" Affiliate links provided for your convenience, please read my disclosure for more information."
15. Late Summer Tablescape – from House By Hoff
14. Gorgeous Summer Tablescape – from Craft Berry Bush
13. Summer Lemon Tablescape – from Sawdust 2 Stitches
12. Elegant Summer Tablescape – from The Home I Create
11. Coastal Summer Tablescape – from A Wonderful Thought
10. Teal, Green & Gold Summer Tablescape – from The DIY Mommy
9. Sunny Summer Tablescape – from Blue Sky At Home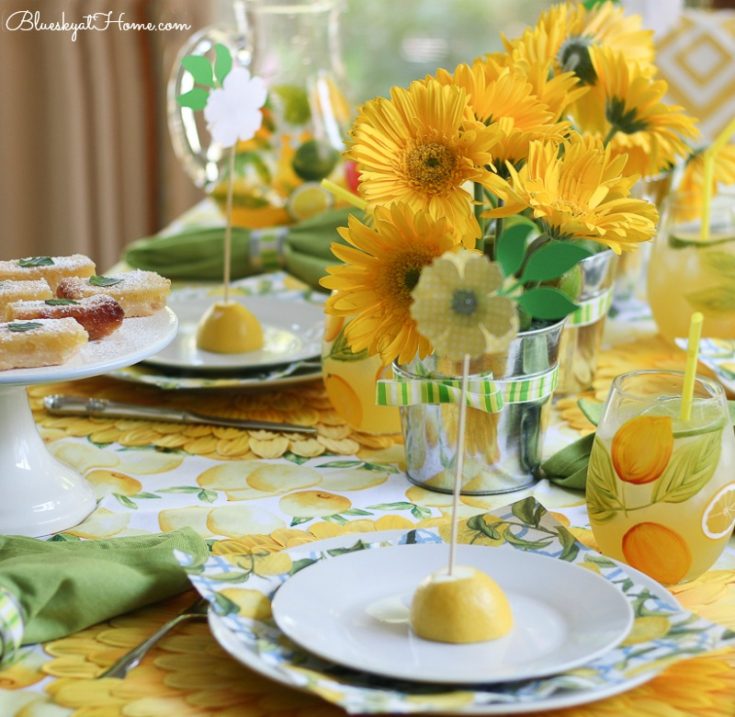 8. Springtime Green & White Tablescape – from Blue Sky At Home
7. Simple Summer Table Setting – from Town N Country Living
6. Red, White & Blue Summer Tablescape – from Desighthusiasm
5. Bold & Bright Tropical Summer Tablescape – from Blue Sky At Home
4. Summer Summer Table Decor – from Blesser House
3. Summer Flower Table Decor – from Modern Glam
2. Flamingo Summer Tablescape – from Lauras Crafty Life
1. Pink Peony Garden Tablescape – from Pizzazzerie
Now comes the important question… Which summer tablescapes do you like the most? Please let me know in the comments.
Few more Summer decorations !!!
Want to save this for later? Post these Summer Tablescapes to the "Summer Decorations" OR "DIY Summer Decor" Board!