Looking for creative ways to decorate your home this summer? Check out our collection of summer tiered tray decor ideas that will elevate your home decor to the next level! Browse our collection of summer tiered tray decor ideas and get inspired to create a beautiful and unique display that reflects your personality and love for the season.
Summer tiered tray decor is a great way to bring the sunshine and warmth of the season into your home.
These trays are versatile and can be used to display a variety of items, from small plants to seasonal decor.
They are perfect for adding a touch of seasonal charm to any room, whether it's your living room, kitchen, or bedroom.
When it comes to summer tiered tray decor, the possibilities are endless.
You can create a beach-themed tray by adding seashells, sand dollars, and other coastal decors.
Or, you can create a tropical tray by adding pineapples, flamingos, and other summer-themed items.
You can even create a patriotic tray by adding red, white, and blue items in honor of the Fourth of July.
One of the great things about tiered trays is that they can be easily customized to fit your personal style and taste.
You can choose items that match your existing decor or go for a bold and playful look with bright colors and fun patterns.
The key is to have fun with it and create a tray that makes you happy every time you look at it.
So, whether you're looking to add some coastal charm or tropical flair to your home this summer, a tiered tray is the perfect way to do it.
Below you'll find ways to decorate a tiered tray for the summer season and suggest some items that you can incorporate.
What is a Tiered Tray?
A tiered tray is a decorative item that comprises two or three tiers of different sizes stacked on top of each other.
The material used in making the trays can vary, from wood, and metal to plastic, and they are usually utilized for serving food.
However, they can also serve as a beautiful display for showcasing your cherished items or adhering to a specific theme.
How to Decorate a Tiered Tray for Summer?
Decorating a tiered tray for the summer season offers a chance to express your creativity and give your home a festive look.
Below are some steps to guide you:
Step 1: Select Your Tray
When creating a summer-tiered tray, selecting the right tray is crucial.
You can opt for any tray type, but ensure that it suits your decor style and fits your space appropriately.
Consider the colors and materials you intend to use for your decor and select a tray that complements them.
Step 2: Pick a Color Theme
Summer is a season bursting with vivid colors and patterns. Determine a color scheme you'd like to incorporate into your tiered tray.
Some popular summer color themes include blue and green shades for a beachy vibe, bright oranges and pinks for a tropical atmosphere, or soft pastels for a more romantic feel.
Step 3: Select Your Decorations
When it comes to decorating your tiered tray for summer, you have a wide range of options to choose from.
The key is to select items that complement your chosen color scheme and decor style.
Here are some ideas for summer-themed decorations that would work well on your tiered tray:
1. Plants:
Adding plants to your tiered tray is an excellent way to infuse your decor with some life and color.
Depending on your preference, you can use either real or fake plants.
Some great options for summer plants include succulents, cacti, and tropical plants like ferns and palm trees.
2. Candles:
Candles can help you create a cozy ambiance in your space during the summer.
Choose candles that match your color schemes, such as coconut or pineapple scents for a tropical vibe, or lavender or citrus scents for a calming atmosphere.
3. Small Decorative Items:
You can add personality and character to your tiered tray by including small decorative items that match your theme.
Consider using seashells, decorative balls, figurines, or other small trinkets.
4. Food & Drink Items:
If you plan to use your tiered tray for entertaining, consider adding some food and drink items.
This could include small plates, appetizers, or even small bottles of wine or other beverages.
Step 4: Organize Your Decorations
After selecting your decor items, it's time to arrange them on your tiered tray.
Start by placing the larger items on the bottom tier, and then move up to the smaller items on the top tier.
Distribute your items evenly across the tray and experiment with different arrangements until you find the one that works best for you.
Summer Tiered Tray Decor Ideas:
Here are some original ideas for summer tiered tray decor to inspire you:
1. Beach Themed Tiered Tray:
Incorporate a serene beach-themed atmosphere by selecting shades of blue and green for your color scheme.
Add some seashells, starfish, and other beachy elements to your tray, alongside some faux coral and driftwood.
Finish it off with a small beach-themed sign or some small ceramic fish.
2. Tropical Paradise Tray:
For a vibrant tropical theme, select bright pinks, oranges, and yellows in your color scheme.
Add some faux palm leaves and flowers, along with some pineapples and coconuts.
For a fun touch, incorporate small ceramic flamingos or toucans.
3. Rustic Farmhouse Tray:
If you prefer a more natural, rustic farmhouse look, use muted pastels and natural wood tones for your tray.
Add some small plants, alongside some metal or wood accents such as a small watering, can, or rustic sign.
For a whimsical touch, include small faux eggs or a ceramic chicken.
4. Garden Tea Party Tray:
Create a garden party theme by incorporating shades of pink and green in your color scheme.
Add some small potted plants, along with some faux flowers and butterflies.
Add some small tea cups or wine glasses to serve small appetizers or desserts.
You can make your home look distinct and attractive to visitors during summer by selecting a color palette and decor pieces that match your taste and style.
DIY Summer Tiered Tray Decor
" Affiliate links provided for your convenience, please read my disclosure for more information."
17. Lemon Tiered Tray Decor – from Instagram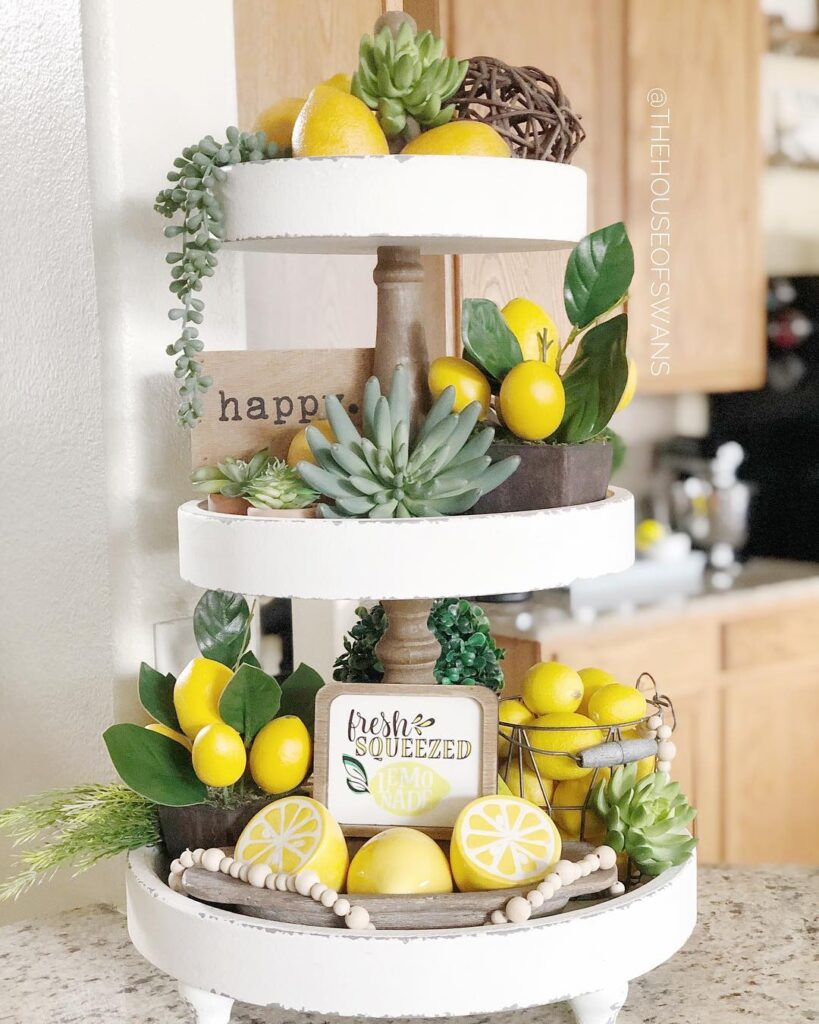 16. Watermelon Tiered Tray Decor – from Brandi Raae
15. Hello Summer Tiered Tray – from Instagram
14. Early Fall Apple Tiered Tray – from Cottage At The Crossroads
13. Memorial Day Centerpiece – from Priscillas
12. Beach Tiered Tray – from Instagram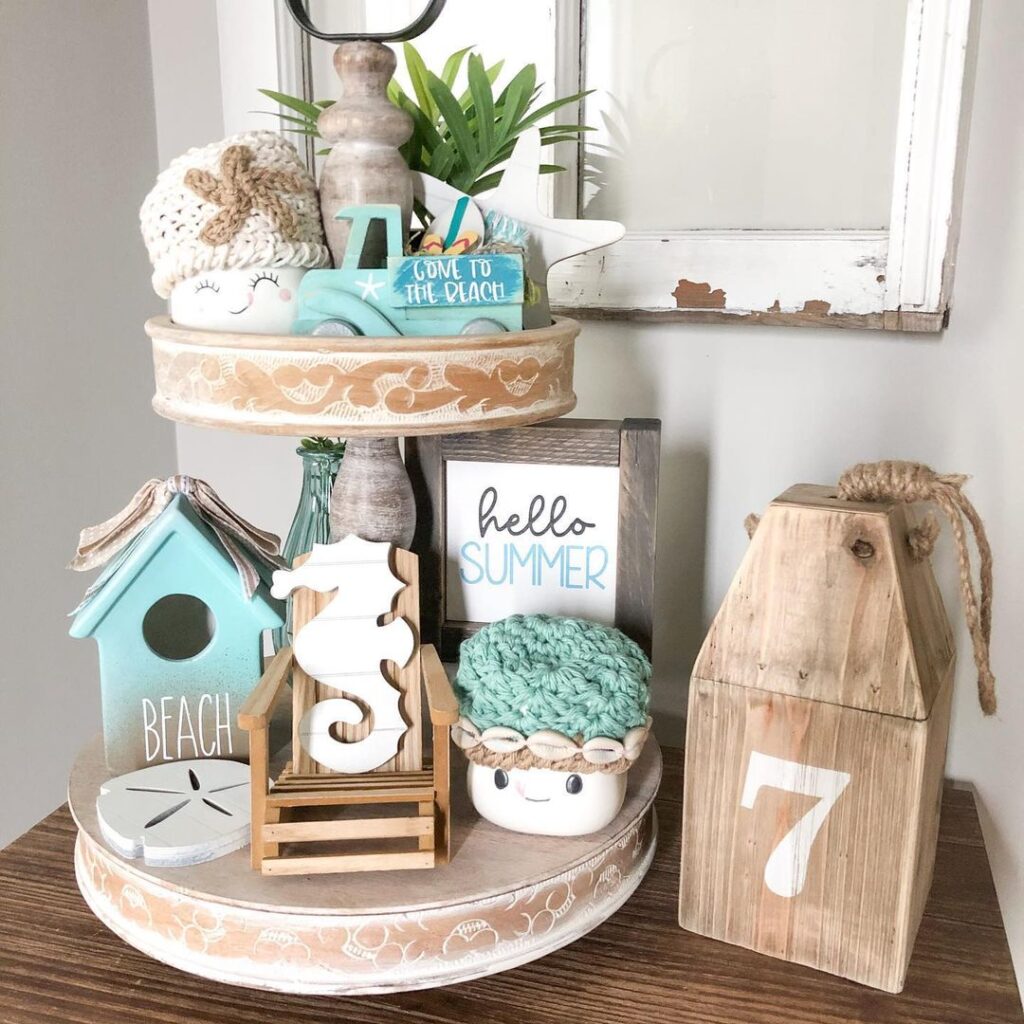 11. Bee-Inspired Tiered Tray – from Instagram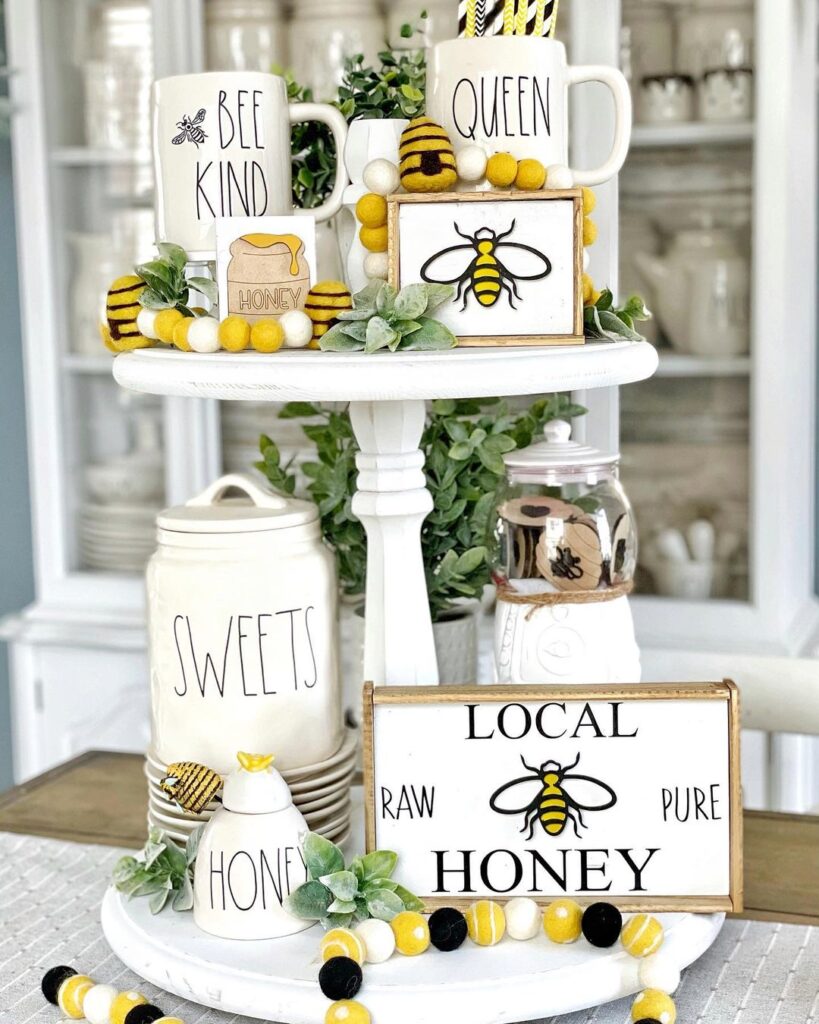 10. Beach Tiered Tray – from Dining Delight
9. Watermelon Tiered Tray – from Cottage At The Crossroads
8. Nautical Tiered Tray – from Dining Delight
7. Patriotic Tiered Tray – from Blogs By Aria
6. Bee Themed Tiered Tray Decor – from Dining Delight
5. Farmhouse Summer Tiered Tray – from Instagram
4. Watermelon Slice Tiered Tray – from Instagram
3. Farmhouse Galvanized Tiered Tray – from Twelve On Main
2. Sunflower & Bee Tiered Tray – from Mandap And Projects
1. Lemon Mini Tiered Tray – from Sincerely Babette
Now comes the important question… Which summer tiered tray decor do you like the most? Please let me know in the comments.
Few more Summer decorations !!!
Want to save this for later? Post these Summer Tiered Tray Decor to the "Summer Decorations" OR "DIY Summer Decor" Board!