Indulge in these easy picnic snacks. From savory picnic finger foods to sweet picnic treats, discover mouthwatering picnic recipes to elevate your picnic experience. Get inspired and create memorable moments with loved ones amidst nature's beauty.
There's something magical about enjoying a picnic amidst nature's embrace.
And no picnic is complete without an array of scrumptious snacks to tantalize your taste buds.
In this blog, we'll explore a selection of mouthwatering picnic snack ideas that are easy to pack, transport, and enjoy in the great outdoors.
From refreshing fruit skewers and savory wraps to delectable homemade treats, we'll help you create a picnic spread that's bursting with flavor and perfect for sharing with family and friends.
So, grab your picnic blanket and join us on a culinary adventure as we uncover the secrets to crafting unforgettable and delicious outdoor dining experiences.
13 Tips To Make-ahead Picnic Snacks that Stay Fresh All Day
When it comes to picnics, one of the biggest concerns is keeping the food fresh throughout the day.
Nobody wants to bite into a soggy sandwich or spoil the fun with spoiled snacks.
With some careful planning and the right strategies, you can enjoy a delicious and fresh picnic spread without any worries.
In this article, I will share tips to help you prepare make-ahead picnic snacks that will stay fresh and tasty all day long.
Tip 1: Choose Snacks with Good Shelf Life
To ensure your picnic snacks stay fresh, it's important to select items with a good shelf life.
Opt for foods like nuts, trail mix, granola bars, and dried fruits.
These snacks are less likely to spoil quickly and can withstand higher temperatures.
Tip 2: Opt for Non-Perishable Ingredients
When preparing make-ahead picnic snacks, choose ingredients that are non-perishable.
Canned tuna, canned beans, and cured meats like salami or pepperoni are excellent options.
They provide protein and flavor without the risk of spoilage.
Tip 3: Pack Individual Portions
Instead of bringing a large container of a particular snack, divide it into individual portions.
This helps in two ways: it ensures that everyone gets a fair share, and it reduces the chances of contamination or spoilage.
Use resealable bags or small containers for easy distribution.
Tip 4: Use Airtight Containers
Invest in high-quality airtight containers to store your make-ahead picnic snacks.
These containers prevent air and moisture from entering, which helps maintain the freshness of the food.
Additionally, they prevent any odors from mixing, ensuring each snack retains its distinct flavor.
Tip 5: Keep Temperature in Mind
Food safety is paramount, especially during outdoor activities like picnics.
Keep the temperature in mind and pack perishable snacks like sandwiches, salads, or yogurt with ice packs or in a cooler bag to maintain a cool temperature.
This prevents bacterial growth and ensures the food stays safe to eat.
Tip 6: Incorporate Fresh Fruits and Vegetables
Fresh fruits and vegetables are not only healthy but also make excellent make-ahead picnic snacks.
Pack bite-sized portions of sliced cucumbers, cherry tomatoes, carrot sticks, or celery.
You can also create fruit skewers or prepare a fruit salad for a refreshing and nutritious option.
Tip 7: Prepare Dips and Spreads Separately
When packing dips or spreads like hummus, guacamole, or salsa, it's best to store them in separate containers.
This prevents them from making other snacks soggy or losing their freshness.
Carry them in small, leak-proof containers and serve them alongside the main snacks.
Tip 8: Include Protein-Packed Options
Protein-packed snacks provide sustenance and keep you energized during the picnic.
Prepare make-ahead options like hard-boiled eggs, grilled chicken skewers, or mini quiches.
These snacks not only taste great but also help satisfy hunger pangs.
Tip 9: Embrace Make-Ahead Sandwiches
Sandwiches are classic picnic fare, but they can become soggy if prepared too far in advance.
To avoid this, pack the ingredients separately and assemble the sandwiches just before serving.
This way, you'll have fresh and delicious sandwiches with all the fillings intact.
Tip 10: Don't Forget About Salads
Salads are versatile picnic snacks that can be made ahead of time.
Prepare salads like pasta salad, couscous salad, or quinoa salad a day before the picnic.
Keep the dressing separate and toss it just before serving to ensure a crisp and flavorful salad.
Tip 11: Pack Crunchy and Savory Snacks
Crunchy and savory snacks add texture and variety to your picnic spread.
Consider including options like homemade popcorn, pita chips, or vegetable crisps.
These snacks are easy to make ahead and provide a satisfying crunch.
Tip 12: Consider Sweet Treats
No picnic is complete without some sweet treats.
Make-ahead options like cookies, brownies, or fruit muffins are perfect for satisfying your sweet tooth.
Pack them in airtight containers to maintain their freshness and enjoy them throughout the day.
Tip 13: Hydration is Key
Staying hydrated during a picnic is essential, especially on hot days.
Don't forget to pack plenty of water, along with refreshing beverages like homemade iced tea or infused water.
Fill a large container with ice cubes to keep the drinks cool.
Must Try Picnic Snacks
" Affiliate links are provided for your convenience, please read my disclosure for more information."
21. Focaccia Sandwiches – Taste Of Home
20. 5-Ingredient Granola Bars – Minimalist Baker
19. Chick Pea & Roasted Pepper Dip – Skinny Taste
18. Fruit Wrap – Natural Beach Loving
17. Mini Quiche In Wonton Wrappers – Laughing Spatula
16. Crustless Jalapeño Mini Quiches – The Girl On Bloor
15. Mini Quiche Lorraine – Real House Moms
14. Tuna Pasta Salad – Feast For A Fraction
13. Tuna Egg Salad – Easy Low Carb
12. Million Dollar Chicken Salad – Easy Family Recipes
11. Creamy Chicken Salad Bites – Olga's Flavor Factory
10.  Caprese Kabobs with Balsamic Glaze – Hip Foodie Mom
9. Caprese Skewers – Mama Loves Food
8. Mini Tortellini Kabobs – Bellyfull
7. Tortellini Skewers – The Schmidty Wife
6. Antipasto Skewers – A Southern Soul
5. Muffuletta Summer Sandwich – Create Kids Club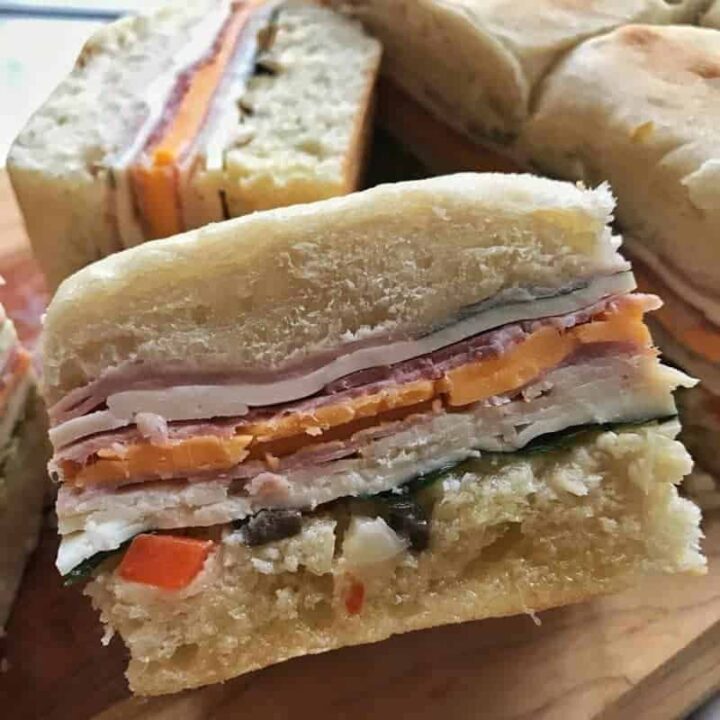 4. Italian Pressed Picnic Sandwich – The Schmidty wife
3. Lemonade Fruit Salad – Big Bears Wife
2. Creamy Fruit Salad – The Recipe Rebel
1. Pudding Fruit Salad – Princess Pinky Girl
FAQs
Q. Can I freeze some of the make-ahead snacks?
Yes, certain snacks like cookies or muffins can be frozen ahead of time. Just ensure they are properly wrapped and stored in airtight containers or freezer bags.
Q. How can I keep the drinks cool during the picnic?
To keep drinks cool, use insulated bottles or containers and pack them with ice cubes. You can also freeze some of the beverages in advance and let them gradually thaw during the picnic.
Q. Can I pack mayonnaise-based salads for a picnic?
It's generally not recommended to pack mayonnaise-based salads for a picnic, as they can spoil quickly in warm temperatures. However, if you want to include them, make sure to keep them in a cooler with ice packs and consume them within a couple of hours.
Q. Are there any vegetarian or vegan options for make-ahead picnic snacks?
Absolutely! You can create delicious vegetarian or vegan make-ahead picnic snacks by incorporating ingredients like roasted vegetables, tofu, chickpeas, quinoa, or plant-based proteins. Explore recipes and get creative with your plant-based options.
Q. How can I prevent fruits from browning during a picnic?
To prevent fruits like apples, pears, or bananas from browning, you can toss them with a little lemon or lime juice before packing them. Citric acid acts as a natural preservative and helps maintain the fruit's color and freshness.
Now comes the important question… Which picnic snacks do you like the most? Please let me know in the comments.
Few more picnic recipes!!!
Want to save this for later? Post these Picnic Snacks to the "Picnic Recipes" OR "Picnic Food Ideas" Board!