Get ready to sip on the taste of Thanksgiving with my Spiced Cranberry Punch – a delightful, fruity, and spiced-up cocktail that's perfect for your holiday celebrations!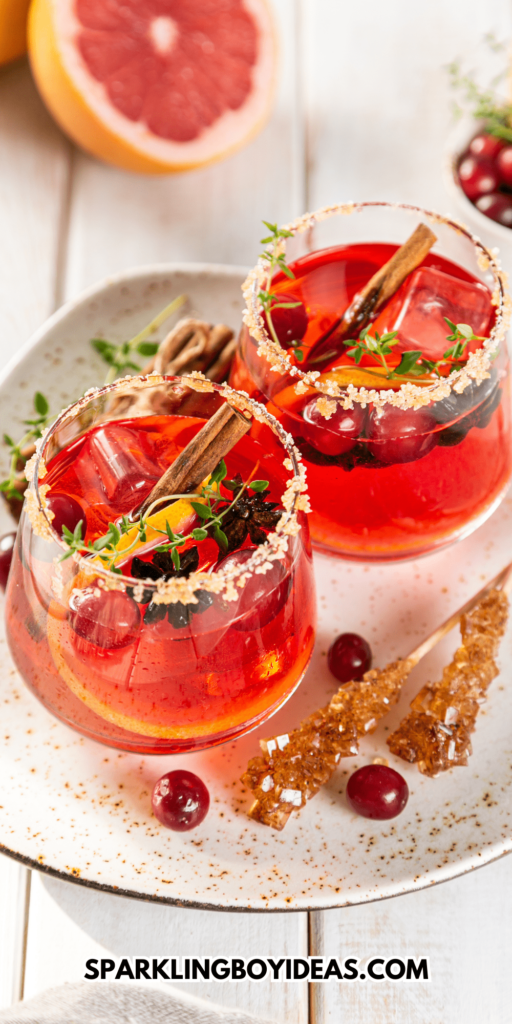 Why I Love This Recipe
I absolutely adore this Thanksgiving Cocktail because it's like a burst of holiday cheer in a glass.
Imagine sipping a drink that's sweet, a little tangy, and has that warm, cozy feeling of cinnamon.
It's like a cozy blanket for your taste buds, and it brings everyone together with its beautiful colors and incredible taste.
Plus, it's super easy to make, so you can spend more time with your loved ones and less time in the kitchen. Cheers to that!
Why You'll Love This Recipe
▪️ Flavor Explosion: The combination of cranberry, cinnamon, and grapefruit creates a burst of seasonal flavors in every sip.
▪️ Easy Preparation: You don't need to be a mixologist to whip up this cocktail. It's incredibly simple and quick to make.
▪️ Crowd Pleaser: Your guests will love the unique twist on a classic cranberry cocktail, and it's suitable for all ages.
▪️ Festive Presentation: The deep red hue and citrus garnishes make it visually appealing, and perfect for your Thanksgiving table.
Helpful Kitchen Tools
Ingredients
▪️ 2 cups cranberry juice: for that tart and vibrant cranberry flavor.
▪️ 1 cup grapefruit juice: to add a zesty twist.
▪️ 1/2 cup orange juice: for a touch of citrusy sweetness.
▪️ 1/4 cup lemon juice: to balance the flavors with some tang.
▪️ 1/4 cup simple syrup: to sweeten things up.
▪️ 1 cinnamon stick: to infuse that cozy, warm cinnamon aroma.
▪️ Fresh cranberries and grapefruit slices: for a festive garnish.
▪️ Ice cubes: to keep your punch refreshingly cold.
Making Of Spiced Cranberry Punch
STEP 1: Start by making a special syrup that's going to add a cozy cinnamon hug to our punch. Just take that cinnamon stick and let it hang out in the simple syrup on low heat for about 5 minutes. It's like a flavor infusion spa day for the syrup.
STEP 2: In a big bowl or pitcher, mix together cranberry, grapefruit, orange, and lemon juices. Imagine the rainbow of colors blending together, creating a burst of flavors like a symphony in a glass.
STEP 3: Take out the cinnamon stick from your syrup—it's done its job. Pour the syrup into your juice mixture. It's like adding a warm, comforting blanket to the mix.
STEP 4: Pop the bowl or pitcher into the fridge for at least an hour. Let it get super cold, like a polar bear's ice bath. This makes the flavors meld and the punch tastes extra refreshing.
STEP 5: When it's time to serve, get your fancy glasses (or any glass will do) and fill them with ice cubes. Ice is like a little party for your drink, keeping it cool and refreshing.
STEP 6: Pour the punch over the ice, and don't forget to invite the cranberries and grapefruit slices to the party. They add a burst of color and extra zing to your glass.
STEP 7: Give your punch a little swirl with a spoon. It's like mixing up a magic potion to ensure every sip is packed with flavor.
STEP 8: Now, the best part—sip and savor your creation! Picture yourself at a Thanksgiving feast, surrounded by loved ones, and enjoy the delightful taste of this Thanksgiving Cocktail.
Kitchen Tip: To make this recipe even easier, you can use store-bought simple syrup and skip the cinnamon infusion step.
Tips and Techniques
▪️ If you prefer a stronger cinnamon flavor, you can leave the cinnamon stick in the syrup for a longer time.
▪️ Use freshly squeezed citrus juices for the best taste.
▪️ Make a non-alcoholic version by omitting any spirits and adding a splash of sparkling water for fizz.
Serving Size
This Thanksgiving Cocktail recipe makes enough for about 4 to 6 people. So, you can serve it to a small group of friends or family without worrying about running out too quickly. Enjoy!
Serving Suggestions
▪️ Enjoy it before your Thanksgiving meal as a refreshing drink.
▪️ Pair it with a cheese and snack platter for appetizers.
▪️ Get creative with garnishes like rosemary sprigs or orange twists.
▪️ Serve it in tall glasses with plenty of ice for that extra chill factor.
Variations
▪️ For an adult twist, add 1 cup of vodka or rum to the punch.
▪️ Experiment with different fruit juices like pomegranate or apple for unique flavors.
▪️ Swap the cinnamon for a dash of nutmeg or ginger for a seasonal twist.
Storage Tips
If you have any leftover punch, pop it in an airtight container and keep it in the fridge. It'll stay tasty for up to 2 days, but remember to take out that cinnamon stick before storing it. When you're ready for another glass, just add some ice and garnishes, and you're good to go!
FAQs
Q. Can I make this punch in advance?
Absolutely! Prepare the punch and store it in the refrigerator for up to 24 hours before serving. Just add ice and garnishes when ready.
Q. Can I use cranberry cocktail juice instead of cranberry juice?
While cranberry cocktail juice can be used, pure cranberry juice offers a more intense, natural flavor.
Q. Is there a non-alcoholic substitute for simple syrup?
You can use honey or agave syrup as a non-alcoholic alternative to simple syrup.
Q. Can I make a big batch for a larger gathering?
Certainly! Simply double or triple the ingredients to accommodate more guests.
Print Recipe
Spiced Cranberry Punch
Prepare to enjoy the Thanksgiving spirit in a glass with my Spiced Cranberry Punch—a delightful, fruity, and spiced cocktail, ideal for your holiday festivities!
Ingredients
2

cups

cranberry juice

1

cup

grapefruit juice

½

cup

orange juice

¼

cup

lemon juice

¼

cup

simple syrup

1

cinnamon stick

Fresh cranberries and grapefruit slices for garnish

Ice cubes
Instructions
Infuse the syrup with cinnamon by heating them together in a saucepan for 5 minutes. Let it cool.

Mix cranberry, grapefruit, orange, and lemon juices in a large pitcher or punch bowl.

Remove the cinnamon stick from the syrup and add it to the juice mixture.

Stir well and chill in the fridge for at least 1 hour for an ice-cold punch.

When serving, fill tall glasses with ice, pour the punch, garnish with cranberries and grapefruit, and give it a gentle stir.

Enjoy this delightful Spiced Cranberry Punch with your loved ones!
Notes
For a stronger cinnamon flavor, let the cinnamon stick sit in the syrup for a longer time.
Use freshly squeezed citrus juices for the best taste.
To simplify, you can use store-bought simple syrup.
For a non-alcoholic version, omit any spirits and add a splash of sparkling water for fizz.