Apple Cider Sangria combines the rich flavors of apple cider, fresh fruits, warm spices, and a touch of sweetness to create a beverage that's perfect for cozy evenings by the fireplace or gatherings with loved ones.
Why I Love This Recipe
Warm Apple Sangria is more than just a drink; it's a celebration of the season's abundance.
The harmonious mix of apple cider, real fruit, and aromatic spices creates a delightful melody of flavors that dance on your palate.
And let's not forget the comforting warmth that makes it perfect for those chilly nights.
But the real magic lies in the endless possibilities to customize it with your choice of fruits and spices, making it uniquely yours.
Cheers to creativity in every sip!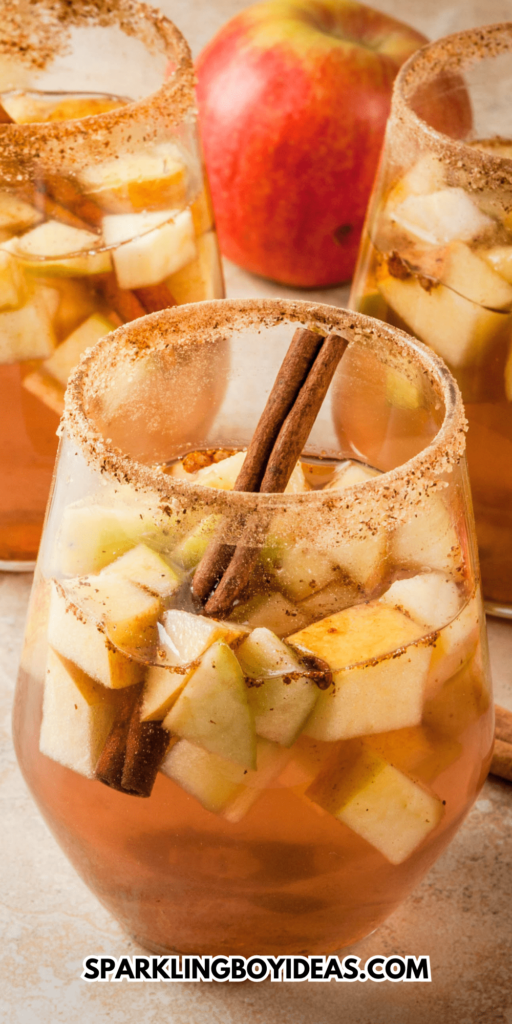 Why You'll Love This Recipe
▪️ Flavorful Harmony: Enjoy a delightful blend of apple cider, fresh apples, and zesty oranges in this cozy sangria.
▪️ Spices Galore: With aromatic spices like cinnamon, cloves, and star anise, it's like sipping on a warm, fragrant hug.
▪️ Effortless Elegance: Look like a pro without the hassle—this sangria is simple to whip up and adds a touch of class to any gathering.
▪️ Your Way, Always: Tweak the sweetness, mix in your favorite fruits, or go for white wine for your unique twist.
▪️ Season's Greetings in a Glass: Each sip transports you to the changing leaves and cozy firesides of autumn and winter.
Helpful Kitchen Tools
Ingredients
▪️ Red Wine (1 bottle, 750ml): A medium-bodied red wine, like Merlot or Cabernet Sauvignon, for depth and fruity notes.
▪️ Apple Cider (4 cups): Fresh and unfiltered apple cider, the heart of the drink, adding sweet, fruity essence.
▪️ Apples (2, thinly sliced): Crisp and tart apples for a juicy crunch and natural sweetness.
▪️ Orange (1, sliced): Zesty orange slices for a citrusy balance.
▪️ Cinnamon Stick (1): Aromatic spice for warmth and coziness.
▪️ Cloves (4-6 whole): Little spices for a gentle spicy kick.
▪️ Star Anise (1-2): Distinct star anise for a unique touch and fragrance.
▪️ Brown Sugar (2-4 tablespoons): Just enough brown sugar for sweetness and flavor harmony.
▪️ Brandy or Rum (optional): A splash for warmth and richness, if you're feeling adventurous.
Making Of Apple Cider Sangria
STEP 1: Grab a trusty pot and pour in some apple cider. Slice up crisp apples and add in some orange slices. Drop in a cinnamon stick, cloves, and star anise.
STEP 2: Place your pot on the stove and let the mixture start to simmer. The delightful scent of apples, spices, and warmth will fill your kitchen, creating a fragrant haven.
STEP 3: Pour in a bottle of red wine, something velvety like Merlot or Cabernet Sauvignon. Give it a gentle stir, and watch the flavors blend harmoniously.
STEP 4: Sprinkle in some brown sugar. How much? Well, let your sweet tooth guide you. Start with a couple of spoonfuls and stir until the sugar joins the mix.
STEP 5: Keep your pot on low heat and let the magic unfold. The flavors mix and deepen, making your kitchen cozier than ever.
STEP 6: Your Warm Apple Sangria is all warmed up. Feeling adventurous? Add a splash of brandy or rum – a secret wink to elevate your creation. Stir it in and let the warmth embrace you.
STEP 7: Ladle that aromatic mixture into cherished mugs or glasses. See those apple slices floating? They dance joyfully just for you. Top it off with a cinnamon stick and an orange slice.
Tips and Techniques
▪️ Choose a red wine you enjoy; its flavor matters and drier options provide more strength.
▪️ Add brown sugar gradually, adjusting to your preferred level of sweetness.
▪️ Warm sangria slowly; avoid boiling to preserve its flavors.
▪️ Enhance with brandy or rum for extra warmth, stirring gently.
▪️ Get creative with spices like nutmeg or allspice for a unique twist. Your kitchen, your rules!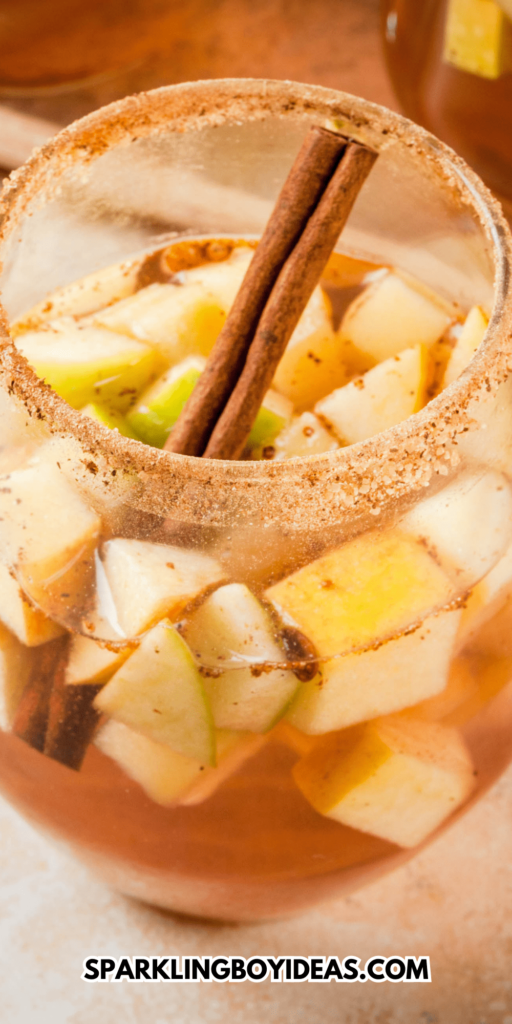 Serving Size
This heartwarming Warm Apple Sangria recipe makes enough to share joy with about 6 to 8 of your favorite people. So gather around the table, clink your mugs, and enjoy the cozy flavors of the season together!
Serving Suggestions
▪️ Roasted almonds or walnuts add a satisfying crunch that pairs well with sangria's warmth.
▪️ Create a cheese platter with cheddar and brie for a rich contrast to the fruity sangria.
▪️ Mini sandwiches, warm bread with honey butter, or a charcuterie board with cured meats are excellent choices.
▪️ Butternut squash, lentil stew, or chicken noodle soup make for a heartier sangria pairing.
Variations
▪️ Try juicy pear slices with warm spices and a pinch of ginger for extra warmth.
▪️ Elevate your sangria with rich, velvety maple syrup for added depth and flavor.
▪️ Infuse your sangria with fresh rosemary or thyme for a unique garden-inspired twist.
Storage Tips
When storing your homemade sangria, follow these steps: Firstly, let it cool to room temperature to prevent condensation. Use an airtight container to seal in flavors. Refrigerate within two hours of making it and label it with the date. Aim to enjoy it within 2-3 days, gently reheating if needed, and adding fresh garnishes for that fresh taste. For non-alcoholic sangria, consume within a day or two for the best flavor. Cheers to your refreshing homemade sangria!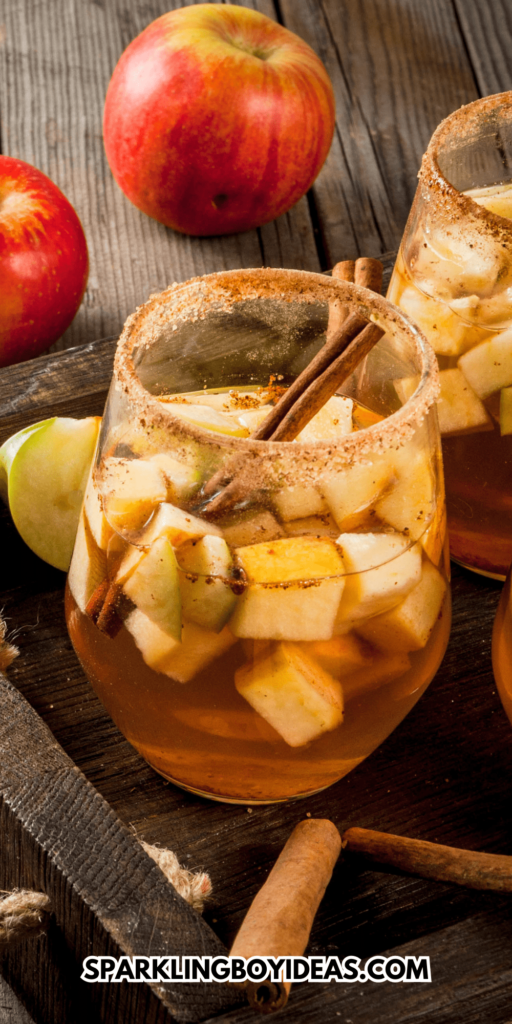 FAQs
Q. Can I make this recipe ahead of time?
Absolutely! Prepare the sangria up to the point of adding the wine. Let the simmered cider mixture cool, then refrigerate. When ready to serve, gently reheat the mixture and add the wine.
Q. Can I use white wine instead of red?
While this recipe specifically calls for red wine, you can certainly experiment with white wine for a lighter and slightly different flavor profile. Keep in mind that the spices might interact differently with the white wine.
Q. Can I use frozen fruit?
Fresh fruit is recommended for optimal flavor and texture. However, if you're in a pinch, you can use frozen apple slices and orange segments. Thaw and drain them before adding to the sangria.
Q. What's the best way to store leftovers?
If you have any leftover sangria, refrigerate it in an airtight container. To reheat, gently warm it on the stovetop, avoiding boiling.
Q. Is it kid-friendly?
The alcohol in the red wine does not completely evaporate during the heating process. If you're serving this to children, consider making a non-alcoholic version by using additional apple cider and omitting the spirits.
Print Recipe
Apple Cider Sangria
Embrace the cozy charm of autumn with Warm Apple Cider Sangria. This delightful blend of apple cider, red wine, and aromatic spices is a heartwarming sip of seasonal comfort.
Ingredients
1

bottle (750ml)

red wine

4

cups

apple cider

2

apples

thinly sliced

1

orange

sliced

1

cinnamon stick

4-6

whole cloves

1-2

star anise

2-4

tablespoons

brown sugar

Brandy or rum

optional
Instructions
Combine apple cider, sliced apples, orange slices, cinnamon stick, cloves, and star anise in a large pot. Simmer for 15-20 minutes.

Pour in red wine, stir gently. Add brown sugar to taste, dissolve.

Heat over low for 10-15 minutes, add brandy/rum if desired.

Remove from heat, ladle into mugs. Garnish with cinnamon sticks and orange slices. Enjoy!
Notes
Use a wine you enjoy since its flavor affects the sangria.
Adjust sweetness by adding more or less brown sugar.
For a non-alcoholic version, omit wine and use extra cider.
Experiment with spices like nutmeg or allspice for a personal touch.