This Cranberry Apple Sangria is a fuss-free, fruity delight that's perfect for gatherings. A mix of red wine, cranberry, apples, and a touch of rosemary – simple, refreshing, and utterly delicious!
Why I Love This Recipe
I love this Cranberry Apple Sangria recipe because it's a joyful burst of flavors.
It combines the sweetness of apples with the tangy cranberries, complemented by the earthy scent of rosemary.
It's a celebration in a glass, and the best part is how simple it is to prepare.
You can make it ahead of time, giving you more quality moments with loved ones.
If you want a delicious and impressive drink without any fuss, this recipe is a winner!
Why You'll Love This Recipe
▪️ Effortless Elegance: This sangria is incredibly easy to make but looks like it's straight out of a fancy cocktail bar.
▪️ Versatility: Perfect for both intimate gatherings and large parties, it's a crowd-pleaser.
▪️ Seasonal Delight: The combination of cranberries and apples makes it an ideal choice for fall and winter gatherings.
▪️ Make-Ahead: You can prepare it in advance, allowing you to enjoy more time with your guests.
Helpful Kitchen Tools
Ingredients
▪️ 1 bottle of red wine (750 ml): It provides the rich, fruity base for our sangria.
▪️ 1 cup cranberry juice: Adds a tangy kick to balance the sweetness.
▪️ 1/2 cup orange liqueur: Gives a citrusy twist and depth of flavor.
▪️ 1/4 cup brandy: Adds a warming touch to the sangria.
▪️ 2 apples, sliced: Crisp and sweet, they soak up the flavors and add a juicy crunch.
▪️ 1 cup fresh cranberries: These little gems burst with tartness and vibrant color.
▪️ 2-3 sprigs of fresh rosemary: Infuses a lovely earthy aroma into the mix.
▪️ 1-2 tablespoons honey: For a touch of sweetness, adjust to your taste.
Making Of Cranberry Apple Sangria
STEP 1: Grab a big pitcher and pour in your favorite fruity red wine, about a regular bottle's worth (750 ml). Now, add cranberry juice, orange liqueur (like Triple Sec or Cointreau), and some brandy. Give it all a gentle mix using a wooden spoon.
STEP 2: Next, bring in the stars of the show – your apples, cranberries, and rosemary. Slice up a couple of sweet apples like Gala or Honeycrisp, and toss them into the pitcher. Then, throw in a handful of fresh cranberries for that tangy pop. To make it smell as good as it tastes, add a few sprigs of fresh rosemary.
STEP 3: Drizzle in some honey – as much as you like, really. If you're a fan of sweeter drinks, go for more honey. Give it all one last gentle stir. Your sangria is taking shape and getting ready to party!
STEP 4: Put a lid on that pitcher and give it a cozy spot in your fridge. Let it hang out in there for at least 4 hours – but if you can wait overnight, it's even better. This chill time lets all the flavors cozy up together, like friends around a bonfire.
STEP 5: When it's time to serve, get your glasses ready with ice. Pour that chilled sangria into each glass, and don't forget to add some of those delicious fruit slices from the pitcher. It's like a fruity surprise in every sip.
Tips and Techniques
▪️ Make sure everything you're using is cold, like keeping the wine and cranberry juice in the fridge.
▪️ Fresh rosemary smells great; if you don't have it, use just a little dried rosemary.
▪️ Taste it before serving and add more honey if you want it sweeter.
▪️ Feel free to try different fruits, like oranges or pomegranate seeds, to make it your own.
Serving Size
This recipe will fill about 6 to 8 glasses, depending on how big your glasses are. So, there's plenty to share with friends and family, or you can savor it over a few relaxing moments for yourself. Enjoy!
Serving Suggestions
▪️ Pair it with a cheese platter for an elegant appetizer.
▪️ Serve alongside a hearty roast dinner for a festive touch.
▪️ Enjoy it on its own as a refreshing aperitif.
Variations
▪️ For a non-alcoholic version, replace the red wine with sparkling grape juice.
▪️ Experiment with different fruits like sliced pears or blackberries.
▪️ Try white wine instead of red for a lighter, crisper sangria.
Storage Tips
Pop it in the fridge in a covered container. It can stay fresh and tasty for about 2-3 days, but let's be honest, it's so delicious that it probably won't last that long! Just remember, the longer it chills, the better the flavors mix and mingle, making it even more delightful for your next sip.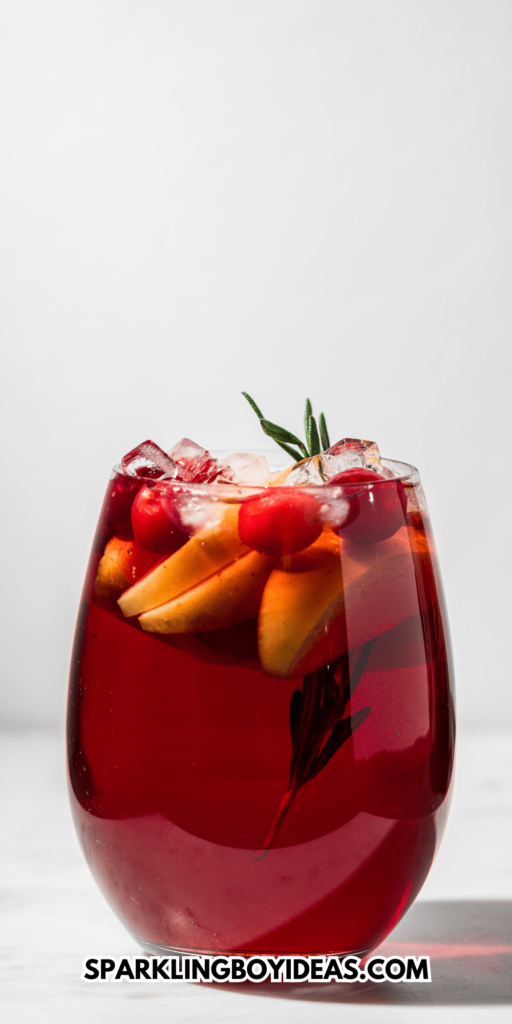 FAQs
Q. Can I use frozen cranberries instead of fresh?
Yes, you can. Just make sure to thaw and drain them before adding to the sangria.
Q. Can I substitute another herb for rosemary?
While rosemary complements the flavors beautifully, you can experiment with thyme or basil for a unique twist.
Q. Can I make it sweeter without honey?
Absolutely! Try adding a bit of maple syrup or agave nectar to sweeten it to your liking.
Q. How far in advance can I prepare this sangria?
You can prepare it up to 24 hours in advance for the best flavor. The longer it chills, the more the flavors meld together.
Print Recipe
Cranberry Apple Sangria
Enjoy a fuss-free and refreshing Cranberry Apple Sangria, a delightful blend of red wine, cranberries, apples, and a hint of rosemary, perfect for gatherings.
Ingredients
1

bottle of red wine

750 ml

1

cup

cranberry juice

½

cup

orange liqueur

Triple Sec or Cointreau

¼

cup

brandy

2

apples

sliced

1

cup

fresh cranberries

2-3

sprigs of fresh rosemary

1-2

tablespoons

honey

adjust to taste
Instructions
In a large pitcher, combine red wine, cranberry juice, orange liqueur, and brandy. Stir gently.

Add sliced apples, fresh cranberries, and rosemary sprigs to the pitcher. Stir gently.

Drizzle in honey to sweeten to taste, and stir once more.

Cover the pitcher and refrigerate for at least 4 hours or overnight for best flavor.

Serve in wine glasses with ice, including some fruit slices from the pitcher.
Notes
Ensure all ingredients are chilled before mixing.
Use fresh rosemary for the best aroma; dried rosemary can be used sparingly as an alternative.
Taste before serving and adjust sweetness with honey if needed.
Feel free to experiment with other fruits like oranges or pomegranate seeds.
Leftovers can be stored in the fridge for 2-3 days, and the sangria's flavor improves with time.