Looking for unique Christmas Centerpieces? Christmas is the time of year when everyone is looking for Christmas centerpiece ideas and to add a touch of beauty to their home. These are the most common holiday centerpieces that will fit in any decor, from the modern to the traditional to rustic or even minimalist-inspired.
Christmas centerpieces are a beautiful and festive addition to any holiday table setting.
They add warmth and cheer to any space and can be customized to fit any style or theme.
From classic red and green to modern and minimalist, there are countless options to choose from when it comes to creating the perfect centerpiece for your holiday celebration.
One popular style is the traditional red and green theme, with elements such as pine cones, holly, and red berries.
A glass vase filled with red and white candy canes adds a sweet touch, while a bowl of fresh cranberries adds a pop of color.
Adding a few sprigs of fresh evergreen or a small Christmas tree adds a festive touch.
Another option is a rustic-themed centerpiece, using natural elements such as pine branches, twigs, and pine cones.
A burlap runner or small tree skirt adds texture, and adding small candles or battery-operated fairy lights adds a warm and cozy ambiance.
For a more modern and minimalist approach, a simple vase filled with white and silver ornaments and silver and white candles creates a sleek and elegant look.
Adding a few sprigs of rosemary or eucalyptus adds a festive scent and a pop of green.
A DIY centerpiece is a fun and creative option, allowing you to personalize and add your touch to the design.
Fill a large glass jar with ornaments, baubles, and small presents, and add a strand of fairy lights for a whimsical and playful look.
No matter the style, a Christmas centerpiece adds a festive touch to any holiday table setting.
It brings warmth and cheer to any space and creates a welcoming atmosphere for friends and family to gather and celebrate the season.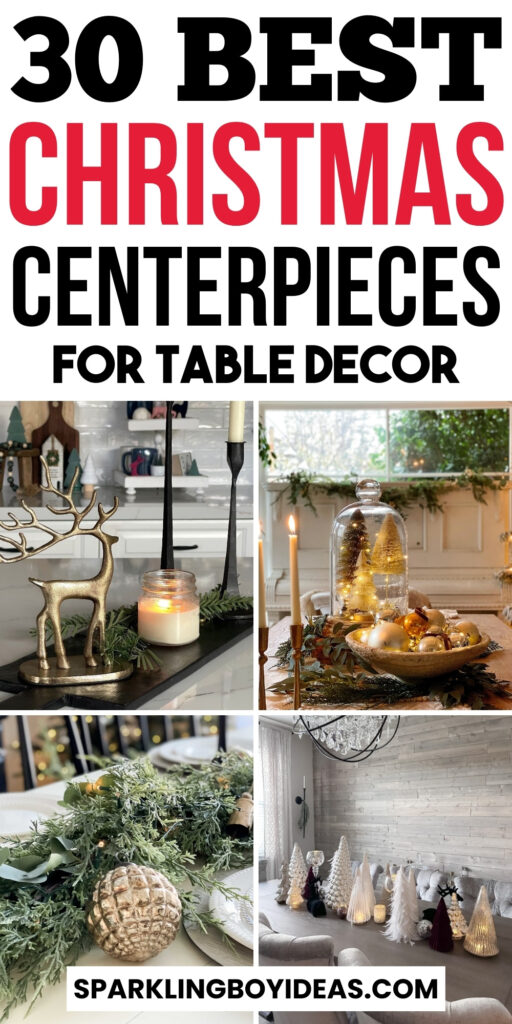 Stunning Christmas Centerpieces
" Affiliate links are provided for your convenience, please read my disclosure for more information."
30. Large Christmas Bells Centerpiece – ashleymariesavage
29. Christmas Wood Centerpiece – hannashantverk
28. DIY Floating Candle Centerpiece – homewithrue
27. Fern And Ornaments Centerpiece – housepitalitydesigns
26. Christmas Ornament Centerpiece – thechristmasmarket_
25. Farmhouse Christmas Tree Table Centerpiece – decorsteals
24. Dough Bowl Glass Ornaments Centerpiece – houseofmurphy
23. Christmas Cloche Centerpiece – toni_marianna
22. Glass Ornaments Centerpiece – willowandlovehome
21. Mini Christmas Tree Centerpiece – _bella_blooms
20. Christmas Tree Inspired Centerpiece – motherthyme
19. Simple Reinder Centerpiece – decorsteals and gracefulhomeandhound
18. Bells & Ornaments Table Centerpiece – motherthyme
17. Pedestal and Cloche Centerpiece – toni_marianna
16. Christmas Tree Forest – apieceofmyhaven
15. Santa Sleigh Christmas Table Top
14. Snowball Hydrangea Triple Candelabrum
12. Flocked Snow Christmas Decoration
11. Pine Cones & Red Berries Centerpiece
10. Pine Cones & Red Berry Table Centerpiece
9. Vintage Red Truck Centerpiece
8. Hydrangea Holiday Candelabrum
6. Ornativity Christmas Candle Holder
5. Glittery-Gold Bow & Ornaments Centerpiece
4. Reindeer Tealight Candle Holders
3. Rustic Wood Folding Snowman
2. Buffalo Plaid Bowknot Faux Presents
1. Candle Holder With Rustic Wood Tray & Handles
Now comes the important question… Which DIY Christmas centerpieces do you like the most? Please let me know in the comments.
Few more Christmas decorations!!!
Want to save this for later? Post these Christmas Centerpieces to the "Christmas Centerpiece Ideas" OR "Holiday Denterpieces" Board!