This Bacon Wrapped Asparagus recipe is a true masterpiece, combining the crispy, smoky goodness of bacon with the fresh, tender crunch of asparagus. It's a flavor explosion that's incredibly easy to prepare, and I can't wait to share this culinary gem with you.
Why I Love This Recipe
I absolutely adore Bacon Wrapped Asparagus for many reasons.
Firstly, it's a quick and fuss-free dish that doesn't compromise on taste.
Whether I'm cooking up a weeknight dinner or hosting a gathering, it's always a hit.
The contrasting textures and flavors make each bite a little adventure for the taste buds.
Plus, it's a fantastic way to get some greens on the table without any complaints from picky eaters.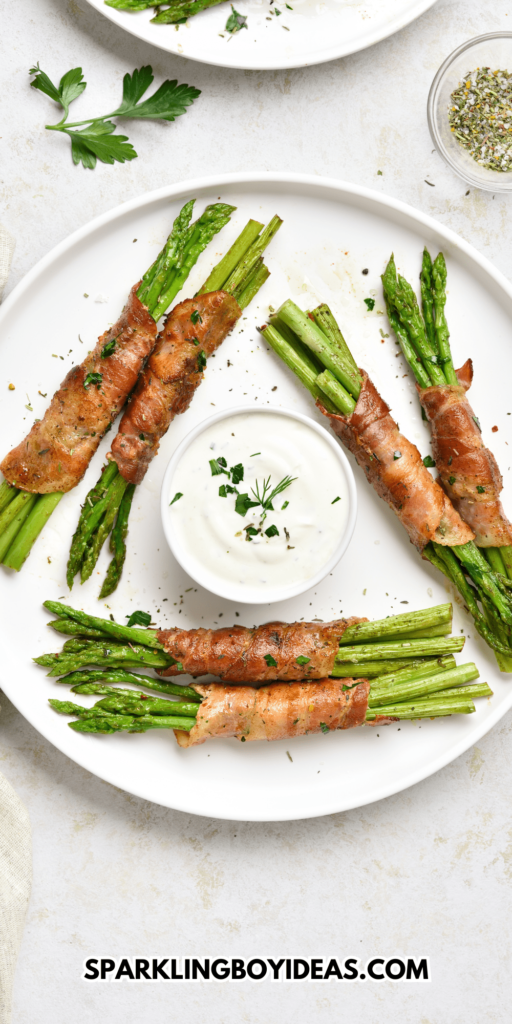 Why You'll Love This Recipe
▪️ Simplicity Reigns: With just a few common ingredients and straightforward steps, this recipe is a breeze even on your busiest evenings.
▪️ Time-Saving Delight: Perfect for those days when time is scarce, it's quick to prepare without sacrificing flavor.
▪️ Impress with Ease: Your family and guests will be in awe of your culinary prowess, making it a go-to choice for gatherings or family dinners.
Helpful Kitchen Tools
Tongs (for handling the bacon)
Ingredients
▪️ 1 bunch of fresh asparagus spears (about 1 pound): Fresh asparagus adds a vibrant and crisp element to the dish.
▪️ 6-8 slices of bacon (choose your favorite type): Bacon provides that irresistible smoky flavor and crunch we all love.
▪️ Olive oil (for drizzling): A touch of olive oil enhances the richness and helps with roasting.
▪️ Salt and pepper (to taste): Salt and pepper are the trusty seasonings that bring out the flavors in this recipe.
Making Of Bacon Wrapped Asparagus
STEP 1: First things first, preheat your oven to 400°F (200°C). It's like warming up before a big game – the oven needs to be ready to work its magic.
STEP 2: Take your fresh asparagus and give it a quick wash under the tap. We don't want any dirt or grit making its way to your plate. After that, chop off the woody ends. Pat them dry with a paper towel.
STEP 3: This part is fun. Take a few asparagus spears, maybe 4 or 5, and gently wrap them with a slice of bacon. Secure this bacon wrap with toothpicks. It's like making sure they stay close in the pan.
STEP 4: Place your bacon-wrapped asparagus on a baking sheet, but don't forget to cover it with foil to keep things clean. Drizzle a bit of olive oil on top, like you're giving them a little shower. Sprinkle some salt and pepper.
STEP 5: Put the baking sheet into your preheated oven and let the magic happen for 20-25 minutes. You'll know it's done when the bacon gets all crispy and the asparagus turns tender.
STEP 6: With your trusty tongs, gently move the bacon-wrapped asparagus onto a fancy plate. Don't forget to take out those toothpicks – we don't want any surprises at the dinner table.
Tips and Techniques
▪️ When wrapping the bacon around the asparagus, make sure it's a little bit overlapping. This helps the bacon cook evenly and stay put.
▪️ While baking, keep an eye on the bacon to prevent it from getting too crispy. We want it crispy but not burnt.
▪️ Use tongs to handle the bacon-wrapped asparagus when taking them out of the oven. It's a handy tool that makes the job easier and safer.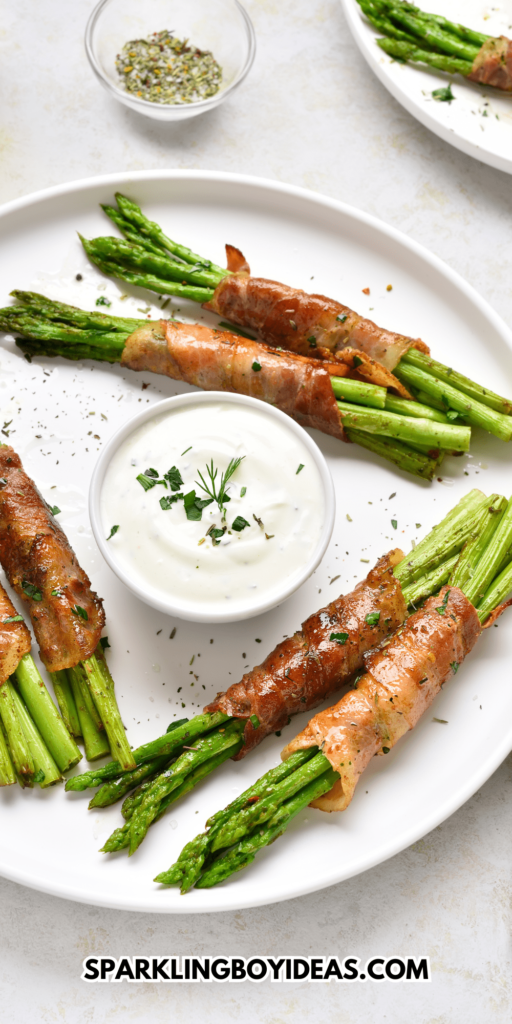 Serving Size
The recipe makes enough for 4 people to enjoy, whether it's a family dinner or a tasty side dish for a gathering. So, you'll have four good servings to savor!
Serving Suggestions
▪️ Serve it as a side with roasted chicken or steak.
▪️ Make it part of a brunch spread alongside scrambled eggs and fresh fruit.
▪️ Enjoy it as an appetizer at your next cocktail party.
Variations
▪️ Try different types of bacon for a unique flavor twist – smoked, maple, or even turkey bacon.
▪️ Add a sprinkle of grated Parmesan or a drizzle of balsamic glaze for extra flavor.
Storage Tips
Bacon Wrapped Asparagus is at its best when served fresh, straight from the oven. However, if you have leftovers, you can store them in an airtight container in the refrigerator for up to 2 days. Reheat them in the oven or a skillet for that crispiness we all love.
FAQs
Q. Can I use frozen asparagus?
Fresh asparagus is best, but you can use frozen if needed. Make sure to thaw and pat them dry before wrapping them with bacon.
Q. Can I make it in advance for a party?
While fresh is best, you can prepare it partially ahead. Store in the fridge, then bake just before your guests arrive for that fresh aroma and taste.
Print Recipe
Bacon Wrapped Asparagus
This Bacon Wrapped Asparagus is a flavorful masterpiece, uniting crispy bacon with tender asparagus. Easy to make, it's a culinary gem you'll adore.
Ingredients
1

bunch

fresh asparagus spears

about 1 pound

6-8

slices

of bacon

Olive oil

for drizzling

Salt and pepper

to taste
Instructions
Preheat your oven to 400°F (200°C).

Rinse the asparagus and trim the woody ends, then pat them dry.

Wrap 4-5 asparagus spears with a slice of bacon, securing with toothpicks.

Place them on a baking sheet lined with foil, drizzle with olive oil, and sprinkle with salt and pepper.

Bake for 20-25 minutes until bacon is crispy and asparagus is tender.

Remove toothpicks, transfer to a platter, and serve.
Notes
Overlap bacon slices when wrapping for even cooking.
For extra crispy bacon, broil for 1-2 minutes at the end.