Welcome to the world of air fryer dinner recipes, where convenience meets flavor in a blend of easy-to-prepare low-calorie air fryer meals that will transform your weeknight cooking routine.
Whether you're a seasoned home chef or just starting with your new air fryer, you'll find something to delight your palate and fit your schedule.
From the sizzling goodness of air fryer chicken recipes to the quick and healthy magic of vegan air fryer recipes, there's an endless variety of meals you can whip up.
And for those who love the ocean's bounty, air fryer seafood recipes offer a quick voyage to culinary bliss.
With easy air fryer recipes and some simple ingredients, you can serve up dishes that rival the flavors of professional kitchens, proving that the air fryer is not just a kitchen gadget but a gateway to an ever-expanding universe of delectable air fryer meals.
So, let's dive into this adventure and turn those air fryer recipes into your new family favorites.
Easy Air Fryer Dinner Recipes For Beginners
" Affiliate links provided for your convenience, please read my disclosure for more information."
Air Fryer Vegetarian Recipes
Immerse yourself in the delectable world of these Air Fryer Smoky Sweet Vegetable Fajitas by Happy Veggie Kitchen.
With portobello mushrooms, peppers, and onions in a tantalizing smoky sweet chili sauce, these fajitas make for a hearty meatless dinner.
Whether you're a vegetarian or a vegan, the choice of toppings lets you customize this culinary masterpiece to your liking.
This low-calorie dinner recipe, perfected in the air fryer, offers quick preparation, making it an ideal choice for those seeking a healthy and flavorful family meal.
Say goodbye to bland dinner recipes and hello to a fiesta of flavors!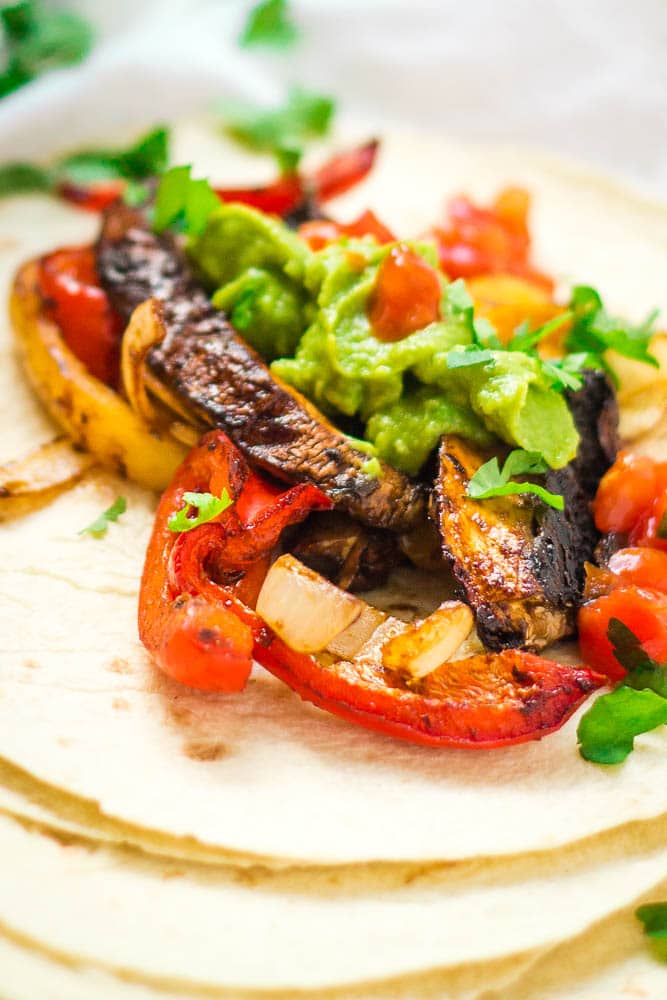 Need a quick yet creamy appetizer? Look no further than this Air Fryer Stuffed Mushrooms by Belly Full.
Packed with cream cheese, breadcrumbs, and parmesan, these bite-sized appetizers deliver a delightful burst of flavors.
Whether you're serving them as a side for a simple dinner or at gatherings and holiday parties, these mushroom bites are a crowd-pleaser.
The air fryer ensures they're perfectly cooked, providing a crispy exterior and a creamy interior.
Experience culinary perfection with this Air Fryer Bang Bang Cauliflower Wings by Jessica In The Kitchen.
These crispy, sweet, and spicy cauliflower bites are coated in a creamy spicy mayo sauce, offering an explosion of flavors that are easy to prepare and truly phenomenal.
Whether you choose the air fryer method or another, these crispy cauliflower wings are a delightful addition to your menu.
From casual party snacks to indulgent treats, they cater to a variety of tastes.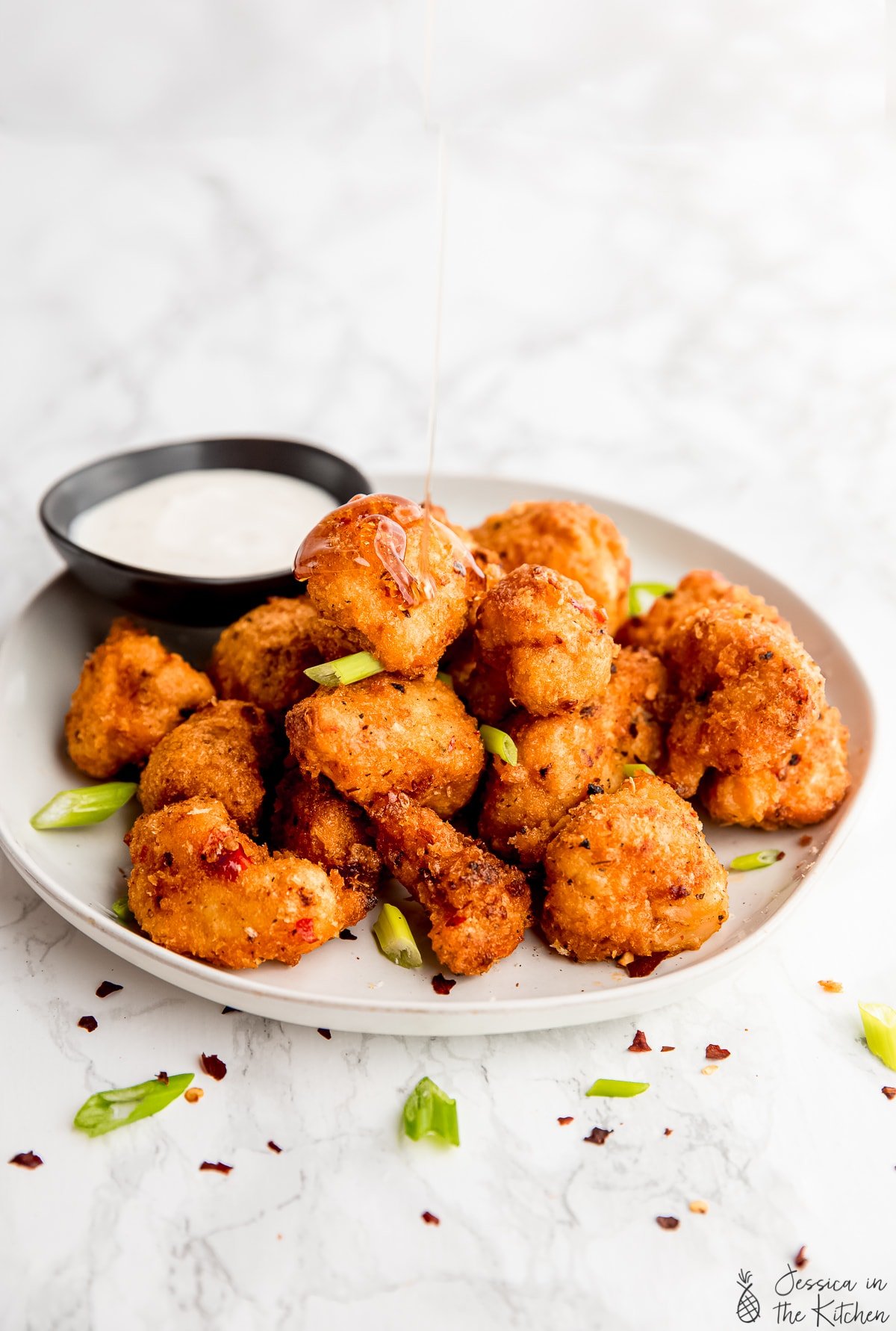 Elevate your weeknight dinner with this Air Fryer Parmesan Brussels Sprouts by The Bella Vita, a quick and tasty side dish that's ready in under fifteen minutes.
These air-fried Brussels sprouts are a culinary delight, combining simplicity with flavor.
Whether served alongside a weeknight dinner or as part of a special occasion feast, they bring a touch of sophistication to your plate.
The savory goodness of parmesan adds depth to these delectable Brussels sprouts.
In search of a healthy and quick side dish? Look no further than this Air Fryer Asparagus recipe by Iowa Girl Eats.
With just three ingredients and a cooking time of five minutes, this asparagus recipe is a breeze to prepare.
Pair this healthy, gluten-free side with any dinner, and watch as it elevates your meal with its fresh and vibrant flavors.
Simplicity meets deliciousness in this delightful asparagus creation.
This Air Fryer Potatoes recipe by Namely Marly offers a fantastic way to harness the potential of your air fryer.
These roasted potatoes, both simple and tasty, serve as an excellent side dish for your favorite plant-based meals.
Alternatively, they make a tasty party appetizer when paired with creamy green hummus.
Whether you're a seasoned air fryer expert or just beginning your journey, these crispy air fryer potatoes are a versatile addition to your culinary repertoire.
Air Fryer Vegan Recipes
Prepare to tantalize your taste buds with these Crispy Air Fryer Cauliflower Wings by Eat With Clarity coated in a zesty sesame garlic sauce.
Whether you're hosting a party or craving a flavorful snack, these cauliflower wings are the perfect choice.
They're not only easy to make but also vegan and gluten-free, making them suitable for a diverse crowd.
When you sink your teeth into these cauliflower wings, you'll experience a delightful blend of textures and flavors.
The crunch of the crispy wings complements the spicy, garlicky sauce, creating an appetizer that's sure to be a hit.
Elevate your vegan dishes with this Extra-Crispy Air Fryer Tofu by Vegan Cocotte.
Achieving the ideal balance of golden crispiness on the outside and a soft, tender interior, this tofu is a game-changer.
What sets this tofu recipe apart is that it achieves this perfect texture without the need for cornstarch.
Whether you're planning to incorporate it into your favorite curries, salad bowls, or wraps, or simply enjoy it as a snack, this air-fried tofu is a versatile addition to your culinary repertoire.
Say farewell to bland tofu and savor the crunch of this flavorful delight.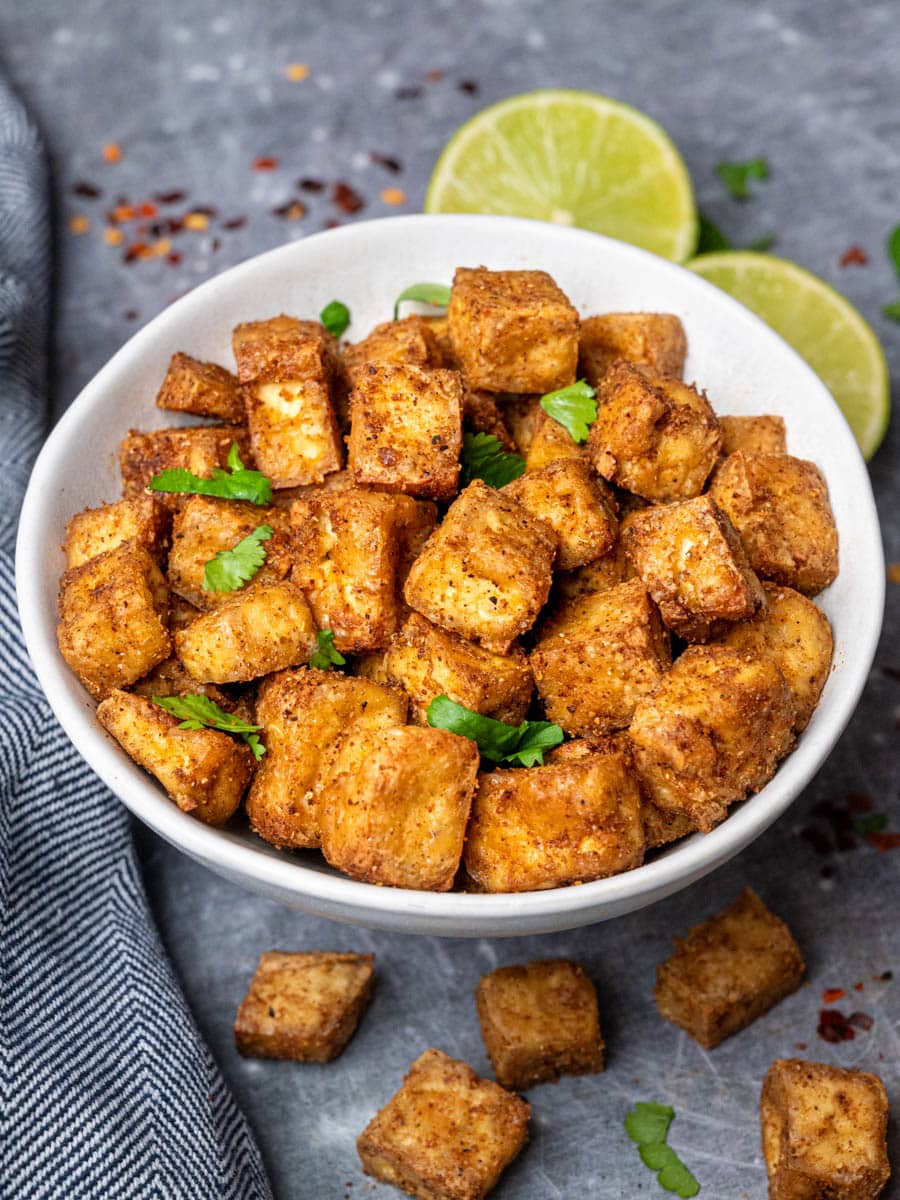 Experience the beloved classic, falafel, with a health-conscious twist by using your air fryer.
This Air Fryer Falafel recipe by Ela Vegan offers a lighter take on this Mediterranean favorite.
These crispy falafel balls feature a tender center and a delightful crispy outer shell.
Not only are they gluten-free and vegan, but they also pack a significant amount of protein.
Whether you're seeking a high-protein recipe for meal prep or craving a satisfying Mediterranean recipe, these air fryer falafel balls fit the bill perfectly.
Searching for a kid-friendly meal that's both cheesy and nutritious? Look no further than these Air Fryer Cheesy Carrot Tots by Sweet Hazel Honey.
These air-fried tots offer a delightful combination of cheesy goodness and the goodness of vegetables.
Ready in just 20 minutes, they are the perfect solution for a quick and wholesome snack or a family dinner.
Packed with vegetables, they provide a guilt-free twist on a classic favorite.
Whether you're young or young at heart, these carrot tots are sure to please.
For those in search of a meat-free alternative to buffalo wings, the Air Fryer Buffalo Cauliflower by Ela Vegan is the answer.
Not only is it easy to prepare, but it's also ready in under 25 minutes, making it an ideal choice for game-day parties, finger food snacks, or a flavorful and healthy side dish.
These vegan cauliflower wings are a healthier option that doesn't sacrifice taste.
They are gluten-free, dairy-free, and egg-free, ensuring that everyone can enjoy their spicy deliciousness.
Ready to savor the bold flavors and satisfying crunch of these cauliflower bites?
Air Fryer Seafood Recipes
Imagine cooking up a dish that's both spicy and delicious in no time. This Air Fryer Cajun Bang Bang Salmon Bites by Chef Jar fit the bill perfectly.
They're small pieces of salmon that you cook until they're crispy on the outside but still tender inside.
What makes them even more special is the sauce we drizzle on top called "bang bang sauce."
It has a tangy and spicy taste that pairs wonderfully with the salmon.
You can serve these salmon bites as a tasty appetizer or even as the main course of your meal.
Sometimes, you're in a hurry but still want a tasty meal. That's where this Air Fryer Garlic Parmesan Shrimp by Love Bakes Good Cakes comes in handy.
It's a straightforward air fryer dinner recipe that takes just 15 minutes to make.
Picture this: succulent shrimp coated in a flavorful mix of garlic and Parmesan cheese.
They come out of the air fryer perfectly cooked and bursting with taste.
It's a quick and easy dinner idea for those busy nights when you need a satisfying dinner.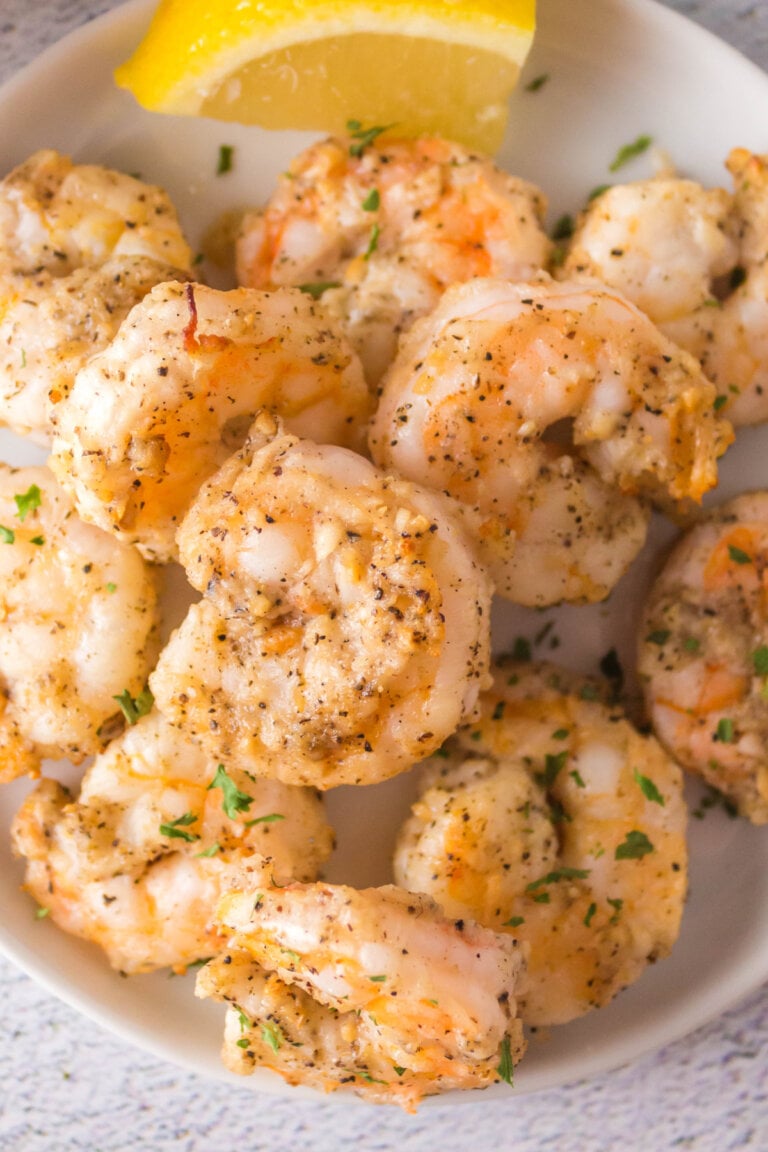 When you want a meal that's tender and packed with flavor, this Honey Garlic Glazed Salmon by Grand Baby made in an air fryer is a fantastic choice. It is the best 20-minute dinner recipe to cook.
Imagine salmon fillets that are flaky and moist, covered in a sweet and garlicky glaze.
The air fryer cooks them just right, ensuring they're both juicy and delicious.
This air fryer salmon recipe is a great option when you're short on time but still want something tasty.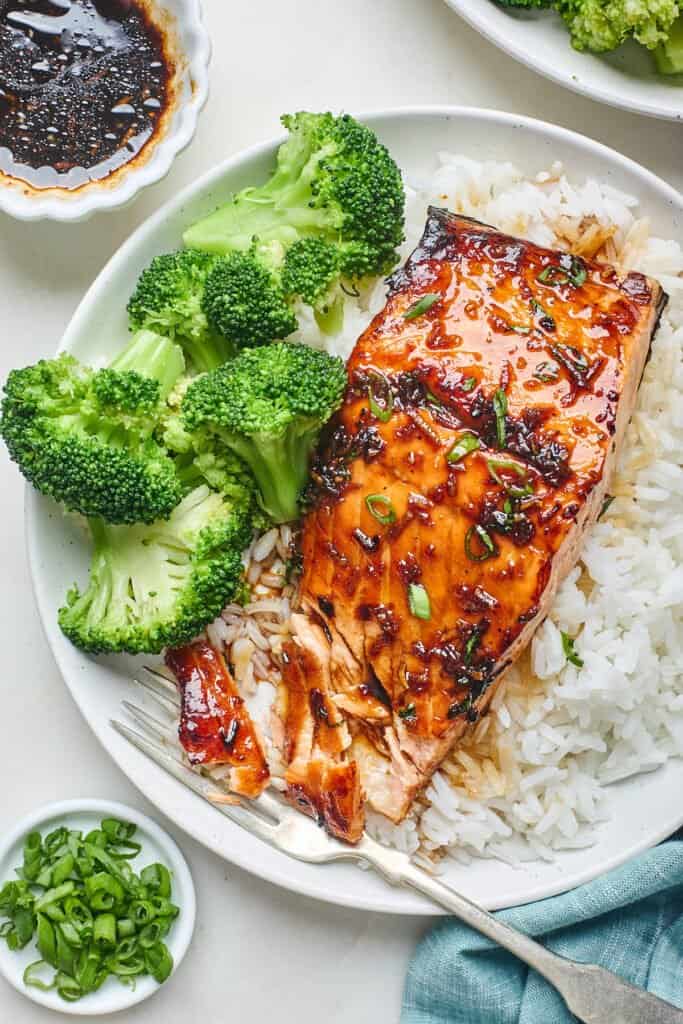 If you're a fan of crispy and juicy shrimp with a touch of spice, you'll love this Air Fryer Old Bay Shrimp recipe by Enjoy Clean Eating.
Using the air fryer keeps the shrimp juicy and flavorful.
What sets these shrimp apart is the Old Bay seasoning, which adds a bit of spiciness.
They're perfect as a party appetizer or a party snack.
These air fryer shrimp are a delightful treat for your taste buds, offering a combination of crispiness and tenderness.
When you're in the mood for homemade comfort food without spending too much time in the kitchen, this Air Fryer Fish Nuggets recipe by Enjoy Clean Eating is a great choice.
You can make them using fresh or frozen cod fish fillets.
With the air fryer, you achieve a perfect balance of crispy on the outside and tender on the inside.
These crispy fish nuggets are not just easy to make; they bring the comfort of homemade cooking to your dinner table.
Air Fryer Chicken Recipes
Embrace the convenience of air fryer meals with a scrumptious twist on dinner.
This Air Fryer Chicken Sausage And Veggies recipe by Eat With Carmen transforms air fryer chicken and whatever veggies you've got into a vibrant, healthy dish.
It's a perfect match for your air fryer recipe collection, especially when you're after something light yet satisfying.
Trust your air fryer to deliver a low-carb chicken recipe that's as easy to make as it is delightful to taste.
Imagine the flavors of spicy wings and comforting spuds coming together.
It's what makes these Buffalo Chicken Twice Baked Potatoes by I Am Homesteader a standout in any air fryer chicken recipe repertoire.
They're a creative spin on classic air fryer meals, combining the zest of buffalo sauce with the heartiness of a twice-baked potato — a true treasure among air fryer dinner recipes.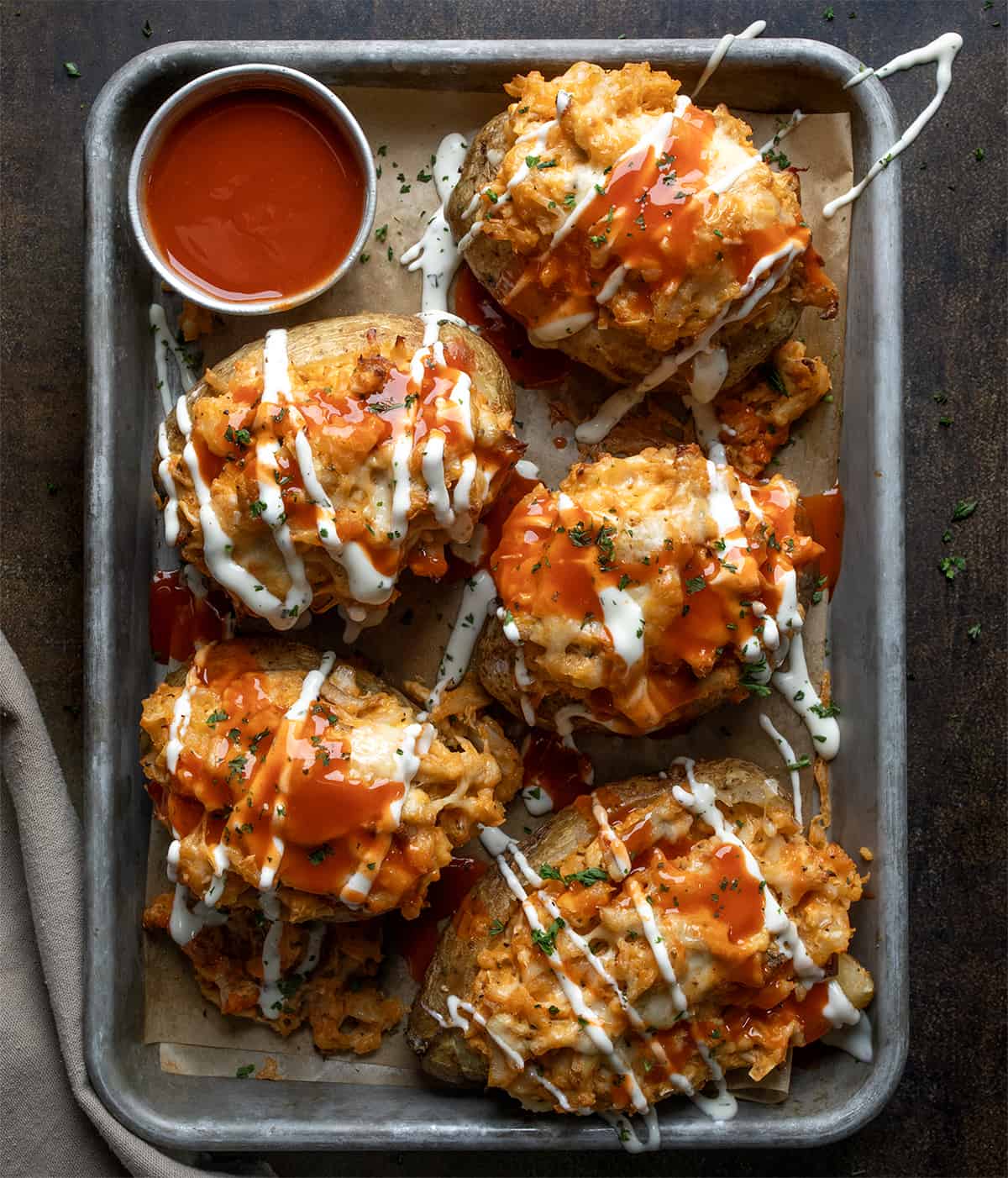 On those bustling weeknights, you'll appreciate having a go-to like Brazilian Chicken by Garlic And Zest.
It's a bright star in the world of air fryer recipes for beginners — a simple marinade, a quick toss in the air fryer, and you've got a dish that sings with flavor.
Let it be your culinary shortcut to a moist, mouthwatering meal that's easily a favorite among air fryer chicken recipes.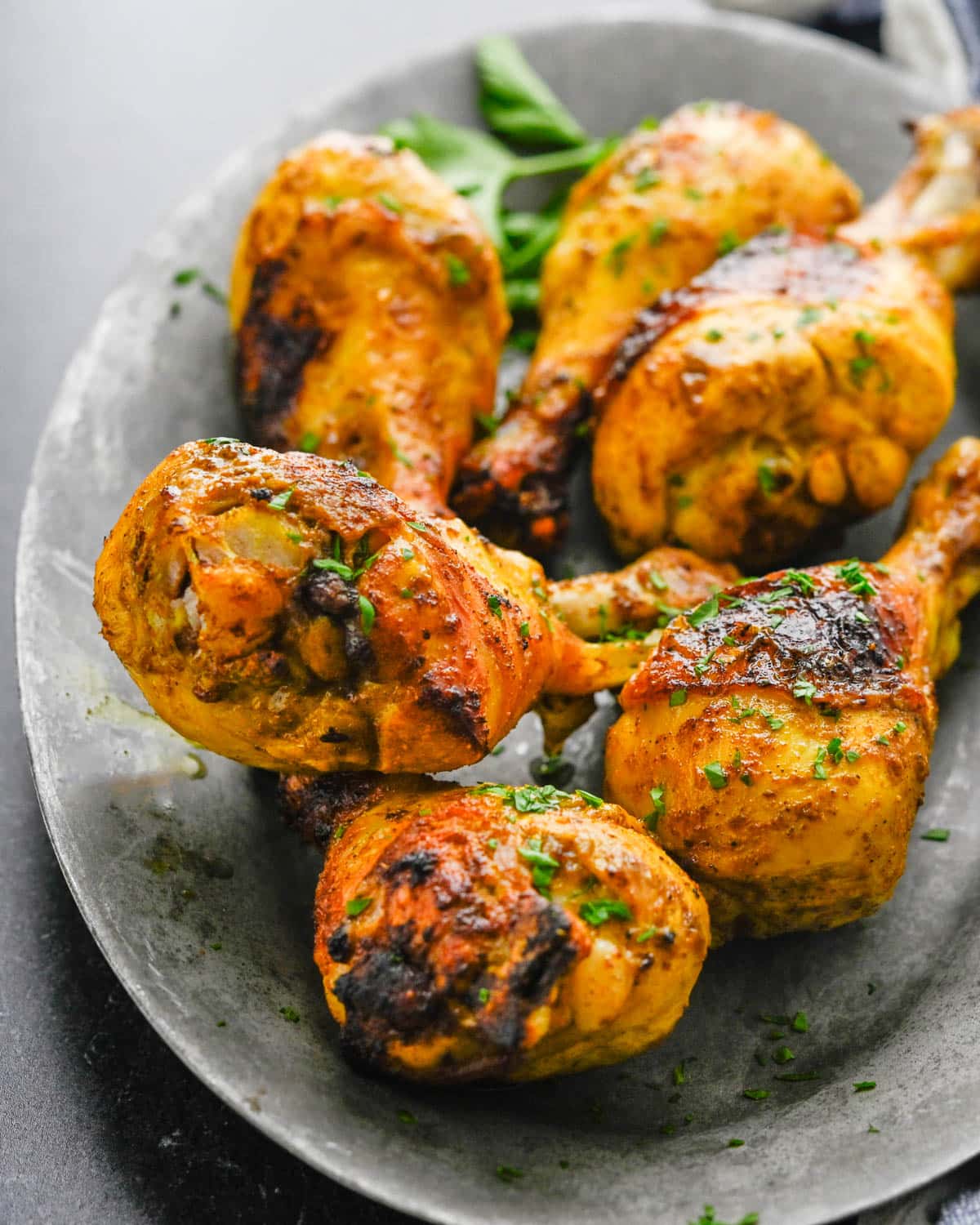 For a high-protein snack or meal that's effortless to whip up, these Air Fryer Chicken Bites by Skinny Taste are golden.
The healthy chicken bites the showcases simplicity and versatility of air fryer chicken breast, proving that healthy air fryer recipes can be both convenient and delectable.
Whether it's for a quick bite or meal prep for the week, these low-calorie chicken bites are a fantastic addition to your easy air fryer recipes list.
Light, zesty, and tantalizing — these Air Fryer Lemon Pepper Chicken Skewers by Chef Jar are everything delightful about air fryer chicken recipes.
They're the essence of what makes air fryer cooking so appealing: quick, healthy, and utterly delicious.
Perfect for when you need a low-calorie dinner that's both straightforward and full of flavor, these chicken skewers are a must-try.
Now comes the important question… Which air fryer dinner recipes do you like the most? Please let me know in the comments.
Few more recipe ideas!!!
Want to save this for later? Post these Air Fryer Dinner Recipes to the "Air Fryer Recipes" OR "Air Fryer Meals" Board!