Are you ready to get your kids involved in some fun Valentines Day Crafts For Kids? I started looking, and there are SO MANY CUTE ideas out there!
People are so creative! Of course, some are a little too advanced, while others are a little too easy or young, but they're all adorable!
I decided to compile a fantastic round-up for everyone! I hope you like these and discover some wonderful valentines day crafts for kids! So make sure to check all of the ideas on Valentines Day Crafts For Kids.
Valentines Day Crafts For Kids
" Affiliate links provided for your convenience, please read my disclosure for more information."
Products you will need for these crafts/projects:
1. Paper Plate Valentine Hot Air Balloon
You can make this lovely Paper Plate Valentine Hot Air Balloon craft with your child in no time using a basic inexpensive paper plate, tissue paper, and Valentine's Day heart stickers.
2. Valentine's Day Heart Suncatcher
This simple Valentine's Day heart collage craft is perfect for your shape-obsessed child. They will tell you what shape they are using every time they glue a piece of tissue paper or a sequin.
3. Mosaic Heart Craft
Making a mosaic craft with your child is not only a fun activity, but it can also help them develop skills and, of course, creativity.
4. Heart Symmetry Paintings
Heart Symmetry Painting is a big hit with toddlers and preschoolers, but I have to admit that older kids (and, ahem, so-called adults) like it as well.
5. Puffy Paint Hearts
For Valentine's Day, there's even more fun! Have you ever tried making your Puffy Paint? It's quite simple to make an ad that's a lot of fun to work with. Make wonderful Valentine's Day Cards for Kids or lovely Heart Garlands with your puffy paintwork! Kids will love this Valentine's Day activity!
6. Heart Rocks
Our Rock Easter Eggs inspired these heart rocks. Because young children want to make shapes that they aren't yet able to make, I love using stickers and contact paper to resist painting. This allows kids to make a heart, and it's also a bit magical. This is how this adorable Valentine's Day project is made.
7. Stamping Hearts with Cardboard Rolls
Make a heart-shaped stamper out of a cardboard roll so your kids can make prints, a custom piece of art for their room, homemade gift paper, and more.
8. Love Bugs
These love bugs are easy to make. You could already have most or all of the supplies on hand. Try to keep googly eyes and pom-poms on hand in case.
9. Jeweled Heart Suncatchers
You'll like these Jewelled Heart Suncatchers; they're perfect for every season, plus they're made from up-cycled materials!
10. Paper Heart Mobile
A paper heart mobile is one of the easiest valentine crafts for kids you might have done in a long time. This paper heart craft is quick and easy to do, and it looks great hanging in your house or school!
11. Tie Dye Coffee Filter Valentine Heart
Looking for a great yet simple Valentine's Day craft that can appeal to all kids, from toddlers to teenagers? This tie-dye coffee filter Valentine Heart Craft is incredibly easy to make and a lot of fun to do. It's also very affordable to do, making it a clear winner.
12. Valentines Day Heart Fingerprint Tree
This Valentine's Day Heart Fingerprint Tree is ideal for both kids and adults. It's quite simple to make and looks gorgeous.
13. Hidden Message Valentine's Hearts
"Hidden Message Valentine's Hearts" is a unique way to show your children that you value their individual gifts and personality. As a magic message displays on the heart in front of their eyes, their faces will light up.
14. Animal Valentines Crafts
Make some lovely animal Valentines with your kids to celebrate Valentine's Day! These adorable paper Valentine's Day animal crafts are simple to make and can be given as a Valentine's Day gift to someone special.
15. Valentine Science Experiments
Make crystal borax hearts and perform a scientific experiment using heart magic milk. These three Valentine science activities will be a hit with the kids. They're all simple to put together and just take a few simple ingredients.
16. Valentine Balloon Craft
Only a few items are needed to make this charming Valentine balloon craft! You can also make your own balloons by sketching them, using heart stickers, or making fingerprint hearts.
17. Valentines Day Slime Card
This is a simple and easy Valentine craft for toddlers and kids of all ages to do, and they'll have a lot of fun doing it. You might end yourself preparing an additional batch or two just so they can have their own!
18. 3D Heart Card
This vibrant Valentine's Day card will undoubtedly brighten someone's day. Make your own card in no time by printing our 3D heart card template.
19. Valentine's Day Heart
This Valentine's Day Heart Craft uses things that most people already have on hand, with the paper being the most essential element, making it very affordable and simple to put together.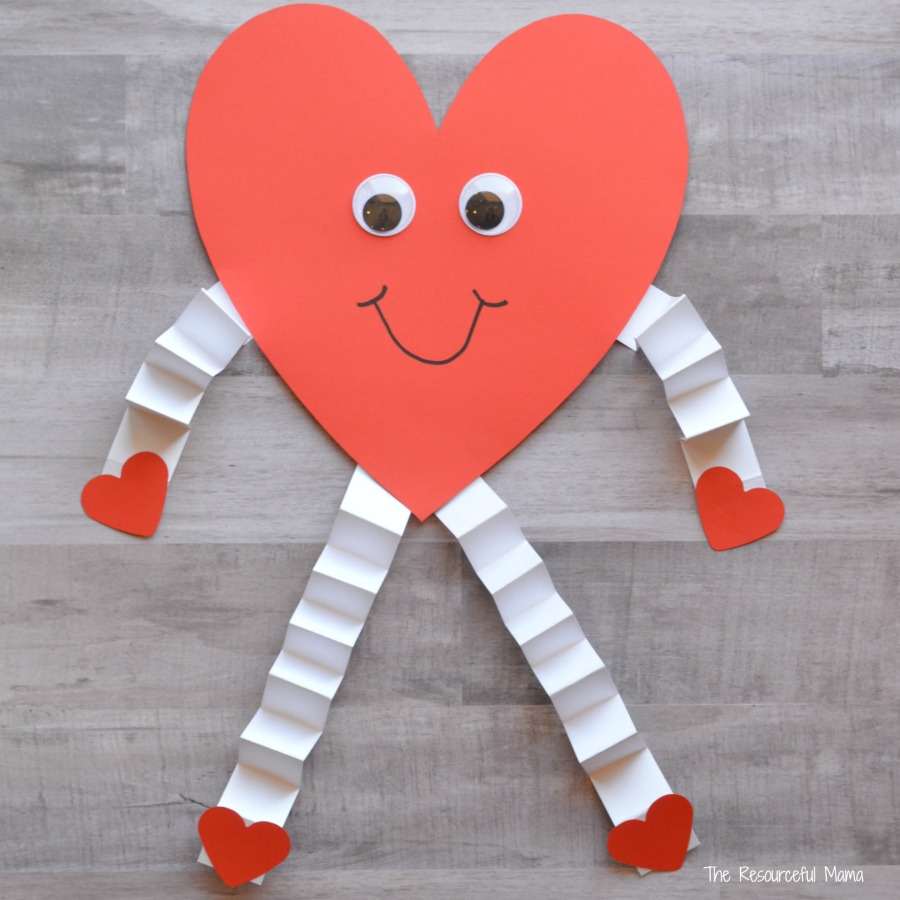 20. Valentine's Day Heart Minion
These heart-shaped Minions are really simple to make. You can use a template or make them up on the go. They'll be lovely in any case!
Now comes the important question… Which valentines day crafts for kids do you like the most? Please let me know in the comments.
Few more valentine's day ideas !!!
Want to save this for later? Post these Valentines Day Crafts for Kids to your favorite Pinterest Board!