As the excitement of getting engaged starts to fade, reality sets in, and you begin to realize that planning a wedding can be an expensive endeavor.
Between the venue, catering, and decor, the costs can quickly add up, leaving you feeling overwhelmed and stressed out.
But don't fret just yet! By learning how to save money on a wedding, you can still have your dream wedding without breaking the bank.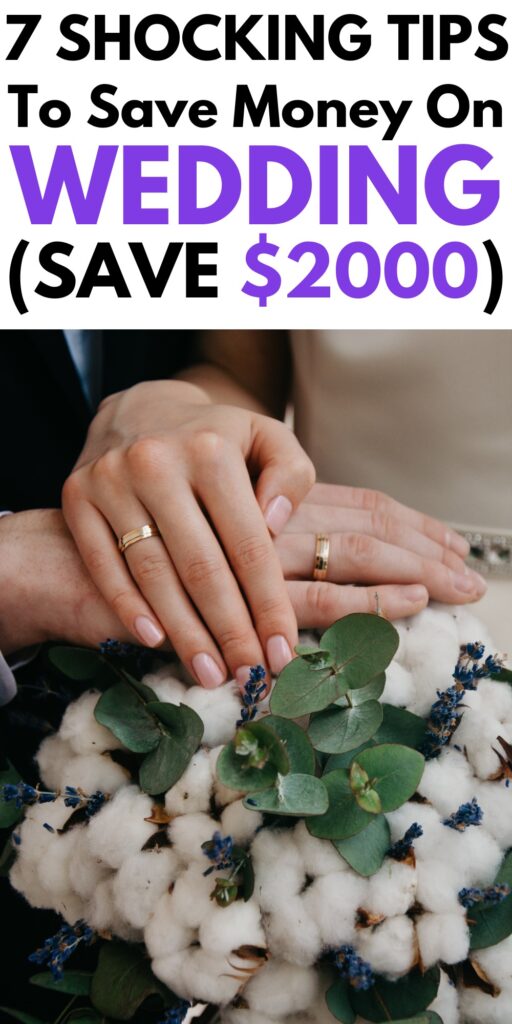 Weddings can be expensive, but they don't have to be.
You can still have a beautiful wedding without breaking the bank.
In this blog post, we'll share some tips and tricks on how to cut costs and make your special day more affordable, so you can focus on what really matters – starting your new life together with your loved one.
Here are some tips to help you save money on your big day.
1. Plan ahead:
Planning a wedding can be a daunting task, but starting early can help you save a lot of money.
The earlier you start planning, the more time you have to research and compare prices for venues and vendors.
As the wedding date gets closer, prices for these services tend to increase due to higher demand.
Booking your venue and vendors well in advance is a smart move to save money.
You can secure their services at current rates, and avoid any price hikes that may occur later.
This way, you can budget more accurately and have more time to plan other details, such as the guest list, decorations, and menu.
By starting early, you also have more time to negotiate prices and find ways to cut costs without sacrificing quality.
You can explore alternative options for decor or catering that may be more affordable but still meet your needs and preferences.
Overall, starting the wedding planning process early gives you a better chance to save money and reduce stress.
So, take the time to plan ahead, and enjoy your special day without breaking the bank.
2. Choose an off-season date:
As the spring breeze blows, the wedding season begins.
Brides and grooms start planning their big day, and vendors prepare for their busiest months.
However, there is a way to save some money while still having the wedding of your dreams.
Consider having your wedding during the off-season months, which typically fall between November to April. During these months, vendors are not as busy, and many offer lower prices to attract business.
You may be able to negotiate a better deal on the venue, catering, and other services.
Having a winter wedding can also add a unique and cozy touch to your big day.
You can create a magical atmosphere with candles, warm blankets, and hot cocoa.
Plus, the snow and frosty scenery can make for stunning wedding photos.
While it may not be the traditional wedding season, an off-season wedding can be just as memorable and special.
And with the money you save, you can splurge on other aspects of your wedding or even put it towards your honeymoon.
3. Keep the guest list small:
Imagine that you're planning a big event, maybe a wedding, birthday party, or corporate gathering.
Naturally, you want to invite all of your friends, family, and colleagues to share in the celebration.
However, as you start to plan out the details, you realize that every additional guest will increase your expenses.
First, you'll need to consider the catering costs.
The more people you invite, the more food and drinks you'll need to provide, which can quickly add up.
Not to mention, larger events require more staff to serve and manage the food and drinks, which can also add to the cost.
Next, think about seating arrangements.
A larger guest list means you'll need more tables and chairs to accommodate everyone, and if you're renting these items, the costs can quickly skyrocket.
There are also other expenses to consider, such as decorations, party favors, and entertainment.
All of these costs can increase significantly as your guest list grows.
By keeping your guest list small and intimate, you can save money on all of these expenses.
Plus, a smaller group allows for a more personal and meaningful experience, with the opportunity to connect and spend quality time with each guest.
So, as you plan your next event, remember that bigger isn't always better.
Consider keeping your guest list small and intimate to save money and create a more memorable experience for everyone involved.
4. DIY decorations:
When planning a wedding, costs can quickly add up, but there are ways to save money without sacrificing style.
One way to do this is by making your own decorations.
With a little bit of creativity and some guidance from online resources, you can create beautiful centerpieces, bouquets, and other decor items.
Imagine the satisfaction of walking down the aisle knowing that the flowers in your hands were made with your own hands.
With some simple tools like wire cutters, floral tape, and a few beautiful blooms, you can make a stunning bouquet that is uniquely you.
For centerpieces, consider incorporating items like candles, mason jars, or even old books to add a personal touch to your reception decor.
In addition to the cost savings, DIY wedding projects can also be a fun way to bond with your partner or bridal party and add a sense of pride and accomplishment to your special day.
So why not put your own creative stamp on your wedding and make it truly one-of-a-kind?
With some inspiration and a little bit of effort, you can save money and make beautiful decorations that will be cherished for years to come.
5. Skip the wedding planner:
Planning a wedding can be overwhelming and expensive, but there are ways to make it easier and more affordable.
While hiring a wedding planner may seem like the best option, it can also be quite costly. Instead, consider reaching out to your friends and family for help with the planning tasks.
Many people are eager to lend a hand and contribute to the special day.
Another option is to use free wedding planning websites and apps.
These resources can help you stay organized and keep track of all the details.
They can also provide helpful tips and advice for planning a wedding on a budget.
By getting creative and utilizing the resources available, you can have a beautiful wedding without breaking the bank.
Remember, the most important thing is celebrating your love and commitment to one another with the people you care about most.
6. Serve affordable food:
Your wedding day is one of the most important days of your life, and you want everything to be perfect.
However, you don't have to break the bank to make it memorable.
One area where you can save a significant amount of money is the food department.
Traditional wedding food usually comprises expensive dishes such as fillet mignon, but there are plenty of delicious and affordable alternatives that can be just as satisfying.
Opting for a pasta bar, for example, is an excellent choice with a variety of noodles, sauces, and toppings that can cater to any palate.
A barbecue is also a fun and tasty option, with grilled meats, vegetables, and sides that can be customized to your liking.
Or, if you're after something more casual, a taco bar can be a crowd-pleaser, with an array of toppings and salsas that can be mixed and matched.
By choosing one of these options, you can still have a delightful wedding meal without compromising on taste or quality.
Plus, with the money saved, you can invest in other areas of your big day, such as decor or entertainment.
Remember, the most important thing is to celebrate your love with the people who matter most, and a delicious meal is just the cherry on top.
7. Skip the expensive favors:
As your big day approaches, you may consider giving wedding favors to your guests.
While they can add a nice touch, they are not mandatory.
However, you can make a more meaningful gesture by making a donation to a charity on behalf of your guests.
Just imagine how impactful it would be to tell your guests that you have chosen to donate to a cause important to both of you instead of giving them a small trinket.
This not only demonstrates your thoughtfulness, but it also helps to make a positive impact on the world.
You can select a charity that is aligned with your wedding theme or close to your heart.
Whether it is animal welfare or poverty alleviation, your guests will appreciate the gesture and may be inspired to make charitable donations in the future.
In conclusion, although wedding favors are a nice touch, making a donation to a charity on behalf of your guests is a thoughtful and impactful gesture that they will surely remember for years to come.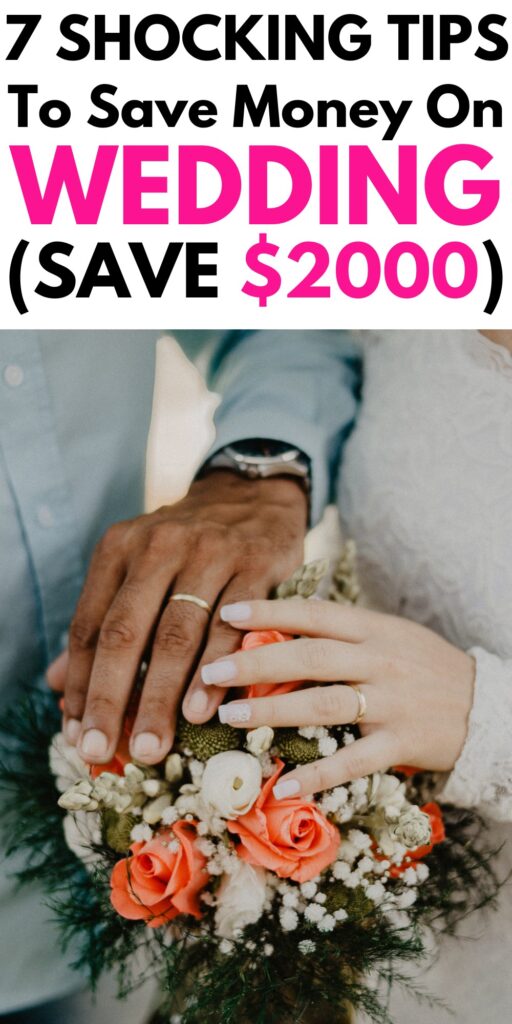 Conclusion:
You can have a beautiful wedding without spending a fortune by following these tips.
Remember that the most important thing is to celebrate your love with your partner and your loved ones.