Are you looking for the perfect kitchen cabinet organization tips, because you think you are low on space or wanna organize your kitchen?
The heart of the house is the kitchen. It's where we all gather and spend a lot of time.
These kitchen cabinet organization tips can help you organize your kitchen cabinets. These kitchen cabinet organization tips will help you expand storage and organize your kitchen's food and other items.
I'm going to share 15 kitchen cabinet organization tips with you today that will help you achieve just that.
Kitchen Cabinet Organization Tips
" Affiliate links provided for your convenience, please read my disclosure for more information."
1. Use document organizers for utensils
You can use document organizers to arrange your kitchen as well! Do you have any space under the sink?
All of your organizers should be lined up and used to store pans and cutting boards. This is a simple and inexpensive solution.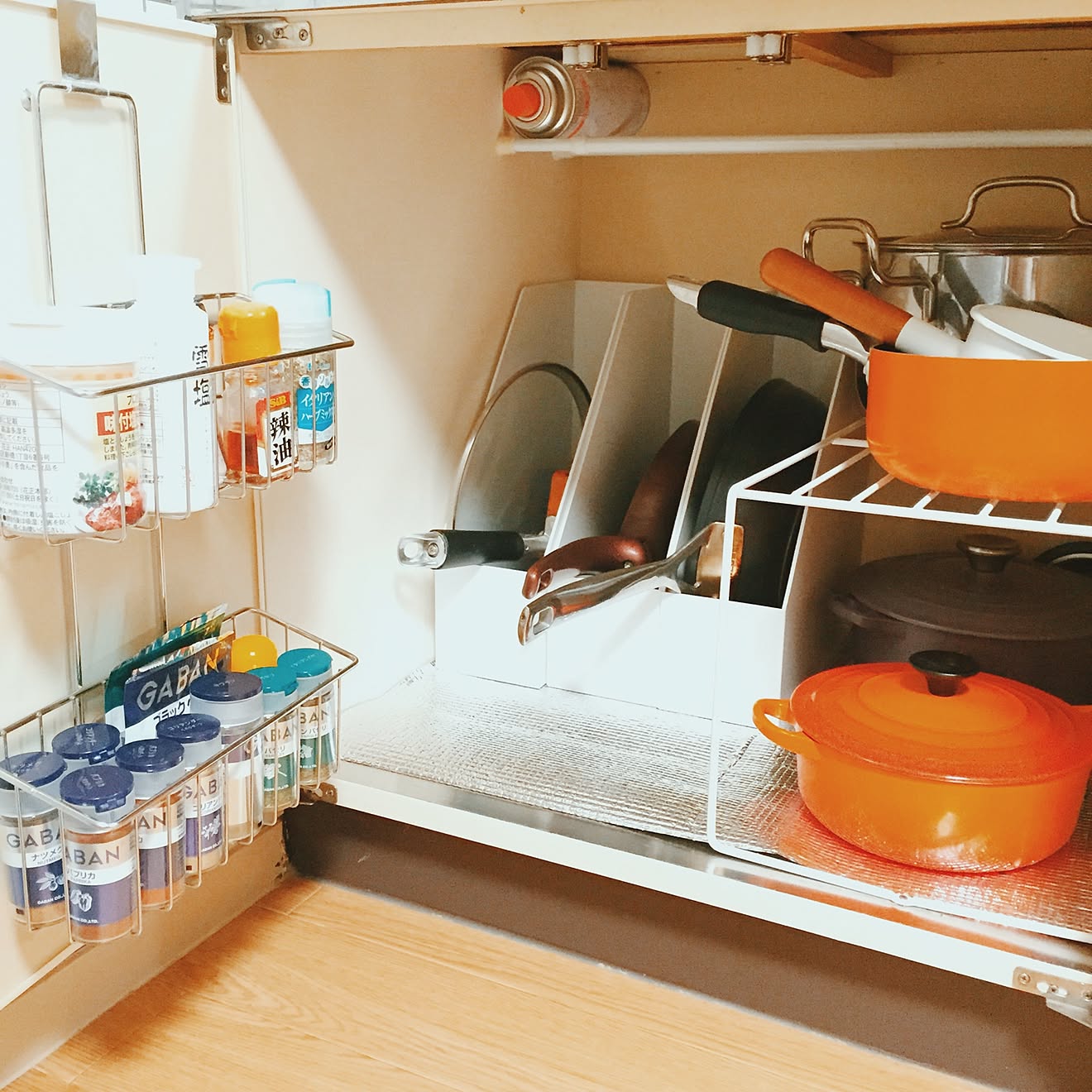 2. Use clip ctrips as spice rack organizer
These inexpensive clips will allow you to keep herbs and spices on cabinet doors. Simply ensure that the jars aren't too heavy.
They should preferably be made of plastic. Buy these stick and clip organizers here.
3. Use hanging mug holders
When it comes to installing this small cup holder, you don't need any special skills. Simply connect it to the wall and hang your cups, utensils, and other items.
Your storage problems will be solved in a simple and inexpensive way! Buy mug holders here.
4. Inside the cupboards, use key rails
Install these key rails inside the cabinets to hang measuring spoons, cups, and other light essentials.
The advantage of putting them on the inside wall of the cabinet instead of just the door is that you won't be scared every time you open it.
It may be rather noisy, and items may fall! Buy these key rails here.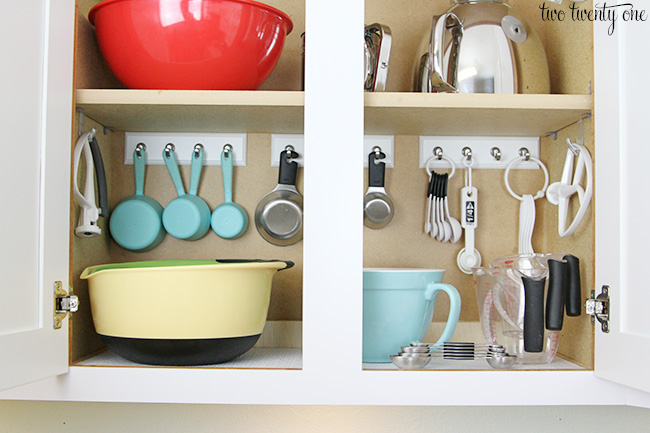 5. For cabinets without shelves, use a vertical organiser rack
Some of your cabinets could be empty of shelves. Particularly the low ones. Purchase a metal organizer rack to quickly fix the problem. All of your pans, chopping boards, and even pots may easily be layered.
Seriously, this is a great way to make use of all the space that would otherwise be wasted. Buy this metal organizer rack here.
6. You should also organize your deep drawers
We all have these drawers that are always cluttered with pans and pots. You won't have to worry about it if you put 10 minutes of each day into arranging it.
Organize your pans, chopping boards, and other large kitchen objects with an adjustable rack pan organizer. Buy this adjustable rack organizer here.
7. Use space available under the sink
Don't forget to keep all of your cleaning supplies in the space under the sink. A pull-out organizer will make keeping track of everything much easier.
As a result, you can put it in your kitchen and have all of your cleaning supplies within easy reach! Buy this pullout organizer here.
8. Save your space using kitchen cabinet organizers
When space in the kitchen cupboards is at a limit, move up! Put plates, mugs, and another crockery into the stackable kitchen organizer.
It's a basic yet effective solution. Make sure the organizer isn't too tall, and place heavy objects on the lower levels.
This will assist you in avoiding mistakes. Buy these stackable cabinet organizers here.
9. Use DIY spice organizer idea
If space isn't an issue and you're more concerned with aesthetics, create your own spice organizer out of wood.
This is a great concept that you frequently see in stores. It's a great way to show off all of your spices while also keeping them organized. Get this DIY spice organizer idea here.
10. An organizer for spices with drawers
If you don't have enough storage space, use as much vertical space as possible. Spices can be stored in the drawers safely and even labeled.
So the next time you open your cabinet, all you have to do is read the label and open the correct drawer.
Spices can be stored in a simple yet efficient way. Buy this spice organizer here.
11. The mess will be avoided with a lazy turntable
When you're cooking, you're likely to dig through all of the spices and mess up all of your orders.
Keep all of your spices, sauces, and other goods in one place. You only need to spin the tray to get the spice you want. You can test this high-quality turntable.
It helps you save time and keep organized at the same time. It's also a great way to keep your fridge organized. Buy this spice turntable here.
12. Label all your pantry items
While labels are attractive and provide a nice touch to your cabinets, they are also quite practical. Especially if you live with family members who aren't as well-organized as you are!
Labels are a great way for everyone (even youngsters) to return items to their proper places and avoid making a mess every time they use the kitchen.
Most significantly, if you keep getting asked where something is, labels will come in handy!
Labels will make it easier for everyone to figure out where to place things so that everyone can locate what they're looking for.
Buy these waterproof & inexpensive labels here.
13. Drawers should be organised using transparent plastic organisers
Plastic organizers are a great way to keep spoons, coffee capsules, and other little objects organized.
Let's face it, most drawers have so much room that everything just continues moving left and right. All of the goods end up getting mixed up.
So, no matter how many times you reorganize things, they always end up being a mess. To solve this issue, use plastic organizers.
Buy these transparent plastic organizers here.
14. Use small glass jars for storing item
Glass jars are ideal for storing everything because they allow you to see what's inside. So go ahead and get a set and start keeping all of your dry goods in them.
Another advantage of these jars is that they are simple to organize and look good in any kitchen. Buy these glass spice jars here.
15. Use cabinets for chalkboard and measurements
If you enjoy cooking, you'll probably enjoy this idea. Make a chalkboard with measurements on it.
Simply remove the cabinet door, paint it with chalkboard paint, let it dry, and replace it. Attach a few wooden strips to hang measuring cups and spoons if necessary. Buy measuring cups here.
Finally, a few liquid chalk pens will be needed to record the measurements. Overall, if you cook often, this is a fantastic idea.
This is especially true if you enjoy confectionery cooking, where exact quantities are crucial.
Now comes the important question… Which kitchen cabinet organization tips did you like the most? Please let me know in the comments.
Few more organization ideas !!!
Want to save this for later? Post this Kitchen Cabinet organization to your favorite Pinterest Board!