Indulge in the comforting delight of Cranberry Apple Crumble, where sweet spiced apples and tart cranberries mix beneath a golden-brown, buttery crumble. No expertise is needed; it's a simple and delicious treat to bake up happiness in your kitchen.
Why I Love This Recipe
I love this Cranberry Apple Crumble recipe for its simplicity, nostalgic flavors, and ability to bring loved ones together.
It's a breeze to make with everyday ingredients, filling the kitchen with an irresistible aroma as it bakes.
This dessert offers the warmth of home, making it perfect for cozy family gatherings.
Plus, it's a sweet reminder that deliciousness need not be complicated.
Give it a shot, and you'll see why I'm so passionate about it!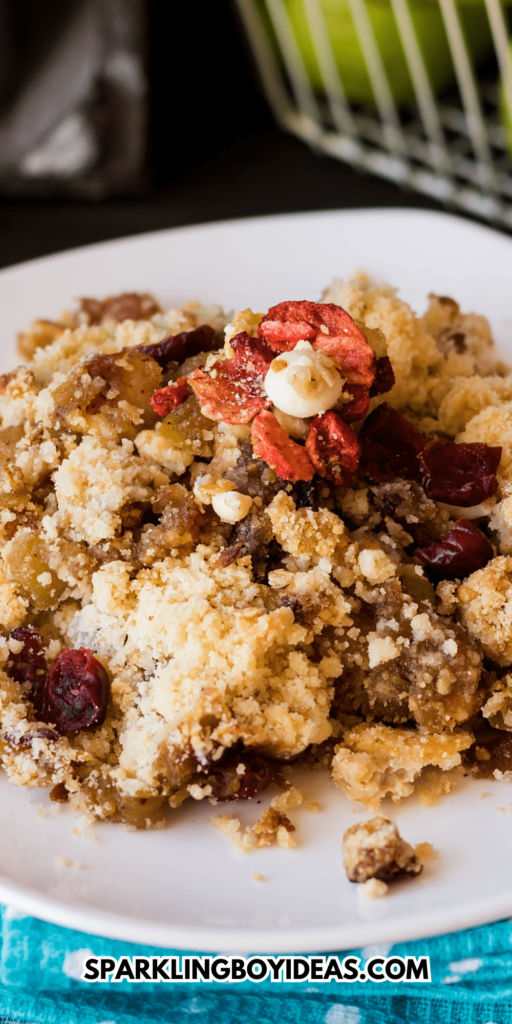 Why You'll Love This Recipe
▪️ Easy and Quick: No fuss or complicated steps; it's easy to make, even if you're a beginner.
▪️ Perfectly Sweet and Tangy: The combination of apples and cranberries hits that sweet-tart spot just right.
▪️ Crispy, Crunchy, and Gooey: The crumble topping is all about that golden, buttery, and oaty goodness.
▪️ Budget-Friendly: Simple ingredients you probably already have in your kitchen.
▪️ Family Pleaser: Everyone, from the kids to the grandparents, will be asking for seconds.
Helpful Kitchen Tools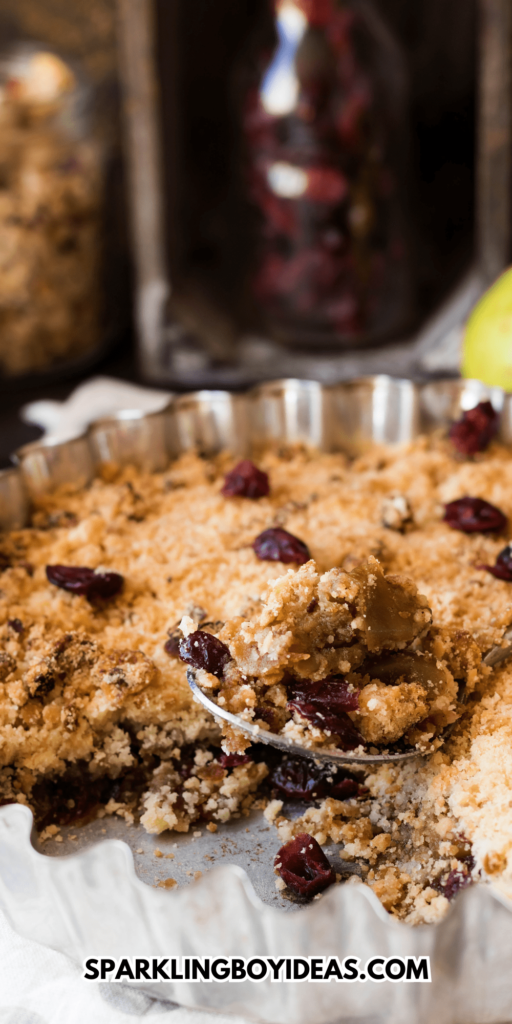 Ingredients
For the Apple Filling:
▪️ 4-5 medium-sized apples: We use these because they're sweet and a bit tart, which adds a nice contrast to the dessert.
▪️ 1/4 cup granulated sugar: This sweetens up the apples and makes them gooey.
▪️ 1 teaspoon ground cinnamon: This spice gives our apples that warm, cozy flavor.
▪️ 1/2 teaspoon ground nutmeg: Nutmeg adds a hint of nutty, earthy goodness.
▪️ 1/4 cup dried cranberries: These little guys bring a sweet-tart pop to the mix.
For the Crumble Topping:
▪️ 1 cup old-fashioned oats: These make our topping crunchy and wholesome.
▪️ 1/2 cup all-purpose flour: Flour helps hold the crumble together.
▪️ 1/2 cup brown sugar (packed): Brown sugar is sweet and gives a caramel-like flavor.
▪️ 1/2 cup unsalted butter (cold, cubed): Butter makes everything better, right? It adds richness and makes our topping crispy.
▪️ A pinch of salt: Just a tiny bit to balance out all that sweetness.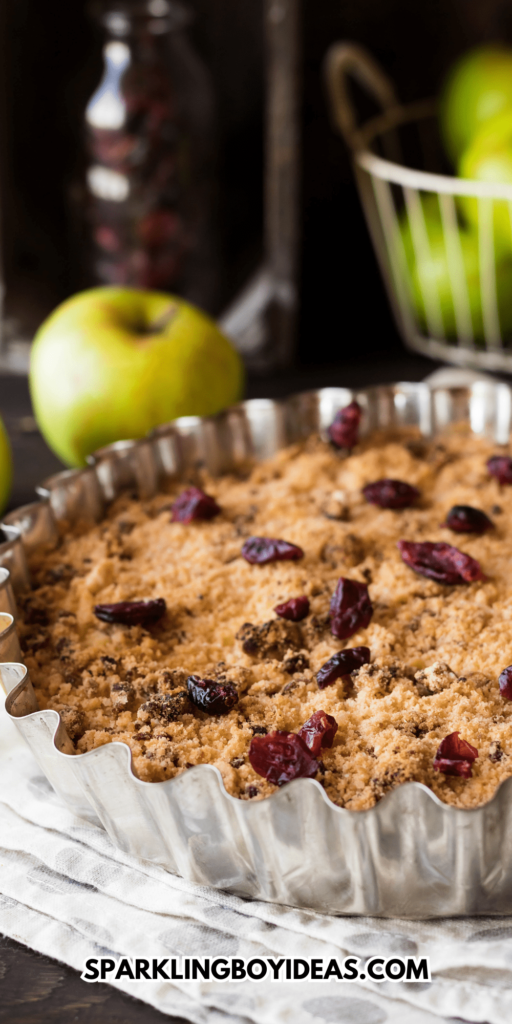 Making Of Cranberry Apple Crumble
STEP 1: First, make sure your oven is all warmed up to 350°F (175°C). Think of it like getting your kitchen cozy and ready for baking.
STEP 2: Take your apples, peel off the skin, and cut them into thin slices. If you have an apple peeler, it's a breeze.
STEP 3: Grab a big bowl, toss those apple slices in there, and sprinkle them with granulated sugar, ground cinnamon, ground nutmeg, and zesty dried cranberries. Give it all a good mix so that the apples get cozy with those flavorful spices.
STEP 4: In another bowl, it's time to make that amazing crumble topping. Pour in the old-fashioned oats, all-purpose flour, brown sugar (the sweet stuff!), and a pinch of salt to balance things out. Now, add in that cold, cubed butter, and here comes the fun part. Use a fork or a pastry cutter to blend it all together until it looks like a bunch of buttery crumbs.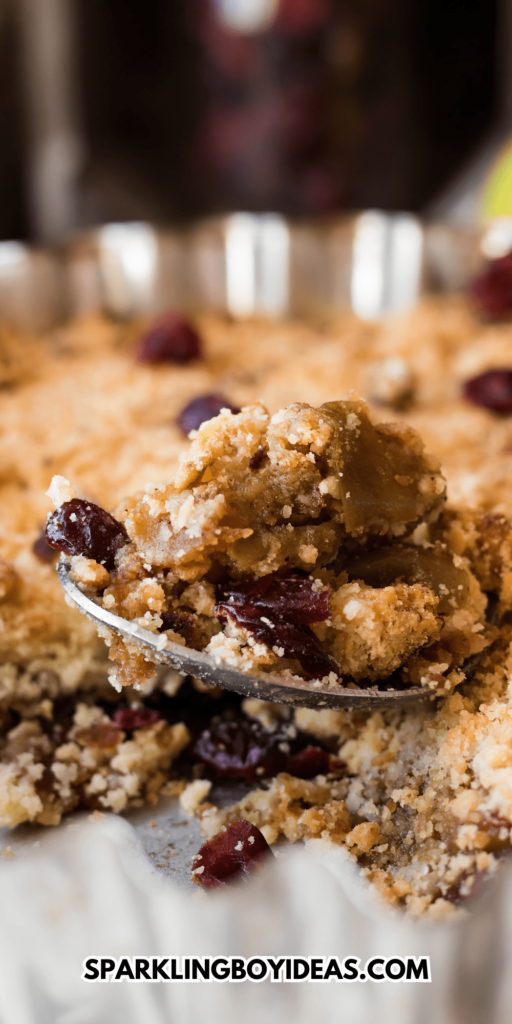 STEP 5: Get your trusty baking dish (the one that's about 8 inches in size) and spread out the spiced apple mixture evenly at the bottom. Now, grab that crumble topping and generously sprinkle it all over the apples, like you're giving them a cozy blanket. Make sure every nook and cranny is covered.
STEP 6: Carefully put your dish into the preheated oven. Close the oven door and set a timer for 40-45 minutes. Keep an eye on it until the topping turns a beautiful golden brown, and you see those apple juices bubbling beneath.
STEP 7: Now comes the best part. Take it out of the oven, and let it cool slightly. The best way to enjoy this delightful treat is when it's still warm and aromatic. Top it off with a scoop of vanilla ice cream if you like, and savor every delicious bite.
Tips and Techniques
▪️ Try combining different types of apples for a more complex flavor in your crumble.
▪️ Adjust the sugar depending on how sweet your apples are; you're in control.
▪️ When making the crumble topping, leave those buttery chunks; they make it taste amazing!
▪️ Watch your crumble in the oven to prevent it from getting too brown.
▪️ This dessert is at its best right out of the oven, so dig in when it's still warm and cozy.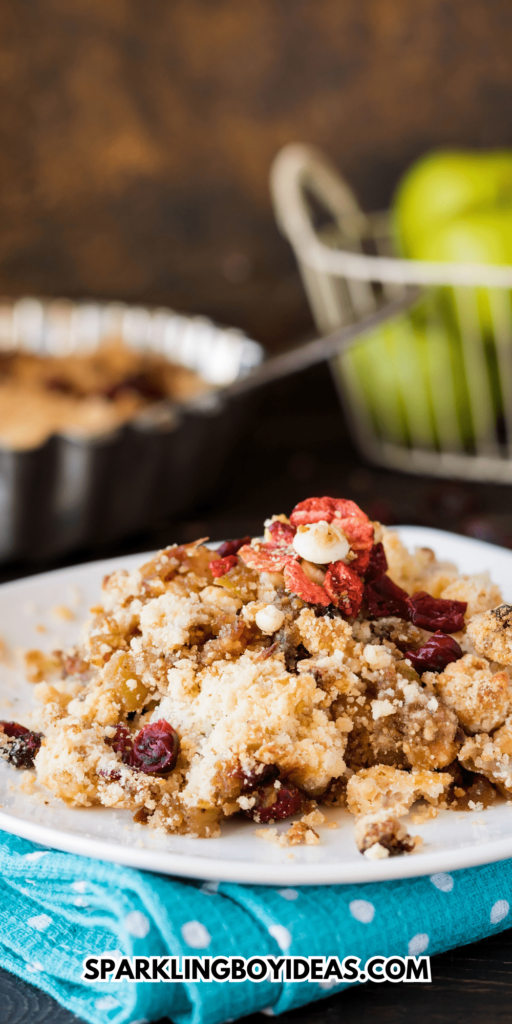 Serving Size
For this delightful Cranberry Apple Crumble recipe, you can expect it to generously serve about 6 eager dessert enthusiasts. It's the perfect sweet treat to share with your family or a small gathering of friends. Enjoy!
Serving Suggestions
▪️ Top it with a scoop of vanilla ice cream for extra creaminess.
▪️ Drizzle it with caramel sauce to make it even more indulgent.
▪️ Have it for breakfast with a side of yogurt for a sweet morning treat.
▪️ Pair it with a hot cup of coffee or tea for a cozy dessert experience.
Variations
▪️ Add chopped nuts like almonds or pecans to the crumble topping.
▪️ Mix in other dried fruits like raisins or apricots for a twist.
▪️ Experiment with different spices like cardamom or ginger.
Storage Tips
To keep your apple crumble fresh, store any leftovers in an airtight container in the fridge for up to three days. When you're ready to enjoy it again, simply reheat it in the oven at 350°F (175°C) for about 15-20 minutes to bring back that freshly baked goodness.
FAQs
Q. Can I use frozen cranberries instead of dried ones?
Yes, you can! Just make sure to thaw and drain them first.
Q. Can I make this ahead of time?
Absolutely! You can assemble it a day in advance, refrigerate it, and then bake it when you're ready to enjoy it.
Q. What's the best way to reheat leftovers?
Reheat in a 350°F (175°C) oven for about 15-20 minutes or until heated through.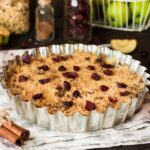 Print Recipe
Cranberry Apple Crumble
Indulge in comforting Cranberry Apple Crumble—a blend of sweet apples, tart cranberries, and a buttery crumble topping. It's a simple, joyous dessert for all, no culinary expertise needed.
Ingredients
For the Apple Filling:
4-5

medium-sized apples

e.g., Granny Smith

¼

cup

granulated sugar

1

teaspoon

ground cinnamon

½

teaspoon

ground nutmeg

¼

cup

dried cranberries
For the Crumble Topping:
1

cup

old-fashioned oats

½

cup

all-purpose flour

½

cup

brown sugar

packed

½

cup

unsalted butter

cold, cubed

A pinch of salt
Instructions
Preheat the oven to 350°F (175°C).

Peel, core, and thinly slice the apples.

In a large mixing bowl, combine sliced apples, granulated sugar, cinnamon, nutmeg, and dried cranberries.

In another bowl, mix oats, flour, brown sugar, and a pinch of salt. Add cold, cubed butter and blend until you have coarse crumbs.

Layer the spiced apple mixture in a baking dish.

Sprinkle the crumble topping over the apples, covering them completely.

Bake for 40-45 minutes until the topping is golden brown and apples are bubbling.

Serve warm with vanilla ice cream for a delightful treat!
Notes
Use various apple types for rich flavors.
Adjust sugar according to your taste and apple sweetness.
Keep the crumble topping chunky for extra deliciousness.
Keep an eye on the oven to prevent burning.