Strawberry Shortcakes are traditional summer desserts that are well-suited for the warm season. These refreshing summer treats consist of a fluffy cake, fresh strawberries, and whipped cream, making it the ideal dessert to satisfy your sweet cravings.
For generations, strawberry shortcakes have been a beloved classic dessert that's perfect for any occasion, from simple dinners to elegant backyard barbecues.
This easy-to-make delicacy is a combination of fluffy cake, sweet, juicy strawberries, and fluffy whipped cream that's impossible not to fall in love with.
To make the perfect strawberry shortcake, it's crucial to use fresh and in-season strawberries.
The ripe, juicy berries provide incredible sweetness and luscious flavor that make the dish irresistible.
It's also important to select a light and fluffy cake recipe that won't overpower the flavor of the strawberries or become too dense.
To assemble the dessert, slice the cake in half and cover it with cut strawberries, whipped cream, and other toppings.
Some people even add strawberry jam or preserves for an extra fruit flavor boost.
Extra whipped cream and strawberry slices are often used to decorate the finished dessert.
While the classic strawberry shortcake recipe is delicious on its own, there are many ways to modify it.
Experiment with using different cake types, such as pound cake or angel food cake, or adding other fruits like peaches, raspberries, or blueberries.
A sprinkle of toasted nuts or a drizzle of chocolate sauce can also be used to finish the dish.
No matter what your preferences are, whether you're a traditionalist or a modern foodie, strawberry shortcake is an irresistible dessert that's simple, elegant, and delicious.
It's perfect for satisfying anyone's sweet cravings.
Ingredients
For the shortcake crust:
2 1/2 cups all-purpose flour
2 tablespoons granulated sugar
1 tablespoon baking powder
1/4 teaspoon salt
1/2 cup unsalted butter, cold and cut into small pieces
1 cup heavy cream, plus more for brushing
For the filling:
1 quart fresh strawberries, washed, hulled, and sliced
1/2 cup granulated sugar
1 cup heavy cream
1/4 cup powdered sugar
1 teaspoon vanilla extract
Instructions:
1. Preheat the oven to 400 °F (200 °C) and line a baking sheet with parchment paper.
2. In a large bowl, mix together flour, sugar, baking soda, and salt.
3. Use a pastry blender or your hands to blend in the butter until the mixture looks like coarse crumbs.
4. Add heavy cream to the mixture and continue mixing until the dough comes together into a ball.
5. Turn the dough out onto a floured surface and knead it lightly until it becomes smooth.
6. Press the dough into a 1-inch-thick sheet and cut it into 8 wedges.
7. Place the wedges on the prepared baking sheet and brush the tops with heavy cream.
8. Bake for 18 to 20 minutes or until the top turns golden brown.
9. Remove from the oven and let it cool to room temperature.
10. Combine sugar and strawberry slices in a large bowl and let them sit for 15-20 minutes until the berries release their juices.
11. In a separate bowl, beat the heavy cream, sugar, and vanilla extract until stiff peaks form.
12. Slice each cake horizontally and place the bottom half on a plate.
13. Spread the strawberry mixture evenly onto the bottom half of each cake.
14. Put a small amount of whipped cream on the top of each cake and place the top half of the cake on it.
15. Garnish with additional whipped cream and strawberry slices if desired.
Tips:
1. To achieve a tender and flaky crust, it's crucial to ensure that the butter is chilled before incorporating it into the flour mixture.
2. Avoid overworking the dough while kneading to prevent tough shortcakes from forming.
3. For a delectable syrupy texture, it's best to allow the strawberries to macerate for at least 15-20 minutes to release their juices.
4. To obtain even layers, utilize a sharp knife to cut the shortcakes horizontally in half.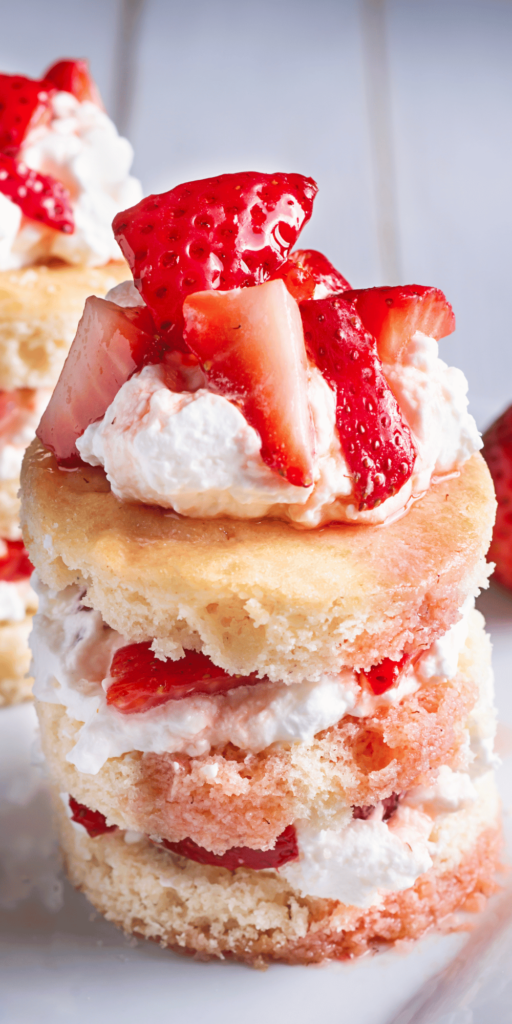 Variations:
The classic strawberry shortcake is undoubtedly scrumptious by itself, but if you want to add some variety, there are a few options you can explore.
1. One possibility is to swap out the strawberries for other types of berries like blueberries, raspberries, or blackberries. This simple substitution can add a unique twist to the classic recipe.
2. Another idea is to experiment with different types of cakes as a base. For example, instead of using the traditional shortcake, you could try pound cake, angel food cake, or even chocolate cake to create a new flavor combination.
3. If you're looking for an extra burst of flavor, consider adding a layer of jam or preserves on top of the shortcake. This will not only add sweetness but also create a more complex flavor profile.
4. For a truly indulgent treat, you can spread chocolate or caramel sauce over the shortcakes. This will elevate the dessert to the next level of decadence, creating a rich and satisfying taste experience.
By exploring these variations, you can take the classic strawberry shortcake and turn it into a unique and delicious dessert that your friends and family will love.
What to Serve with Strawberry Shortcake
Strawberry shortcake proves to be a delightful treat by itself, yet it can be elevated to greater heights by pairing it with complementary accompaniments.
Adding a few extras to the dessert can take the flavors and overall experience to the next level.
This is a great way to enhance the taste and make the dessert more enjoyable.
Additional whipped cream
Sliced fresh fruit
Vanilla ice cream
A dusting of powdered sugar
Conclusion
Strawberry shortcake crust is a timeless dessert that is both simple to prepare and delightful to indulge in.
Its delicate and airy cake, combined with juicy strawberries and luscious whipped cream, makes it an ideal treat for any event or gathering.
Whether you're serving it at a summer barbecue or savoring a slice on a laid-back Sunday afternoon, strawberry shortcake is guaranteed to satisfy your sweet tooth.
Give this recipe a chance and discover why it has been a cherished dessert for many generations.