Looking for light and refreshing summer meals to enjoy? Try the classic Italian Caprese Salad with Basil Vinaigrette. Juicy tomatoes, fresh mozzarella, and fragrant basil are combined to create a deliciously simple salad that's perfect for a light lunch or dinner. A tangy vinaigrette is the perfect finishing touch, adding just the right amount of zing to this summer staple. Give it a try and savor the taste of Italy in your own kitchen.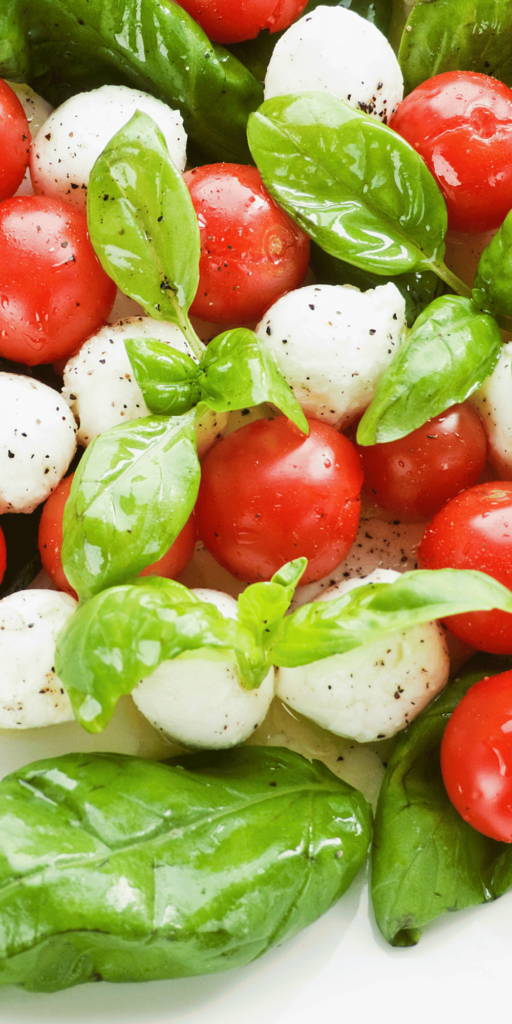 The Caprese Salad With Basil Vinaigrette is flavorful, light, and refreshing.
Juicy tomatoes and creamy mozzarella are a match made in heaven, and the basil vinaigrette gives everything a hint of tanginess and unites the dish.
The simplicity of this salad is what makes it amazing.
You can make a dinner that is tasty and visually appealing with just a few quality ingredients.
This salad is a feast for the eyes as well as the taste emotions because of the vibrant colors of the tomatoes, mozzarella, and basil.
It's an excellent way to bring out the flavors of summer fruits and is perfect for a quick lunch or light meal.
Additionally, Caprese salad with basil vinaigrette is quite versatile.
To customize a salad to your liking, you can add extras like avocado, grilled chicken, or even fresh fruit.
Using a different kind of vinegar or adding some honey or mustard for flavor can also change the dressing.
Overall, a simple yet satisfying classic dish is Caprese salad with basil vinaigrette.
It's an excellent way to taste the flavors of summertime produce and is perfect for entertaining or a simple lunch.
So why not try it and enjoy a taste of summer in every bite?
Ingredients:
3-4 large ripe tomatoes, sliced
8 oz fresh mozzarella cheese, sliced
1/4 cup fresh basil leaves, chopped
1/4 cup olive oil
2 tbsp balsamic vinegar
1 clove garlic, minced
Salt and pepper to taste
Instructions:
1. Start by arranging the mozzarella cheese and tomato slices in a circular pattern on a large dish. This will make the salad look visually appealing and easy to serve.
2. Next, mix the olive oil, balsamic vinegar, garlic powder, salt, and pepper in a small bowl. These ingredients will make a tasty vinaigrette to drizzle over the salad.
3. When drizzling the vinaigrette, make sure to cover every slice of the tomatoes and mozzarella cheese so that every bite has a balanced taste.
4. To add another layer of flavor, sprinkle chopped basil leaves over the salad. Basil is a classic ingredient that pairs well with the flavors of tomato and mozzarella.
5. Finally, let the salad sit for a little while before serving. This allows the flavors of the ingredients and the vinaigrette to blend together, resulting in a more balanced taste.
Tips:
1. To make the Caprese salad with basil vinaigrette taste the best, it's essential to use the freshest ingredients. The freshest mozzarella and tomatoes can make a significant difference in the taste of the salad.
2. If you don't have fresh basil on hand, you can still make the salad with dried basil.
3. Additionally, the amount of garlic, salt, and pepper in the vinaigrette can be adjusted to your taste preference.
4. If you like your dressing a bit sweeter, you can add a teaspoon of honey or maple syrup to the vinaigrette.
5. Lastly, serving the salad at room temperature is ideal for the perfect taste and texture.
Variations:
1. To switch up the taste of the salad, you can use either red wine vinegar or lemon juice instead of balsamic vinegar. This substitution will alter the tangy flavor of the dressing and give the salad a different taste.
2. To make the salad creamier, you can include sliced avocado. Avocado adds a velvety texture to the dish and balances out the acidity of the tomatoes and dressing.
3. To create a salad that is more visually appealing, experiment with different tomato varieties such as heirloom or cherry tomatoes. These varieties are not only colorful but also have unique flavors that can add depth to the salad.
4. If you want to make the salad more filling, you can include cooked quinoa or farro. These grains add protein and fiber to the salad, making it a complete and satisfying meal. The salad becomes heartier and more substantial with the addition of grains.
What to Serve With Caprese Salad:
Caprese salad is a healthy and delicious dish that can complement a variety of meals. Here are some serving suggestions:
1. Firstly, Caprese salad can be served as a side dish with grilled meats like chicken or steak. The light and refreshing flavors of the salad can balance out the rich and heavy flavors of the meat.
2. Secondly, for a complete Italian meal, Caprese salad can be paired with a pasta dish. The salad's fresh and vibrant taste can enhance the flavors of a pasta dish, making it a satisfying and fulfilling meal.
3. Lastly, serving crusty bread on the side is an excellent way to enjoy the Caprese salad to the fullest. The bread can absorb the flavorful vinaigrette, making it a delicious complement to the salad. Additionally, the bread can serve as a filling addition to the meal.
Conclusion:
Why not try this salad that's not only a hit with guests but also a healthy lunch option?
The dressing is flavorful and the fresh basil adds a burst of flavor.
The great thing about this salad is that you can easily customize it to your liking by making simple changes.
Adding or subtracting ingredients, or changing the dressing to suit your taste can create a unique and delicious meal that's perfect for any occasion.
So why not give it a try and enjoy a healthy and tasty lunch that's sure to impress?