If you're looking for some great spring mantle decorating ideas, then look no further. From fresh flowers to pastel colors, there are endless options for creating a beautiful and inviting spring mantle display. I have gathered together a few of the best spring mantle decorations so that your mantle looks as amazing as possible. So let's dive in and explore some ideas for spring mantle decor that will brighten up your home and bring a touch of the outdoors in.
One way to incorporate spring into your mantle decor is by using fresh flowers.
You can create a beautiful floral arrangement by mixing and matching different types of flowers in bright and bold colors.
Tulips, daffodils, and hyacinths are popular choices for spring, and they can be arranged in a vase or even in a decorative watering can for a whimsical touch.
You can also add some greenery to your arrangement by incorporating ferns or ivy.
Pastel colors are another hallmark of spring, and they can be used to create a soft and serene mantle display.
You can mix and match pastel colors like pink, blue, and yellow in a variety of decor items, such as candles, vases, and picture frames.
Adding a few decorative eggs or bunnies can also help to tie the theme together and create a cohesive spring display.
If you prefer a more minimalist approach to your mantle decor, you can still incorporate spring elements by using natural materials.
A simple wreath made of twigs or grapevine can be adorned with some spring flowers or greenery for a subtle nod to the season.
You can also use natural wood accents, such as a wooden crate or a set of wooden candlesticks, to add some warmth and texture to your mantle display.
Finally, if you're feeling crafty, you can create some DIY spring decor items to display on your mantle.
For example, you can create a set of painted mason jars in pastel colors and fill them with fresh or faux flowers.
You can also create your own spring-themed banner or garland using paper or fabric in spring colors and patterns.
With so many options for spring mantle decor, you can easily create a beautiful and inviting display that reflects your personal style and celebrates the season.
So go ahead and get creative, and enjoy the beauty of spring in your home!
Gorgeous Spring Mantle Decors
" Affiliate links provided for your convenience, please read my disclosure for more information."
15. Pastel Spring Mantel – from Love Of Family And Home
14. Cottage Farmhouse Spring Mantel – from Cherished Bliss
13. Vintage Farmhouse Spring Mantel – from Sarah Joy Blog
12. Chalkboard Spring Mantle – from House By Hoff
11. Elegant Spring Mantel – from A Blissful Net
10. Simple Spring Mantel – from Random Thoughts Home
9. Farmhouse Spring Mantle – from House By Hoff
8. Rustic Spring Mantel – from Dining Delight
7. Natural Spring Mantle – from The Lettered Cottage
6. Birch Spring Mantle – from Home Stories A To Z
5. Colorful Spring Mantel – from DIY Showoff
4. Fresh Spring Mantel – from Worthing Court Blog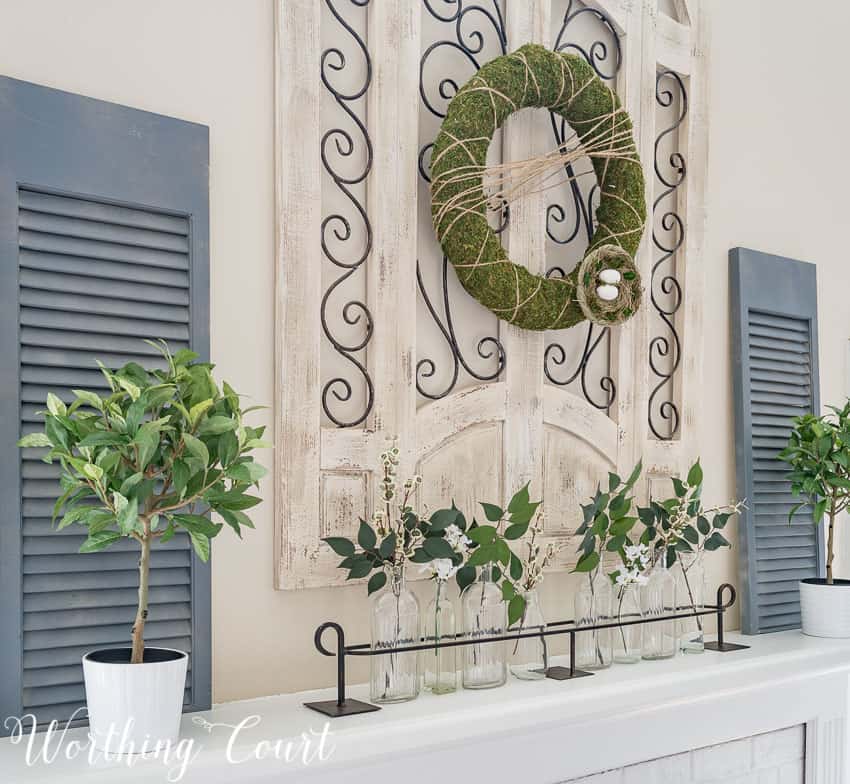 3. Floral Spring Mantel – from The Turquoise Blog
2. Green Spring Mantle – from Craft Berry Bush
1. Old Window Spring Mantel – from Confessions Of A Serial DIYer
Now comes the important question… Which spring mantle decor do you like the most? Please let me know in the comments.
Few more Spring decorations !!!
Want to save this for later? Post these Spring Mantle Decor to the "Spring Decorations" OR "DIY Spring Decor" Board!